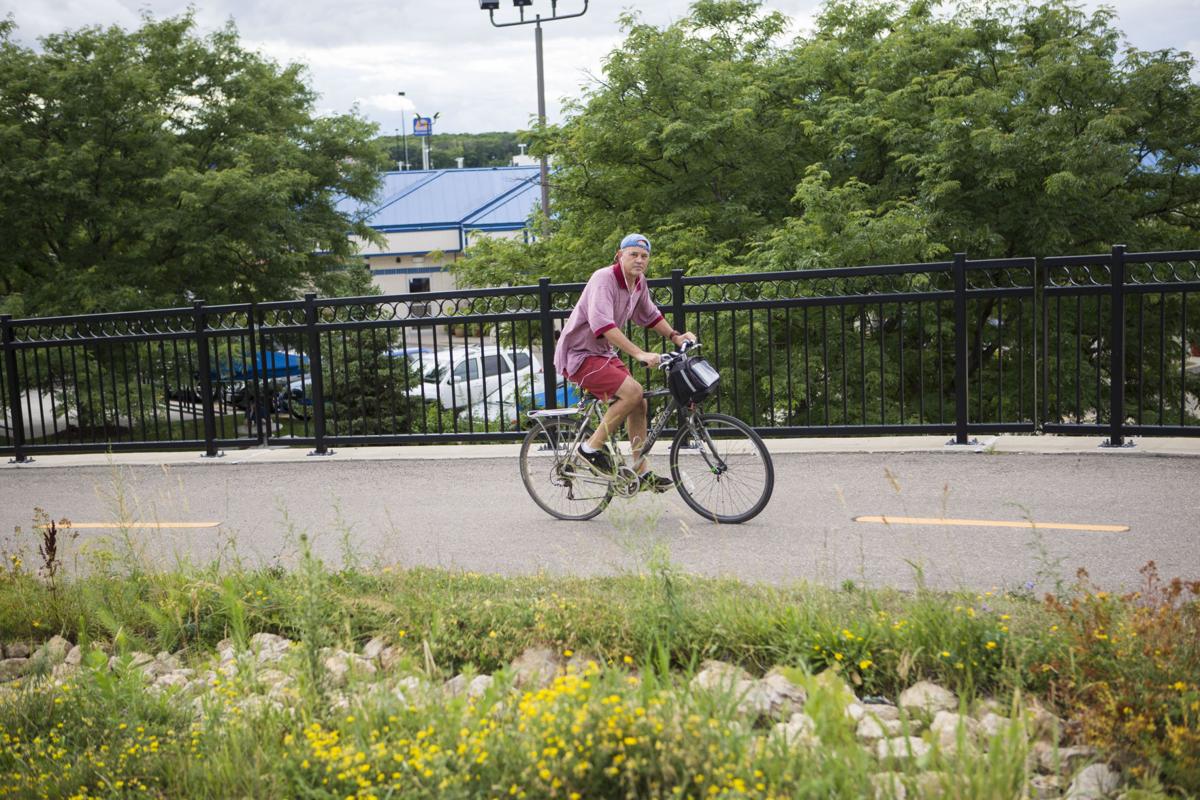 Projects that include bikes paths, bike lanes and neighborhood sidewalks could be put in jeopardy by a budget provision slipped into the Wisconsin transportation budget last week.
The provision would prohibit local jurisdictions and the state Department of Transportation from condemning property to "establish or extend" recreational trails, bicycle commuter paths, bike lanes or sidewalks.
An incensed Madison Mayor Paul Soglin blasted GOP lawmakers on the Legislature's budget-writing committee who approved the measure on a party-line vote last week. 
"We happen to think it's important that children going to school not get run over," Soglin said. "But obviously we've got legislators —whether we're talking about Ashland, Wisconsin, or Madison — who just don't give a damn about issues of safety." 
Soglin, who's mulling a gubernatorial bid next year, added: "This is driven by bitter people who hate the rest of the state." 
It's unclear who inserted the provision into a transportation budget amendment before last week's committee vote. 
"It's just one more example where with millions of people in this state there's one or two property owners upset about the ability to condemn for public safety," Soglin said. "And now we've got a Legislature that disregards the safety of millions of people from one end of the state to the other."
City Engineer Rob Phillips said the measure allows a single property owner who doesn't want to sell a right-of-way to kill several bike path projects, some in the works and some planned for the future.
Phillips said the city tries to work with homeowners and other property owners to reach an amicable agreement on a price for right-of-way. But as most projects involve multiple property owners, that's not always possible. 
"Some projects will be made more difficult, and some projects will not proceed at all under this language," he said. 
He reeled off a list of bike path projects that would be placed in jeopardy by the provision: the last segment of the Cannonball Trail, which would complete the bike path from south Fitchburg to downtown Madison; the extension of the Capital City Trail from Buckeye Road past the interstate to connect with Cottage Grove; a path linking the Capital City Trail with the Marshview Bike Path; the extension of the West Towne Path to the Junction Ridge Path along County M; extension of the Demetrol Park Path to Johnson Street.
In addition, the provision would likely preclude sidewalks as part of improvements to Buckeye Road between Monona Drive and Stoughton Road. Bike lanes and sidewalks could be jeopardized on Cottage Grove Road between the interstate and Sprecher Road. It puts in doubt sidewalks, bike lanes and a multi-use path in a project on Pleasant View Road from Mineral Point Road to Highway 14. And a multi-use path on along Atwood Avenue from Monona Drive to Fair Oaks Avenue could be nixed. 
Phillips said future planning would be hampered as well.
"It's hard to embark on a project when you don't know the outcome," he said. "To spend a lot of money on a project when you don't know if you can proceed on it or not is problematic." 
Soglin said the city is tabulating the cost of projects the city has already started that might not be finished. 
"It's in the millions," he said. "I know that."
He also pointed to rapid urbanization on the far west side, namely Raymond Road, which will in the future have to be widened from a two-lane to a four-lane street. 
"What this means is that if we've got a property owner who is reluctant to part with any land necessary to make that complete and we have to go through condemnation, we're not going to be able to put in sidewalks," he said. "People walk on sidewalks, because there are cars there." 
Soglin also labeled the lawmakers supporting the provision as "anti-economic development," noting that Amazon recently issued a request for proposals for cities interested in being home to a new $3.7 billion headquarters facility. The specs include bike accessibility.  
Not only would the provision put Wisconsin out of the running, he said, but "nobody would be able to put bicycle paths or sidewalks into the Foxconn deal." 
Wisconsin Bike Federation executive director Dave Cieslewicz said several municipalities have sounded the alarm on the measure, the origin of which is a mystery. 
"This provision got no public discussion, no debate and it was passed with no explanation," Cieslewicz said. "We don't even know which legislator wanted it or what caused them to ask for it."
According to Cieslewicz, the provision could also impede Dane County's extension to the Glacial Drumlin Trail, which would complete a bikeway from Madison to Waukesha.
Other potentially impacted projects include Janesville's Northeast Regional Trail extension, the Wildwood-McMillan connector trail in Marshfield and the Utility Corridor multi-use path in Sheboygan.
It could also thwart the ambitious Route of the Badger network in southeastern Wisconsin, which aims to connect 500 miles of completed trails in seven counties.
According to the Bike Fed, the measure would also prevent jurisdictions from widening roads, and would hamper changes to bike lanes and sidewalks.
"Communities around the state are proud of their multi-use trails and they're being extended and improved all the time," Cieslewicz said. "Nobody wants to use condemnation and it's seldom needed, but it's an important tool in the box to get projects completed. To have a provision like this slipped in to the budget is pretty outrageous."
The Bike Fed is urging the 14,000 people on its email list to contact their state senators and assembly representatives to have the provision removed, and the Rails to Trails Conservancy, which is spearheading the Route of the Badger Network, has launched similar efforts.
Share your opinion on this topic by sending a letter to the editor to tctvoice@madison.com. Include your full name, hometown and phone number. Your name and town will be published. The phone number is for verification purposes only. Please keep your letter to 250 words or less.