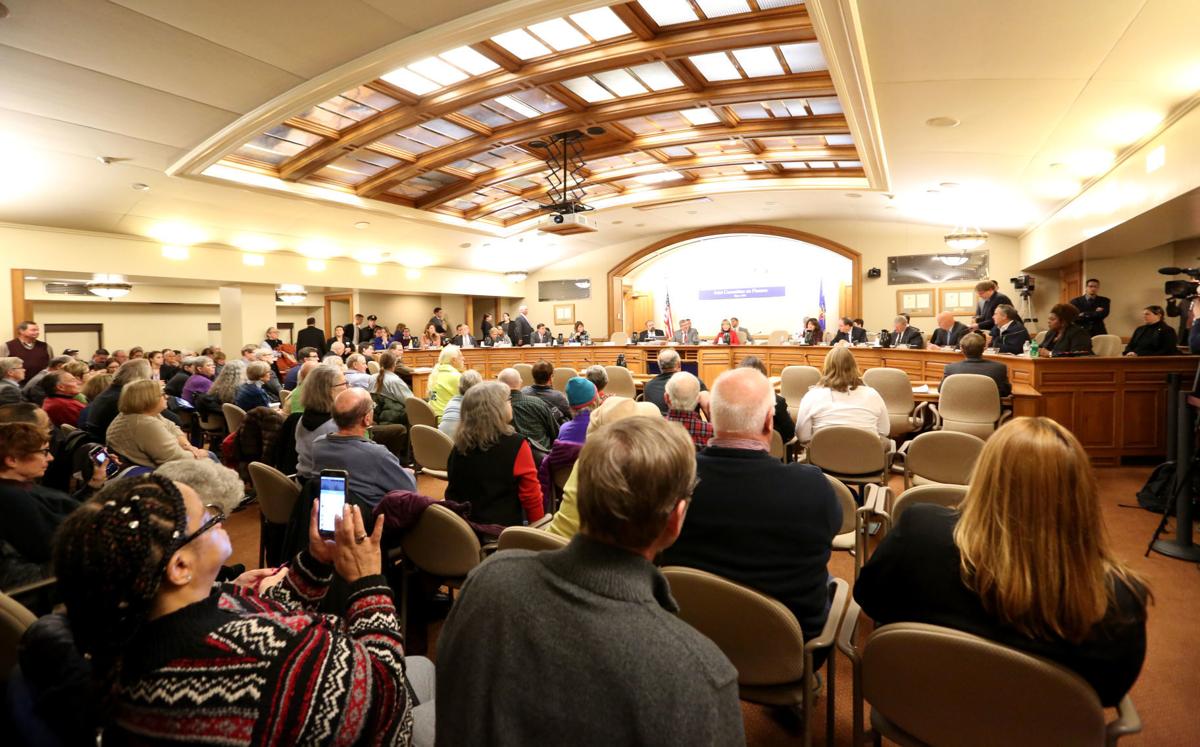 The Legislature's budget committee voted on Tuesday to create a new dairy innovation center and add positions to oversee large-scale farming operations.
But the plan, which was approved on a 12-4 party-line vote, doesn't increase the fees for operators of those farms, a move Gov. Tony Evers included in his budget proposal.
Instead, the motion Republicans signed off on would add four new positions to regulate concentrated animal feeding operations, or CAFOs — one less than the number Evers wanted. And it would direct more money to the Department of Natural Resources for CAFO oversight purposes.  
The plan would also designate $8.8 million in the next two years for a "Dairy Innovation Hub" across three University of Wisconsin System schools to develop new dairy products and bolster the broader industry — a measure that was unveiled outside the budget last month and was recommended by a dairy task force established under former Gov. Scott Walker.
Democrats, including Rep. Evan Goyke, of Milwaukee, slammed a provision in the language that would require UW System officials to submit a separate request to the committee in order to release the funding.
"If it's a good idea, fund it," Goyke said. "If it's a needed service for our farmers, then fund it. But don't continue to hold back the cash in the Joint Finance purse and make entities come back and come back and come back."
But committee co-chair Rep. John Nygren, R-Marinette, pointed out the practice is one committee members have engaged in in previous cycles and is rooted in "oversight of the taxpayers' resources."
"That is our job, and it's a job we should take seriously," Nygren said.
To raise DNR funding for CAFO oversight, the $345 annual fee for water pollutant discharge elimination system permit holders is directed back to the agency for permitting and compliance activities. Currently, just $95 goes back to DNR, while the remaining $250 goes to the general fund. The language mirrors a GOP-backed bill that was introduced in February.
Evers' plan would have increased the $345 annual fee to $660 yearly. On top of that, it would have required CAFO owners to pay $3,270 to operate the farm, a payment that would also have to be made every five years thereafter for permit reissuance. Evers also sought to increase the number of staffers overseeing large-scale farms to 27, rather than the current 22.    
The vote comes as different parts of the state are grappling with groundwater contamination issues, including the dairy-intensive Kewaunee County. Last summer, a new DNR administrative rule tightening manure spreading practices for 15 eastern and northeastern counties went into effect, an attempt to further safeguard drinking water in that part of the state.
Rep. Chris Taylor, D-Madison, knocked the GOP motion as "a short-term plug" to up the number of staff, language she said amounted to "passing the buck once more on the cost of regulation to people that aren't actually doing the polluting."
"What you're essentially doing in this motion is once again requiring other people, for the most part, to pay the cost of regulating an industry that has been woefully unregulated," she said.  
The Joint Finance Committee, in a separate motion, approved 12-4, along party lines, an extension of the state's land acquisition program, called the Knowles-Nelson Stewardship Program, under which lands are purchased for public use. As of last June, nearly 670,000 acres of land were bought through the program.
The framework first began in 1989 and is set to expire next year. While it's typically been funded on a 10-year cycle, Evers in his budget proposed reauthorizing bonding for it at $33.25 million annually over the next two fiscal years — the length of time committee members ultimately approved. 
Sen. Tom Tiffany, who has been critical of the popular program, said the state is continuing to see "diminishing returns" from the framework.
"Budgets are always about choices and I look at this in real simple terms: Do we bond much more money for something like this when we have science buildings before us, when we have roads before us?" the Minocqua Republican asked.
He later added there are "higher priorities at this point in the state of Wisconsin in terms of what we're going to borrow for."
That motion would also allocate $100,000 in one-time funding in the first year of the budget for research on chronic wasting disease, the fatal wildlife disease that has impacted a series of counties in the state. The research would center on genetic resistance to CWD in deer raised on farms. 
Share your opinion on this topic by sending a letter to the editor to tctvoice@madison.com. Include your full name, hometown and phone number. Your name and town will be published. The phone number is for verification purposes only. Please keep your letter to 250 words or less.