The Wisconsin Assembly on Tuesday overwhelmingly approved a bill to help the state's government, industries and health care workers better respond to the COVID-19 pandemic.
The sweeping 97-2 bipartisan vote follows weeks of negotiations between the Republican-led Legislature and Democratic Gov. Tony Evers' office and was conducted in a historic virtual session via Skype. Representatives were allowed to attend in person or virtually.
Forty-two lawmakers, mostly Republicans, were present in the Capitol, seated at a distance from one another, while 57 others participated from their homes — in kitchens, offices and bedrooms — voting and addressing the body on TV monitors displayed at the front of the Assembly chamber.
The bill includes 55 separate measures, allowing Wisconsin to capture millions in federal dollars to buoy its welfare program. It also eliminates the state's one-week waiting period for unemployment benefits. Demand for both has skyrocketed over the last several weeks as the pandemic has kept people at home and shuttered businesses.
It also gives the Legislature's Joint Finance Committee, controlled by Republicans, $75 million to supplement state COVID-19 relief efforts. The measure requires the Department of Administration to request the money, which the committee can then approve. The money is available up to three months after the state's public health emergency declaration ends.
The Legislature considered the bill under an "extraordinary session," a specific type of meeting called by lawmakers to consider bills with a distinct purpose. Under extraordinary session rules, lawmakers aren't required to hold a public hearing on the proposal, allowing them to act quickly.
Lawmakers in the Assembly chamber said they were following social distancing guidelines and asked those gathered in person to do the same. Some representatives and Assembly staffers were seen wearing masks, others wore no masks and some took them on and off throughout the session.
In describing the bill, Assembly Speaker Robin Vos, R-Rochester, was reflective, noting that lawmakers took ideas from Gov. Tony Evers, industry groups and constituents about what should be included. He said the Legislature waited to consider a state COVID-19 plan until after it understood what was in the $2 trillion federal CARES Act passed by Congress last month.
To Wisconsinites who are fearful of the virus and what it is doing to the state, "we hear you and we understand what is happening to you and your family in our state," Vos said. "Now is a time for us to really remember that God is in control and not to ask why this is happening but what we are able to do about it ... We must take action and that is why we are here today."
Assembly Democrats offered three amendments to the bill, each struck down by Republicans. The amendments would have added an array of funding to several programs, broadening the bill's provisions to public health emergencies generally rather than the specific pandemic happening currently. The others would have made a series of temporary changes enshrined in the bill permanent and altered policy related to state elections including absentee voting, voter registrations and ID rules.
The Assembly approved one amendment from Vos, which made a series of technical changes to the bill, but also narrowed how medical workers could have claimed workers compensation under the original bill language. The original bill would have allowed all medical workers to be eligible for workers compensation while treating people during the pandemic but the amendment narrows that provision to only some types of workers who specifically treat COVID-19.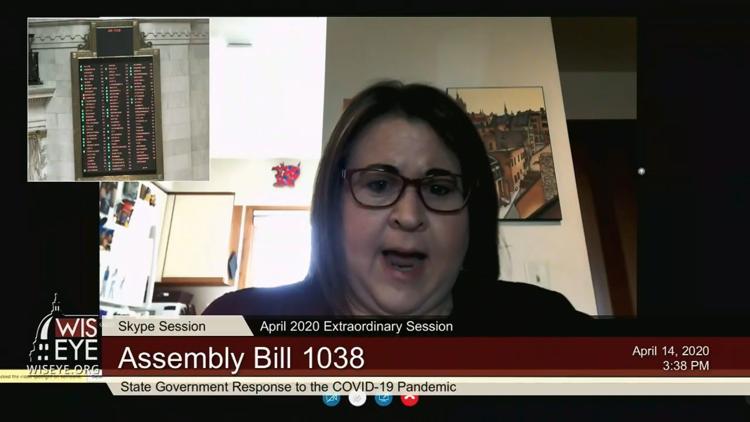 The amendment also specified timelines for the public health emergency, clarifying licensing changes pertaining to healthcare workers and limits on their liability for their work during the COVID-19 pandemic.
His amendment also allows municipalities and counties to work together to waive or reduce property taxes during the pandemic.
"This allows counties and municipalities to negotiate to make decisions together ... rather than a one-size-fits-all provision," Vos said.
At a time when sparring between Republicans in the Legislature and the Democrats in the executive branch frequently grabs headlines, Assembly leaders said the bill was a significant bipartisan effort.
Assembly Minority Leader Gordon Hintz, D-Oshkosh, said the deal was a recognition that the moment presented by COVID-19 was bigger than traditional partisan spats and that the politics needed to be as well.
"I appreciate some of what took place as a way to come back to the table," he said of bringing Republicans and Democrats together.
Hintz said Vos' amendment, which Democrats had little time to review "salted a little bit of the positive part of today," but encouraged the bill's passage nonetheless.
"I don't think one piece of legislation can begin addressing the magnitude of this current moment, but we need to act and we are acting."
He said he hopes the urgency of the moment allows lawmakers to take more steps going forward and said if the Legislature must act again, it will.
"I refuse to admit that this is all we can do as a state."
The bill also requires a series of reports to be filed in the coming months, including a plan by the Wisconsin Economic Development Corporation that includes how it will support major industries in the state hurt by COVID-19. Those industries include: including tourism, manufacturing, agriculture, forest products, industry, construction, retail and services.
The bill would also require an audit from the Legislative Fiscal Bureau of the programs and spending authorized by its passage, starting on July 1, 2020, and ending on June 30. The bureau report report the results of its reviews at least quarterly to the Legislature and to the Joint Legislative Audit Committee.
It also shields manufacturers, distributors, and sellers of emergency medical supplies that donate or sell their products in response to the pandemic from civil liability associated with injury or death caused by the products.
Thirty-two industry groups lobbied on the bill, including several health insurers and trade associations. Most did not disclose their positions, or lobbied in favor of the bill. WPS Health Insurance lobbied against it. 
The state Senate plans to meet Wednesday to vote on the measure, which will then be sent to Evers' desk.
Get Government & Politics updates in your inbox!
Stay up-to-date on the latest in local and national government and political topics with our newsletter.