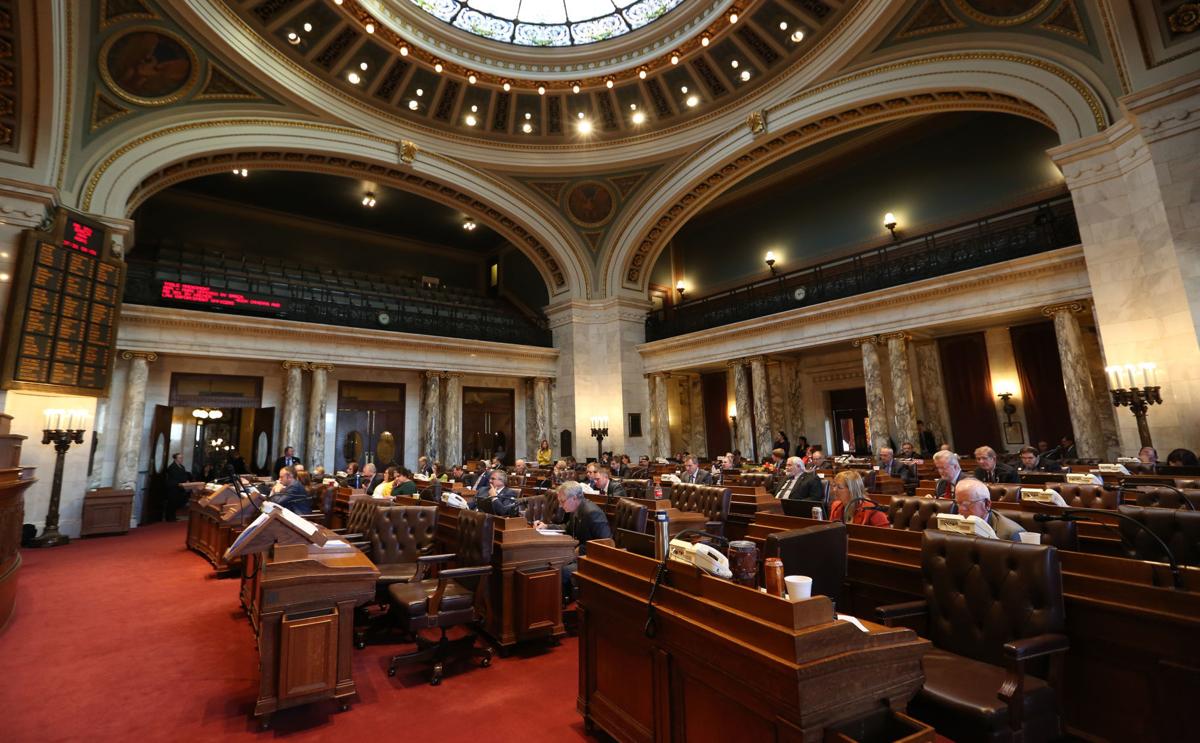 The Wisconsin Assembly voted Tuesday to back a call for a convention to look at amending the U.S. Constitution by adding term limits to federally elected offices.
The resolution, which passed 60-38 over complete opposition from Democrats, would convene states to also consider measures to impose fiscal restraints on the federal government and limit its power and jurisdiction. Fifteen other states have approved identical language. 
The effort's passage comes after Republican lawmakers in both chambers last session voted to make Wisconsin the 28th state to call for a constitutional convention to consider a federal balanced-budget amendment. Since then, two others have signed off on language doing so. 
Proponents of the latest resolution, including Rep. Barbara Dittrich, argued the effort is needed to prevent overreach from the federal government "and leave the states alone."
The Oconomowoc Republican, who backs term limits, added: "Just like laundry, we get stinky when we sit around a little bit too long."
But critics of the effort, who voiced many of the concerns they did last session, fear a convention would open the door to major constitutional revisions in a "runaway convention," since delegates would not be required to abide by proposed limitations.
Rep. LaKeshia Myers, D-Milwaukee, said such a convention could "roll back a lot of the laws" covered under the current document, adding: "There is a reason we have only amended the Constitution 27 times."
In addition to receiving opposition from the chamber's 36 Democrats, Republican Reps. Dave Murphy, of Greenville, and Amy Loudenbeck, of Clinton, both voted against the measure. 
The proposal does not need the support of Democratic Gov. Tony Evers to be enacted. But it does have to clear the state Senate, where the measure received a public hearing in October but hasn't yet gotten a committee vote. Its future in that chamber is unclear. 
Constitutional amendments can be ratified by one of two methods: The first, which has been done 27 times, requires a two-thirds vote by both the U.S. House and Senate before being sent to the states for ratification by their legislatures.
The second, which has never been used, allows two-thirds of the states, or 34, to initiate a convention, with ratification of an amendment requiring approval by three-fourths of the states, or 38.
Term limits currently don't exist for Wisconsin lawmakers. Asked Tuesday before the floor session if pursuing a convention that would look at instating federal term limits is hypocritical, Assembly Speaker Robin Vos noted he personally was against such limits but said the issues were "worthy of discussion." 
"If an amendment is adopted by the convention and if it comes back to the state of Wisconsin, I'm going to vote no," the Rochester Republican said. "I don't believe in term limits, period, for the federal government or for state government. But I'm not afraid of having a constitutional convention where they come together and talk about those topics."
While the current effort is being backed by Republicans, some liberal groups have previously supported a constitutional convention to reverse the U.S. Supreme Court's Citizens United ruling on campaign finance.
The Wisconsin state Senate is planning to meet Wednesday, though the resolution isn't on its calendar. Meanwhile, the Assembly is convening again on Thursday for its final floor period of the session.
Share your opinion on this topic by sending a letter to the editor to tctvoice@madison.com. Include your full name, hometown and phone number. Your name and town will be published. The phone number is for verification purposes only. Please keep your letter to 250 words or less.