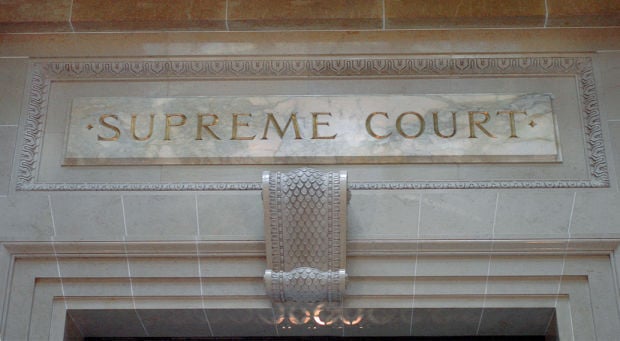 Municipal clerks from around the state are barred from mailing out absentee ballots for now as the Wisconsin Supreme Court considers adding a Green Party presidential candidate to the general election slate. 
The order comes a week before Sept. 17, the date set in state law by which local clerks are supposed to send the ballots out to Wisconsin voters who had requests on file. 
While officials are also able to distribute ballots ahead of time, though it's unclear whether or to what extent that has happened so far this week. In Madison, workers had been on the verge of beginning to do just that on Thursday. 
"We would have started mailing out the ballots today if it hadn't been for this court order," Clerk Maribeth Witzel-Behl said. 
The directive from the bench, controlled by conservatives, pauses the process as justices gather more information and make a decision about whether they should take the case, brought by candidate Howie Hawkins. 
Hawkins was one of two candidates the commission denied ballot access to in August. The other, rapper Kanye West, has filed a lawsuit in Brown County seeking to overturn that decision, and a ruling is expected in the next few days. 
While West was kept off the ballots because commission staff found his campaign filed paperwork late, Hawkins' situation was different. 
The crux of the issue is the address of his vice presidential contender, Angela Walker. She listed two different addresses on nomination signature paperwork to get on the ballot. The situation led to the body deadlocking 3-3 along party lines over whether the party's candidates should be added. Because a majority wasn't reached, ballot access wasn't granted. 
Although the campaign said Walker had moved, officials failed to file an amended declaration of candidacy or take other steps as staff said they'd recommended. 
The court ruled 4-3 along ideological lines Thursday that the Elections Commission advise clerks not to mail any absentee ballots to voters until justices give the green light. 
But they also sought to collect further information through the commission from the 1,850 local clerks about the number of absentee ballots that have been sent out, if any, and if so, to whom. 
That, per the order, would have to be shared with the court by 5 p.m. Thursday. But it appears that it's not information the body has readily available. Administrator Meagan Wolfe told reporters ahead of the order that state officials didn't know how many ballots had been sent out yet, if any. 
County clerks face a statutory deadline of Sept. 16 to distribute the ballots to their localities, and those then have to be sent out Sept. 17. Some officials had begun printing ballots on Sept. 1 after the commission finalized ballot access for the remaining presidential candidates, Wolfe said previously.
Despite the deadlines, Wolfe warned that clerks don't have to wait for those to distribute mailings to localities or send out ballots to voters.  
Dane County Clerk Scott McDonell said the order amounts to "potentially a huge disaster." 
While he didn't know whether any had been mailed yet, he warned officials here wouldn't be able to meet next week's federal deadline of Sept. 19 to mail out the ballots on file to overseas and military voters given the order. 
Madison election workers, he added, had been planning to take all weekend to process the nearly 100,000 request on file. Witzel-Behl, the Madison clerk, said she told poll workers Thursday "we may reach a point where everything is labeled and we are on the edge of our seats, waiting for the Supreme Court to give us the go-ahead to continue working." 
Assuming they go through all the steps of preparing the ballots and envelopes, short of sending them out, a new court order would mean officials would have to redesign ballots and test, print and deliver them again, McDonell said. Clerks would then have to again print off labels, stuff envelopes and send them out. 
"For other large counties, the situation will be pretty much the same as Dane," he wrote, adding: "The delay of a decision is deeply irresponsible and jeopardizes the integrity of our election." 
If the court were to decide to take the case and add Hawkins to the ballot, Wolfe said "it would be incredibly complicated and difficult" to make any changes to ballots once they're sent out. 
"I think it would be incredibly problematic if the ballot were to change after they've already started to go out the door," she said. 
WEC spokesman Reid Magney said labels for around a third of the nearly 1 million requested absentee ballots, some 313,000, had already been printed. While the ballots hadn't gone out, he said those are the ones that are "that far along in the process." 
In light of the order, the commission has also canceled a previously scheduled 3 p.m. board meeting. 
Hawkins' campaign's lawsuit, filed last week, aims to bypass the lower courts and go straight to the Supreme Court.
In 2016, then-Green Party candidate Jill Stein got 31,072 votes, or 1.04%, according to WEC data, while Libertarian Party candidate Gary Johnson received 106,674 votes, or 3.58%. Trump carried the state by 22,748 more votes than Democrat Hillary Clinton. 
Sign-up here for the Campaign Notes newsletter to get important Wisconsin politics updates in your inbox each Thursday, now through Election Day. 
Get Election 2020 & Politics updates in your inbox!
Keep up on the latest in national and local politics as Election 2020 comes into focus.