In just a few weeks, a proposed public market in Middleton could receive the approvals it needs to make the project a reality. If that happens, how will it stack up against the coming Madison Public Market?
Both projects will offer residential and retail space in addition to a market, where vendors will set up in stalls to sell locally sourced food and other goods. Despite their similarities, the city of Madison and the developer of the Middleton project think the markets will be complementary, rather than competitive.
"Public markets can vary. We call them public markets and generalize them as an open space with a multitude of vendors," said Mayra Medrano, president of Madison's Public Market Foundation. "(They) can be different and should be different."
Madison's Public Market Development Committee isn't concerned about the Middleton market, Medrano said. Dan Kennelly, manager of the office of businesses resources for Madison, pointed out that the Middleton Market will be privately-owned and located in a suburb. The Madison Public Market project is community-led and is meant to be a "regional destination" with festivals, fairs and events. The markets will attract different merchants and customers, he said.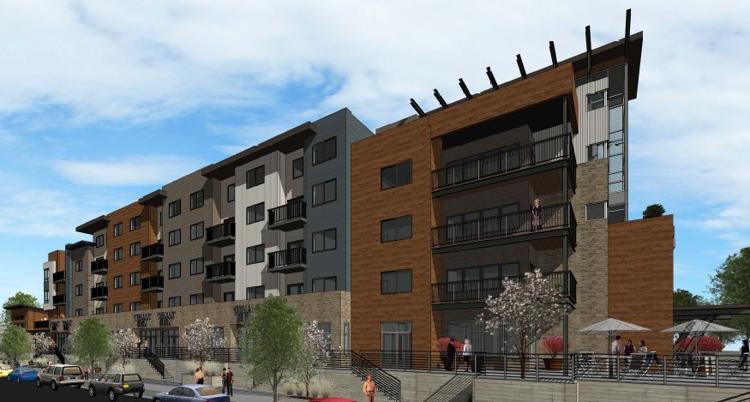 Robin Pharo is the president of Treysta Group, the developer of the Middleton Market project. She agrees that the markets are different enough, and far enough apart, to both be successful. The Middleton Market, she said, is planned to be more of a "European-style food hall and market."
And while a goal of the Madison market is to act as a business incubator, the Middleton location is looking to host already-established businesses that need a new space or want to try a different format, Pharo said. She also said it's not unthinkable to have multiple markets in the same area.
"For years and years, we've had an east side mall, a west side mall, Hilldale, Market Square, and each of those malls had old-school food courts that were successful in their time," Pharo said.
The city of Middleton initially expressed concerns that Middleton, with a population of just over 19,000, might not have enough people to support the market. But Abby Attoun, director of community development in Middleton, said that as city officials learned more about the project, they came to believe it can support the "food hall" style market Pharo is proposing.
"We think it can be successful. We know Robin's already got a couple of letters of interest signed for (market) tenants," Attoun said.
"I'm hoping (the Middleton Market) really comes to fruition," Medrano said. "It would really be a great opportunity to showcase just how different public markets can be."
Check out this table to get a grasp on the merits and costs of each market:
 
MADISON PUBLIC MARKET 
 MIDDLETON MARKET
LOCATION 
The corner of East Washington Avenue and First Street, site of the East Washington Plaza.
7622 Lisa Lane in Middleton, between Parmenter Street and Laura Lane, currently home to softball fields.
DESCRIPTION

The public end of this public-private partnership would create a 35,000 square-foot market hall and a 15,000 square-foot Food Innovation Center. The private development would add 20,000 square feet of retail and restaurants, 20,000 square feet of office space and 96 apartments, according to the business plan.

The Treysta Group has proposed a mixed-used development in Middleton, with retail, housing and a 12,000-square-foot public market named "Middleton Market." (The development as a whole will have a different name.) It would offer 250 apartment units and 11,000 square feet of retail.
THE MARKET 

The Market Hall, or "marquee space" will host leasable, permanent vending stalls for tenants selling homegrown food from small-scale farmers, specialty gifts, wholesale opportunities and culturally diverse food. 

More established businesses can lease the anchor spaces of the market, which offer 500 to 2,500 square feet of space. There will also be room for art galleries and history exhibits, a cheese and dairy pavilion and "flex space" for temporary vending or events like craft fairs or weddings.

A 15,000 square-foot Food Innovation Center will offer training programs, test kitchens and food processing space.

The city has selected participants for its MarketReady program, which provides training, technical assistance and grants for 30 potential market vendors, with a focus on populations typically underrepresented in entrepreneurship, like women, people of color and veterans. 

The 12,000 square-foot market will host "high quality, chef-driven specialty food," and in the summer will open up to outside vending spaces. During the winter, those outdoor spaces will turn into a European-style Christmas market, selling food, gifts and Christmas ornaments. There will be between 10 and 20 vendors.
RETAIL AND HOUSING 
Private development on the site will add 29,000 square feet of retail and restaurant space, as well as 20,000 square feet of office space and 96 apartments.
The development would provide 263 units of housing, and some of these units could eventually transition into condominiums. In addition to the market, there will be 11,000 square feet of retail and medical space.
OUTDOOR AMENITIES
According to the Public Market campaign website, an outdoor space could include seating, vending, food carts and performance space. The site is close to Burr Jones Field and the Yahara river and bike path.
The site will have a courtyard with a playground and performance space. There will also be an outdoor bar area.
TIMELINE
The project is hoping to break ground in 2018 and open in early 2020.

The City Council needs to approve a sizeable Tax increment Financing (TIF) request and rezone the property. The project will appear before the Middleton Plan Commission on Jan. 23, and then likely appear before the Middleton City Council on Feb. 6.

Treysta hopes to break ground in late summer or early spring and open the market in spring 2019.

PUBLIC INVESTMENT

The Public Market will be funded by $2.5 million in private donations, $3 million in federal New Markets Tax Credits and $7.5 million from the city, mostly from the General Fund and capital reserves.

The TIF request for the project is for $10,070,165. If granted, it would be one of the largest TIF requests the city has approved, which is why the council "wants to make sure all the 'i's are dotted and all the 't's are crossed," Attoun said.  


"I think many of the issues that Plan Commission brought up have now been satisfied, but there are still some things that need to be worked out," she said.