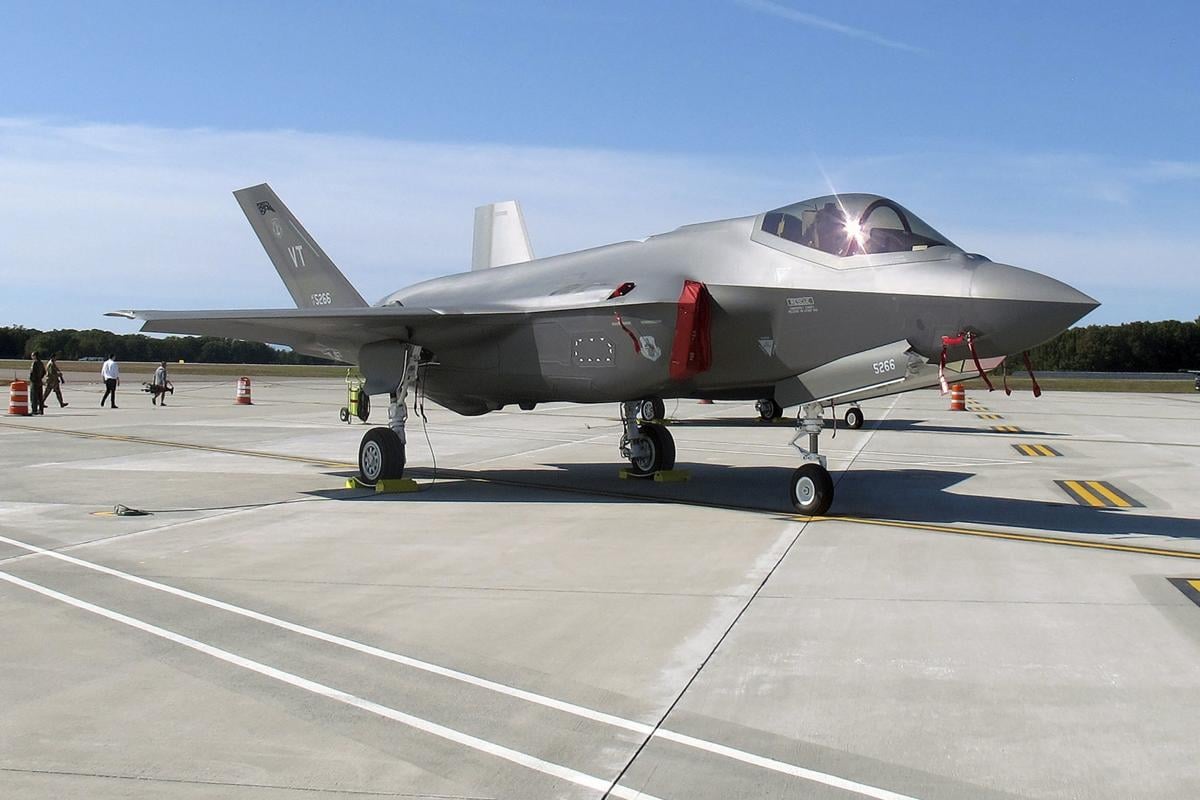 As debate over the Air Force's plan to base F-35 jets at Madison's Truax Field continues to intensify, most local elected officials contacted this week still aren't saying whether they support or oppose the proposal.
An informal survey by the Cap Times and review of other records from Madison City Council members, Dane County Board supervisors, school board officials and state lawmakers whose districts include Dane County showed most either have not taken a position or did return requests for comment.
Elected officials or their staffs were asked via email: "Do you support the Air Force's proposal to locate F-35 jets at Truax Field?" In some cases, they were also asked over the phone or through signed letters of support or opposition.
Respondents' replies were split into four categories: yes, no, no stance if neither a yes nor no was provided, and no response. The answers, along with other comments, were gathered in a spreadsheet embedded here:
As reporters began contacting elected officials for this story, attorneys for the city and Madison School Board raised concerns that the polling nature of the question could constitute a "walking quorum," or a violation of the open meetings law. As a result, some respondents agreed only to give their answers over the phone or referred to past letters of support or opposition. 
Freedom of Information Council head Bill Lueders said it would be an "over application" of the state's open meetings law to interpret reporters' questions for elected officials on issues of public concern as a walking quorum -- an informal gathering of some members of a governmental body who agree to act in a certain way, thus pre-determining the course of a public meeting. 
"I don't think (the city attorney's) advice should discourage elected representatives from answering a question about where they stand on an issue of public concern," Lueders said. 
Madison's Truax Field is one of two preferred locations under consideration by the Air Force to host a squadron of F-35 fighter jets, which would replace the F-16s currently based there and nearing the end of their flight life and currently flown by the 115th.
While the Air Force's proposal promises to bring new jobs and economic benefits to Madison, it would also disproportionately affect minorities, low-income residents and children, according to a draft Environmental Impact Statement.
The Air Force will ultimately make the final decision on where to locate the fighter jets, not local government. 
The public has until Nov. 1 to submit comments on the plan to bring the fighter jets to  Madison after the U.S. Air Force approved a 30-day extension. Acting Air Force Secretary Matthew Donovan is expected to make a final decision in February, 30 days after a final EIS is released. 
Less than half of Madison's City Council members took a position for or against the Air Force's proposal. 
"There has been a narrative that you are either against the F-35s or don't care about the community," Ald. Keith Furman, District 19, said in his response. "The truth is the draft EIS report has raised a lot of questions and there is a lot we don't know yet. If it's worst case impact statements are correct, I believe those impacts are absolutely unacceptable." 
Of Madison's 20 alders, seven said they oppose the proposal. One, Ald. Paul Skidmore, said in a phone interview that he supports the Air Force's plan. 
Ald. Patrick Heck, District 2, opposes the proposal to locate the fighter jets at Truax, but said in his response that the draft EIS is "incomplete or perhaps even deceptive in many ways." Specifically, he listed the applicability and funding of sound mitigation strategies, information about contaminants called PFAS, sound modeling, the potential for F-35 nuclear upgrades and F-35 crash data as areas of concerns. 
"It is understandable that some community members and fellow alders may want more information," Heck said in his response. "Those folks might be just as concerned about environmental, racial, and economic justice matters as those who are comfortable saying no at this point, but their consideration of the issue should not be forced into the framework of a binary choice."  
After hearing about the Cap Times' email sent at 2 p.m. Monday afternoon, City Attorney Michael May informed alders at 8:45 a.m. Tuesday morning that the Cap Times' email, sent to the "all alders" account, could create an illegal meeting and potentially be considered a straw poll, which is illegal. 
"I'm not certain this is a problem. I just said, gee whiz, there's something here to be concerned about when you're effectively taking, what looks like to me, a poll of what they're going to vote on down the line," May told the Cap Times Wednesday. 
Last month, the City Council adopted a resolution asking the Air Force to reconsider housing F-35 fighter jets at Truax Field. A resolution that was discussed, but not adopted, opposed locating the jets in Madison.
Mayor Satya Rhodes-Conway broke a tie that allowed the resolution that was ultimately approved to become the main motion on the table. Rhodes-Conway did not respond to the Cap Times email. She released a statement Sept. 17, saying that she was "disappointed in the U.S. Air Force and Air National Guard" for what she called a "failure to provide adequate information."
Dane County Board of Supervisors
The Dane County Board of Supervisors has not taken up a resolution about the F-35 issue, but supervisors have signed on to letters either in support of or against the proposal. Of the 37 supervisors, 14 are opposed and five are in support. 
Dane County Board Chair Sharon Corrigan, in an email to the Cap Times co-signed by Madison School Board President Gloria Reyes and City Council President Shiva Bidar, also raised concerns over potentially violating the state's open meetings law and the need for more information. 
"Your email request attempts to distill into a binary a multifaceted, complex issue over which, as local elected bodies, we have no direct oversight or decision-making authority," Corrigan said. "If we were the ones making the decision, we would need far more information and analysis than currently available to us as  local governing bodies." 
Dane County Executive Joe Parisi said in a statement that he is not taking a stance on the issue because of the "lack of clarity over actual projected flights, how that compares to what happens with current Guard operations, and most importantly what the U.S. Defense Department is willing to do to help residents in the area who may be impacted." 
"The federal government needs to provide a clear understanding to those who would be affected by this project of what mitigation help is going to be made available to address the very real concerns over sound and quality of life," Parisi said. "People in the vicinity of the airport deserve to know what this project means to them -- not worst case, not best case -- but actual data and what the National Guard is going to do to help people if the F-35s come here."
Madison School Board read resolution, didn't vote
Most Madison School Board members opted not to weigh in on the issue. 
The Cap Times included the members in its survey after the board read a resolution asking the Air National Guard to reconsider bringing the F-35s to Madison at its Sept. 23 meeting, though it never took a vote on the resolution.
Madison Metropolitan School District lawyers advised board members against replying to the Cap Times' question about where they stand on the issue. In an email forwarded to the Cap Times, district counsel advised that if each board member responded to the "email poll, it would likely result in a claim that the board circumvented the open meetings law by engaging in a walking quorum." 
The email cited the Wisconsin Department of Justice's Open Meetings Law Compliance Guide in its explanation.
"Additionally, in the guidance the DOJ considers this type of request and posits that 'the open meetings law thus cannot be circumvented by using an agent or surrogate to poll a quorum of the members of governmental bodies through a series of individual contacts,'" the email said.
Board members Nicki Vander Meulen and Ananda Mirilli both replied to the Cap Times before that email was sent and both said they are opposed to bringing the F-35s to Madison. A third board member also replied, but rescinded her opinion after the district guidance.
At the Sept. 23 School Board meeting, members Savion Castro and Cris Carusi read a resolution that asked the Air National Guard to reconsider Truax Field "unless the draft EIS is found to significantly misrepresent negative impacts on learning, children and the community."
Vander Meulen requested a vote on the resolution during the meeting, but the request to amend the agenda to allow for such a vote was voted down. Instead, board members stated the draft had been reviewed by all members and could be read into the record by consensus.
State lawmakers split over the plan 
Overall, Republican legislators whose districts include parts of Dane County generally support the proposal, while Democrats are divided on the issue. 
Of the five Republicans who represent constituents in the county, four said they back the language, while one -- Sen. Luther Olsen, R-Ripon, whose seat includes parts of northern Dane County -- did not return emails seeking comment. 
Most of the area's representatives are Democrats, though the majority either didn't respond to requests for comment or didn't take a stance on the issue, but shared statements with the Cap Times.
Reps. Jimmy Anderson, D-Fitchburg, and Melissa Sargent, D-Madison, noted that as state officials they don't have the ability to weigh in on the final decision to bring the jets to Madison. Anderson stressed the need to "focus on doing everything in our power to limit the negative repercussions," while Sargent touted her commitment to hearing her constituents' perspectives. 
Rep. Dave Considine, D-Baraboo, said he would back the plan if a noise study is conducted, noise reduction structures are built and if those affected receive "appropriate compensation," such as if their homes become uninhabitable. And Rep. Don Vruwink, D-Milton, said that none of his constituents have reached out to him with objections to the plan. 
Democratic senators tended to support bringing the jets to Madison. That includes Sens. Mark Miller, D-Monona, Jon Erpenbach, D-West Point, and Janis Ringhand, D-Evansville. Ringhand added she'd like to see soundproofing assistance from the federal government if "nearby residents are impacted by noise that exceeds acceptable levels." 
Only Rep. Chris Taylor, D-Madison, told the Cap Times she doesn't support it. Taylor represents east Madison and has been an outspoken opponent of the jets.
The state Senate and Assembly took up a resolution on Tuesday that supported bringing the F-35s to Truax Field. The measure passed on a voice vote, so reporters are unable to track which members landed on which side of the topic. The Assembly is set to take up the resolution on Thursday. 
Share your opinion on this topic by sending a letter to the editor to tctvoice@madison.com. Include your full name, hometown and phone number. Your name and town will be published. The phone number is for verification purposes only. Please keep your letter to 250 words or less.
Get Government & Politics updates in your inbox!
Stay up-to-date on the latest in local and national government and political topics with our newsletter.