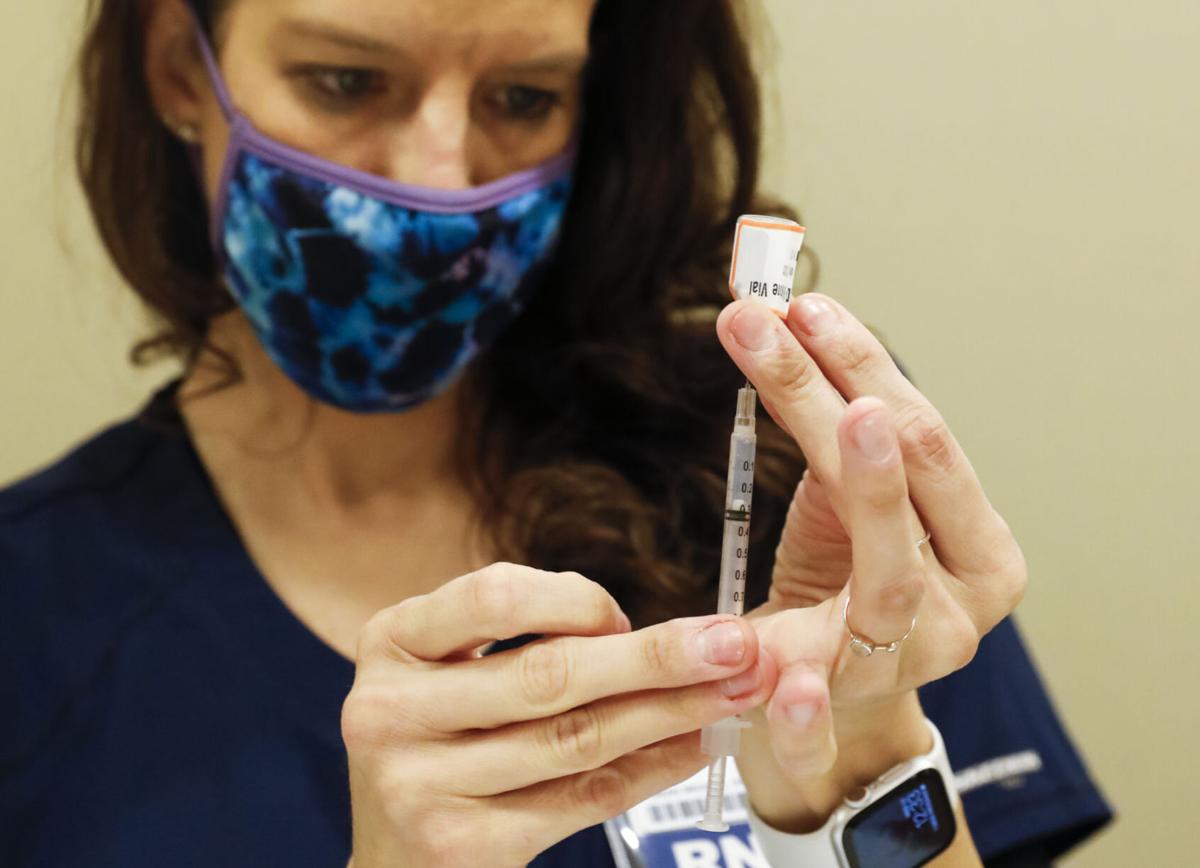 The good news is that President Joe Biden's administration has lined up 600 million COVID-19 vaccine doses by the end of July, nearly enough to vaccinate the entire U.S. population.
The bad news? It's now the second week of February, and much of the U.S. population is getting antsy. Pandemic fatigue has turned to pandemic exhaustion.  
The frustration is highest among those over 65, who have been dying from COVID-19 at rates far exceeding other age groups. Thousands who lined up appointments to get the first of the two-shot series saw those appointments cancelled or postponed last week when UW Health and other health systems didn't get the vaccine supply they had expected.
So what gives? With two companies, Pfizer — in partnership with BioNTech — and Moderna, producing vaccines for the U.S., why can't they just produce more?
As might be expected with a monumental production effort rolled out at breakneck speed, there are unforeseen circumstances. Extra doses of the Pfizer vaccine in every vial? That's great. A shortage of special syringes needed to extract it? Not so great.
"The bottlenecks keep moving," Chaz Calitri, head of Pfizer's vaccine program at the company's plant in Kalamazoo, told Axios. "It keeps changing."
So while the Biden administration has lined up enough vaccine to cover most of the U.S. population, why can't Pfizer and Moderna just crank up production and get those vaccines out by spring? 
The answer is complicated, but it has to do with how the vaccines currently on the U.S. market are made.
Drug companies have long produced viral-vector vaccines, and COVID-19 vaccines using that technology are expected to hit the market in coming months. But Pfizer's and Moderna's vaccines use new mRNA technology, which made it possible to roll them out with unprecedented speed. But the production process is in its infancy, requiring special machinery that is in short supply.  
"The first thing to understand is that these are not, of course, traditional vaccines," Derek Lowe, a pharmaceutical researcher, wrote in Science Magazine last week. "That's why they came on so quickly."
The development of mRNA vaccines, such as Pfizer's and Moderna's, has been happening since the 1990s, with significant technological advances in the past decade, much of it aimed at cancer treatment. Researchers like to point out that if the pandemic had hit five years ago, the mRNA technology would not have been ready.
According to Lowe, some steps of the production process can be accelerated fairly easily. For instance, producing DNA and transcribing it to mRNA — the first two steps of the process — is not holding up production. Nor is the production of lipids, tiny fat particles in the vaccine that deliver mRNA to cells. Many manufacturers are capable of making them.
But what only a few manufacturers are able to do, Lowe writes, is combining those two ingredients — mRNA and lipids — into a consistent mix. That requires the use of highly specialized machines — machines that have never before been used to produce vaccines on a large scale.
"I believe that you can count on one hand the number of facilities who can make the critical lipid nanoparticles," Lowe writes.
More machines are being built. But they are being bought up by Pfizer, Moderna and German biotech CureVac, which has teamed up with Bayer to produce another mRNA vaccine candidate.
"And this is the single biggest reason why you cannot simply call up those 'dozens' of other companies and ask them to shift their existing production over to making the mRNA vaccines," he writes.
But you can ask companies that have a lock on the technology to scale up, and Pfizer and BioNTech have, boosting production goals from 1.3 billion doses by the end of this year to 2 billion.
But doing that can be a painful process. BioNTech had to close its factory in Belgium for an upgrade, disrupting supply to Europe, Canada and other countries — it is not expected to affect U.S. supplies. While angering governments who were shortchanged by 8% of what they were promised, the upgrade is expected to boost production by mid-February and the company, which is contracted to provide 600 million doses to the EU, plans to make up the difference this month.
So while the outlook might look bleak for millions whose vaccine appointments have been put on hold, production is on the upswing. And there will soon be more vaccines on the market, and they generally don't have the same production issues as mRNA vaccines. And unlike the Pfizer vaccine, which has to be stored in ultra-cold freezers, and Moderna's, which has to be kept frozen, many in the next wave of vaccines require only refrigeration, making them easier to distribute.  
Johnson & Johnson expects to have its vaccine in front of the FDA this month. Instead of mRNA, the vaccine uses a modified common-cold virus.
Confronting its own production issues, the company has said it can't meet its goal of delivering 12 million doses to the U.S. by the end of February, but instead will deliver fewer than 9 million. According to the New York Times, the company was supposed to deliver 60 million doses by the end of April, but it's unclear whether it will meet that goal. 
While only 66% effective (compared with 95% for Moderna's and Pfizer's vaccines) and 85% effective at preventing severe symptoms, the vaccine has the advantage of being only a single shot and can be stored in a refrigerator.
A vaccine from University of Oxford and AstraZeneca is expected to win emergency use approval from the FDA by spring, and the U.S. has ordered 300 million doses. However, errors in the testing process have complicated its approval in the U.S.
Data indicates the vaccine is 70% effective. It's already in use in the U.K. and India. Instead of using mRNA technology, the vaccine uses a modified chimpanzee cold virus.
The AstraZeneca vaccine can be stored in a conventional refrigerator, making it easier to distribute.
Maryland-based Novavax has had trouble with its clinical trials, but still hopes to gain approval in the U.S. in April. If that happens, the company says it can deliver 110 million doses of the two-shot vaccine by July. The drug requires only refrigeration temperatures, and the company plans to deliver up to 2 billion doses a year for distribution worldwide.