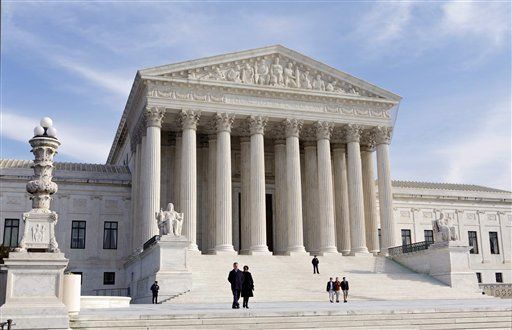 Wisconsin's partisan gerrymandering case, Gill v. Whitford, goes before the U.S. Supreme Court on Tuesday, the culmination of a legal process that began in federal district court in Madison last year. How the justices decide the case will affect Wisconsin's district maps, but could have widespread implications for maps in other states across the country. 
Here is a refresher on the case. 
The case centers on whether Wisconsin's state Assembly map is unconstitutional because it discriminates against Democrats on the basis of their party affiliation. The current map was drawn by Republicans in 2011 after they won control of both chambers of the Legislature and the Governor's office. Twelve Wisconsin Democrats, led by retired University of Wisconsin Law School professor William Whitford, sued the state in federal court claiming that his and other Democrats' votes in state elections were diluted because of the map Republicans drew. Whitford and his fellow plaintiffs are being represented by the Campaign Legal Center, a national nonprofit legal group based in Washington, D.C. 
What is the legal question here?
There are four legal questions at play, all centering around whether federal courts should weigh in on a state voting map at all, whether Wisconsin's Assembly maps are indeed unconstitutional, and whether the test put forth by plaintiffs to determine a partisan gerrymander is acceptable. 
According to SCOTUS blog, here are the four specific questions the high court will address: 
1. Whether the federal district court in Madison violated a previous Supreme Court decision when it decided it had the authority to review a statewide challenge of Wisconsin's maps, rather than a district-by-district one.
2. Whether the district court violated a previous Supreme Court decision by adopting a watered-down version of the partisan-gerrymandering test 
3. Whether the state is entitled to present additional evidence showing that they would have prevailed under the district court's test
4. Whether partisan-gerrymandering claims are able to be contested in court 
How the court rules in this case would have a sweeping effect on how voting maps are drawn by other states in the future and could force Wisconsin's Legislature to redraw its 2010 map. If the justices accept the plaintiff's three-prong test for determining if an unconstitutional partisan gerrymander exists, it would create a legal precedent: that the federal courts can rule on a state map and potentially deem it unconstitutional by partisan discrimination.
Wisconsin's case is the first of its kind to make it to the U.S. Supreme Court in 30 years. 
Didn't the court just rule on a gerrymandering case from North Carolina? How is this one different?
Yes. The court threw out the maps for two U.S. Congressional districts in North Carolina, saying that the way the districts were drawn discriminated against voters on the basis of their race. Wisconsin's case is focused on partisan gerrymandering, which looks at whether a statewide map (as in the Whitford case), or just a district within a statewide map, discriminates against certain voters because of their party.
The degree to which partisan discrimination and racial discrimination in map-making are correlated is in dispute. Attorneys for the plaintiffs in Wisconsin's partisan gerrymandering case argue that they are separate and can be litigated separately based on the evidence in any particular case. Attorneys for the state say they are interwoven.
In the dissent for the North Carolina case, Justice Samuel Alito noted that partisan and racial gerrymandering can be made to look much the same on a map. 
"This phenomenon makes it difficult to distinguish between political and race-based decision-making. If around 90 percent of African-American voters cast their ballots for the Democratic candidate, as they have in recent elections, a plan that packs Democratic voters will look very much like a plan that packs African-American voters," he said. 
What have the courts said about partisan gerrymandering in the past?
In 2003, the Supreme Court ruled in Vieth v. Jubelirer, a case that dealt with Pennsylvania's voting maps, that the court should stay out of state-based voting map cases because it is too hard to come up with a test for if a map discriminates against voters because of their political party. Justice Anthony Kennedy authored the majority opinion in that case and wrote that while the court should stay out of Pennsylvania's map dispute, he left the door open for courts to review potential partisan gerrymanders if a workable test for determining such gerrymanders could be created. 
Last year, in a 2-1 vote, a federal district panel of judges in Wisconsin struck down the state's Assembly district maps, ruling they are an unconstitutional gerrymander. The court ordered the state to redraw the maps by November 2018. The state appealed the ruling and it went directly to the Supreme Court, as is the practice with all federal redistricting challenges.
The courts have stopped short of endorsing a test to measure gerrymandering on partisan grounds and the Supreme Court has never ruled that any one state map is an unconstitutional gerrymander.
Get Government & Politics updates in your inbox!
Stay up-to-date on the latest in local and national government and political topics with our newsletter.