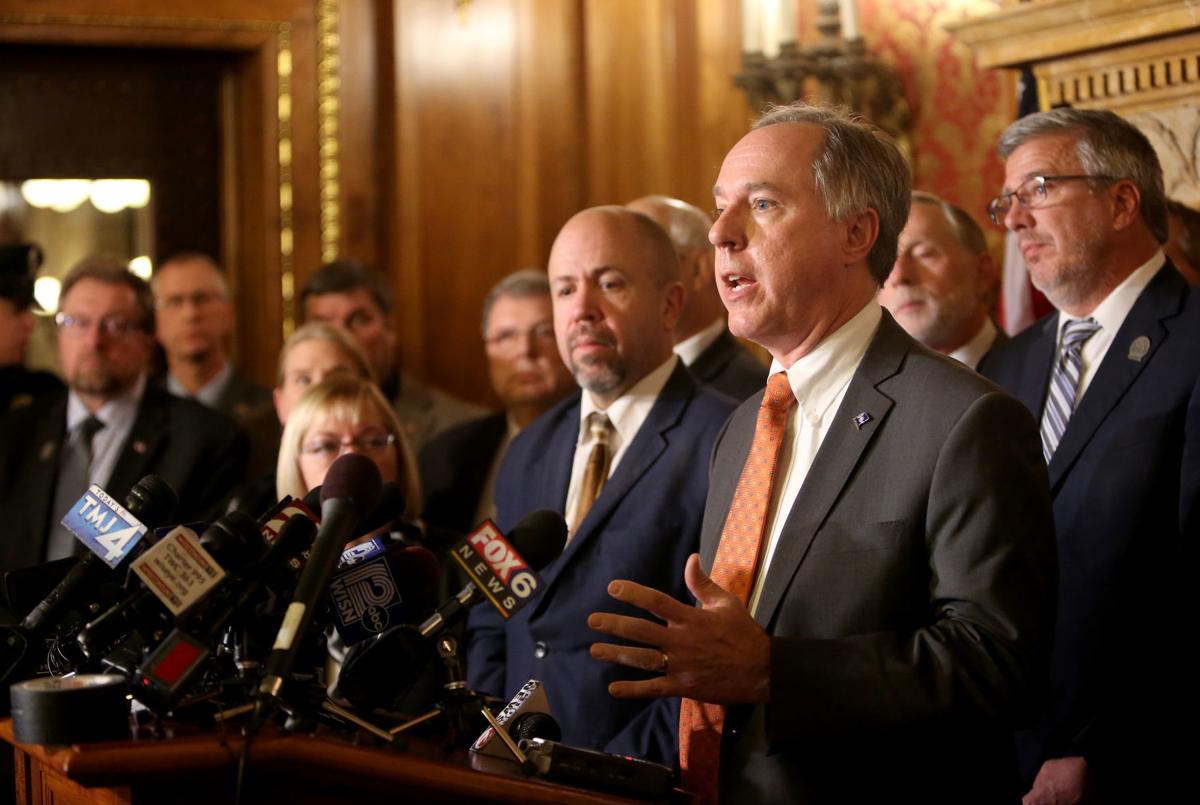 Early Wednesday, the Wisconsin Legislature passed three bills after 22 hours of extraordinary session work, including several hours of delays as lawmakers negotiated details behind closed doors.
The bills — which were released to the public late Friday afternoon, discussed in committee Monday and voted on early Wednesday — deal with a score of public policy issues and come one month before Republican Gov. Scott Walker and Attorney General Brad Schimel leave office after being defeated in November.
Democratic legislators and members of the public have sharply criticized the fast-tracking release of the bills and their passage, which largely occurred over two business days, during the night and early morning. 
Friday, Nov. 30: Extraordinary session bills released to the public around 4 p.m.
Monday, Dec. 3: Bills considered by the Joint Finance Committee starting at 12:30 p.m. in a hearing that lastED about 12 hours. Hundreds of people signed up to speak and all except one opposed the legislation and asked lawmakers to reject it. As the committee was called to order, protesters shouted and banged on walls in Capitol hallways outside the hearing room. In the evening, hundreds of people gathered outside the Capitol to protest the extraordinary session. 
Tuesday, Dec. 4, to Wednesday, Dec. 5: The bills were scheduled to be voted on by the Assembly at 1 p.m. and the Senate at 11 a.m. Those start times were delayed repeatedly and floor debate started, stopped, then started again as lawmakers worked behind the scenes to whip votes and negotiate bill details.
Neither chamber began debating the extraordinary session bills in earnest until the early hours of Wednesday morning.
The Senate passed the bills around 6:30 a.m and the Assembly finished passing them at about 8:30 a.m. Wednesday.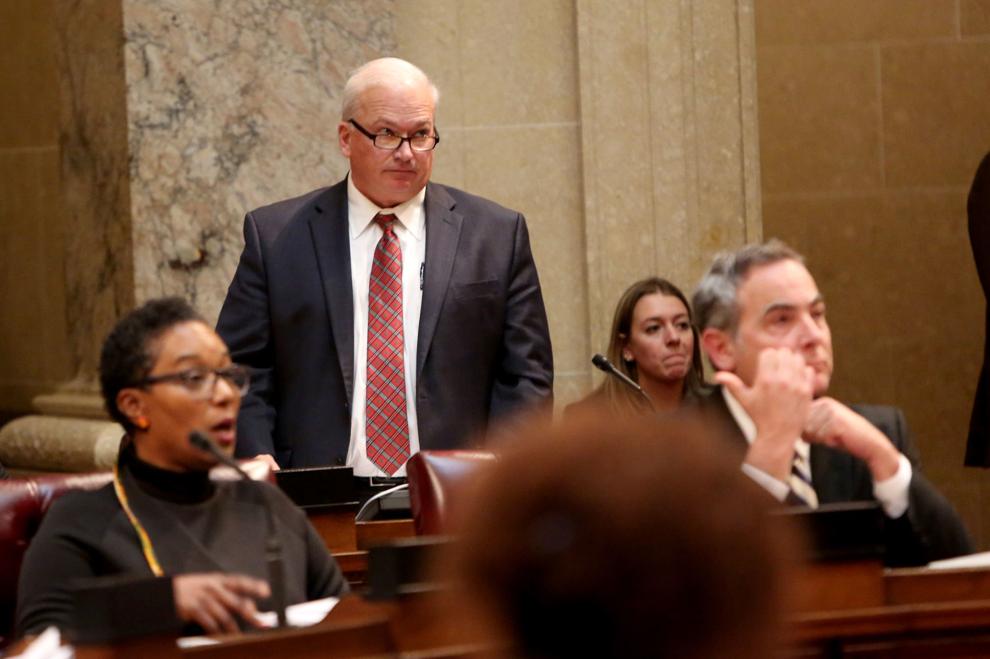 What versions of the bills passed and what do they do? 
SB 883: This bill primarily deals with transportation issues and state highway funding, giving the Legislature more oversight over how the Department of Transportation spends money and how roads are ultimately built in the state. This dynamic has been a longstanding point of contention among legislative Republicans over the last several years, some of whom say the agency hasn't spent money efficiently to fund roads, while others say more money should be raised. 
It also includes provisions that benefit certain companies, including partnerships and limited liability corporations, by effectively allowing them to reduce their tax burdens by choosing how they are taxed under state law.  
The bill addresses southwest Wisconsin freeway megaprojects and other major highway rehabilitation projects on which the state spends federal money. Under the measure, federal money must make up 70 percent of the total funding. This effectively concentrates federal money in fewer projects.
Eliminates authority for DOT to make transfers of state and federal funding between highway programs.
Any local project funded in whole or in part with state money must be competitively bid by contract to the lowest responsible bidder. A municipality or county may not use its own workforce or contract with another political subdivision to complete a project funded in whole or in part with state funds.
SB 886: This bill deals with Medicaid waivers and fortifies a requirement that those who receive Medicaid benefits also hold a job. President Donald Trump's administration approved the work requirement in October, but Democratic Gov.-elect Tony Evers said last month he is considering ending the policy. Dozens of healthcare organizations and insurers opposed the plan, arguing in a letter Tuesday that it could result in diminished access to healthcare for some. 
Codified a plan authorized by Walker to create a reinsurance pool — a tool available under the Affordable Care Act to compensate insurers for covering high-risk individuals who, under the Obama-era federal law, cannot be charged higher premiums based on their status. The effort was designed to bring premiums down and encourage insurers to participate in the individual marketplace.
Codified a plan that was included in the most recent two-year budget that requires implementation of the drug screening, testing and treatment of Medicaid recipients by the Department of Health Services by October 1, 2019.
SB 884: This is the most controversial bill in the bunch, narrowing the window for early voting in Wisconsin to two weeks and altering the authority of the Department of Justice by stripping some powers from the office of the attorney general. 
One key change in this bill overnight was a part that would allow legislators to hire their own attorneys at taxpayer expense if they are being sued in their official capacity, rather than having the Department of Justice represent them. That measure is something Republicans wanted so they could be represented by Republican-leaning private attorneys rather than a Democratic attorney general.
The bill still allows that, but also provides that a private attorney could not fully act in place of the attorney general as was proposed when the bill was first introduced. Democrats arguing against the measure pointed out that communications between lawmakers and private attorneys would be privileged and not subject to public records requests.
The bill eliminates the office of the solicitor general, a position that was created under Walker's administration and has been a key feature of Brad Schimel's DOJ. It was championed by Schimel as a cost-saving measure and an effective way to deal with federal overreach by having state attorneys work on appeals in state and federal courts rather than hiring outside counsel to do so.   
When the state receives a monetary settlement from a lawsuit, lawmakers would have final approval of it and where that money goes, rather than DOJ
Legislators would have increased influence over the Wisconsin Economic Development Corporation. The WEDC board, not the governor, would appoint the job creation agency's CEO. The governor's power to appoint a CEO would be restored in September, 2019. The changes are aimed at preempting any moves by Evers to dismantle the board, which he has said he would try to do since winning election. 
Prevent Evers from banning guns in the Capitol without legislative approval.
Limit the ability of Evers' administration to implement the rules that dictate how state laws are enforced.
It also requires that the Wisconsin Department of Veterans Affairs to request legislative approval to transfer money out of the veterans nursing homes it runs. Democrats lobbied for this change months ago, and Republican rejected it. Both parties now say they support the move as the agency continues to transfer millions of dollars away from nursing homes to pay for other benefit programs and agency salaries.  
What happened to a bill on preexisting medical conditions? Why did some lawmakers want that? 
Lawmakers from both chambers rejected the final version of a preexisting conditions bill despite comments earlier in the week (and throughout the gubernatorial campaign) that the measure was a priority for both parties.
A bill was needed, according to some, in the event that the Affordable Care Act, which provides for people with preexisting conditions to get health insurance coverage despite their condition, is nullified in federal court.  Wisconsin is leading a federal suit to nullify the law, a pursuit that, if successful, could remove that protection for citizens.
Attorney General-elect Josh Kaul said he would have withdrawn the state from that lawsuit, but lawmakers have blocked that move through a separate bill. 
What happened to saving jobs at Kimberly-Clark? Did lawmakers even take that bill up in any form?
No. Lawmakers did not consider any bills related to Kimberly-Clark during the session, though they indicated last month that they might reconvene to vote on a package of subsidies. Walker, who pushed for such a bill, said last month he was disappointed that the Legislature could not get it done. 
That plan would have provided $100 million in subsidies to Kimberly-Clark to keep hundreds of manufacturing jobs in the Fox Valley. If the bill would have passed, Kimberly-Clark executives said they would have kept jobs and invested up to $500 million and hire up to 52 new employees.
Why pass these bills in a lame-duck session? What has Speaker Robin Vos said about the timing? 
Republicans have largely maintained that the bills were fast-tracked not because they lost control of the executive branch in the 2018 election, but because they needed to essentially tie up loose ends, codify already existing rules and re-balance power between each branch of government. 
Before the bills came to the floors early Wednesday, Senate Majority Leader Scott Fitzgerald said he did not understand the outrage from the public and Democrats and emphasized repeatedly that the measures were "inside baseball."
Vos said plans to strip power from the executive branch would have been advanced even if Walker had won reelection. He said the measure had been discussed for months.
But after the bills were passed, Vos said he and other Republicans did not have enough time to fully educate the public about the plans and that the public had to instead rely on the media, which he suggested was biased and unfair in favor of Democrats. 
Walker must sign the the bills before they become law. Though he has not spoken directly in favor of them, he has not said that he opposes any of the measures. He was in Washington, D.C., Wednesday morning attending the funeral of former President George H.W. Bush and a spokeswoman in his office did not immediately respond to a request for information on when a signing might occur.