The record rains that pummeled Dane County Monday night into Tuesday morning flooded homes, businesses and major intersections, downed trees and even claimed a life.
During the heavy rains Monday night, west side Ald. Matt Phair, District 20, and his wife took advantage of a brief reprieve in the heavy downpour to bike around the neighborhood and survey the damage. Phair discovered a car stuck in a stormwater ditch on the 1000 block of Chapel Hill Road in the Greentree neighborhood, a couple blocks west of Vitense Golfland.
"My first instinct was that there was nobody in the car," Phair said.
After wading through water three or four feet deep, Phair discovered the driver, a man in his seventies, and two passengers stranded in the car. Phair yelled until they noticed him and urged them to get out of the vehicle.
"They opened the door, and I pulled two out, and the water was overwhelming," Phair said.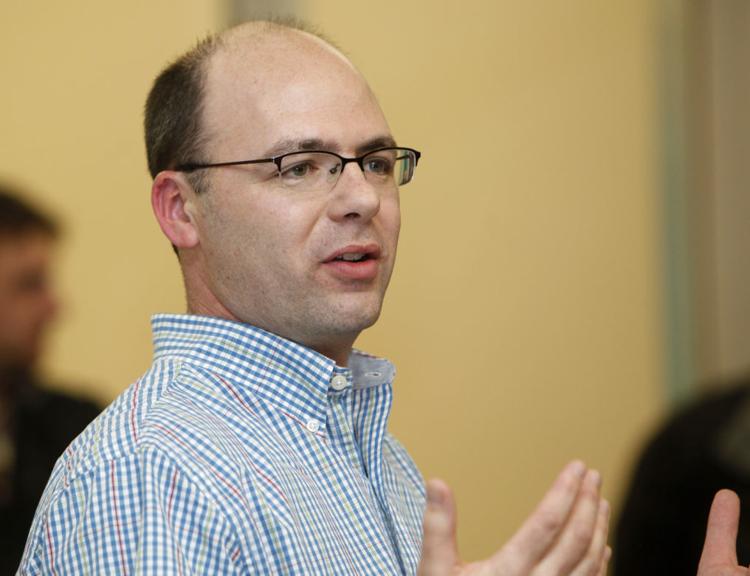 The man in the backseat made it to solid ground fairly quickly. As the woman in the backseat slipped below water, Phair and his wife held on to her hair to pull her to safety.
"Everything is getting sucked to the culvert that goes under the road. The suction is incredible," Phair said.
A third bystander then joined in the life saving efforts. As the group attempted to hold on to the driver, he was sucked underwater.
"The force is overwhelming, and eventually he slipped and went under," Phair said.
First responders recovered the man's body Tuesday morning.
Phair, his wife and the third passerby will be nominated for lifesaving awards from the Madison Police Department, according to an incident report.
"I did what anybody would have done," Phair said.
City staff, law enforcement and local utilities are addressing traffic and flooding problems, but major intersections on Madison's west side remain impassable and storm water drains are overwhelmed.
The torrential rains left some Madison drivers stuck in their vehicles. One woman was directed to climb out of her car's windows and take shelter on the roof, Madison Police spokesman Joel DeSpain said.
"This has been a very dangerous and damaging storm," Madison Deputy Mayor Katie Crawley said. "The loss of property is dwarfed by the loss of a life."
Many areas of Madison received 5 to 8 inches of rain, according to the National Weather Service. Intersections and sections of roads on the west side that remained impassable as of late Tuesday morning include:
Odana Road from Gammon to Grand Canyon
Regent and Kenosha
Deming Way and Greenway Crossing
Quarter Deck and Inner Drive
Mineral Point between Gammon and Grand Canyon
Old Sauk and Waterbend
McKenna near Elver Park
Marty Road and Raymond Road
Commerce and Plaza
In some intersections, stalled cars have blocked traffic, Crawley said. Additionally, traffic signals at Mineral Point and Westfield, Gammon and Tree Lane, Odana and Yellowstone, and Commerce and Mineral Point are not fully functional. In some cases, generators are being used to maintain traffic signals.
Madison Metro bus routes are running with major disruptions, particularly in Middleton, Crawley said. Check Metro's website at mymetrobus.com for regular updates.
DeSpain said it was difficult for officers to get to calls Monday night and had to find alternative routes. As of Tuesday morning, stalled cars posed the greatest problem for traffic.
At 10:20 a.m. Tuesday, Lt. John Radovan reported that the MPD had cleared out all the disabled vehicles stuck in traffic that had been reported to the police department.
"We are back on our normal call response and ... we currently don't have calls holding regarding any disabled vehicles in traffic," Radovan said.
On a tour of his district Tuesday morning, Ald. Paul Skidmore, District 9, said the damage is "profound." He reported significant water over Mineral Point Road, stalled cars and flooded basements. In addition, Skidmore said two hotels off of Watts Road were forced to evacuate due to flooding.
"They're towing people out from everywhere," Skidmore said. "This is the worst flooding I've seen in Madison, and I've been around a long time."
In western Dane County, water remains high, and some Cross Plains residents stayed overnight in a gas station due to dangerous conditions. Between 11 and 13 inches of rain hit Middleton, Cross Plains and Black Earth, according to the National Weather Service, with over 15 inches falling in Cross Plains.
The flood warning for western Dane County was extended until 6 a.m. Wednesday. Flash flood watches for others areas in south-central Wisconsin, including Dane County, ended Tuesday at 4 a.m. Dane County Joe Parisi declared a state of emergency in the county. 
"A lot of the rural roads have trees and couldn't sustain the amount of water in such a short amount of time," said Dane County Supervisor Nikole Jones, whose district includes Cross Plains, Black Earth and Mazomanie. "All the towns and municipalities and villages are doing a good job in trying to get things back to normal."
Jones said dozens of people stayed overnight at the Kwik Trip on Main Street in Cross Plains. Kwik Trip Assistant Manager Cory Zeman said a mother and her young child who were unable to get home slept in the store's office overnight.
"Our parking lot was full of cars that couldn't get any further," Zeman said.
Zeman, who lives on Madison's west side, said he had difficulty getting to work and many of the store's third shift employees were unable to travel in for their shift.
Jones said it is difficult for Dane County to keep up with infrastructure demands as as a quickly growing county. Dane County Executive Joe Parisi included $1 million in his 2017 budget for culvert replacements to eas challenges with flooding.
"We need to invest more in our infrastructure and not just at a county level but at a country level and a state level," Jones said. "I think we're doing a good job as a county, but I think it would be great if we could get better resources from other sources."