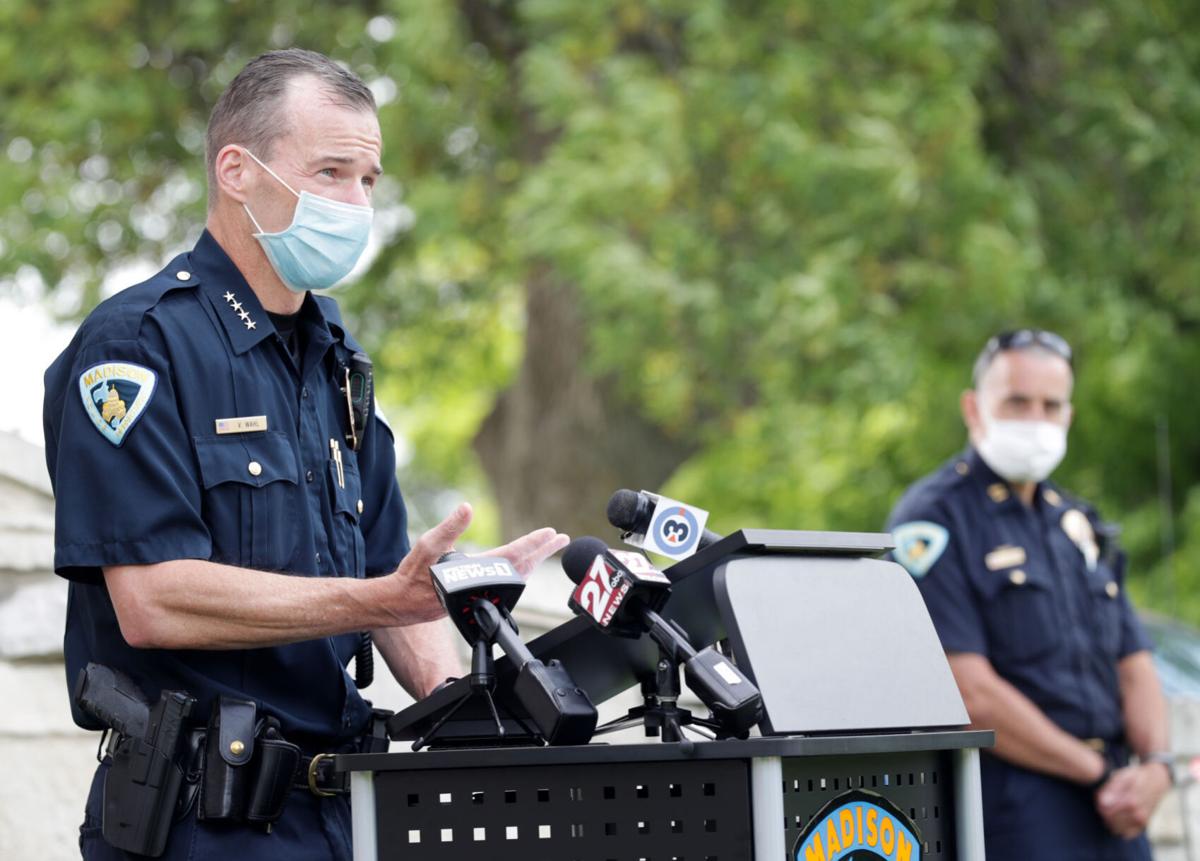 In assessing how bad he thinks Madison's violent crime problem in 2020 is, interim Police Chief Vic Wahl was direct. 
"There are bullets flying often between cars, flying towards houses, every one of those bullets is going to hit something. And we've had tragedies this year," Wahl said at a community meeting held via teleconference Thursday night. "It really is at a level that none of us in the community can make sense of." 
Others participating in the virtual community meeting convened by west side alders to address gun violence brought up childhood trauma, physical and sexual abuse, neglect, broken homes, education achievement gaps and a system that only seems to address children after they get in trouble. 
Alds. Barbara Harrington-McKinney, Donna Moreland, Zachary Henak, Paul Skidmore, and Christian Alborous hosted the virtual meeting. Wahl, Judge Everett Mitchell, West District Captain Tim Patton and Dane County District Attorney Ismael Ozanne also spoke and each provided perspective from their areas of the criminal justice system.  
According to statistics provided by Wahl, Madison has seen 200 gun violence incidents in 2020, a number that represents a 90% increase, to date, over 2019. Over 40 people have been struck by gunfire and officers have recovered more than 800 shell casings.  
Bullets have been aimed in the direction of mass gatherings, between moving vehicles on busy streets and one claimed the life of 11-year-old Anisa Scott.  
"I think that the levels of gun violence we've seen have been unprecedented," Wahl said. "There's no words for it. If there was an easy answer, we'd be doing it." 
Guns in the hands of teenagers, high-speed car thefts and chases, burglaries to property (even with homeowners present) and the overwhelming challenge of the COVID-19 pandemic made summer 2020 a challenging one from every perspective, according to panelists. 
In the past, including a 2018 neighborhood meeting involving a similar roster of participants, calls have been made to arrest teens involved in these ongoing issues.   
But Mitchell, who oversees juvenile courts in Dane County, said the community cannot arrest its way out of the problem. The kids he sees come through courtrooms are often the victims of neglect and trauma.  
"By the time cases really get to branches such as mine, we have already seen the worst of the worst cases and so we're trying to figure out how we work down the pipeline of individuals who are responsible for these young people so they can begin to address the trauma before they get to us," he said. 
Incarcerating youth offenders and sending them to juvenile prisons has not proven to be an effective solution, Mitchell said.
"We've had to look at treatment options like Lincoln Hills or Copper Lake or residential treatment centers," he said. "But with some of the residential treatment programs, we've had kids sent there that ended up being sexually abused, physically abused, mentally abused and we were just finding out that a lot of our young people, and especially a lot of our young girls who were being sexually trafficked in Dane County (were sent to facilities) where they wound up sexually abused and then we end up making the abuse even worse." 
Dane County District Attorney Ismael Ozanne, who served as a deputy secretary in the Department of Corrections under former Gov. Jim Doyle, agreed that the effects of childhood trauma are evident across the system in the majority of incarcerated offenders. 
"When I got to the Department of Corrections, I found that one of the common things we saw in the people we'd decided to incarcerate was truly childhoods littered with child abuse and neglect," Ozanne said.  
"Across the board there were some educational things, there were issues with addiction and mental health, but mostly abuse from their childhood where we did not protect them," he said. "If we're not going to protect a child, why would we think they are not going to come through the system to the point where now we're saying we have to protect ourselves from them?" 
Wahl said he has worked in law enforcement for over 30 years. His role as interim chief for almost a year has come during one of the most tumultuous times in the city's history.  
The COVID-19 looms over everything and makes it difficult for police to make face-to-face community connections, build relationships, conduct investigations and even make decisions about conveying people to jail where they run the risk of spreading or contracting the coronavirus, he said. 
But Wahl has also seen people dressed in militia gear on State Street, carrying assault rifles. The image is jarring to Wahl.  
One resident asked if the City Council would be willing to make any decisions that could lead to keeping guns off the streets in the City of Madison. But Wahl said those decisions are out of the hands of the Council and rest solely with state government. 
"Wisconsin state law preempts municipalities from enacting any gun restrictions, so the City Council doesn't have the authority to do anything," Wahl said. "When I started I never dreamed I'd see people walking up and down State Street with rifles slung around their shoulders. And it's bizarre and something we have to live with." 
Anthony Cooper, who helps run the Focused Interruption Coalition, said that that organization responds to all gun violence incidents and tries to help families navigate through the aftermath. FIC works with perpetrators and victims alike trying to give them a way out of the violence. 
"We want to give people a chance," Cooper said. "We meet people where they're at. We work with the perpetrator as well as the victim to be able to give them a way out and find a way of balance for their own lives."
FIC's goal is to quell retaliatory violence, but they also comfort the families of victims and work to prevent the need for police to act further.
When violence spiked in Madison during 2016 and 2017, the city contracted with the Nehemiah Center for Urban Leadership Development and FIC to provide peer support services to people returning home from incarceration, people involved in violence and those in need of de-escalation support.
Cooper said the program has been called upon during 2020 to play an increased role in the community. 
One question arose during the meeting about why the City Council is, in the midst of such violence, examining the concept of defunding the police. 
Ald. Tag Evers said that question reveals a common misconception that the term "defund" is another way of saying "re-think". 
"What is it we want the police to be doing and what are activities we have, over time, hoisted onto the police because we weren't doing a good job in society of handling?" Evers said. "We don't need the police to be the front line with all instances in our society. We have to do the Focused Interruption and deterrents for things as they come up, but what we really need to do is listen to Judge Mitchell and Anthony Cooper and support the root causes and get to these kids."
Ald. Zachary Henak insisted he does not wish to see the role of police diminished.
"There is a significant role for the MPD in our community," he said. "I think that's an important role and they do a lot of good work. I think that we also need to make sure we are supporting the services we need in our community and one of those is the police department."
Henak pointed to something Ozanne said earlier in the meeting: Dane County is very resource rich. Finding the right ways to distribute those resources is vital, according to Henak. 
The majority of alders who spoke Thursday said deciding when the community should use police is paramount for addressing the burdens on officers as well as the problems that go along with incarcerating young people.
"When police show up, often they are called and they meet individuals at the worst date and time of their life and something's going wrong," Ald. Barbara Harrington-McKinney said. "So how do we want our police to show up? They are expected to be the answer to every problem and situation they come in contact with."
Get Election 2020 & Politics updates in your inbox!
Keep up on the latest in national and local politics as Election 2020 comes into focus.