For years, if the local Latino or African-American community put on an event, there was a good chance Marcus Miles was there.
A professional photographer, Miles dedicated much of his time to photographing events and people in Madison's communities of color. He wanted to showcase them at their best, said friend and fellow community photographer Hedi Rudd.
Miles died at the age of 54 from an apparent heart attack, Madison365 reported earlier this week.
"We can't count on the mainstream press to be there, to get our stories out into the community," Rudd said. "So there's going to be a big void with Marcus not being there."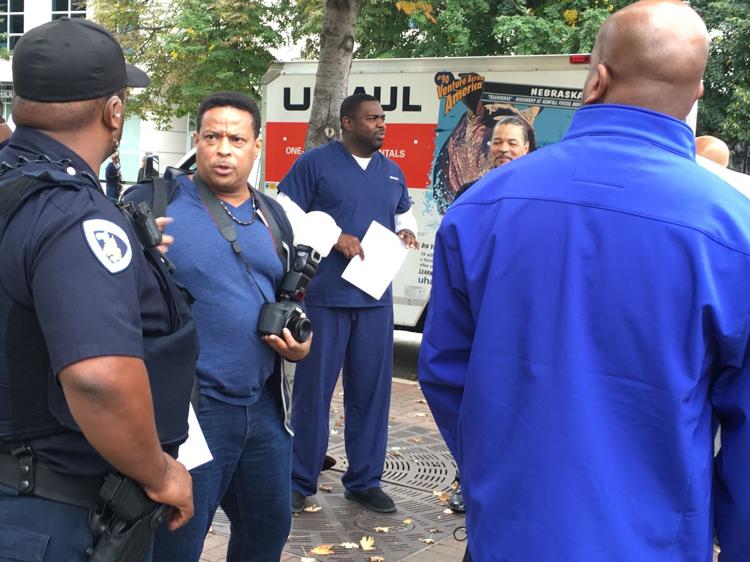 There will be a community celebration of Miles' life on Oct. 28 from 1 p.m. to 4 p.m. at the Central Library, 201 W. Mifflin St.
THE GORDON PARKS OF MADISON
Miles shot photos for Fiesta Hispana, One City Early Learning Center, Sabrina Madison's Black in Business photoshoots, Centro Hispano, the Latino Chamber of Commerce, NAACP Madison, 100 Black Men of Madison, the UW-Madison Black Student Union and more.
"He's like our Gordon Parks of Madison," said Kaleem Caire, founder and CEO of One City Early Learning Centers, referring to the African-American photographer known for his photos highlighting civil rights issues.
"I'm Latino and he's African-American, but he covered more Latino events and I covered more African-American events, which I think is a testament to the beauty of our community," Rudd said. "He has a special bond with the Latino community, and always has."
Miles was an active member of the Latino Chamber of Commerce, said Mayra Medrano, chair of the executive board, and he was also their de facto photographer.
"We're at a loss. Our hearts are broken," Medrano said.
Photography wasn't Miles' full-time gig, but you wouldn't know that from his dedication to the craft, Caire said.
Caire partnered with Miles to put on "Madison's Premiere Black Male Photo Shoot," which photographed African-American professionals and compiled a calendar to help bust stereotypes of African-American men as criminals.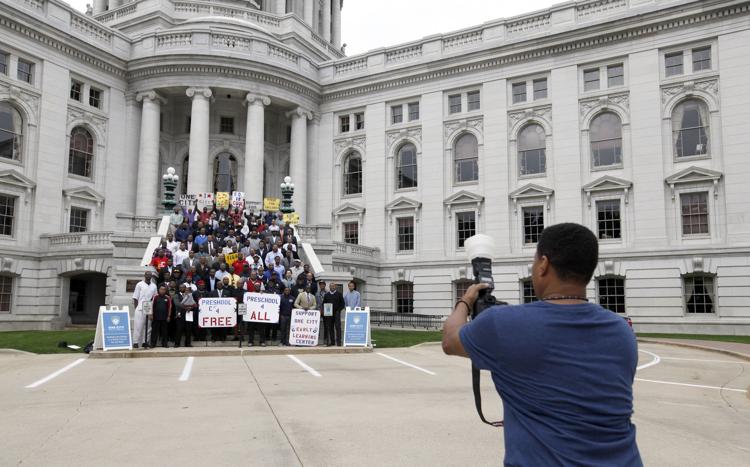 Miles' Facebook account lists him as an Affirmative Action Officer at the Wisconsin Department of Health Services. He also volunteered with the Blooming Grove Fire Department.
Even with a full-time job, Miles was always available to shoot on the weekends, evenings and even over lunch breaks, Caire said.
"Even if Marcus didn't have time, he'd find time," said Caire. "He was always there for the community when people called him."
But even with his sacrifices to the community, he was adamant about prioritizing his kids, said social entrepreneur and friend Sabrina Madison. He was very conscious about spending time with them, and wouldn't schedule shoots when his kids needed him, she said.
Many of his friends commented on his dedication to his children. He had one son and two daughters, according to Madison365.
"Most of the time when I ran into him, he was with one of his daughters or both. He just flaunted that," said Rhoda McKinney, a clerical technician at Madison College who knew Miles for over 40 years.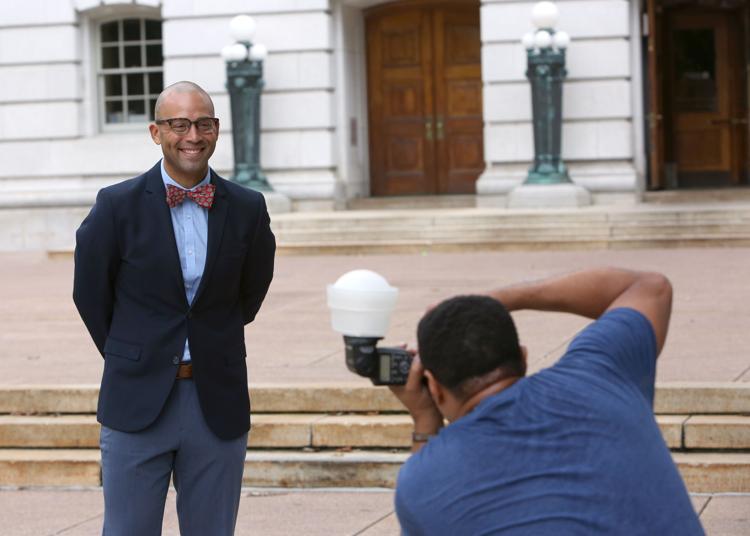 "Marcus was the most wonderful father and partner. His optimism was contagious. His kindness was unparalleled. The beauty of his pictures reflect his love for his family, friends, and his community," said Rissel Sanderson, his life partner. 
HIGHLIGHTING THE COMMUNITY
When Miles photographed events for Sabrina Madison, like her "Black in Business Photo Shoots," she witnessed his patience for the perfect shot, even with 50 or 60 people lined up to photograph.
"Sometimes photographers can be very 'snap, snap, go, snap, snap go,'" she said. "Marcus was very much intentional about every single person, every single shot."
Rudd said Miles' relationships with community members made him a better photographer.
"We know the people who we are taking pictures of, so you can read their emotions," she said. "You're not as quick to accept anything less than what you want to share with the world. Like, 'I know you can give me a better smile.'"
He highlighted African-Americans doing positive things in the community, said Demetrius Morgan, executive director of the Yellow Rose Gallery. Miles could recognize talent and work ethic in up-and-coming leaders of color, he said.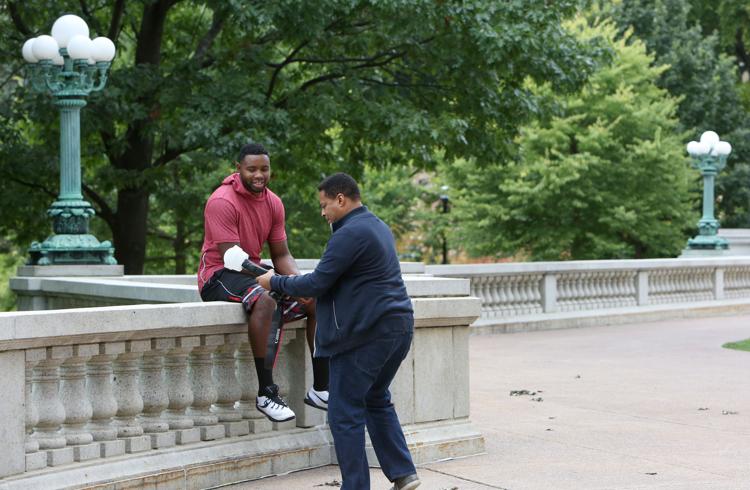 Miles reached out to Wanda Smith to offer her free campaign pictures when she was running for Fitchburg alder this year. He liked her work with the community and support of kids, she said. It meant a lot to her, she said, because professional pictures cost a lot.
"He was just the sweetest person, and it was just a blessing that he wanted to help me during my campaign," Smith said. "And the pictures were the most beautiful pictures."
"The beauty of these photos is how well he made us as people of color look," Caire said.
Miles' work is featured at Yellow Rose Gallery on State Street, his first exhibition. Morgan described the display as "dramatic."
"They are very electrifying pieces of photography. They have a sense of power and a sense of authority … and a sense of elegance and beauty on top of that," he said.
A donation box at the Yellow Rose Gallery collected donations for Miles' family during Friday's annual gallery night.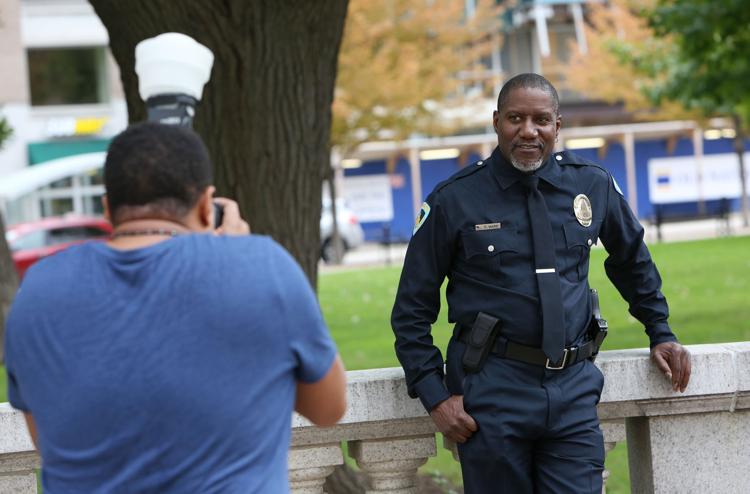 Many described him as an excellent listener with an ever-present smile on his face.
That smiling started way back, McKinney said. McKinney has known Miles since she was a kid, about 7 or 8, she thinks. Their families had kids of overlapping ages, and they grew up together, McKinney said.
"You know him as a kid, and he was always smiling, just (giving) brotherly love," she said. "He just embraced you and he shared his gifts with you freely."
Mile's professional photography website is a testament to that generosity.
"I love being a part of the community I serve, and my goal is to always enhance and capture the beauty and emotion of my clients and preserve it in time forever," it says.