Avonte Howard, 17, is new to the field of construction, but he has already tiled the floor of an office in what will be Operation Fresh Start's new location.
Howard and another participant of the alternative education program that allows youth to gain experience in the trades worked together on the room, but he was putting the final touches on the space Wednesday. As a newer participant, Howard will be one of the hundreds of students who will get to use the new building at 2670 Milwaukee Street.
"We helped build this, and now we'll be going to school here," Howard said.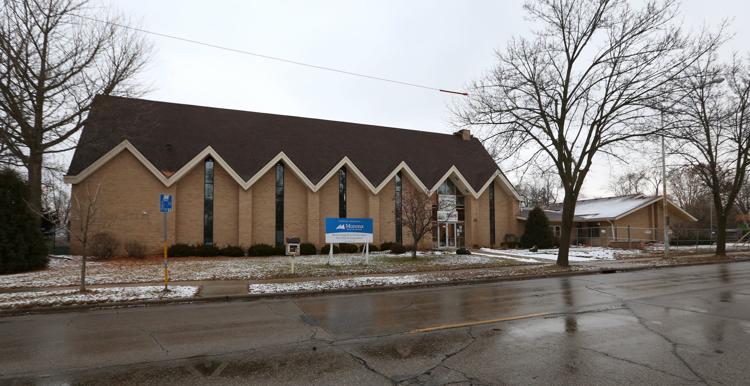 Operation Fresh Start is in the process of renovating the former Holy Cross Church and School, which will replace the program's current location at 1925 Winnebago Street. Over 200 students have contributed to the renovation of the building, which is expected to open in January. 
The new space features three classrooms on the first floor, space for staff to meet one-on-one with students and a construction and conservation lab to practice skills before going into the field. Reach Dane will be using a portion of the building for Head Start programs, providing Operation Fresh Start students with childcare opportunities.
Executive Director Greg Markle said the program has outgrown the current location, and a larger space will allow Operation Fresh Start to serve twice as many youth.
A larger space will also provide more educational opportunities for students. Markle said Operation Fresh Start will be able to offer training in the healthcare field, food industry (with the help of a training kitchen) and potentially in childcare.
"Our mission is to provide disconnected youth a path to sufficiency," Markle said. "This will provide more ways to do that."
There is also plenty of room on the lower level for two ping-pong tables, which Markle said are a critical component of Operation Fresh Start lore. Students participate in a tournament each year around Thanksgiving.
Though the renovation project could have been completed in a matter of months if done by professionals, the goal was to teach program participants, such as Natalie Guerra, how to work on a commercial building. 
Guerra, 17, is several weeks shy of completing the program through Operation Fresh Start. She is hoping to study ecology in college and eventually work in conservation.
"I think it's pretty cool because some people are new, so they're actually going to get to go here, so they're walking in saying, 'Oh, I painted this wall. I made this,'" Guerra said. "We all made this, and it's pretty cool."
Local contractors and trades unions partnered with Operation Fresh Start on aspects of the project, giving the students professional connections and additional instruction. 
The longer construction time frame allowed sufficient time for fundraising. Markle said the project has raised about $4.6 million.
"Sometimes the folks who are our young people get a bad rap, but this just shows how much the community cares and wants them to succeed," Markle said.
Markle said Operation Fresh Start is scheduled to move into the new building Jan. 22 and out of the Winnebago location at the end of January. Members of the public are invited to volunteer on cleaning days scheduled for Dec. 28 and Jan. 21 to get the new building ready to be occupied. 
A grand opening will be scheduled in April. 
This story has been updated to correct the spelling of Avonte Howard's name.