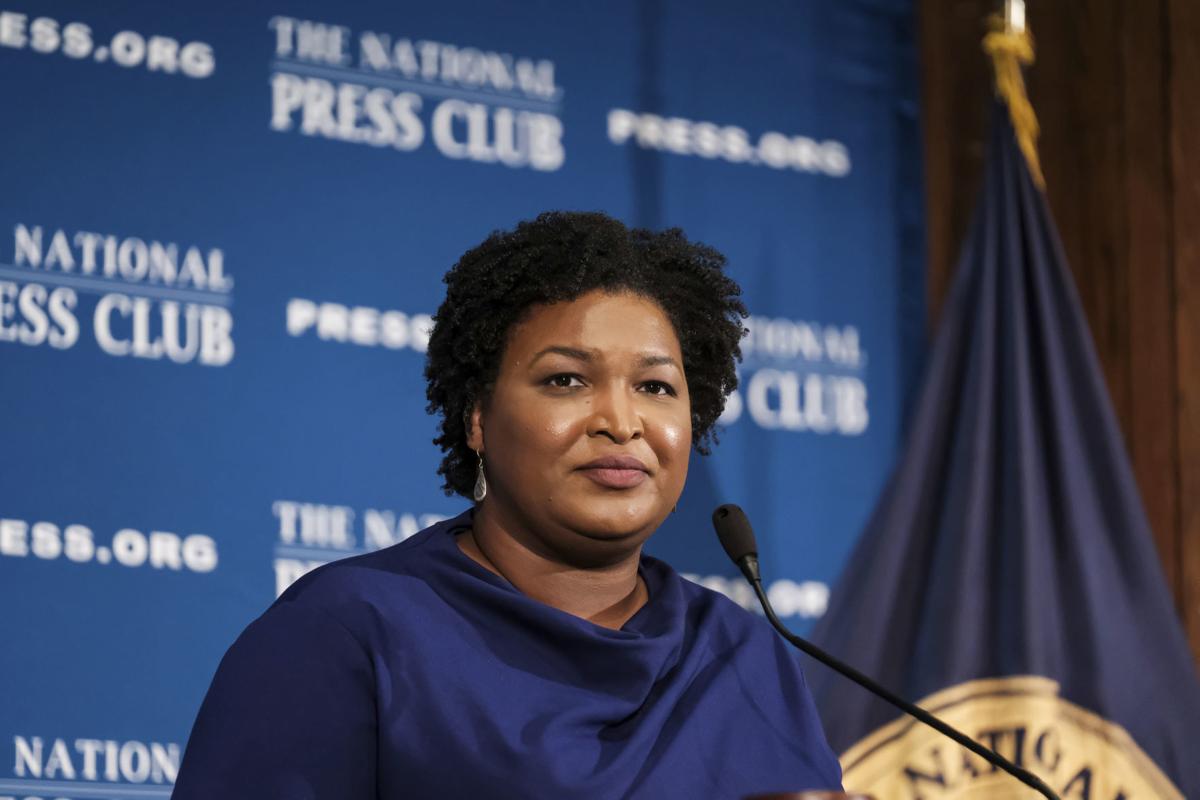 It's no secret that Stacey Abrams is interested in joining former Vice President Joe Biden's national ticket. But while she's been making the media rounds as a contender, the Georgia Democrat maintains she's "not trying to run for anything." 
Regardless of whether she's selected to run with Biden, the Madison-born Abrams, 46, said she's looking to bring her skills to 2020 as "a strong advocate for the ticket" to ensure a Democratic win come November. 
In addition to her backing of Biden as "the best person to serve our country at this moment," Abrams, in a Tuesday interview with the Cap Times, touted the former longtime Delaware senator as one who strongly "resonates in the Midwest" and a leader who would help the nation recover from the coronavirus pandemic. 
She is also undeterred by a sexual assault allegation against Biden from a former aide dating back to 1993. While incorrectly stating that the New York Times found the claims "did not bear up," she praised Biden as "an advocate for women."
"And I believe Joe Biden, I believe him when he says he did not do this, I believe his campaign when they point to this investigation," she said.
One of several women in VP conversation
Abrams, an unsuccessful 2018 Georgia gubernatorial candidate and founder of national voting rights group Fair Fight, is one of a group of women mentioned as potential running mates for Biden, who has pledged to pick a woman as vice presidential candidate.
But it's unclear when that selection will be made. National media reports show a tension among his advisers over whether it would be more advantageous to choose a progressive or African American candidate.
Polls for the slot are rarely made public, though one survey of 1,640 registered voters in Wisconsin and Michigan from March 23 to April 5 found Abrams as the top choice for African American voters (among those polled, she garnered 38% support in Wisconsin).
Meanwhile, former presidential candidate and U.S. Sen. Elizabeth Warren was found to be "the overall candidate to beat," Axios reported, after she registered 62% support among Wisconsin respondents. 
Abrams, who was born at Madison General Hospital (now Meriter) and lived in the state until she was 3, praised the wide pool of potential contenders, saying she doesn't believe there's a person Biden could choose "who would not enhance the ticket."
"My belief is that he resonates in the Midwest so strongly on his own, that everything else that we add is going to be about making sure we boost turnout, boost gain. But the fundamentals are where we are," Abrams, the former Georgia House or Representatives minority leader, said. "This is a man who has proven himself time and again."
Repeatedly deferring to Biden's prerogative to pick his own running mate, Abrams stressed the choice is and "has always been his." But she noted that when she's asked directly about the role and her desire to hold it, she will answer.
She has also been making calls to Democratic power brokers behind the scenes, Politico reported Tuesday, asking them to appeal on her behalf to Biden's campaign that she should be his running mate. 
Abrams' name has been part of VP conversations dating back to March 2019, when she dismissed a report that she could be on the ticket with Biden before he officially entered the race. "I think you don't run for second place," she said at the time.
Thirteen months later, with the nomination all but wrapped up, Abrams said the time is now to have that discussion. She said she is "unequivocal" when faced with the question: Yes, she would be willing to take on the role.
"My response has been to answer the question. And if the question is, 'Are you qualified?' I answer that question. If the question is, 'Are you willing to serve?' I answer that question," she said.
"That has been construed as something different, other than just candor. But let's be clear: as a woman of color, as a person of color and a woman, and those are three separate things in our society, we are taught self effacement, not humility. Self effacement says, 'I can't, I won't, I shouldn't.' Humility says, 'I can. But I'm not the only one.'"
Abrams addresses sexual assault allegations against Biden
Biden is facing allegations of unwanted touching from several women, as well as a sexual assault allegation from one of his former aides in the U.S. Senate, Tara Reade. Abrams, among the VP hopefuls who are being asked to respond to those allegations, said Tuesday that while she believes women should be heard and listened to, she also supports investigating any and all allegations, including Reade's. 
Pointing to the New York Times' April 12 report, Abrams said the publication did "a thorough investigation," incorrectly adding that it "found that the allegations did not bear up." 
The report, which came nearly three weeks after Reade alleged in a podcast interview that Biden sexually assaulted her in 1993, did not dismiss the allegations. 
Rather, reporters found "no pattern of sexual misconduct" by Biden, and "no other allegation of sexual assault" that surfaced during the investigation. The story also said no former Biden staff members had corroborated any details of Reade's allegation while multiple people said they recall her describing the incident to them before she went public, though two that spoke to the Times remained anonymous. 
Biden's campaign has denied the allegations. His operation has also shared talking points with top Democratic backers, according to a Buzzfeed report Tuesday, that in part state: "Biden believes all women have the right to be heard" and that the New York Times' "thorough review … has led to the truth: this incident did not happen." 
Speaking about the reporting for a New York Times media column, executive editor Dean Baquet was asked if readers should believe Reade or not. He responded, in part: "What I think readers should take away from this is that this is a serious allegation made by somebody who has some standing. It is denied strenuously by Mr. Biden and his campaign. Here's everything we know and you have to make your own judgment."
Abrams is one of a few prominent Democrats who are unwavering in their support of Biden in light of the allegations. Others include former presidential contenders, VP candidate possibilities and U.S. Sens. Amy Klobuchar and Kamala Harris, according to media reports.
Organization working in Wisconsin, other battleground states
While Abrams continues to seek a spot on the ticket, she and her national organization, Fair Fight 2020, will continue working with the Wisconsin Democratic Party and more than a dozen other battleground states on voter protection efforts.
DPW spokeswoman Courtney Beyer said the effort "has helped us with the months of intentional organizing and relationship building a Voter Protection program like DPW's requires."
Launched in August 2019, the push seeks to safeguard voting rights and combat suppression efforts with funding, training and on-the-ground voter protection teams. She said she had been planning to visit Wisconsin and rally voters ahead of the April election, though the plans were canceled amid the pandemic. 
That event, Beyer said, would have been a Get Out the Vote "rally-type event on the north side of Milwaukee to lift up the Supreme Court race and present unity moving forward with the Presidential primary."
Abrams also credited her organization's work with DPW to pull together a team for "reaching deep" and aid voter turnout in the state this month "despite unprecedented obstacles."  
Share your opinion on this topic by sending a letter to the editor to tctvoice@madison.com. Include your full name, hometown and phone number. Your name and town will be published. The phone number is for verification purposes only. Please keep your letter to 250 words or less.
Get Government & Politics updates in your inbox!
Stay up-to-date on the latest in local and national government and political topics with our newsletter.