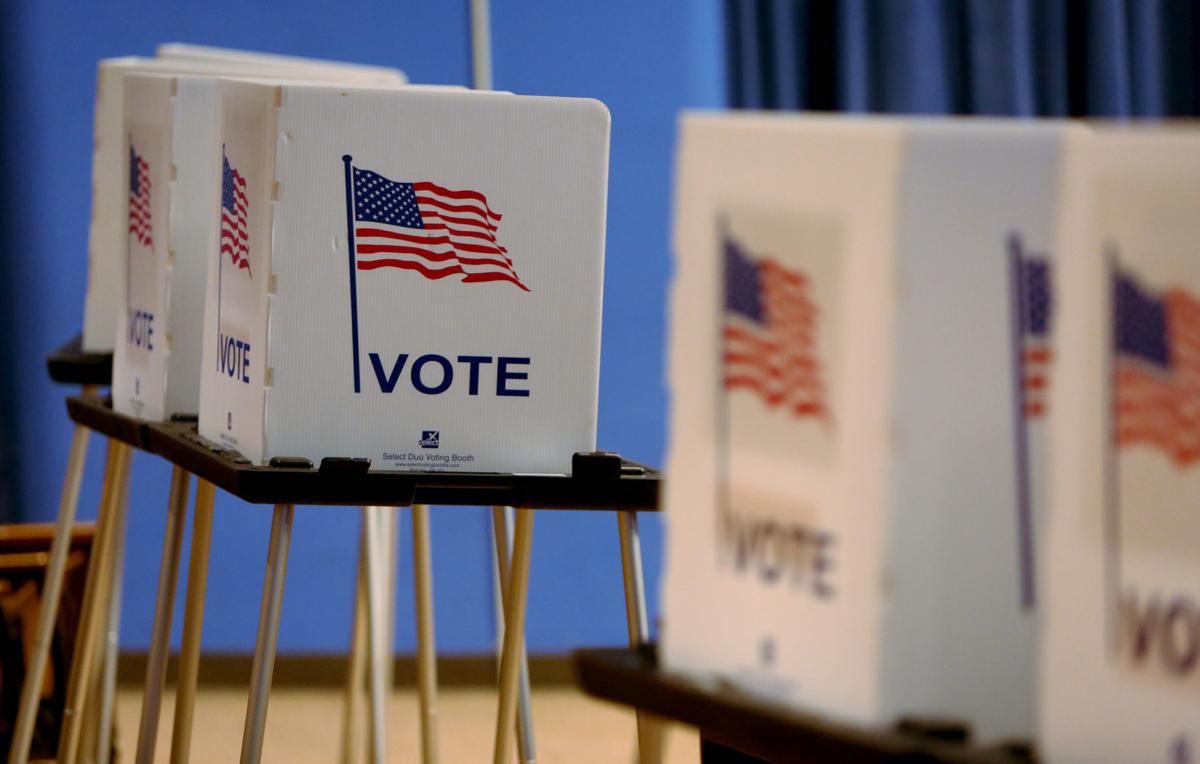 Depending on what time they tuned into the news throughout the day Monday, Wisconsin voters may have been under the impression that they had some options for casting their ballots in the spring election.
But by the time the dust cleared, and the courts had their say, voters who had not yet mailed their absentee ballots or voted early were limited in how to participate: Show up to the polls or make sure absentee ballots, complete with witness signatures, were dropped in the mail with an April 7 postmark.
The Wisconsin Supreme Court blocked Gov. Tony Evers' executive order postponing the state's spring election and the U.S. Supreme Court nullified a federal judge's order to extend the deadline for absentee ballots.
After weeks of preparing to hold an election during the COVID-19 pandemic, Madison City Clerk Maribeth Witzel-Behl said this is the hardest election she has encountered. 
"We're trying to do the impossible," Witzel-Behl said. 
Madison residents planning to vote Tuesday should be aware that many polling locations have changed. They can check their voting ward by using the city's Where Do I Vote? tool. 
The number of polling locations has shrunk from 92 to 66, according to a March 30 memo from Public Health Madison & Dane County. Witzel-Behl said signs will be posted at polling locations that have changed, directing voters to the relocated wards.
Polling places will be open from 7 a.m. to 8 p.m. 
As of March 30, Madison was down to 600 poll workers from 1,500. Witzel-Behl said typically about 200 poll workers back out the day before an election.
"The question is how many people we might have to shift around on election day," Witzel-Behl said. 
A statewide shortage of poll workers led Evers to call in approximately 2,500 National Guard members to receive training and be deployed, wearing civilian clothing, where needed within the county where they live, while some 500 are on standby in case they're needed Tuesday.
Wisconsin Elections Commission administrator Meagan Wolfe said during a media call Monday she was not aware of any municipalities in the state that wouldn't be able to have a polling place open.
Poll workers will be evaluated before beginning their shifts Tuesday. The chief inspector will ask screening questions to determine if workers had experienced a fever in the past 72 hours or a cough, difficulty breathing or sore throat in the past week. 
Poll workers who don't pass the screening will be sent home. 
At polling places, voters should be mindful of maintaining a distance of six feet between themselves and other voters and poll workers. Painters tape will mark the appropriate distance on the floor.  
Poll workers have also been instructed to check the identity of a voter wearing a face mask by comparing the eyes on the voter's ID photo to the eyes of the voter before them. 
"Poll workers should not ask voters to remove their facemasks," according to the clerk's office.
Wolfe said poll workers statewide have been instructed to maintain social distance while checking IDs and getting signatures in the poll books. This process will include the voter and poll worker beginning at least six feet from the table.
The voter can step up to put their voter ID on the table and then step back to six feet away. The poll worker will then move forward to look at the ID and find the voter in the poll book before moving back six feet.
Finally, the voter will step forward to sign the poll book.
Voters should use hand sanitizer upon entering and leaving the polling place but should make sure hands are dry before touching the ballot. Wet ballots can shred and ruin the tabulator machines, Witzel-Behl said.  
Voters are encouraged to bring their own black or blue ballpoint pens. Poll workers will be sanitizing pens and voting booths. Tissues will also be available for voters to use under their fingers if they choose to use the touch screen voting method. 
Curbside voting is available. The clerk's office anticipates voters who are unable to enter the polling place due to disability or illness may utilize this option. 
If voting from the curb, two poll workers wearing protective face shields will bring ballots to voters in their cars. Voters should let poll workers know they have their own pen by waving it. They should also hold their voter IDs up to the window for poll workers to check. 
Voters only have to crack their car window just enough for a ballot to be passed through. 
"The poll workers will feed your ballot into the tabulator to be counted," according to the clerk's office. "Two poll workers are involved in this process for accountability purposes."
Voters who requested absentee ballots but have not returned them can vote at the polls on Election Day. 
To return absentee ballots, voters can use three library book drops. These are available at Pinney, Sequoya and Central libraries. 
The clerk's office retrieves these ballots from the library daily. Madison residents should refrain from returning library materials at these book drops to avoid damaging ballots. 
Election results will not be available Tuesday night. Absentee ballots must be postmarked by April 7 and received by April 13, according to a U.S. Supreme Court ruling Monday.
The U.S. Supreme Court's move blocked a federal judge's ruling last week to extend absentee voting to 4 p.m. on April 13, a ruling that did not require ballots to be postmarked by a certain date in order to be counted. 
The latest federal ruling means those who want to vote via absentee ballot in the spring general and presidential primary must have their ballots postmarked by April 7 and received by April 13 at 4 p.m., or hand-delivered as allowed under state law by Tuesday at 8 p.m., in order for them to count.
Otherwise, individuals must show up at the polls to vote if they want to participate in the election and haven't received their absentee ballots in the mail by Tuesday.
There's been confusion about what recourse voters have if they requested an absentee ballot by the deadline Friday and haven't yet received it.

Some have said voters can email their clerks and request a replacement ballot be sent to them. But Wolfe stressed that isn't a possibility. 
She also encouraged voters to be patient with the new procedures during the Monday media call.
"Patience is key," she said. "We all owe each other a little extra kindness through this process to make sure we're working through these changes together."
Share your opinion on this topic by sending a letter to the editor to tctvoice@madison.com. Include your full name, hometown and phone number. Your name and town will be published. The phone number is for verification purposes only. Please keep your letter to 250 words or less.