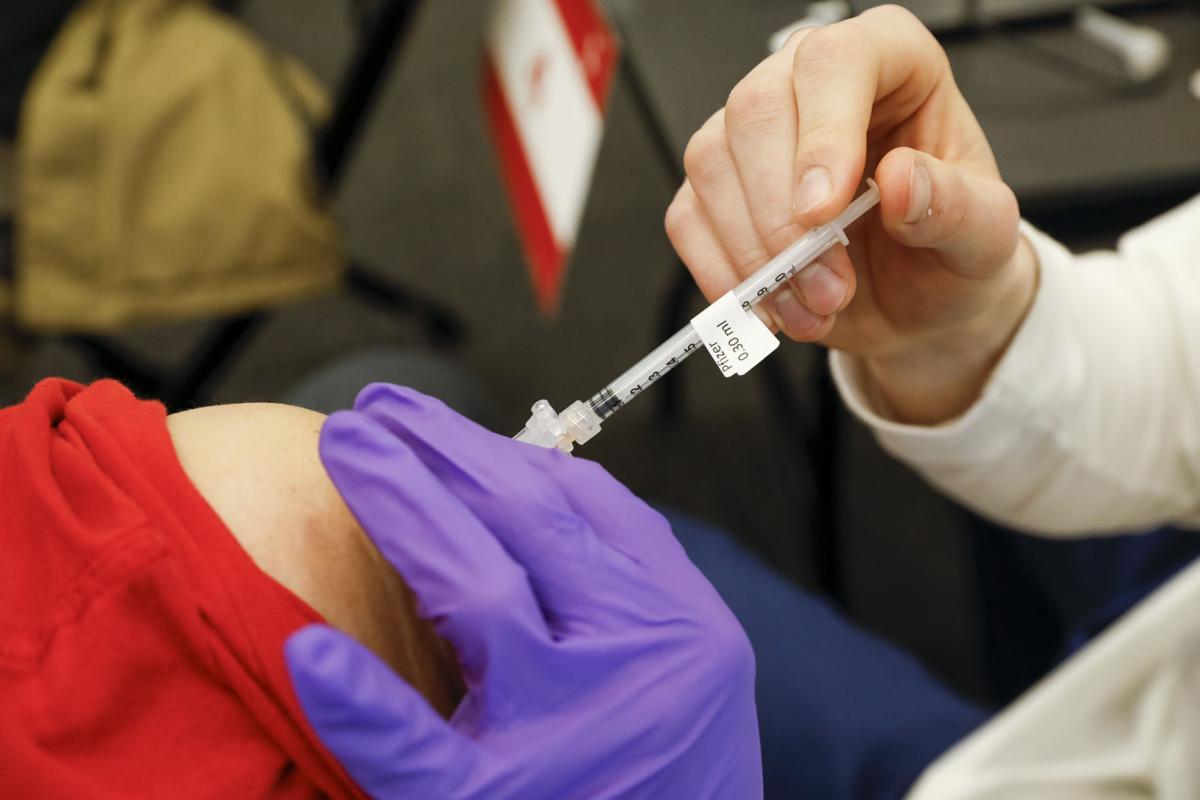 While many in Wisconsin wait anxiously for COVID-19 vaccine eligibility, state health officials say good news from the federal government on vaccine production could mean eligibility for all Wisconsinites by in less than three months.
Officials were heartened by an announcement this week from the Biden Administration that vaccines will be available to all adults by the end of May.
"I think eligibility for everybody in May is a very realistic goal," Julie Willems Van Dijk, deputy secretary for the state Department of Health Services, said Thursday,
The quickened timeline comes as evidence emerges of the spread of a worrisome COVID-19 variant. Officials said Thursday that known cases of the B117 variant now number 19, with cases in Chippewa, Dane, Eau Claire, Kenosha, Milwaukee, Waukesha, and Waupaca counties.
The variant, one of several spreading in various parts of the country, is 15% more transmissible, raising fears that it could spark a surge just as Dane and other counties plans to ease restrictions, including restaurant capacity and crowd sizes. 
Willems Van Dijk said health officials are "concerned" about the variant. Because of limited testing capacity, the variant could be spreading undetected. 
"There could be far more than 19," she said.
While vaccine has been in short supply since its rollout in December, she said the state is already closing the gap between supply and demand.
"The addition of the Johnson & Johnson vaccine to our federal allocation and the news of increased production for all three vaccines means our state will get more vaccine," she said.
But she cautioned that while vaccine may be available in May, it might be June or July before all adults who want a vaccine can get it.
"It will depend on how many people we have vaccinated in May," she said.
Meanwhile, the state is still hashing out the next wave of eligibility for a vaccine. At least some people with pre-existing conditions that make at risk for serious illness from COVID-19 infections will likely be included.
People under 65 with underlying health conditions, including COPD, compromised immune systems, kidney disease and diabetes, have been increasingly vocal as they watch grocery store workers, bus drivers and prisoners jump ahead of them in line.
The Centers for Disease Control and Prevention has recommended that medically at-risk people be put at the same priority as grocery store workers and people aged 65 to 74 (people over 75 are higher priority).
But state health officials say it's a difficult group to identify because it includes subgroups that themselves could see differing priority levels.
"It sounds like a fairly simple group," Willems Van Dijk. "But part of the decision-making is thinking about which pre-existing conditions."
Willems Van Dijk said the State Disaster Medical Advisory Committee, which recommends eligibility standards, and other health officials are taking into consideration, "How do we do this in a way that doesn't overwhelm the vaccinating system?"
She said the state will announce the groups included in the 1c category ֫next week, but it's still uncertain when they will be able to get vaccinated. That will depend on progress with the 1b population, which became eligible on Monday. The 1b group includes teachers, people in congregate living, inmates and some essential workers.
"It's generally after we've had a couple of weeks in a new phase that we have enough data, coupled with data on how much vaccine we can anticipate over the next three to four weeks, for us to make a decision about when to open the next phase," Willems Van Dijk said. "So we're not quite ready to make a prediction on that yet."
The first phase, the 1a group, included frontline healthcare workers and nursing home residents and staff. Officials added people over 65, numbering about 700,000, in late January. Willems Van Dijk said more than a quarter of those seniors are fully vaccinated.
So far, more than 1.5 million doses of vaccine have been administered in the state. More than 550,000 people have completed the two-shot series of the Moderna and Pfizer vaccines.
About 47,000 doses of a newly approved one-shot vaccine from Johnson & Johnson will be given to teachers, and Willems Van Dijk said the majority of the state's teachers will have the opportunity for a vaccine by the end of this month.
Also on Thursday, after a delay, the state rolled out the Wisconsin COVID-19 Vaccine Registry, which will help users determine eligibility, find vaccinators and make appointments and sign up for wait lists. The state also announced a new hotline to help callers find vaccine locations, answer questions and help people use the vaccine registry. That number is 844-684-1064.