A 600-stall garage could replace one of the last large surface lots on the University of Wisconsin-Madison campus and add needed visitor parking spaces under a proposal from the university.  
The Linden Drive Parking Garage would replace Lot 62, which currently provides 410 parking spaces on the west end of campus.
It would also make up for parking spaces that will be lost due to construction of a new Meat Science and Muscle Biology building, opening in spring 2019, and the proposed future addition to the School of Veterinary Medicine. 
The project, which would be located between Observatory Drive and Linden Drive, would add 120 visitor spaces to campus. The university's Long-Range Transportation Master Plan recommends adding 2,000 new visitor spaces over the next 20 years.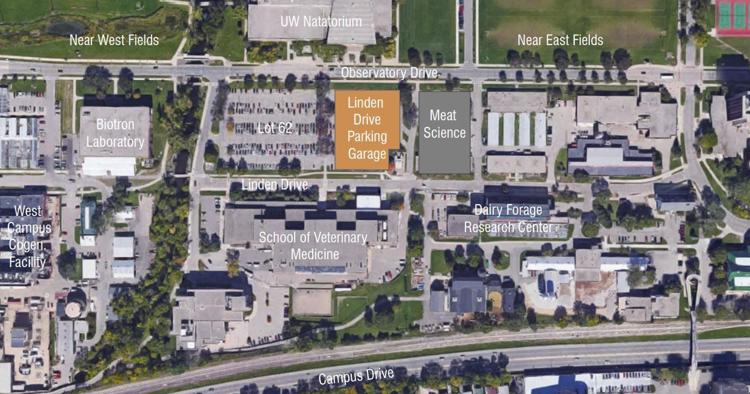 Gary Brown, director of campus planning and landscape architecture, said the additional parking could be used by people visiting the veterinary medicine hospital, the future new gym and natatorium facility and the new retail store opening at the Meat Science facility in 2019. 
UW-Madison's current parking system is comprised of about 13,000 spaces to accommodate permit, visitor, short-term and departmental vehicle parking needs for approximately 65,000 students, staff and faculty members. 
"As surface lots are redeveloped into building sites and new campus open spaces, the Master Plan proposes new structure parking to meet campus needs," Brown said in a letter to the city.
Construction on the $23.6 million project is expected to begin in June with a targeted opening year of July 2020. 
The project will require recommendations and approvals from several city bodies including the Transportation Committee, Board of Public Works, Joint Campus Area Committee and the City Council.

Representatives from Potter Lawson, the lead consultant, will be giving a presentation on the project at the Joint Campus Area Committee's meeting Wednesday at 4:45 p.m. in room 132 of the WARF Building, 610 Walnut St.