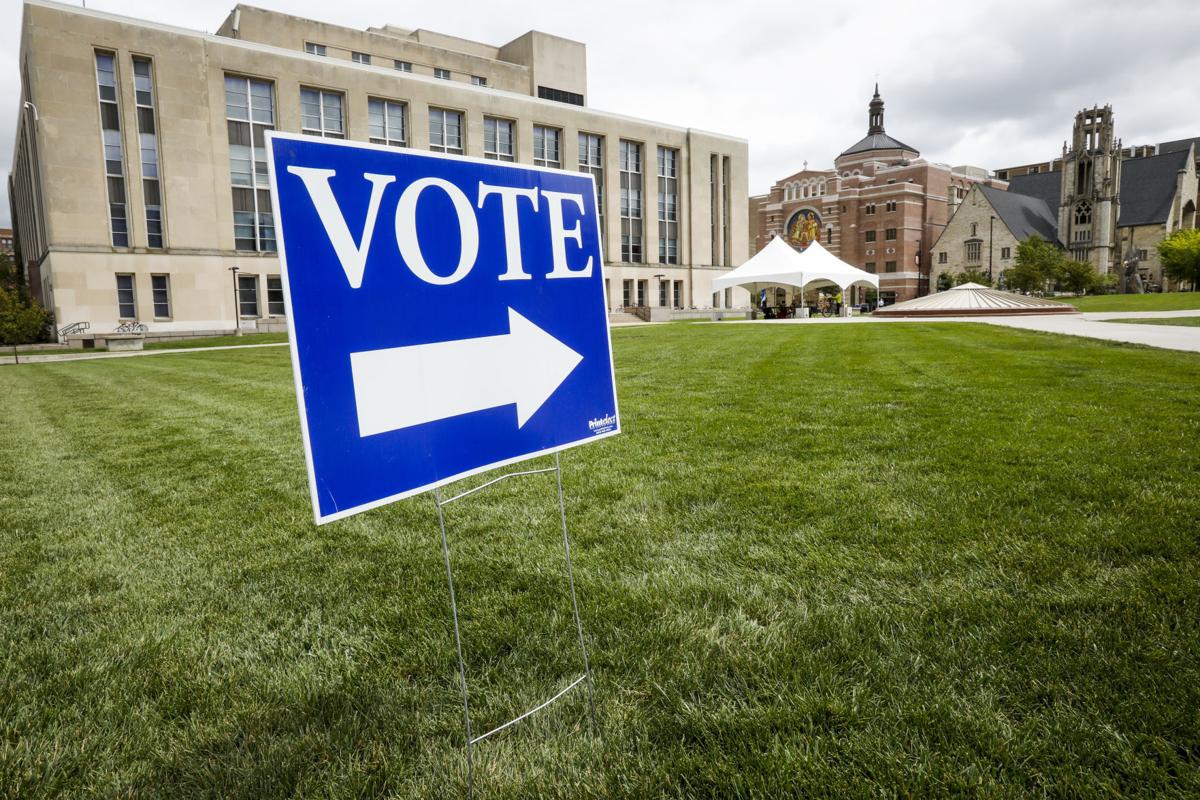 As Democrat Jonathon Hansen gears up for a tight election in northeastern Wisconsin's 30th Senate District, student turnout at the University of Wisconsin-Green Bay may play a pivotal role.   
Hansen's uncle won the now-open seat in the traditionally conservative area by just 2.6 percentage points in 2016. Four years later, while Republicans target the district as one of three potential pickup opportunities in the Senate, Hansen anticipates the college vote "could swing it one way or the other." 
"I think the degree to which young people vote could make a difference, especially in these races that are tight," said the De Pere alder, who's facing Republican attorney Eric Wimberger in the race to succeed retiring Sen. Dave Hansen after 19 years in the Legislature. 
As Nov. 3 looms, student turnout in mid-sized cities across Wisconsin such as Green Bay and La Crosse could sway the outcomes of potentially competitive legislative districts. But with fewer students living on campuses and ongoing challenges stemming from the COVID-19 crisis, it's more difficult than ever for campaigns and organizers to reach those potential voters. 
In the last election, Green Bay's Ward 3 (home to the university) backed the Democratic state Senate candidate by a margin of 207 votes, according to results from Brown County.  
While Hansen said he was concerned college turnout could fall this year in light of those realities, he said he observed lots of excitement among young voters surrounding the presidential contest and other matchups.
"We're hoping that the energy around my race and other races on the ballot will help mitigate some of the drop-off in voting that we might see because of the pandemic," he added. 
Recently, voter turnout on college campuses has increased at disproportionate rates compared to all Americans. Student turnout more than doubled from 19% to 40% between the 2014 and 2018 elections, according to Tufts University's latest National Study of Learning, Voting and Engagement (NSLVE) report. This year, more than 6 million voters under 30 have already voted nationwide, compared to about 2 million at the same time in 2016, NPR reported Thursday. 
But when trying to project what will happen this year, Republican strategist Brandon Scholz noted "all bets are off" when it comes to "traditional thinking of turnout mechanisms, programs and demographics." 
"Obviously we won't know until next week what impact campus votes had in this election. I'm not certain today, a couple days out, that it's going to have as dramatic of an effect as it would have with (complete) in-person schooling," he said, adding: "I don't know that they are necessarily the high-impact vote that they have been in the past."
Outreach efforts 
Green Bay isn't the only four-year UW institution positioned in what's expected to be a competitive district this year. 
Also in the mix is UW-La Crosse in western Wisconsin, which is part of the open 32nd Senate District that former Minority Leader Jennifer Shilling won by just five dozen votes in 2016 — another seat seen as a top pickup opportunity for Senate Republicans.
UW-La Crosse followed national trends in 2018, with a 47.3% voting rate compared to 27.8% in 2014, according to the university's NSLVE report. Its students voted at higher rates than the national average of 39.1%.
Two years ago, NextGen's Wisconsin spokesman Kade Walker was among those working to register voters and bolster turnout among college students on the UW-La Crosse campus, hosting events and connecting with potential voters in-person outside the library, student union and residence halls.  
But now, the group, created by liberal billionaire and unsuccessful 2020 Democratic presidential candidate Tom Steyer, is doing that outreach virtually, Walker said. Volunteers "became digital organizers overnight essentially" as campuses cleared this spring, and that online push has continued even as some students returned to their universities in the fall.
Though UW-La Crosse officials in August anticipated the university would house over 3,200 students, a spokesperson reported that the number is down nearly 25%, with 2,462 students currently living in its residence halls.
Campuses across the UW System have seen similar declines, despite enrollment changing by only about 1% this fall. UW-Green Bay is currently housing fewer than 1,500 students at 75% capacity. UW-Stevens Point, located in a central Wisconsin Senate district Democrats hope to flip, is housing fewer than 2,000 students, about 250 lower than anticipated. 
That year, turnout at UW-Stevens Point was 46.8% in 2016, down slightly from 51.8% in 2012, per the university's NSLVE report. The 2016 voting rate that was generally on par with the national rate of 50.4%.   
Scholz, the Republican strategist, noted the "heavy (Donald) Trump vote" in that part of the state, independent of the campus' turnout rate, saying it was an example of a district "where the tide was already tipped."  
Kelsi Grubisich, civic engagement and leadership coordinator at UW-La Crosse, said having fewer students on campus has not hindered voter registration efforts, given that the university aims to reach both on- and off-campus students anyway. Instead, her biggest challenge was an unexpected switch to virtual learning for two weeks at the beginning of fall semester.
UW-La Crosse had planned events for national voter registration day on Sept. 22, but once the programming moved online, Grubisich said only three people showed up on Zoom. The university has increased messaging on social media platforms and, once students returned to hybrid learning, was able to hold three days of in-person voter registration.
The university has also partnered with the League of Women Voters for its voter registration drives. Still, Grubisich said the pandemic has thwarted plans to engage with local issues, such as hosting candidates on campus, and the university has instead prioritized informing voters and encouraging attendance at virtual community events.
"A big focus for us this year was just making sure students were registered," Grubisich said. "We were just trying to make out even how to host events … We haven't really focused as much on looking at the specific candidates as we would have liked to."
Sign-up here for the Campaign Notes newsletter to get important Wisconsin politics updates in your inbox each Thursday, now through Election Day. 
Get Government & Politics updates in your inbox!
Stay up-to-date on the latest in local and national government and political topics with our newsletter.