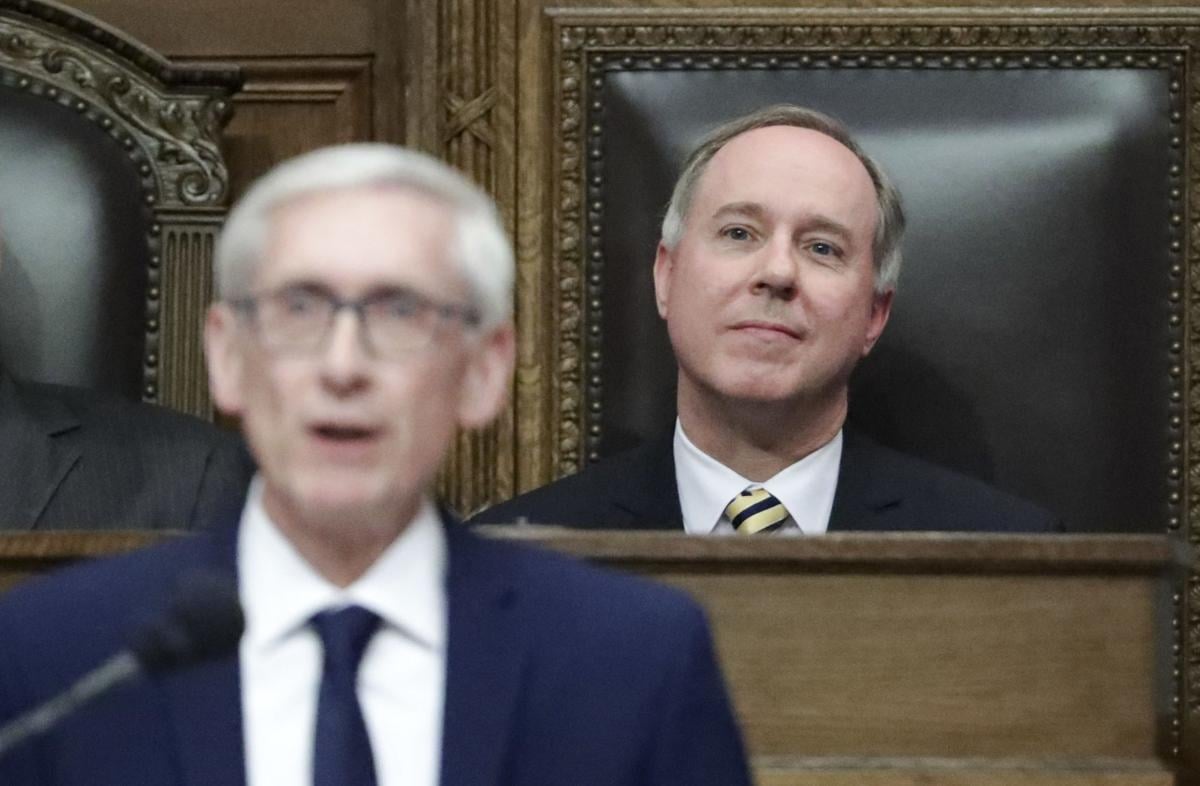 As Wisconsin prepares for an influx of federal money following Congress' passage of the latest $1.9 trillion COVID-19 relief package, Assembly Republicans and Democratic Gov. Tony Evers have laid out their own priorities for the use of those dollars.
While the Legislature currently doesn't have a say over how the bulk of the funding will be allocated — and Evers vetoed a GOP bill this week that would have given the Joint Finance Committee oversight — Assembly Speaker Robin Vos has threatened to go to court to grant Republican lawmakers purview over how the dollars are spent.
That includes $600 million for businesses and $50 million for the tourism industry. On top of that, $200 million would go toward infrastructure, including expanding broadband access (Evers' budget looks to invest more than $200 million in that area alone), while another $500 million would be used for continuing the state's pandemic response.
While Assembly Republicans on Tuesday praised the proposed investment in small businesses and the tourism industry, they also called for using $1 billion of that money to send rebate checks to Wisconsin property owners. That would provide what Rep. Mark Born said would be an equivalent of a 10% return on property taxes.
While the $3.2 billion in federal money can't be used for tax relief, Born, the Joint Finance Committee co-chair, said he didn't think the Assembly GOP framework would violate that provision. Instead, the state would use tax bills to determine how much aid to provide to property owners.
In addition, Republicans in a Capitol news conference called for directing $500 million toward broadband expansion grants, more than double what Evers proposed in his budget, and helping seniors and long-term care facilities, though few details were shared about that point.
Born didn't say whether the $500 million Assembly Republicans are calling for in broadband grants would be on top of an investment in the budget, saying only: "We would like to see a major investment in that area."
The Beaver Dam Republican also remained tight-lipped about how this infusion of federal cash could impact the budget process, saying only that "it'll certainly be part of the discussion."
The remarks came a day after Evers vetoed a bill that would have given the powerful Joint Finance Committee the ability to review Evers' plan for spending federal COVID dollars.
Evers in a statement Monday announcing the move said he didn't want to see "the Legislature to play politics with our funds."
"These funds don't belong to me or any member of the Legislature, and these funds sure shouldn't get caught up in another political back-and-forth where Republicans in the Legislature put politics before people or take nearly 300 days to act," he said. "This money belongs to Wisconsinites and so many need this support—it would be unimaginable for Republicans to prevent these funds from going out to folks who need it the most."
In all, Wisconsin is set to receive $8.7 billion from the latest federal COVID package, when factoring in expected dollars for schools, colleges and universities, according to an estimate published by WisPolitics.com last week.
Of that, $5.7 billion is earmarked for direct payments to state and local governments, while $1.5 billion is heading toward the state's public K-12 schools and $560 million is designated for colleges and universities.
Wisconsin is eligible for other funds under the package, including an extra $1 billion in savings over the next two years if the state did accept the federal Medicaid expansion dollars. That money isn't included in the $8.7 billion figure.