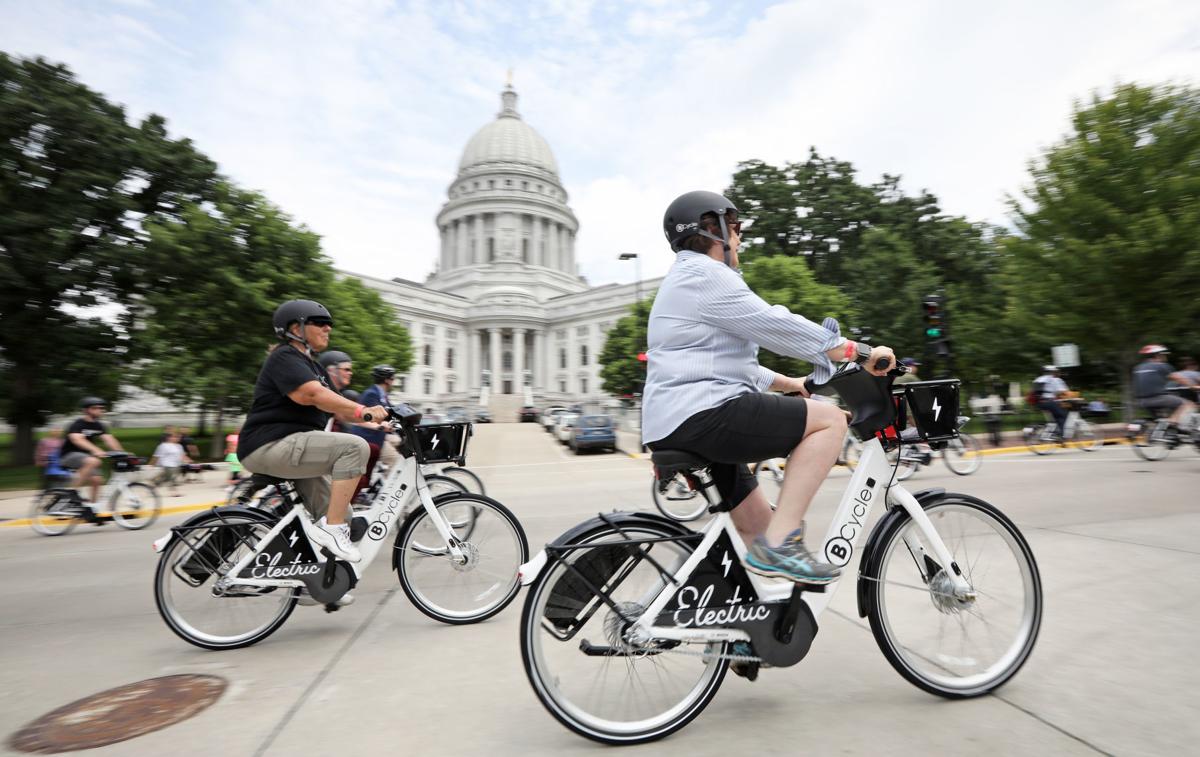 Demand for BCycle bikes has gone "through the roof" since the Madison program when all-electric a month and a half ago, according to the bike share's executive director.
BCycle's Morgan Ramaker said the service has logged more than 40,000 rides since the June 18 e-bike rollout, more than doubling the demand and amounting to nearly 40 percent of the total number of rides for 2018. 
"What's interesting is that most of the increase has come from local members, which speaks to the role the BCycle e-bikes are playing as a transportation option for residents," she said in an email.
Trek-owned BCycle, operating in Madison since 2011, allows an unlimited number of rides to members. Non-members can check out the bikes using an app. Madison is the first of more than 40 cities where BCycle operates to go all-electric, though other bike-share programs have made the move. Officials in Summit County, Utah, claim that their Summit Bike Share, which went electric on 2017, was the nation's first to do so.
"Now that people can travel farther, faster, it has been fun to see how ride patterns have changed," Ramaker said. "Some of our outlying stations are getting more use."
For now, she said, the bike share has enough bikes to handle the demand, despite dropping the total number from 350 to 300 with the e-bike rollout. She said the company will likely add bikes as it opens new stations this year. 
She said the changes have prompted BCycle workers to shuffle some bikes around to fill empty stations with idle bikes from other stations.
"The key here is less about the number of bikes and more about having the right number of docks and stations in the right places," she said. 
A lot of the demand is downtown on the Capital Square, on State Street and near Memorial Union. BCycle expanded the number of stations downtown to nine two years ago, and Ramaker said having stations in close proximity has made it easier for riders to find available bikes. 
"This has been a huge win, and we are looking to replicate that in the East Wash corridor next," she said. 
E-bikes are rapidly becoming a mainstay in the local transportation landscape, with increasing numbers of the pedal-assisted vehicles populating streets and bike paths. While they have proven popular with older or disabled riders looking for a less stringent ride, a store manager at Crazy Lenny's E-bikes said last month that a growing segment of customers are young riders.
An analysis by the Bicycle Product Suppliers Association found that shipments of e-bikes nationwide were up 83 percent for the first half of the year, making up 3% of bike sales and 10% of bicycle revenue, reflecting the higher cost of the bikes, which typically run between $2,000 and $3,000.
The onset of the e-bike era hasn't come without controversy. Some riders are worried that fast-moving e-bikes threaten to make local bike paths less safe. The BCycle bikes max out their pedal assist mode at 17 mph, but a proposed state law will allow pedal assist up to 28 mph.
Madison's bike and pedestrian administrator Renee Callaway said the city has gotten complaints, mostly for e-bikes traveling too fast on busy bike paths. 
"The city's focus is on behavior change for all bicyclists regardless of the type of bike they are riding to address concerns around speed," she said in an email.
She said efforts are under way to educate bike path users, including posting signs to remind riders to slow down when the path is crowded. 
Some cyclists have also been concerned about e-bike owners disabling speed controls by hacking the bike's computer system, a process, explained on numerous websites, known as "tuning." 
For now, the vehicles remain illegal on bike paths, but restrictions haven't been enforced. E-bikes are currently classified as motor bikes, the same as bikes with gas-powered motors. But the proposed law would give them their own classification. The law has passed through committees in the state Senate and Assembly with unanimous support and await votes in both chambers.
If passed, as expected, Wisconsin would join about 30 other states that have adopted laws to accommodate e-bikes.
Share your opinion on this topic by sending a letter to the editor to tctvoice@madison.com. Include your full name, hometown and phone number. Your name and town will be published. The phone number is for verification purposes only. Please keep your letter to 250 words or less.
Get Election 2020 & Politics updates in your inbox!
Keep up on the latest in national and local politics as Election 2020 comes into focus.