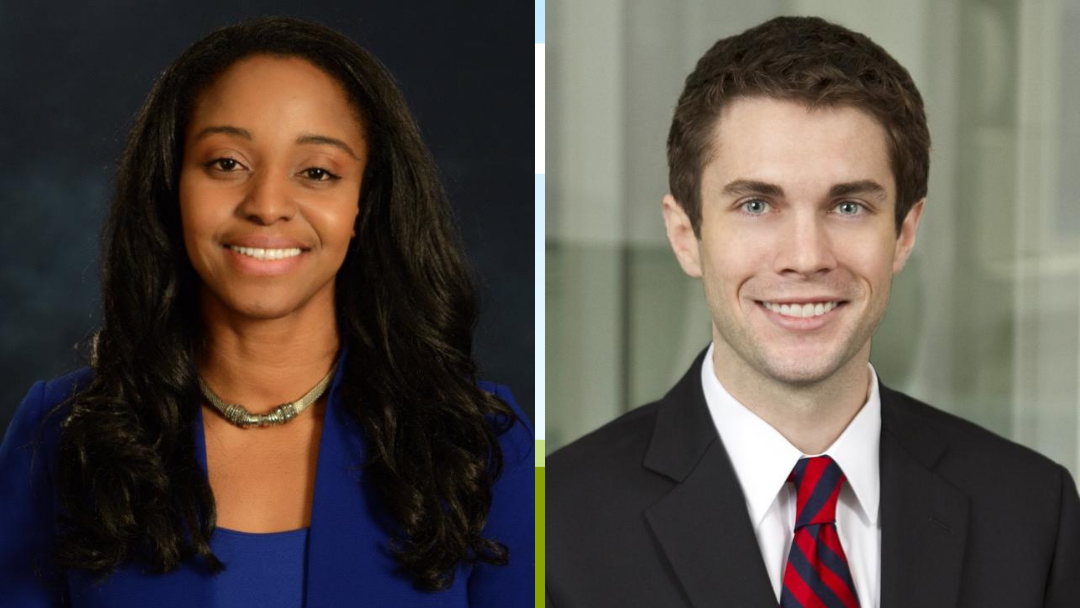 The three finalists considered for a pair of vacancies on the Dane County Circuit Court included two state agency employees and an assistant U.S. attorney. 
But ultimately, Gov. Tony Evers would decide to name Nia Trammell, deputy secretary at the Department of Safety and Professional Services, and Western District of Wisconsin assistant U.S. attorney David Conway to the bench. 
The two constituted a continuation of the Democratic executive's appointment spree to the court, which began earlier this summer when Evers named three new judges in the span of a week. That means five of the 17 court branch judges have been filled by Evers' hand-picked appointees.
This time around, a pool of 25 applicants were considered: 19 who had unsuccessfully applied for vacancies earlier this summer plus six new individuals, Evers spokeswoman Britt Cudaback said. 
That was later winnowed to three finalists: Trammell and Conway, who were also considered finalists for the initial open slots, and new applicant Corey Finkelmeyer, the state Department of Justice's Division of Legal Services deputy administrator, according to documents obtained from Evers' office under the state's open records law.
Applicants for Circuit Court have to fill out a questionnaire that's reviewed by a selection advisory committee consisting of 16 members including Evers' chief legal counsel Ryan Nilsestuen. 
Individuals were also required to address a series of fields, including the names of judicial or nonpartisan candidates they have endorsed, and answer a multitude of questions, including why the individual wants to be a judge, what "the proper role" of a judge is, and which case over the past 25 years by the U.S. or state Supreme Courts have "had a significant positive or negative impact on the people of Wisconsin."
Trammell, who has served in her role at DSPS since the beginning of the Evers administration in January 2019, replaces Judge Shelly Gaylord on Branch 6. Her resignation is effective Aug. 31, according to a July press release from Evers seeking applicants for the job.
She's the first Black woman in Wisconsin to serve as a judge outside of Milwaukee County, according to Evers' announcement last month, and the sixth Black woman to serve as a judge in state history. She has served on the Madison Police and Fire Commission since 2015.
Meanwhile, Conway, who has served in his role since June 2015 and last year was named the office's civil division chief, replaces Judge Peter Anderson on Branch 17. His resignation is effective Aug. 4, according to a July press release from Evers seeking applicants for the job.
Though Trammell's and Conway's application materials were reviewed once before for the three initial open court slots, Trammell submitted a series of additional letters of recommendation from former Fitchburg Mayor Frances Huntley-Cooper, Madison School Board President Gloria Reyes and others. 
The remaining finalist for the posts, Finkelmeyer, has been working at the DOJ since 1999 and heads the Wisconsin State Claims Board. He also unsuccessfully ran for the Dane County Board of Supervisors in 2004.  
Finkelmeyer wrote in his application he was interested in becoming a judge for three reasons: to positively impact citizens' everyday lives, solve problems and "protect the constitutional rights of individuals when the legislative and executive branches of government may have failed them." 
"Those with little power to access and influence the more political branches must have an outlet to air grievances, seek just outcomes, and right past wrongs," he wrote. "When the more political branches have either affirmatively wronged an individual, or have been inaccessible to an individual, a judge must step in and provide an outlet for that individual to find justice." 
In addition to those three finalists, 22 others were considered for the roles. Under state statute, applicants are able to request confidentiality and thus prevent the release of their information. But five applicants who submitted application materials for court positions earlier this summer did not request that confidentiality. 
Those individuals, who were considered again for the two more recent openings, are: Madison attorney and Dane County Supervisor Carousel Bayrd, of Herrick & Kasdorf LLP; Anne Bensky, an assistant attorney general at the state Department of Justice and UW Law School adjunct professor; Dane County Circuit Court Commissioner Mark Fremgen; Madison attorney Marta Meyers, of Boardman & Clark LLP; and longtime attorney and former municipal Judge Marilyn Townsend, who lost a bid for circuit court in 2017 to newly elected Supreme Court Justice Jill Karofsky.
Of the new applicants this time around, just one name was released: Madison attorney Kenneth Durren, of the Wisconsin Department of Administration's Division of Hearings and Appeals.
Sign-up here for the Campaign Notes newsletter to get important Wisconsin politics updates in your inbox each Thursday, now through Election Day. 
Get Election 2020 & Politics updates in your inbox!
Keep up on the latest in national and local politics as Election 2020 comes into focus.