Chanting "black lives matter" and "I can't breathe," thousands of protesters gathered at the Wisconsin State Capitol on Saturday afternoon to call for justice and an overhaul of law enforcement procedures in the wake of George Floyd's death in Minneapolis police custody. 
The peaceful protest and march, which joined demonstrations elsewhere in Wisconsin and across the nation, came a day after former officer Derek Chauvin was charged with third-degree murder and second-degree manslaughter. Chauvin knelt on 46-year-old Floyd's neck for nearly nine minutes during an arrest Monday. 
The charges did little to quell attendees' outrage and anger over yet another high-profile death of a black person at the hands of white law enforcement officers. 
"It's not over. It's not enough. We had one officer charged; there were three more that were standing right there watching it happen," said Green Bay resident Sabrina Johnkins, referencing the other officers who were at the scene with Chauvin as he knelt on Floyd's neck but didn't intervene. They have since been fired. 
The crowd didn't hide its frustration. Rows and rows of protesters spanned multiple blocks in the gathering's opening hours, chanting "The whole damn system is guilty as hell. Indict, convict, send those killer cops to jail," and "F--- the police."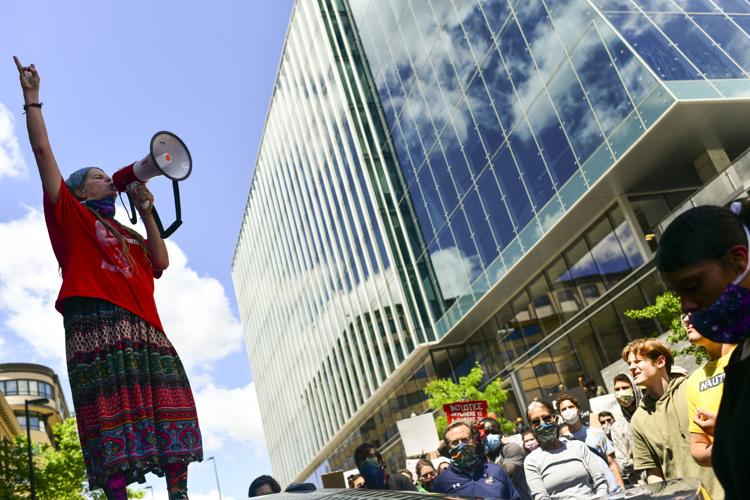 For one attendee, Madison resident Amy Quan Barry, justice doesn't just include bringing charges against the offending officers, but rather pursuing "real systemic changes in order to address it." 
"I think if we think justice just has to do with this case, then we'll be right back here again," said Barry, a UW-Madison English professor, adding she was hopeful the moment would help "tip things with respect to the election in the fall."  
Most protesters on Saturday appeared to be wearing masks -- an acknowledgement of the ongoing concerns surrounding the novel coronavirus. But the event ran counter to Dane County's own restrictions on business activity and more, an order that caps outdoor mass gatherings at 50 individuals. 
Public health and Madison police officials Friday didn't say they had plans to issue citations for violating the order. 
While many attendees remarked at the size of the crowd, they stressed what they saw as the importance of the event, even amid a public health crisis. 
"I appreciate that obviously this is a strange time because of COVID-19," Barry said. "I think it's also important that we can't let up when these kinds of things happen."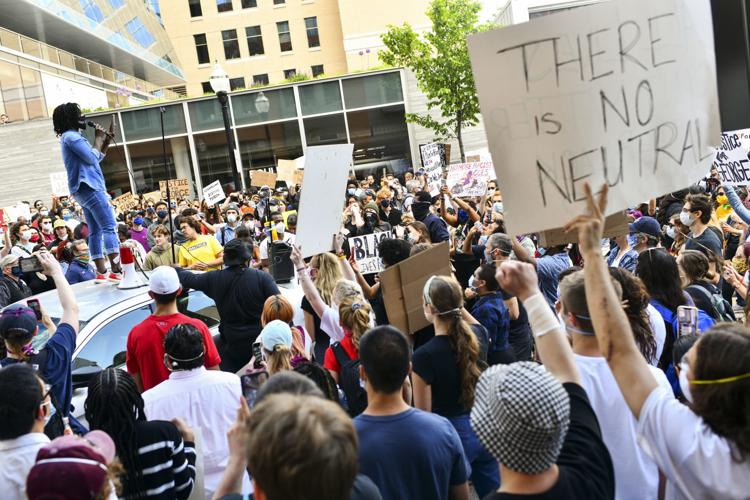 For one man, Sun Prairie resident Salomon Nyang, attending the event was necessary for him because of his role as a young, black father. 
"I've got kids and I want them to grow up and feel that they're safe in America," he said.
Meanwhile, Willa Brenneis, who attends college in New York but is currently living in Madison, said being at the protest mattered to her "because things have sort of hit a tipping point." 
Holding a "no justice, no peace" sign, Brenneis stood near the Capitol and apart from the protesters marching along West Main Street and down Martin Luther King Jr Boulevard -- a choice she said was intentional given her identity as a white woman and the reality that putting herself "in the center of things" wouldn't be right. 
"Everything I do today is for positive change and not because I feel entitled to be a major voice in this," she said. "I think what's more important is to show support but lend spaces for voices of color that haven't had that space."
The Madison demonstration came as, on Saturday afternoon, Gov. Tony Evers authorized 125 members of the Wisconsin National Guard to aid Milwaukee County law enforcement with its own planned event.
More than a dozen businesses were damaged during a period of violent unrest following daylong peaceful protests in Milwaukee on Friday, reports showed. Some 50 people were ultimately arrested, leading local officials to request National Guard support ahead of another planned protest in Milwaukee on Saturday.
Evers, in a joint statement with Milwaukee County Executive David Crowley and Mayor Tom Barrett, called the move a "limited authorization of citizen soldiers" that "will help protect people who are exercising their First Amendment rights and ensure the safety of the public."
In Madison, protesters they initially gathered at the Capitol before circling the Square and standing outside the Madison Police Department. They then headed down East Washington Avenue and cut over to Williamson Street to remember Tony Robinson, the black teen who was killed by a Madison police officer. 
Robinson, who was 19 and unarmed, was fatally shot in March 2015 on Williamson Street. Following his death, Dane County District Attorney Ismael Ozanne decided not to bring criminal charges against the officer, Matt Kenny. 
Reflecting on the history people of color in the U.S. have lived, Johnkins and others didn't understate the overhauls needed to end fatal encounters between black individuals and white police officers. But Johnkins didn't shy away from them either. 
"I know one protest probably won't change anything but I'll be here time and time again until it does," she said.
Share your opinion on this topic by sending a letter to the editor to tctvoice@madison.com. Include your full name, hometown and phone number. Your name and town will be published. The phone number is for verification purposes only. Please keep your letter to 250 words or less.
Get Government & Politics updates in your inbox!
Stay up-to-date on the latest in local and national government and political topics with our newsletter.