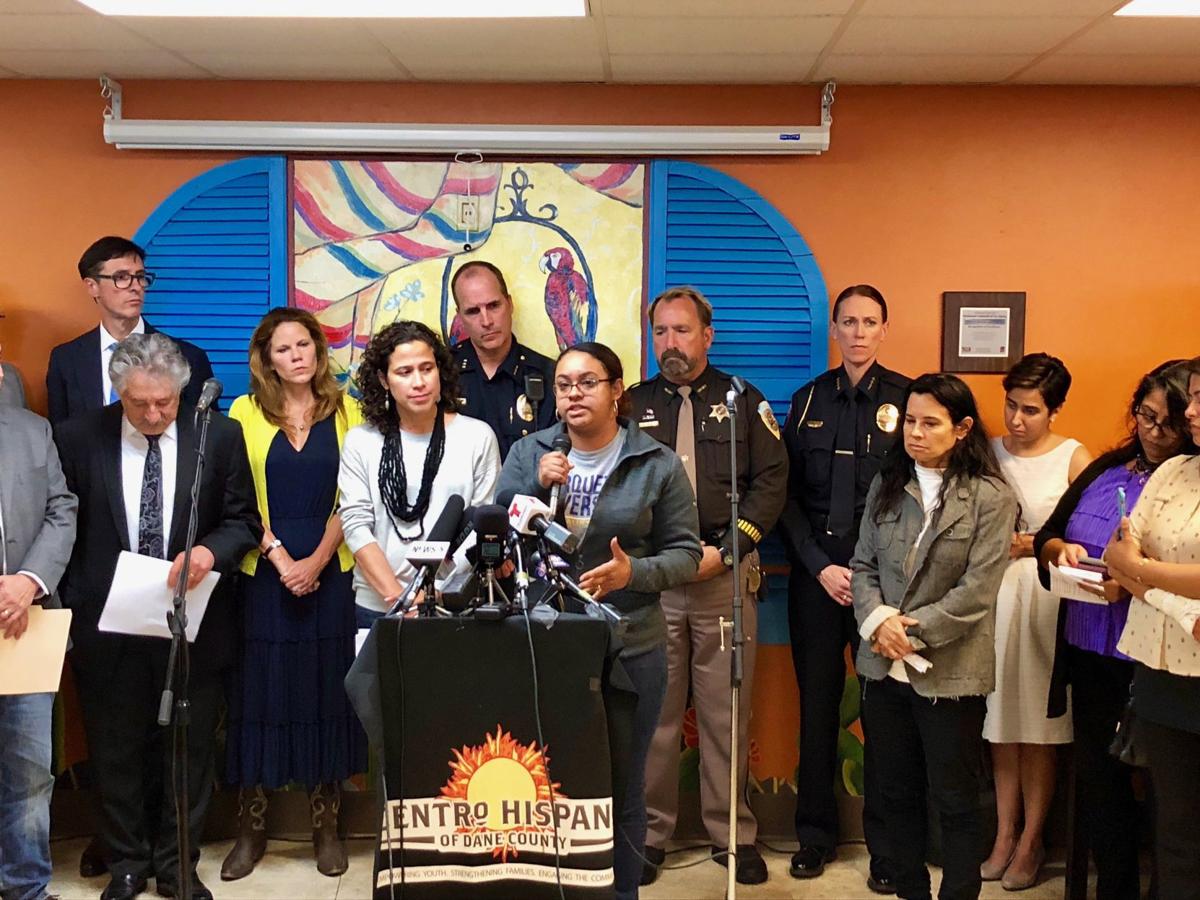 Gissell Vera was on her way to school Friday morning, but turned around when she received a text message from her aunt informing her that someone had knocked "aggressively" at her door.
Vera, 18, is the strongest bilingual speaker in her family and her language skills were needed at home to get information from the Immigration and Customs Enforcement agents who came to detain her uncle, Erick Gambao Chay.
"They're basically destroying our family," Vera said at a press conference Monday at Centro Hispano. "Why are they doing that? It's just chaos."
Gambao Chay, a father of three children under the age of 10, was one of approximately 11 individuals known to be detained by ICE agents in the Madison area starting Friday, according to Voces de la Frontera, an immigrants rights advocacy group based in Milwaukee.
Over the weekend, reports of co-workers, employees and family members surfaced on social media, heightening tension in the community.
"It may seem a small number, but these are the breadwinners from the families," Dane County immigration affairs specialist Fabiola Hamdan said. "They are the ones that are (leaving) behind kids, moms, wives and the community … it's a super hard day for us, not only Latinos but all immigrants."
Kazbuag Vaj, the co-executive director of Freedom Inc., reminded those at the press conference that the issue of immigration does not only affect the Latino community. Vaj works with Hmong and Cambodian refugees who could also be vulnerable to ICE.
"As a community that's already heavily policed because we live in low-income housing and we live right around this area ... having ICE, an additional militarism, in this community adds additional stress to the families," Vaj said. "We are in crisis also."
Voces de la Frontera also reported that ICE agents arrested 15 people in Arcadia, three people in Milwaukee and five in Green Bay as of Monday morning. In some cases, including the arrest of Vera's uncle, ICE agents are "falsely identified themselves as police," they said.
Vera explained to a packed room of reporters, local and state officials, and dozens of community members that her family is used to working with local police officers.
"We live in a very unsafe neighborhood, so it's normal for law enforcement to come and ask questions," she said. "We always cooperate because we live in a really united community."
The agents identified themselves with ICE and arrested Gambao Chay as his children clung to him. Gambao Chay's three children and wife were previously hiding in the attic for fear of deportation.
"Once my uncle walked up to the door, they said, 'We're ICE police and you have to come with us because you haven't been behaving well and you don't have the right to be here,'" Vera said.
Mayor Paul Soglin said the tactic is a lie used by ICE to "create confusion and worsen an already bad situation."
"We are going to continue to protest the use of police in regards to ICE's activities," Soglin said. "They are not police. They are federal agents who are using their authority to come into a local situation."
Soglin said the city's priority is to identify the individuals who have been detained and get them access to legal services. He also requested a meeting with mayors from across the nation and ICE officials to discuss the lack of communication with local agencies.
"We do not need you making your determination that someone who may have some traffic violations, someone who may only be undocumented or have some other minor offenses is someone who is of danger to our community," Soglin said, directing his comments to the federal agency. 
Madison Police Chief Mike Koval and Dane County Sheriff Dave Mahoney have reiterated their commitment to the Madison and Dane County community and not to enforcing immigration law.
Koval said Friday that he was not informed that ICE would be in the area even though the MPD has a standing agreement with the agency to be notified when agents will be in the community. Koval has reiterated that enforcement of immigration laws remains primarily with the federal government.
"To this end, MPD will not self-initiate contact, detain, arrest, or investigate any person(s) solely for a suspected violation of immigration status laws," according to the department's code of conduct.
MPD cooperates with ICE when the operation deals with "serious crimes directly relating to public safety" including the following situations as listed in the MPD's standard operating procedure on the enforcement of immigration laws:
The individual is engaged in or is suspected of terrorism or espionage.
The individual is reasonably suspected of participating in a criminal street gang.
The individual is arrested for any violent felony.
The individual is a previously deported felon.
Mahoney has refused to cooperate with ICE and rejected requests by ICE to hold people for 48 hours after they post bail or serve their sentences so ICE officials can arrange to detain them.
"Raiding our community without notifying local law enforcement puts our community at risk," Mahoney said.
U.S. Rep. Mark Pocan called ICE an "increasingly rogue agency" and has strayed from what said is the agency's original purpose, which was to "protect domestically from terrorism." Pocan said the agency would publish a list online of individuals who have been detained within the next two days. 
"To not tell the sheriff you're coming in and doing raids, to not tell the Madison police, to not talk to your federal representatives along the way, is exactly what's wrong with the agency," Pocan said. 
Those who have been affected by ICE can call Hamdan, the Dane County's immigration affairs specialist, at 608-242-6260.
Share your opinion on this topic by sending a letter to the editor to tctvoice@madison.com. Include your full name, hometown and phone number. Your name and town will be published. The phone number is for verification purposes only. Please keep your letter to 250 words or less.