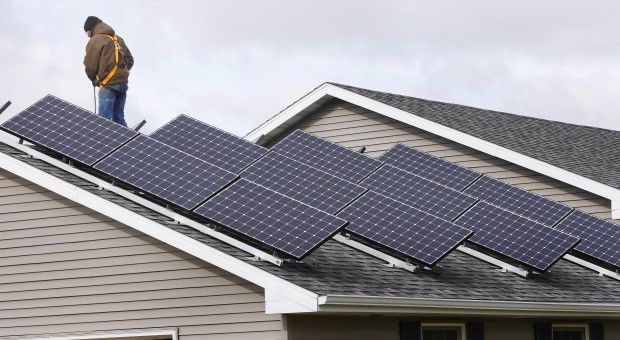 The city of Madison is looking to develop a plan that would update its buildings and facilities to achieve 100 percent renewable energy and net-zero carbon emissions. 
In a new proposed resolution, the city notes that the plan should "reflect scientific consensus and community aspirations."
At the same time, local clean energy advocates said that individuals who prioritize using more renewable energy sources can help the city achieve its goals.
"I think it's a massive step forward for the city of Madison and adds a lot of clarity as to what our mission is," said Raj Shukla, chair of the Sustainable Madison Committee, which is made up of alders and community members.  
The committee is scheduled to take action on a resolution that would dedicate up to $250,000 to hire a third-party expert to create the plan. Madison's 2017 capital budget already includes $750,000 for sustainability improvements, including renewable energy installations and energy efficiency upgrades.
Net-zero energy refers to looking at not only electricity consumption, but also transportation and heating, said Mitch Brey, campaign director for RePower Madison, a citizen group focused on energy planning. Net-zero energy occurs when the total amount of energy used by a building on an annual basis is roughly equal to the amount of renewable energy created on the site.
Likewise, carbon neutrality refers to achieving a balanced amount of carbon released with the same amount offset by another renewable energy source. 
"It's absolutely possible," Brey said. "Producing our own electricity locally will help the economy, it will produce jobs, it will reduce pollution and will protect health and safety."
The committee still needs to decide on a deadline for the plan to be developed and exactly how it will achieve the goals outlined in the resolution. Committee members were scheduled to meet Monday at 4:30 p.m. at the City-County Building, 210 Martin Luther King. Jr. Blvd, in room 351.
Jeanne Hoffman, the city's facilities and sustainability manager, said the city installs solar technology on all its new and remodeled buildings, as well as on many existing facilities.
"If the public really feels like this goal is important and lets the policymakers know that this is a goal that the city really needs to prioritize, there are many, many things the city can do to help reach that goal," Hoffman said. "The question is, 'What is the priority for the city?'"
If adopted, Madison would be the 21st city across the the nation to adopt 100 percent clean, renewable energy goals, according to the Sierra Club. Elizabeth Katt Reinders, a senior campaign representative for the Sierra Club's Beyond Coal campaign, said Madison has the chance to be a leader in promoting clean energy.
"We can create these clean energy economies that can bring increased jobs, from the installers and technicians to the engineers and designers," Katt Reinders said.
She said it is even more important to carry out this work at the local level, considering President-elect Donald Trump's pick of Scott Pruitt, who has been called a climate change denier, to run the Environmental Protection Agency. 
Earlier this year, Pruitt co-authored a National Review article that said the climate change debate is far from over.
"Scientists continue to disagree about the degree and extent of global warming and its connection to the actions of mankind," Pruitt wrote. "That debate should be encouraged — in classrooms, public forums, and the halls of Congress. It should not be silenced with threats of prosecution. Dissent is not a crime." 
A vast body of peer-reviewed studies, science organizations and climate scientists have concluded that the world is warming, mainly due to increasing levels of carbon dioxide and other greenhouse gases. Most of the rising temperatures have been attributed to man-made sources, such as burning coal, oil and natural gas in addition to deforestation and livestock raising. 
"Because we can't count on our national leadership to do it, we need to be doing it from the ground up," Katt Reinders said.
Share your opinion on this topic by sending a letter to the editor to tctvoice@madison.com. Include your full name, hometown and phone number. Your name and town will be published. The phone number is for verification purposes only. Please keep your letter to 250 words or less.