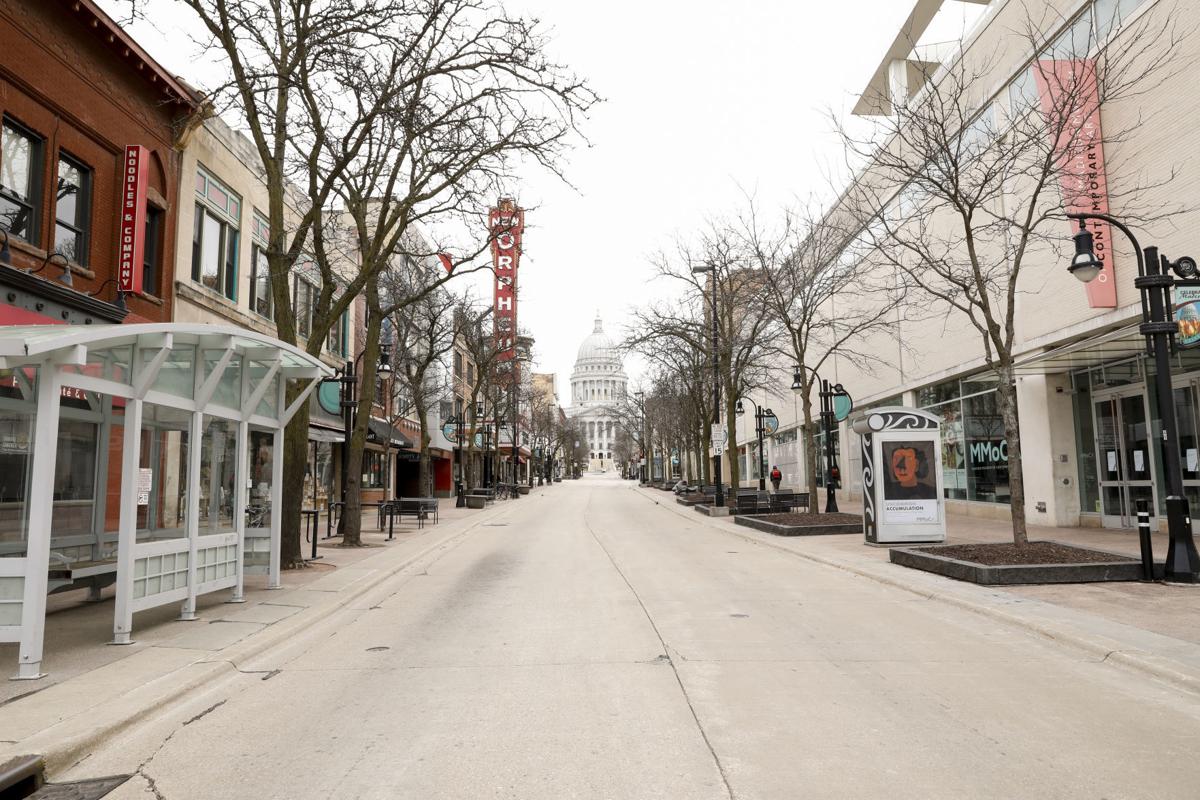 Businesses across Wisconsin lost millions of dollars in income, inventory, wages and productivity during the early weeks of the novel coronavirus pandemic, the first statewide survey of employers finds. 
Meanwhile, 35% of respondents say they would be forced to shutter permanently if current conditions continue for more than three months. 
The results, released Wednesday by the Madison Region Economic Partnership in conjunction with county and regional economic development partners, come six weeks after Gov. Tony Evers first declared a public health crisis in Wisconsin, an announcement that kicked off school closures and limits on crowd sizes. 
In the period since, further efforts to contain COVID-19's spread, including the order closing nonessential businesses, have fundamentally changed daily life for millions and operations for nearly every sector, including restaurants and bars — some of those most visibly impacted by evolving government directives. 
Administered by UW-Oshkosh, the responses from about 1.3% of all businesses in the state showed the early days of the "safer at home" order, 8,795 full-time employees were laid off, in addition to losses of $126 million in income, $95 million in inventory, $26.6 million in wages and productivity as employees work from home and $404 million in other impacts. 
While the initial results are based off responses from 2,538 businesses, officials say in the next few days they'll continue digging into the numbers to better assess statewide impact by making extrapolations from the existing data. 
But for now, MadREP president Paul Jadin said the results, collected over the first few weeks of April, indicate many of the programs implemented by the federal government should have some impact, but more can be done locally to aid employers directly. 
"We need to do a better job of coordinating that with our local and state assistance, so that instead of just kind of a broad brush, where everybody's able to apply, including the Shake Shacks and the Harvards of the world, we're better able to triage at the local level and say, 'Wait a minute, here's where the real bleeding is,'" he said, referring to entities that received federal money despite not apparently needing any.
Most respondents, when asked about their most pressing needs currently, said a sales tax deferral would be most beneficial, followed by a line of credit and no- or low-interest loans.  
Given that one-third of businesses surveyed April 1-10 said they'd be able to operate for fewer than three months, Jadin said that means "significant relief" would need to come by the end of May and early June, in addition to addressing access to customers again, which he called "the biggest issue."
It's still unknown which sectors have been hit hardest based on the results, Jadin said, but he noted at first blush, "it's clear we're dealing with a lot of small businesses, like restaurants."
An initial review of the regions and counties throughout the state shows the results are "fairly similar," Jadin added, though he noted that there were some counties that had limited responses, making it hard to draw definitive conclusions.
Companies are still able to respond to the initial survey for now. After that, those who responded will continue to be surveyed in May, June and July, if not longer, to monitor the continued impact. 
MadREP spokeswoman Jessica Reilly said the survey was the first statewide one of businesses covering the pandemic in terms of its reach, though she noted that the federal Small Business Administration, Federal Reserve and Wisconsin Tech Council have also had surveys out.
This one, though, "is the only one that reaches all businesses and can respond with real impacts," she added. 
Jadin said the latest survey, as well as subsequent ones, would be shared with the state's jobs agency, the Wisconsin Economic Development Corporation, where it could be used to help "inform exactly how the state treats the grant programs and loan programs" as well as the broader reopening process.
Evers on Monday unveiled the so-called "Badger Bounce Back" plan that lays out the criteria for eventually reopening Wisconsin businesses that includes more testing, a two-week decline in state cases and the gathering of more protective equipment. 
WEDC head Missy Hughes said in a statement the report "reinforces a lot of what I'm hearing when I talk with businesses and business leaders around the state."
"The results of the first survey by our partners at MadREP, the New North, and UW-Oshkosh provide us with data we'll use to guide our Wisconsin Ready program to help businesses resume operations," she said. "Combined with other financial data we're receiving, we hope to have a picture in real time of the needs of Wisconsin businesses so we can determine how best to serve them."
Share your opinion on this topic by sending a letter to the editor to tctvoice@madison.com. Include your full name, hometown and phone number. Your name and town will be published. The phone number is for verification purposes only. Please keep your letter to 250 words or less.