Over five years ago, a vacant lot on the 800 block of East Washington Avenue became home to an encampment of homeless people and Occupy Madison activists.  
Walking or driving down East Washington Avenue today, it is difficult to imagine that the busy block and former Don Miller auto dealership property was used by dozens of people as a temporary homeless shelter. Development projects that have brought office space, retail, entertainment, parking and housing have changed, and continue to change, the landscape of the busy thoroughfare.
"These sites were so dramatically underutilized for decades," city planner Heather Stouder said. 
Now the 800 block of East Washington Avenue holds Gebhardt Development's Constellation and Galaxie projects, which include apartments, office space, restaurants and a full service grocery store.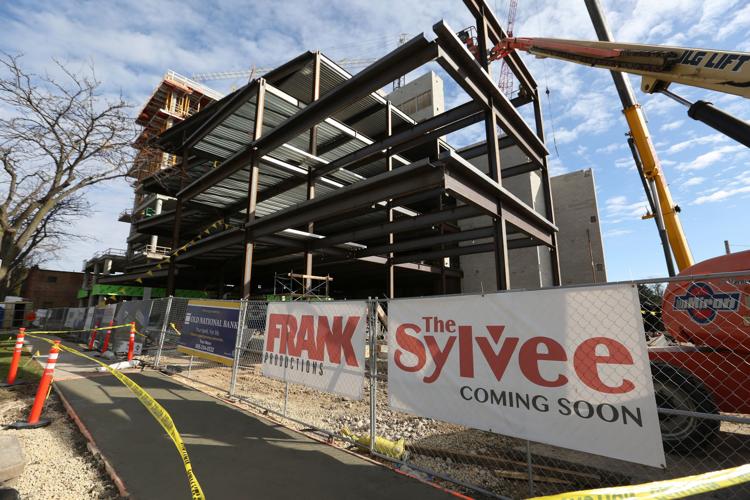 This year, the final pieces of what the city has dubbed the 800 Block Project began coming into focus across the street with construction on the Gebhardt building, which will house Frank Productions' music venue called The Sylvee, American Family Insurance and local entrepreneurial hub StartingBlock Madison. 
In tandem to Gebhardt's projects, Madison is also building a new Capitol East parking garage.
For over ten years, the city has focused on transforming the Capitol East District, the commercial corridor extending from the Capitol Square to First Street. The city adopted the Capitol Gateway Corridor Plan in 2008 that laid out a long-range vision to redevelop the area as a "compact, transit-oriented district with innovation-driven businesses, urban residents and neighborhood amenities." 
Though the plan has not fully been implemented and East Washington Avenue still has development opportunities, Stouder said, the city sees it as a success. It also has potential to be replicated at different scales in other areas of the city.
"I really do see it as a model for what can and should happen on South Park Street, on Regent Street," Stouder said.
However, East Washington Avenue is a unique area where the city helped "catalyze" the redevelopment by purchasing property to direct the type of projects that would go there, Stouder said.
The plan recommends a healthy mix of uses, encourages employment opportunities on the south side of the avenue and sets predictable building heights and how far buildings can be set back from the street.
"As a pedestrian walking down East Washington, it never would have been an attractive place ten years ago, and now it does feel like it's a place you should be walking," Stouder said. "I think a lot of detail attention was given to design parameters while still providing a lot of flexibility for development to move forward with the programs that (developers) want to achieve."
Further east on the avenue, there is a Stone House Development project that includes affordable housing at Brearly Street, McGrath Development's mixed-use residential and commercial project at Few Street and The Marling on the 1800 block that includes residential units and office space.
The public market is slated for First Street, which is the boundary of the study's focus. Dan Kennelly, Office of Business Resources manager, said East Washington Avenue exemplifies how a city's strategic investments can spur private development and investment. He sees public market as a future catalyst for even more redevelopment in the area.
"As the city has really worked with the private sector to implement that plan, I think it's really exciting we're going to create the capstone of the Capitol East District," Kennelly said.