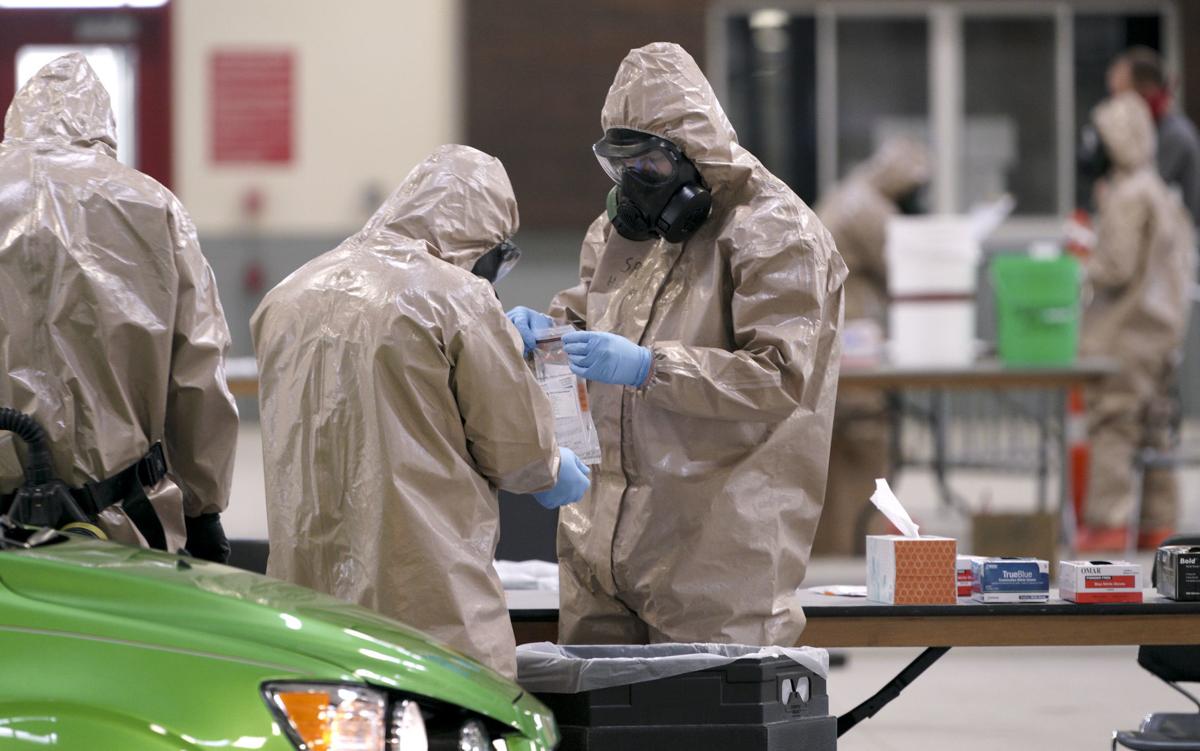 Local health officials are sounding the alarm over a steep spike in COVID-19 cases, which are increasingly tilted toward a younger demographic. The spike is putting a damper on hopes of further reopening the county for retail, bars, restaurants and gatherings.
In just five days, the county racked up 279 positive cases of the disease, with the seven day average at 47 per day. That's up from 17 cases a day in mid-June, according to Public Health Madison & Dane County, a nearly threefold increase.
Health officials are urging renewed efforts on the part of businesses and individuals, including strict adherence to maintaining a distance of at least six feet from others and wearing masks.
So far, the county has seen 1,350 confirmed cases and 32 deaths.
The increase follows the transition of the county to Phase 2 of its Forward Dane order on June 15, allowing retail businesses, bars and restaurants to move from 25% to 50% of capacity. It also allows indoor gatherings of up to 50 and outdoor gatherings up to 100.
On Thursday, the county reported 97 new cases. There were 70 on Wednesday. Nearly half the cases over the past five days were tested at the community test site at the Alliant Energy Center.
"Given this steep upward trend in cases from the past several days, it is very unlikely we will meet the criteria outlined in the Forward Dane plan for moving to Phase 3 anytime soon," said Janel Heinrich, Madison and Dane County public health director, in a statement.
Phase 3 would allow businesses to operate at 75% capacity and loosen restrictions on gatherings, allowing 100 for indoor events and 250 outdoors.
Health officials said even before the spike, discussions were ongoing about a possible regression to an earlier phase.
"The discussions are about when moving to a prior phase might be warranted, and there is no state or federal guidance about returning to prior phases," said Public Health Madison & Dane County spokeswoman Sarah Mattes.
She said the agency plans to issue guidelines soon that would lay out criteria for moving to an earlier phase.
The spike is driving a steady downward trend of the median age of those contracting the virus. In the six weeks prior to the recent spike, the median age went from 47 to 29. Between Saturday and Wednesday, the median age dropped to 23.
While young people tend to have less severe symptoms, they can be a catalyst for spreading the virus.  
Public Health Madison & Dane County reported Thursday that half of 279 cases in the past five days were people between 20 and 29 years old, and the county is investigating several cases associated with businesses near campus.
Mattes said those businesses include campus-area drinking establishments identified in interviews, and bars and restaurants identified as not following public health orders.
"Social gatherings are definitely a factor in the increased number," she said.
Reports from various hot spots across the nation report that bars are a factor in the spread of the disease — particularly among young adults — eroding judgement to follow social distancing guidelines. 
Contact tracers have connected 35 of the cases to "clusters." Health officials expect that number to increase as more people are interviewed. Heinrich said the increase is likely not due to any one factor, "but in our contact tracing interviews it is evident that people are socializing more."
Of the 279 cases, 167, or 60%, are from Madison, with the rest from other Dane County municipalities.
So far, the spike has not resulted in an increase in hospital admissions, but health officials say that data tends to lag behind case increases.
Dane County Executive Joe Parisi called the spike a "turning point."
"It's here, it's spreading, it's affecting more young people, and the risk of getting it is no less today than it was in March when the state started Safer at Home," he said in a statement. "If we don't wear masks, if we gather in groups, if we go out in public excessively, we are at risk of amplifying this dangerous virus."
Statewide there appears to be a spike as well, with 464 cases reported Thursday and 432 confirmed cases reported on Wednesday, while there were only 263 reported on Tuesday. That's the highest number since June 4, when 492 were reported. Total deaths in the state numbered 766.
Dane County's spike comes as a disturbing uptick in cases hits populous areas in the U.S. California, Texas and Florida, which together make up 27.4% of the U.S. population, all reported record numbers of cases on Tuesday.
Get Election 2020 & Politics updates in your inbox!
Keep up on the latest in national and local politics as Election 2020 comes into focus.