Madison Gas and Electric continues working to restore power to nearly all of the thousands of customers who lost power Friday morning after a massive fire broke out at a substation on Madison's near east side.
As of 4 p.m., Mayor Satya Rhodes-Conway announced all customers had their power restored. However, 15 minutes into the press conference, MGE reported online that 3,264 customers were without power. Not long after, stoplights on nearby Williamson Street were dark, clogging up the evening commute.
"I'm sure our crews are aware of that. I've been here so I am not aware of it," MGE chairman, president and CEO Jeff Keebler said. "We will look into it and find out what the situation is."
By 6 p.m., the number of customers without power was down to about 30, according to the utility.
About 13,000 customers across the isthmus were in the dark as of 8:15 a.m., about 25 minutes after a transformer exploded and burst into flames Friday morning. The outage caused major traffic delays and affected businesses throughout the downtown.
Rhodes-Conway there have been no serious reported health concerns due to the heat. City and Dane County emergency operations were activated, additional cooling centers opened and Gov. Tony Evers declared a state of emergency.
"This is what emergency preparedness is all about. We drill for crises like these," Rhodes-Conway said. "We hope we never have them, but we are ready when we do."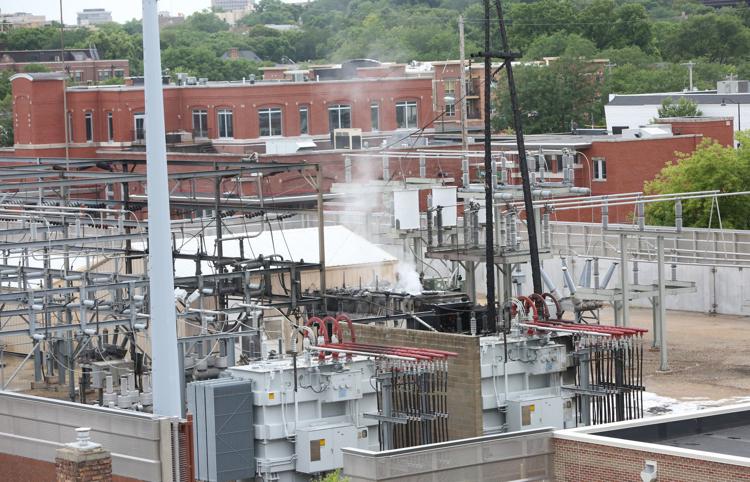 Dane County will open the Coliseum on the Alliant Energy Center campus as a cooling station at 5 p.m. Metro Transit will also establish bus routes to the Coliseum in case residents need to travel there throughout the evening.
The Ho-Chunk Nation is keeping its Madison Branch Office, 4724 Tradewinds Parkway, open to the public until about 9:30 p.m. Pets are not allowed. Water and refreshments will be available.
The Dane County Humane Society will take care of any pets overnight. People can drop off their pets until 7 p.m. at the Dane County Humane Society, 5132 Voges Rd.
For customers who lost power, Public Health Madison & Dane County recommends throwing out refrigerated or frozen food if food was in a non-running refrigerator for more than 4 hours, food has an unusual odor, color or texture, or if frozen food has thawed.
In addition to the Blount Street substation, a substation near University of Wisconsin-Madison's East Campus Mall also burst into flames Friday shortly after 8 a.m. Investigations into the fires are ongoing.
Keebler said it is a possibility the fires are connected because the substations operate on the same transmission and is likely a "mechanical issue."
The American Transmission Company, a Wisconsin-based company that owns and operates the electric transmission system in portions of the upper midwest, operates the East Campus Mall substation.
ATC vice president of system operations Paul Roehr said the company will be investigating, but that the weather was likely not a cause.
"We believe that heat was not an issue," Roehr said.
The two fires are related because the systems are electrically connected.
In the process of restoring service and transitioning to a normal system configuration, MGE said in a statement on Twitter it encountered a few isolated mechanical issues.
"This is to be expected when addressing an outage that impacted thousands of customers, and we are resolving those isolated issues as they arise," MGE said in the statement. "The restoration process resulted in a fluctuation in the number of customers out of power at a given time."
MGE said it is moving toward full restoration and will continue to conduct a full damage assessment.
Due to fire fighting foam used during the emergency response, Rhodes-Conway said the DNR is on site to "mitigate potential hazards." The foam, which is associated with chemical contaminants known as perfluorinated compounds or PFAS, was used because oil was present on site.
"It's unclear whether that foam used actually did contain PFAS, and it is being tested," Rhodes-Conway said. "We took immediate steps to lessen the spread."
Two environmental engineering firms are on site, water has been removed from storm sewers and the city installed barriers in the stormwater run off system to prevent contamination.
Due to the extreme heat and high humidity, Madison's air quality index remains in the "green," however it is nearing "yellow." Rhodes-Conway said this is likely more about the weather than the smoke.
"The smoke from the fire was very limited in duration and probably hasn't impacted air quality," Rhodes-Conway said.