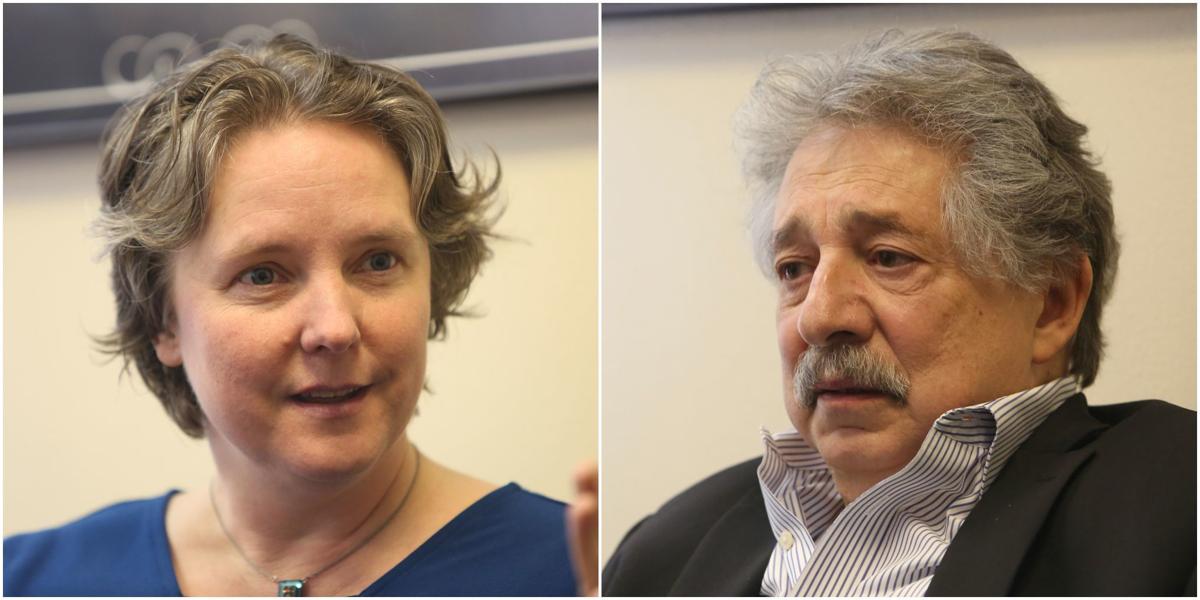 Differences between Madison's two mayoral candidates sharpened Monday night following a well-attended debate at the Central Library.
Incumbent Mayor Paul Soglin framed himself as a candidate who is realistic about the solutions needed to tackle challenges in the community, such as bus rapid transit and reducing greenhouse gas emissions.
"It's been very clear, I hope, that it's one thing to espouse progressive values. It's another thing, another challenge to make it work," Soglin said. "I'm here with your support to continue finishing the job."
Challenger Satya Rhodes-Conway emphasized her ability to work with everyone to solve challenges facing the city — including increasing affordable housing, improving transportation, dealing with climate change and addressing racial equities — for the good of city residents.
"These challenges aren't unique, and they're not unsolvable. Together we can make progress on them. We have so many assets in this city," Rhodes-Conway said. "What we need is experience from right here in this community and from across the country."
Rhodes-Conway and Soglin addressed a crowd of 200 people while an additional 150 people gathered in an overflow room. The forum was hosted by Isthmus, WORT Radio, The Progressive, Downtown Madison, Inc. and Capitol Neighborhoods, Inc.
Candidates had 90 seconds to respond to questions asked in three rounds with a chance for a 60-second rebuttal. Two lightning rounds tested the candidate's knowledge of Madison trivia and quizzed them on questions like what would candidates do if they were governor for a day.
On transportation, both candidates are supportive of bus rapid transit and debated who was more committed to the initiative.
Bus rapid transit is a system that offers fewer stops, faster and more direct service and larger vehicles to transport more riders. Rhodes-Conway said this is a "critical priority" for the community, particularly for transit riders traveling out of Madison and those who work second and third shift.
"I see very few people in public office who actually take the bus and know what a transit system needs to do for people who rely on it," said Rhodes-Conway, a daily bus commuter. "Am I more committed? I'm committed because it's my method of transit. I use it every day and I know how important it is to people's lives."
The city is currently studying how a BRT system could work. If implemented in Madison, BRT would complement existing bus routes, help alleviate overcrowding and improve travel times. Routes are anticipated to run every 10 minutes during weekday peak periods, every 15 minutes midday and every 30 minutes in the evening.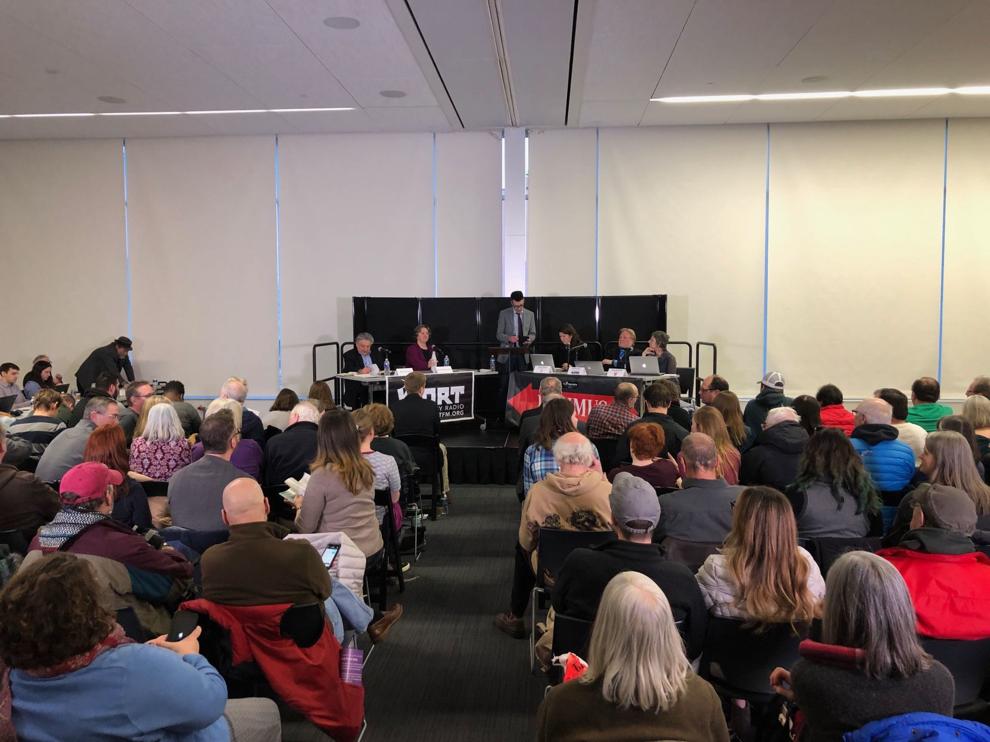 Soglin reiterated his commitment but said he is realistic about the cost.
"It's going to take hundreds of millions of dollars to make bus rapid transit work," Soglin said. "We are still on track, on time and I am just a firm believer that with my leadership, we will get the state to give us the new financing authorization we need that comes with a regional transit authority."
That authorization is needed to raise money to build the system, buy electric buses and build a bus garage, Soglin said.
On the issue of climate change, Soglin also called for sensibility.
"The really big difference is going to be partnering with MGE," Soglin said. "As long as they are burning coal, your electric car really is not that great."
Rhodes-Conway wants to make it easier for Madison residents to reduce their emissions and envisions partnering with Dane County to move toward the city's clean energy goals.
At previous forums and debates, Rhodes-Conway has said that Madison is a racist city. Soglin has strongly disagreed, while contending that there are systems that produce racist consequences.
"When you look at what the city's values are, when you look at the commitment that so many people and so many institutions have made in regards to racial equity, social justice, making changes in the criminal justice system, I do not believe that this is a city that is racist," Soglin said.
Rhodes-Conway clarified that Madison as a racist city does not mean its residents are all racists or act racist on a daily basis.
"It's saying that there are historical and structural and institutional problems with racism in our community, and we have to be able to name the problem and understand it if we are going to work on it," Rhodes-Conway said.
Soglin identified the Madison Public Market as an area where his vision of the city differs from that of Rhodes-Conway.
Rhodes-Conway said a public market would be a great asset to Madison but that she is concerned with how many iterations the city has developed and the longterm financial sustainability.
"I'm not prepared to abandon it right now," Rhodes Conway said, noting that basic needs like affordable housing and transit are more important. "I'm cautiously hopefully that they'll be able to pull it together."
Soglin said $4 million of public money is a worthwhile investment into an initiative that will provide training opportunities for vendors, particularly those who are people of color and women.
As demonstrated at past forums, Soglin and Rhodes-Conway differ in how they present themselves. Soglin has been fiery at previous debates hosted by Rotary and the Urban League of Greater Madison, while Rhodes-Conway has kept her cool.
When Soglin's grumpy reputation and its potential to alienate allies was called into question Monday, the mayor expressed his commitment to the people he represents.
"I made a commitment and a decision early on in my political career that when it came time to making a choice between the people that I serve and other politicians, I was not going to abandon the people," Soglin said.
Most recently, Soglin has been at odds with Dane County over the reconstruction of Buckeye Road, which is also county Highway AB.
Rhodes-Conway said it is possible to "disagree without being disagreeable" and that she sees everyone as a potential ally, keeping in line with her commitment to collaboration. She said working relationships are necessary to serve residents.
"If you let personality or relationships or the lack of relationships get in the way of that, then you're not serving the city as well," Rhodes-Conway said.
Share your opinion on this topic by sending a letter to the editor to tctvoice@madison.com. Include your full name, hometown and phone number. Your name and town will be published. The phone number is for verification purposes only. Please keep your letter to 250 words or less.