At the Otsego town hall in eastern Columbia County, some 30 farmers and a couple dozen young FFA members fill their plates with mashed potatoes, beef stew and coleslaw ahead of the annual county Farm Bureau meeting. The conversation is neighborly — family, high school football, farm anecdotes.
It's a quaint slice of Americana. Checks are given to FFA groups for their work at the county fair. Ashton Brusveen, 12, delivers a charming speech on cover crops — for which he won a state award — and receives a rousing ovation.
Politics doesn't come up much, but when it does it tilts to the right. Among the resolutions passed is a measure opposing driver's licenses for "undocumented persons," a nod to President Donald Trump's hard line on immigrants.
Not much is said about the sad state of farming, the bankruptcies, suicides and low prices that are leaving many farmers in financial ruin. Some aired their concern about beating the first frost to harvest corn, which was planted late because of the spring's incessant rain.
There was little talk of Trump's trade wars or ethanol policies that have shrunk the domestic market, which are making matters worse.
Most of the farmers with the Farm Bureau still support him.
"Not that I totally understand it, but I would say Trump has not lost a whole lot of support among farmers," said Columbia County Farm Bureau vice president Dave Mickelson, "even though it's hurting them."
But as the trade war grinds on, some are starting to question the president's commitment to the nation's farmers.
"We're riding it out, but it hurts your cash flow," said Ralph Levzow, a fourth-generation farmer who runs a dairy and cash crop operation with his wife and son near the small village of Rio in Columbia County. "It means you can't replace equipment, you don't have enough income to keep your equipment up to date, and you end up using your older stuff and having more breakdowns."
Levzow is a longtime Farm Bureau member who has for 15 years served as a delegate to the state Farm Bureau conference. He voted for Trump in 2016, but he's losing faith. He's angry about ethanol rules that depress the price of corn. He sees them as a handout to big oil.
And the tariffs, well, he's all for forcing China to play by the rules, but, "I just wish it wasn't this way." Amid hardship and uncertainty, he's keeping his mind open for 2020.
"We'll have to wait and see, I guess," he said. "If (the trade war) accomplishes something, yes. But if it doesn't accomplish something, you gotta wonder."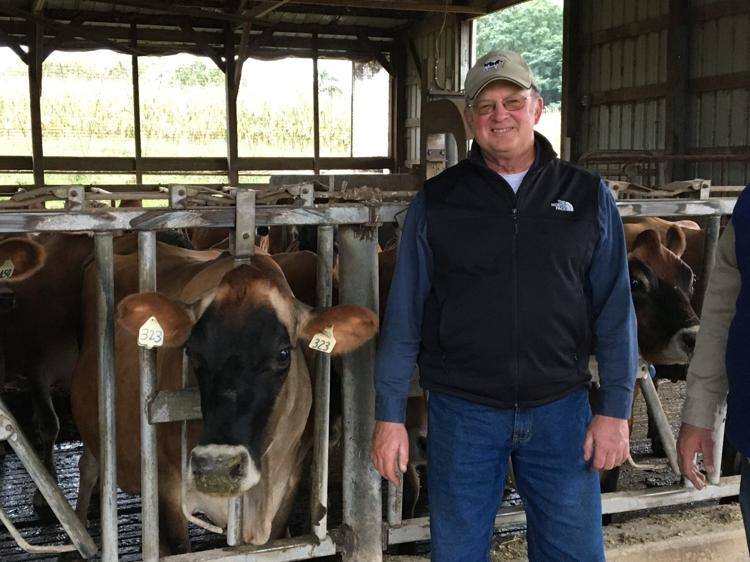 Voters in the sparsely populated heartland traditionally skew conservative. But after years of enduring a depressed agricultural economy under President Barack Obama, Trump's promises to lift burdensome regulations and open foreign markets generated a swell of enthusiasm.
Losing in America's cities, Trump was handed his 2016 victory by the nation's rural voters. And if he's going to win in 2020, maintaining that support is crucial.
Nowhere is it more important than Wisconsin. If the rest of the so-called "blue wall" — former Democratic strongholds of Wisconsin, Michigan and Pennsylvania — that Trump wrested from Democratic hands goes blue again, Wisconsin's 10 electoral votes could decide the presidency. And with a 0.7% win in 2016, if Trump loses just a fraction of the rural vote, he's in trouble.
Some farmers have already soured on him.
"I changed my stance," said Jerry Volenec, a fifth-generation dairy and Angus beef farmer in Mequon. "If I don't voice my disagreement, it's assumed that I agree. And I don't agree with the direction that agriculture is going in the United States."
Volenec is not the only one who's worried about the direction of agriculture. While most farmers are publicly closed-mouth with their political views, there are a lot who air their grievances in more private settings, said Cal Dalton, a cash cropper in Columbia and Marquette counties who serves as president of the Columbia County Farm Bureau.
"I've gone to some seed corn meetings and nobody is very excited about the tariffs, and nobody's very excited about the waivers for ethanol that the Trump administration has let happen," he said. "They know both things have kind of hurt our market. We're the 1 percent out here that's really financially taken it on the nose."
Still, most of those farmers just can't bring themselves to cast a liberal vote, Mickelson said.
"Traditionally farmers have been Republican, and by golly they're going to stick with that no matter what," he said. "I think part of that is the way politics is divided these days. They may not be completely for Trump or support him, but they know they're against the Democrats."
Democrats are trying to change that. Party officials say that county affiliates and neighborhood teams have already knocked on more than 209,000 doors so far this year.
"The only way to win in Wisconsin is to not write anyone off and not take anyone for granted," said Ben Wikler, the state Democratic Party chairman.
Their efforts include trying to convince farmers that under Trump, they're getting a raw deal. They're getting some help from an unlikely source: Trump administration officials.
On Oct. 1, U.S. Agriculture Secretary Sonny Perdue enraged many who grow crops and milk cows on Wisconsin's small farms when he appeared at the World Dairy Expo in Madison and declared, "In America, the big get bigger and small go out."
That same morning, Democrats staged a press conference.
"Do we want one company owning all of our food in this country?" said Darin Von Rudin, who runs a dairy operation in Westby and serves as president of the Wisconsin Farmers Union, the left-leaning counterpart to the Farm Bureau.
"We're seeing more and more rural communities that are disappearing," he said. "They're losing their banks, they're losing their post offices, they're even losing their grocery stores."
Among those appearing was Volenec.
In an interview after the press conference, Volenec explained why he cast his 2016 presidential vote for Trump.
"I think I felt having a businessman as the executive would help us, would set in place policies that would increase our profitability and increase our viability," he said.
When just the opposite happened, Volenec had second thoughts. The trade war, he said, has proven to be a failure. His wholesale opposition to regulations has been tempered by his realization that the government needs to do something about the oversupply of milk that's at the heart of the dairy crisis.
"This isn't political to me," he said. "This is about survival, and the survival of my community."
On top of the pocketbook issues, he said, "There are some real moral problems with the way Donald Trump behaves."
In an interview, Von Rudin said Volenec's troubles with Trump represent a growing wave of dissatisfaction among farmers.
"It's certainly starting to take its toll," he said of the effects of Trump administration policies.
"I'm hearing more and more from farmers that they're really starting to second guess where he does stand with agriculture."
It might not be a groundswell, he said, but Trump isn't going to enjoy the same rural support he did in 2016. The damage already done isn't something that can be fixed before Trump faces voters next year.
"It's not going to get any better anytime soon because, in my opinion, we've pretty much lost the Chinese market to other countries," he said.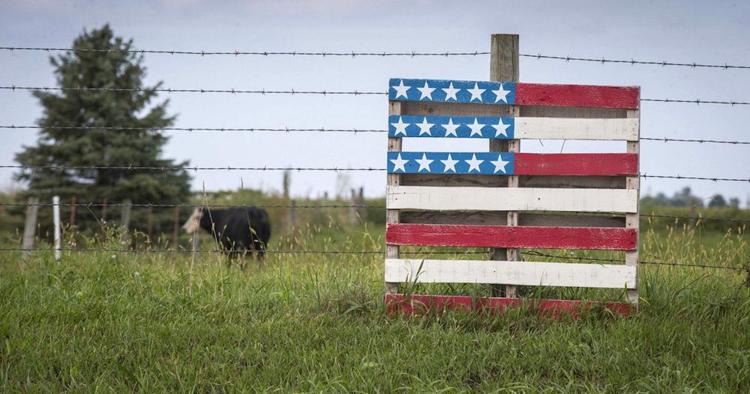 While Democrats try to convince farmers that life under Trump will only get worse, Republicans have taken to blaming Democrats for holding up the revamped NAFTA deal, known as the USMCA, which they say promises to open up Canadian dairy markets.
U.S. Rep. Mark Pocan, a Madison Democrat, said the issue is a red herring. Democrats are negotiating with the administration, but he said the administration is dragging its feet.
"The last response from the White House took 45 days to get back to us, so clearly they're not on a fast track to get it done," he said. "They're not replying to us."
Regardless, he said, the trade agreement would have a small impact on dairy markets compared to the magnitude of the tariffs.
Asked whether Republicans are concerned about support from farmers who have suffered financially as a result of Trump's policies, state Republican Party executive director Mark Jefferson replied with an email that said:
"I know that farmers take the long view and understand that commodity prices were low before President Trump took office. Farmers look at the big picture on President Trump's policies, which include his efforts to level the playing field on trade with deals like USMCA, to keep regulations and taxes under control and his administration's respect for the rural way of life."
That's not the way Wikler sees it. He said farmers are starting to wake up to the fact that the long view is that Trump has thrown them under the bus.
"If farmers are still being told to wait for the pot of gold at the end of the rainbow a year from now, a lot of people will have realized the whole thing's a fairy tale," he said.
Nevertheless, he expects massive spending by Trump and his backers to turn out a higher vote total for him than in 2016, and Democrats need to cull votes from the large pool of voters who were on the fence in 2016.
"There are hundreds of thousands of voters in Wisconsin who voted in previous presidential races who didn't vote for either major party candidate in 2016," Wikler said. "Those voters are likely to play a huge role in deciding the outcome in 2020."
Mark Heinze, for one, is up for grabs. The sixth-generation former dairy farmer from the Portage area didn't vote for Trump in 2016 and he didn't vote for Clinton. An independent, he cast a "protest vote."
He's not likely to vote for Trump in 2020, either. He blames the trade war in part for forcing him to sell off his herd last year.
"The first round of tariffs really repressed the milk price," he said. "That was a pretty significant blow financially for us. That lost a lot of money for the dairy and certainly contributed to us selling the cows."
He still farms crops, sells beef and seeds, installs fencing and is trying to develop a business plan for the future.
"I'm doing a lot of different things," he said. "I'm trying to find my way, quite honestly."
Heinze said he understands that China has "some unfair things that they do, taking advantage of the U.S. in some ways. I can kind of see that."
But, he added, "It's not much fun when you get to bear all the financial burden of those tariffs."
He said he's seen a lot of discontent among fellow farmers, but he's not sure it will translate into Democratic votes.
"I'm curious who the Democrats are going to come up with as a viable alternative," he said. "Are they going to have someone that can still work for the rural voter? Are they going to have someone who can actually talk their language and understand the problems? A lot of times, the Democrats don't win in rural areas because they just don't really understand the culture or the problems."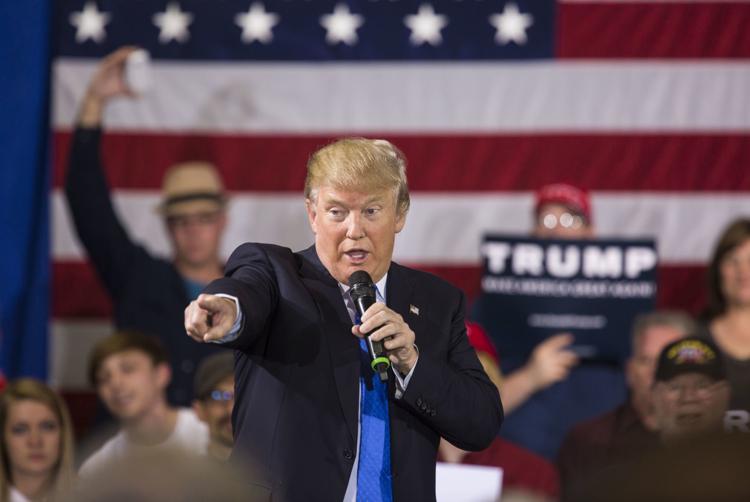 When farmers began to complain about the financial squeeze from the tariffs, the Trump administration ponied up $14.5 billion in market facilitation payments (MFPs) that went directly to farm operations. Farmers don't always like the idea of a government handout, but they swallowed the payments like a bad pill.
If anything angered farmers more than the tariffs, it's the latest round of ethanol waivers from the EPA, which exempted 31 small refineries from adding the corn-based additive to fuel, disrupting a market that encompasses about 40 percent of the nation's corn supply.
The fact that a lot of those small plants are owned by multinationals like Exxon-Mobil and Chevron was particularly galling for farmers struggling to get by amid ethanol plant closings and low corn prices.
Faced with a rebellion from farmers in corn states, particularly Iowa, which leads the nation in ethanol production, Trump early this month announced plans to increase ethanol demand through fuel-mix quotas and access to foreign markets, with the aim of increasing ethanol sales by 15 billion gallons a year. That plan would go into effect in 2020, an election year.
In addition to being president of the county Farm Bureau, Dalton is also vice president of the board for United Wisconsin Grain Producers, a Friesland-based operation that produces ethanol and other corn products. He'll believe the ethanol initiative when he sees it.
"You're dealing with EPA, and until it's actually written down and actually followed through, EPA is about as reliable as China," he said. "I guess I'm going to be skeptical and just wait and see."
Whether or not farmers buy Trump's promises on ethanol, there's still the matter of the tariffs. But a lot of farmers still want to believe in the president they helped win the White House in 2016.
One Columbus-area cash cropper remains a supporter despite the fact that ethanol waivers and tariffs could have a direct impact on the family business.
"These tariff rules should have been put in place 20 years ago instead of letting China get away with this stuff all these years," said the farmer, who spoke on the condition of anonymity. "But now somebody's got the gumption to do it, and now everybody is hurting. That's the way it is, I guess."
The farmer plans to support Trump again next year, and the "farmers we visit with" will, too.
"I sure as heck ain't going to support them goofballs that are out there now trying to say what they're going to do for us," the farmer said of Democratic presidential hopefuls. "I'd like to know where they're going to get the money."
While reluctant to speak, there's a broad consensus that Trump supporters represent the vast majority of rural voters, though they're conflicted over his policies.
"A lot of farmers are stubborn by nature, and I don't see a lot of them changing regardless of what happens," said Mickelson of the Columbia County Farm Bureau. "In a strictly economic sense, it probably doesn't make sense, but it doesn't have to."
Back at the Farm Bureau meeting, Dalton presides, making sure that the politics are downplayed. The two state lawmakers present, Democratic Rep. Dave Considine and Republican Sen. Luther Olsen, were told they wouldn't have the floor.
"Next year we'll let you guys speak, because it's an election year," Dalton tells them, and after the food, they leave.
The only political person left is Alex Dallman, an aide to Republican U.S. Rep. Glenn Grothman. Dallman updates the group on the USMCA.
"As far as we've been told, there are enough votes in the House and the Senate, and the president would obviously sign it, too, as of right now," he says. "But there's one person standing in the way of that, and that's House Speaker Nancy Pelosi, who has been refusing to put that on the floor for a vote. Obviously very frustrating since we want to help out our farmers and other manufacturing industries in our state."
Dallman also updates the group on the government's progress in averting a government shutdown. The budget deal looks solid, "but you never know, with the political atmosphere we have these days."
"Any questions?" he asks. There's one.
"You were talking about the budget deal coming up, or whatever," says a lean man sitting toward the back of the room. "MFP payments, is that set now? Will that be affected by it?"
He looks relieved when Dallman replies: "I don't believe so. I think they passed that earlier on."
Share your opinion on this topic by sending a letter to the editor to tctvoice@madison.com. Include your full name, hometown and phone number. Your name and town will be published. The phone number is for verification purposes only. Please keep your letter to 250 words or less.
Get Government & Politics updates in your inbox!
Stay up-to-date on the latest in local and national government and political topics with our newsletter.