While Madison officials to analyze the shooting incident that occurred late Saturday at a major fireworks festival downtown, Mayor Satya Rhodes-Conway said it underscores the proliferation of guns caused by lax laws.
Rhodes-Conway said Monday at a press conference that she would like the city to have more authority to regulate guns.
"Unfortunately, state law prohibits cities from creating gun control laws that are more restrictive than state law," Rhodes-Conway said. "Let me be clear, I would like to be able to do more. I would like to be able to control guns in our city more."
The shooting occurred at Shake the Lake at approximately 10:27 p.m. after the fireworks show had ended in a crowd of people in the John Nolen Drive tunnel under Monona Terrace, according to police.
Madison Police Chief Mike Koval said there is no suspect at this time and that a handgun was recovered at the scene. Police believe the shooting occurred between people who know each other, and the incident is considered an ongoing investigation.
Two people, including a police officer, were injured during the incident. Koval said the person who was shot has been medically cleared for release, and the officer will be receiving an MRI for an injured knee.
Koval said any large event is an "exercise in risk management." He referenced a "very thick three-ring binder" of contingency plans the MPD has for Shake the Lake, which drew an estimated 20,000 to 25,000 people downtown along the shore of Lake Monona Saturday.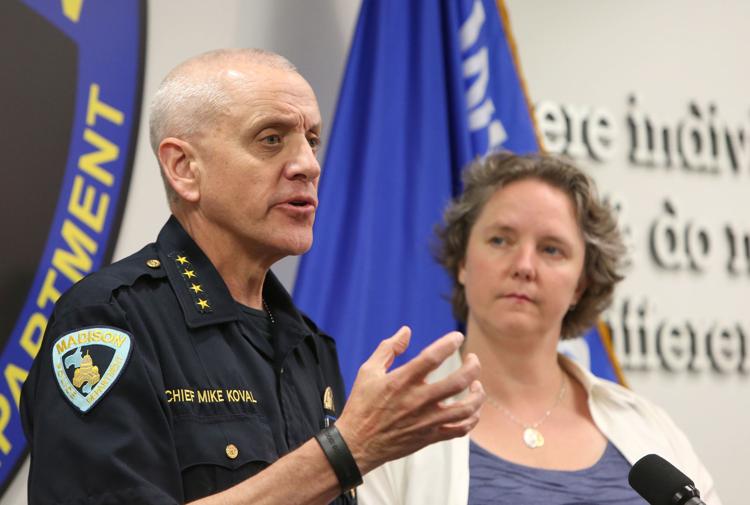 "We're trying to mitigate and minimize that risk as best we can while also appreciating and respecting those individual rights of privacy," Koval said.
Koval said hundreds of law enforcement personnel, including Madison police officers and Dane County Sheriff deputies, were in place for the event. Big Top Sports and Entertainment, the event's organizer, was responsible for checking bags that people brought to the event area, Koval said.
Prior to any event that occurs on a public street, the city analyzes effects on Metro Transit routes, police personnel and traffic.
Guns were prohibited from the event with signage reflecting that mandate posted, Rhodes-Conway said.
Overall, Koval said the department appropriately prepared for the event and reacted well to the incident, considering that it was dark at the time and the event was crowded following the end of the fireworks.
"Clearly we're all alarmed when anybody is put at risk, but I also think that risk was contained and controlled in a relatively short measure of time," Koval said.
The chief said wanding — using hand-held metal detectors — could be a deterrent, but he also noted that the event location is "porous" and difficult to seal off. 
Rhodes-Conway said the city would review processes for Shake the Lake, as well as other large events, but no decision would be made in the short-term.
"As mayor, I am absolutely committed to maintaining a healthy balance of community accessibility and freedom with the need for safety and security," Rhodes-Conway said. "While the potential for violence — with or without weapons — always exists, we as a community do not want to give up our ability to hold public celebrations."