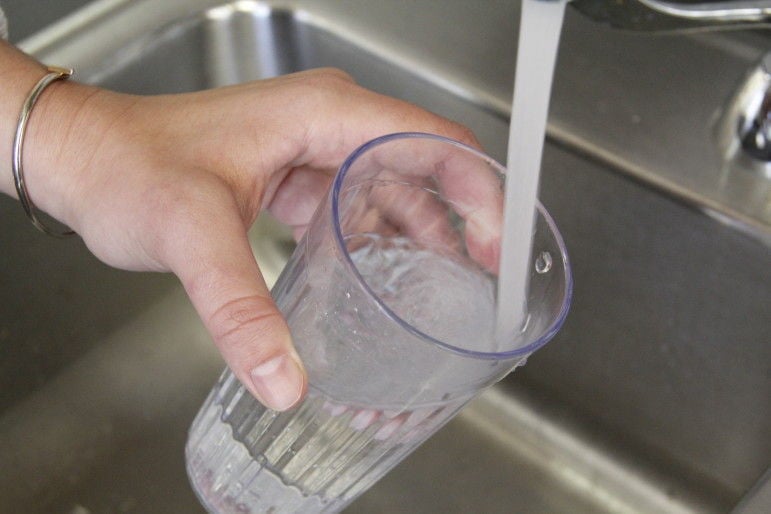 Local officials across Wisconsin are gearing up to test wells this year as they seek to gather more data about potential contaminants and how groundwater quality may have changed over time. 
The testing comes in the wake of Gov. Tony Evers' labeling of 2019 as "The Year of Clean Drinking Water" and a series of public hearings around the state held by the Water Quality Task Force that resulted in more than a dozen bills aiming to curb contamination and bolster conservation efforts. 
Amid the state-level push, three southwestern counties have banded together to fund the area's first expansive groundwater survey called the Driftless Area Water Study, while at least four others across the state are working independently on their own efforts.
That includes northwestern Chippewa County, southeastern Dodge County, south-central Green County and southwestern Sauk County — all of which are working with University of Wisconsin-Stevens Point specialists on new multi-year tests for nitrates and chloride that are beginning in 2020. 
Stevens Point groundwater education specialist Kevin Masarik said the outreach has been indicative of the local interest in well testing. 
"I would say there's no doubt in the last two years, the last year in particular, we've definitely seen an uptick in the number of communities that have been reaching out interested in doing some sort of effort," he said.  
In Dodge County, well testing isn't a new idea. Recently, officials have headed up a voluntary program to sample 60 to 120 wells in a couple different townships each year.
But under that model, County Conservationist John Bohonek said it would take 10 or 12 years before the entire county would be tested. 
By testing a sample of wells across the county over the next five years, "we'll be able to get some kind of a trend" in addition to results that would help "target some of our conservation efforts," said Bohonek, who hopes testing will begin later this year.  
The effort differs from the Driftless Area Water Study, which would sample wells in Crawford, Vernon and Richland counties — a part of the state defined by its karst geology, where thin soil overlays fractured bedrock, conditions allowing pollutants to more easily enter the groundwater.
Under the Driftless Area Water Study, Forest Jahnke of the environmental group Crawford Stewardship Project said testing is set to occur across the three counties in early May and again this fall, likely the end of October. The test, he added, would include 400 wells and also be run through UW-Stevens Point. 
While he said the counties have committed just under $50,000 total for the testing, it's unclear whether there's enough money for additional research, analysis and mapping as well.
Still, he credited his group — as well as the SWIGG study — for putting pressure on local officials to move forward with the tri-county testing.
"Finally we've gotten some actual investment by the counties to move forward with this, so that's great," Jahnke said.
In addition to the countywide efforts, UW-Stevens Point is also working with several communities on a voluntary approach to well testing, like what occurred in a number of municipalities across Dodge County over the last couple years. 
Masarik said the university aids between 15 and 20 communities a year in that effort. Officials work with local partners to arrange the testing and get the word out about it, as well as return to the community and educate individuals about the results. Under that testing, homeowners usually cover the cost, he said. 
In Dodge County, Bohonek said the voluntary program saw people who didn't want to test their wells because they were afraid they'd be forced to pay to replace them, depending on the results. 
"We just wanted to make them more aware of what are you actually drinking," he said. 
"We're not out to close wells, we're not out to nail people," he added. "We want to find out what's going on and see what we can do to correct it."
Dodge County is working to finish its contract with UW-Stevens Point, one of the remaining hurdles to beginning the countywide testing process, Bohonek said. The next step is sending out mailings to well owners across the county and securing a couple hundred who will commit to five years' worth of testing. 
The remaining three counties that are independently pursuing well testing — Chippewa, Green and Sauk — are further along in the process. Chippewa County is already in the data analysis phase, Masarik said, meaning officials are working to summarize data, print results and send them out. 
In Green County, participating homeowners are expected to get their results back in April, while UW-Stevens Point will provide the county board with an annual report in June 2020, said Victoria Solomon of the UW-Madison Division of Extension-Green County. 
"Tracking groundwater quality trend data will help local officials and Green County residents make data-driven decisions when managing groundwater quality," she wrote in an email. "Currently, little information exists that allows for an understanding of how groundwater quality has changed over time in Green County."
Well testing has previously occurred in other parts of the state, perhaps most notably in dairy-farm-rich Kewaunee County, where a 2017 study found 60 percent of wells sampled contained fecal microbes. 
The survey, as well as years of pressure from citizens and environmental advocates, helped lead to a new Department of Natural Resources rule change aimed at strengthening groundwater protections and targeting manure spreading practices. 
The change affects 15 eastern counties, which have similar karst geology to the southern and western parts of Wisconsin. 
Share your opinion on this topic by sending a letter to the editor to tctvoice@madison.com. Include your full name, hometown and phone number. Your name and town will be published. The phone number is for verification purposes only. Please keep your letter to 250 words or less.
Get Government & Politics updates in your inbox!
Stay up-to-date on the latest in local and national government and political topics with our newsletter.