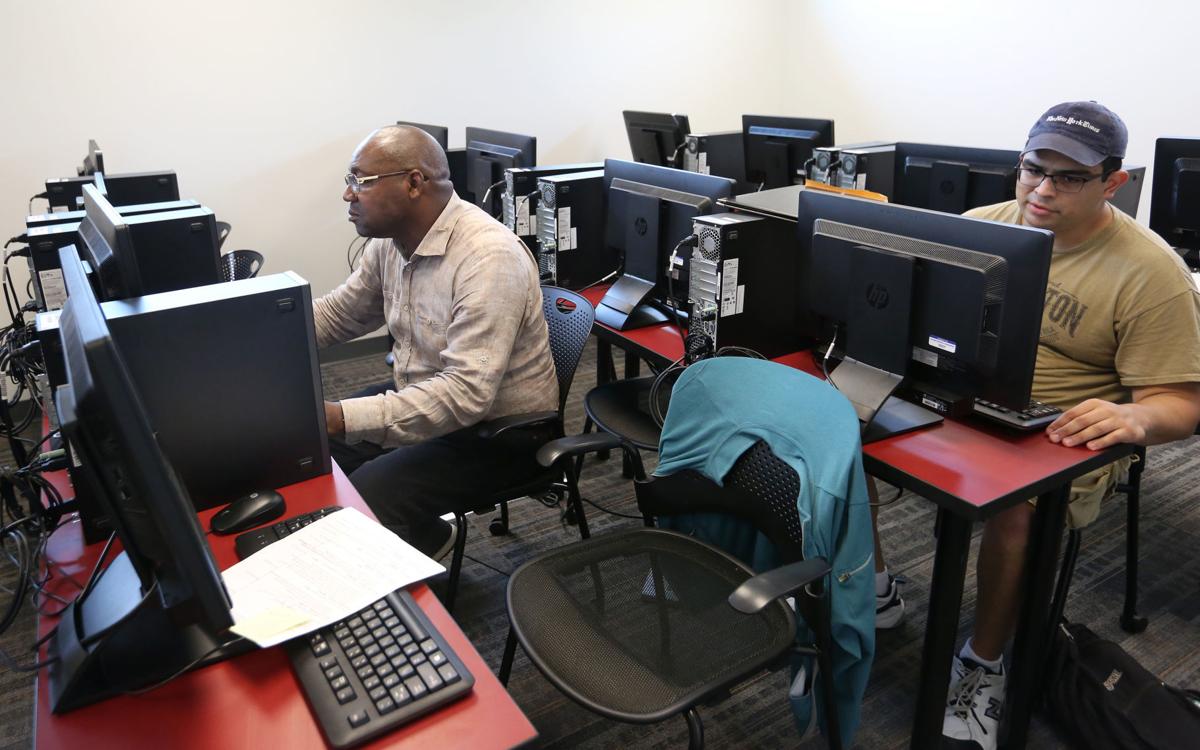 One by one, students gathered in a classroom at a job center on Madison's southwest side took their turns answering interview questions. Addressing about 20 of their peers, some felt self-conscious and nervously referred to notecards or stumbled over prepared statements.
But they all participated.
"I get really nervous in interviews," said Kiana Cline. "They put us on the spot, which I feel like is good practice to get over our anxiety."
Cline, 20, graduated from Verona Area High School in 2017 and took a few courses at Madison College before her mom encouraged her to apply to a six-week course at the job center, organized by the Urban League of Greater Madison.
The free course specifically trains students to work at the biomedical giant Exact Sciences, which is finishing construction on its new call center and lab on the Beltline, just west of Whitney Way. The interview exercise came three weeks away from graduation, and all of the students were hoping to receive job offers from the company behind Cologuard, the at-home colon cancer screening test.
During the exercise, the diverse class demonstrated a range of education, job and interview experiences. Some have advanced degrees, others are recent high school graduates and a few are midway through their careers. Almost everyone shared their hopes for what a job at Exact could bring them: stable hours, competitive pay and benefits and, most of all, the fulfilment of a career with potential for growth. 
A few weeks later, on Nov. 21, the same classroom was transformed into a festive celebration with balloons and vases of white flowers decorating the tables. Friends and family members of the 18 graduates — the second cohort to go through the program at the job center — gathered to watch them accept their certificates. Of those that completed the program, 13 received job offers from Exact Sciences.
Mia Cannon, 21, was one of them. She was scheduled to start her data entry job on Monday. She said the training program taught her how to explain her employment job history, write a stronger resume and be more confident in interviews.
"I feel like it's a setup for success," Cannon said of the program.
Formerly a fast food restaurant known for its fried chicken and burgers, the Southwest Madison Employment Center does not resemble anything close to its former self. The interior is decorated in warm hues of red and gray and feels like a comfortable place to work on resumes and research job openings.
Just outside the classroom is a row of computers available to the public and a second room designated as a computer lab. The center is open to all and operates Monday through Saturday, opening and closing at different times to accommodate a range of schedules. 
Though it has been operational for less than three months, the city-owned facility is proving to be an engine for job growth with potential to be a stabilizing force for the neighborhood near sprawling Elver Park. The partnership behind it — made up of public, private and nonprofit entities — also represents an effort to close the skills gap in Madison.
"Customization is the future," Greater Madison Chamber of Commerce president Zach Brandon said. "The output is tailor made or readymade, in this case, so that the job offer is there at the end of the pathway.
'Re-create opportunities'
Before taking on new life as an employment training center, the building located across McKenna Boulevard from Elver Park and next door to the Wisconsin Youth Company, was best remembered as Griff's Restaurant & Frozen Custard. The restaurant closed in 2010 after 18 years of business.
It's located at the intersection of southwest Madison's Meadowood, Theresa Terrace and Park Edge/Park Ridge neighborhoods, an area that has worked to overcome crime and other troubling behavior over the years. In 2017, the city received federal funding to implement a neighborhood crime reduction plan in the Raymond Road Corridor.
Ald. Barbara Harrington-McKinney, whose district includes the center, started the annual Westfest community festival in Elver Park to celebrate the southwest side neighborhoods.
State Rep. Lisa Subeck, D-Madison, who preceded Harrington-McKinney in representing the area on the City Council from 2011 to 2015, said the genesis for turning the restaurant into a neighborhood asset started with calls for more community space on the southwest side. Through community conversations, she learned the real need for residents of the area was access to job training.
An asset inventory conducted in October 2016 by the Wisconsin Evaluation Collaborative, a part of the Wisconsin Center for Education Research at the University of Wisconsin-Madison found that although there were many education programs serving the neighborhood, they were focused on youth.
"The asset inventory shows there is a dearth of adult education and employment/career readiness services in the neighborhood," read the WEC's report.
Subeck said she wanted to "invest up front" in the neighborhood.
"It is really critically important for families to become self sufficient," Subeck said. "To be secure, they need jobs to pay them a living wage and that requires training."
Subeck said increased employment could contribute to neighborhood stability.
"There's nothing to make you invest in your neighborhood like having a job," Subeck said.
After two years of negotiations, the city purchased the 3,882-square-foot building in 2016 and selected the Urban League to operate a job center there. Before the center opened, the Urban League began running training programs out of a temporary facility in a strip mall on nearby Gammon Road.
The city hoped to open the center in 2016, but the process of renovating the restaurant into an education center took longer than expected. It finally opened in September.
Since opening, the Urban League has offered 552 hours of computer training, skilled trades apprenticeship readiness classes and the course for employment at Exact Sciences, according to Ed Lee, senior vice president of Urban League administration and operations.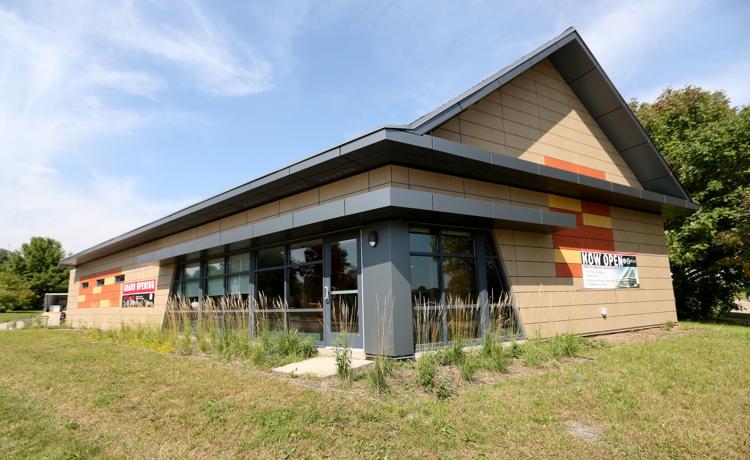 More than 180 people have participated in one or more employment preparation programs and 80 job seekers have participated in 140 hours of job club, a time where employment specialists provide assistance with job leads, resumes and applications.
The center has hosted a commercial driver's class in partnership with the Latino Academy of Workforce Development. It has also met a goal of placing 50 people into new or better jobs in 2019. And nearly two-thirds of trainees have secured jobs that pay at least $15 per hour, according to Lee.
"We're committed to making sure that we become an added resource in the community and that we are there to help these individuals and the community find value in the programs that we do," Urban League president and CEO Ruben Anthony said. "We'll continue to listen to individuals in the community to know what they need because for us we feel like our programs evolve and our programs are built to address demand."
Urban League employment specialists are located on-site to answer questions, provide support and coaching. A Dane County economic support specialist is also available four days a week to assist people in applying for public assistance programs including W-2, FoodShare, BadgerCare/Medicaid and child care.
The specialist has a caseload of over 550 households in the immediate area of the employment center and about 30 individuals have received services so far in person, according to the Dane County Department of Human Services.
Prior to the center opening, residents living near Elver Park looking to access employment assistance needed to travel over an hour by bus to the Dane County Employment Center on the north side. It takes nearly that long to get to the Urban League's location on South Park Street via bus.
"It allows individuals over there to have access to a facility that will provide the training and upskilling on their side of town," said Ray Allen, director of the Urban League's workforce development team. "If transportation is an issue, we're closer. We're there now. That eliminates the need for a lot of individuals to have to go to the east side."
The neighborhood is not as cohesive as some in Madison, in part due to kids living in the area attending three different school districts. The neighborhood is also transient, with several rental housing complexes located along McKenna Boulevard and Raymond Road.
"That is a wonderful neighborhood with wonderful residents, but they've not been engaged in telling their story and realizing their power in deciding what their community is going to be about," Harrington-McKinney said. 
Harrington-McKinney, who was elected in 2015, said the job center has the potential to be the "core" of the neighborhood: a place for gathering and where connections can be made.
"The employment and training center has the opportunity to re-create opportunities for the neighborhood," Harrington-McKinney said.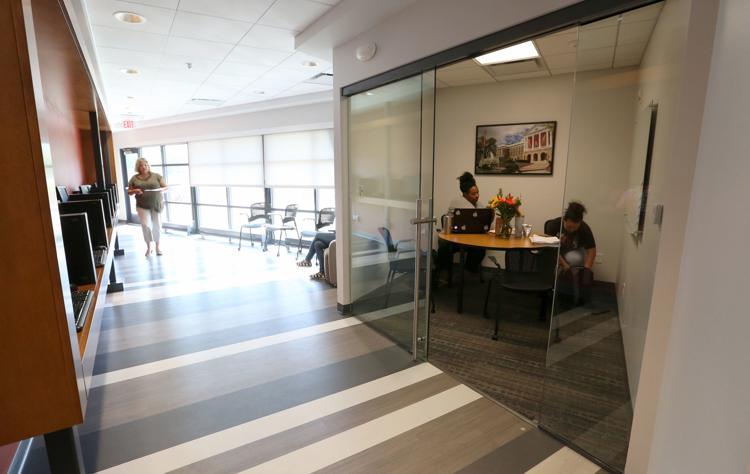 The Urban League's partnership with Exact Sciences is a critical component of the job center's influence on the community. The partnership began in the fall of 2018 and so far, 68 people have graduated from the program with Exact Sciences offering jobs to 58 graduates, or 85%.
The six-week course is free to participants. When people go through the training that is specific to Exact Sciences, they are able to tour the company's facilities and conduct practice interviews with current Exact employees.
"We get to work with these students throughout the whole program," said Sarah Condella, senior vice president of human resources at Exact. "They might not have the best interview, but we know all of their potential and what we've seen going through the program, which is also a piece we consider."
Those who go through the program, which met from 9 a.m. to 1 p.m. Monday through Thursday, are unpaid and must take time away from their jobs or responsibilities to complete it.
Saron Dillard, 23, graduated from the Urban League's Exact Sciences program in June at the Park Street location. She said there were a few people in her cohort who dropped out because the job guarantee is not 100%.  
"Urban League can give you everything you need in order to get there, it's just you have to show your effort," said Dillard, a lab order associate at Exact.
Cannon said the risk of investing time in an unpaid training is worth it.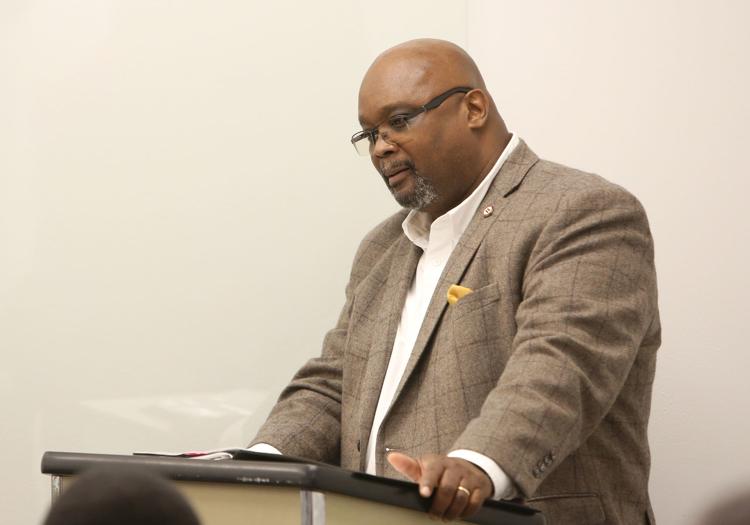 "It's unpaid, but you gain so much knowledge and you're catapulted into getting a good job," Cannon said.
Some program participants who had not received job offers as of the graduation on Nov. 21 expressed confidence that the skills they learned through the program would assist them in future job searches.
"It still was a great opportunity to go through the program, and it helps me to move forward into other careers just as well," said Shaunda Nelson, 34. "We got great resumes. I think I'll be more than ready to apply for anything."
Condella said graduates of the Urban League course demonstrate a work ethic that will make them successful at the company.
"People who are willing to put that type of commitment there and demonstrate through the program that willingness to learn and that investment in themselves, that is really a sign of what it's like when you're at a job at Exact Sciences, too," Condella said. "If you're willing to invest in yourself and you have the opportunity to grow and you want to take that opportunity, we have so many paths you can take as well." 
The most recent class to graduate from the Urban League's program represented a diversity in age, identity and employment experience. Almost all expressed a desire to pursue a career, rather than a job without upward mobility, and said that they would be stuck in their current situations without the program. 
At the graduation, Latrice Graham, 40, was brimming with excitement about her job offer to work in the Exact Sciences call center.
"I'm in a good position," Graham said. "I'm going to spread my wings and I'm going to fly."
Graham had been thinking about working at Exact Sciences for about a year before she geared up to inquire about the Urban League's program. Graham had worked in the health care field for about two decades and raised five children, including one who has autism.
"Now that I have good resources and a good team that helps me out with him, there's nothing that's going to stop me," Graham said.
Of the younger program graduates, career growth and the pursuit of a direction in life were reasons why they signed up for the course.
Cannon, who was set to start in a data entry position Monday, said her previous job in health care was not a good fit. After graduating from La Follette High School in 2016, Cannon took some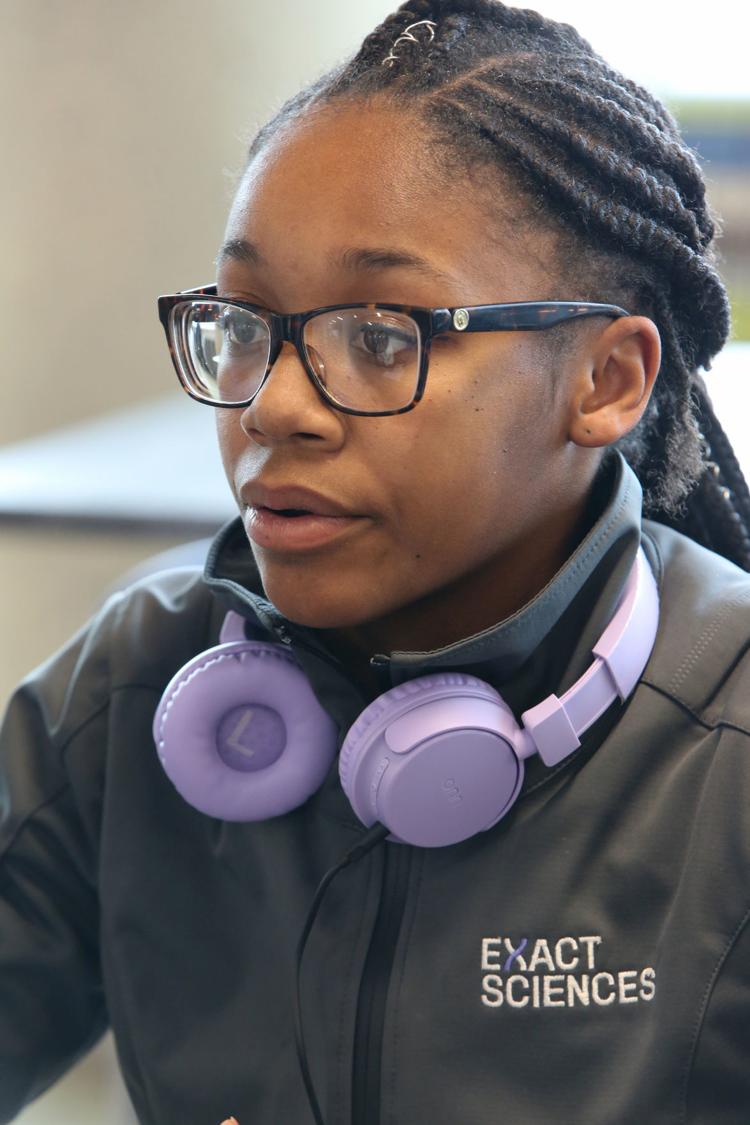 courses at Madison College but she said the birth of her now three-year-old daughter Skylar "slowed that process."
"I'm excited to be in a company I feel like I can grow in because I didn't get that from my last job," Cannon said.
She also was looking forward to the pay, benefits and the financial stability a job at Exact Sciences promises. Entry level positions at Exact Sciences start between $15 to $19 per hour, depending on the shift. All full-time jobs include full health benefits, company stock and four weeks of paid time off.
"Giving people the opportunity and setting them up for success can really benefit the community, too," Condella said. 
Shafi Mohamed, 23, is working for his parents managing a home care business, but wants to pursue his own path.
"The whole point of this job is for me to find a career where I can grow," Mohamed said. "I work for my family right now, but there's no growth there."
William Hassell, 19, graduated from La Follette High School in 2018 and said he has been trying to figure out what he wants his future to hold. After graduating from high school, he took some classes at Madison College before signing up for the Urban League course.
"I just kind of wanted to see what professional opportunities Exact Sciences holds," Hassell said.
Others like Kurt Moreland, 49, are seeking a brand new employment direction. Moreland has been managing the Wendy's on Stoughton Road for a couple of decades. He fell into restaurant work after first moving to Madison with his wife, who was attending UW-Madison at the time.
Now, Moreland wants a job with stable hours so that he can spend more time with his six children. After 20 years of not interviewing for jobs or writing a resume, Moreland said the class was helpful in preparing him for being a qualified candidate. 
"That connection, that bridge between not having a job and having a job can be pretty intimidating, and they really do a great job of coaching you through that," Moreland said.
Exact Sciences is benefitting, too. As of Nov. 14, Exact Sciences had over 700 job vacancies.
"Every graduate of the program that we hire is helping us meet a business need," Condella said.
Employer specific training model
Other Madison-area employers that partner with the Urban League are also seeing advantages from partnering with the Urban League.
In addition to the Exact Sciences training, the Urban League offers other employment specific classes like pharmacy tech, pre-employment readiness and skilled trades training.
UW Health is in its seventh year of partnering with the Urban League, working to train job seekers for employment in health care support roles. In five to seven weeks, program participants receive specific UW Health training as well as general job readiness training from the Urban League.
"We actually get people who are job ready, who have a desire to go into health care roles and who would apply for the apprenticeship positions," said Bridget Willey, director of Allied Health Education and Career Pathways at UW Health.
Willey said the partnership is critical, given that UW Health's number of open jobs increased from 300 to 1,100 in the last six months. The company has hired well over 120 people who have completed an Urban League training, she said.
"Our relationship with the Urban League has been incredibly valuable in getting more people into health care and also in increasing diversity in our workforce," Willey said.
Findorff, a Madison construction company, has hired about 20 people who have been trained with the Urban League through the HIRE program, a county-wide initiative that aims to help people find jobs. Company president Dave Beck-Engel said the specific training "helps set people up for success."
"The more employers we have participating, the more people we're going to have employed and the more success we're going to have as a community," Beck-Engel said.
Allen, who served as the state secretary of workforce development under former Gov. Scott Walker before moving on to lead the Urban League's workforce development team, said previously, workforce training was not as connected to job offers.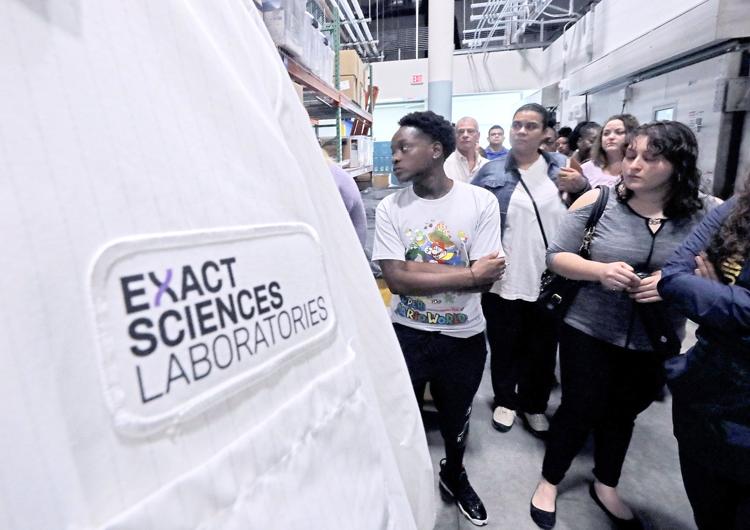 "We would train them and say, 'God bless you, good luck,'" Allen said.
With the Exact Sciences program, the odds of receiving a job offer are high. The first cohort to complete the training at the southwest side location included 19 graduates. All received job offers.
This also allows the Urban League to adapt and focus training programs on in-demand jobs.
"For us, it's a model that is working very well," Allen said. "It's a model that we certainly want to expand."
In a city and state with low unemployment, Allen said the challenge is twofold: find and employ individuals that have been on the periphery of the labor market and "upskill" existing workers.
"We need them in the labor force now," Allen said. "Our success is to take those individuals and provide them with support, meet the needs that they need — transportation, daycare — so that they then can get trained."
Natalia Garay, 41, is an example of a job seeker who needed additional training and confidence to move out of her home health care job.
"When I first got into the program I was one of those that was like, 'I don't know why I'm here,'" Garay said. "There were a lot of people who had degrees and things like that."
Kayla Choice-Richey, an employment training supervisor at the Urban League who works to bring people in to the employment programs, said Garay's feelings are common. Many people are discouraged from going through the program.
"I've seen folks come in the Exact Sciences training completely unsure, haven't held a job down, maybe have a criminal background and they're like, 'Oh, I won't be able to do it,'" Choice-Richey said.
Choice-Richey assured job seekers that the Urban League will provide them with the necessary education and training needed for a career.
For Garay, it worked. She graduated in the first cohort from the new job center and is several weeks into her hands-on training at Exact Sciences in a specimen processing role.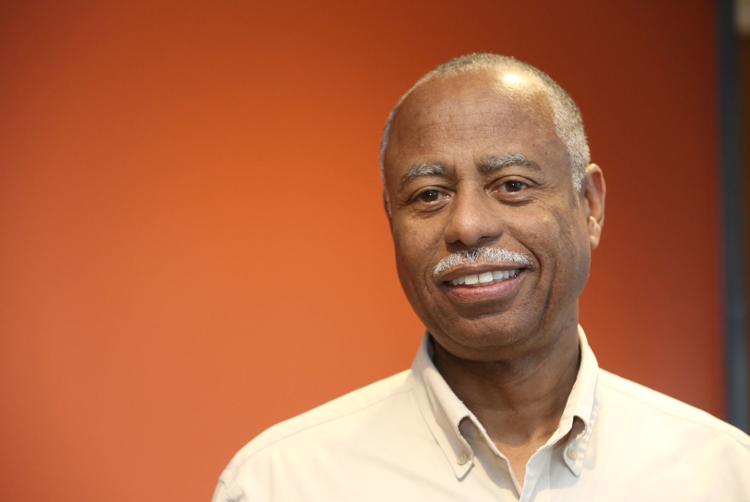 After hitting a record low of 2.8% in April, Wisconsin's unemployment rate — the proportion of the labor force that is not currently employed, but could be — increased to 3.3% in October, according to preliminary figures released by the state Department of Workforce Development. As of October, preliminary DWD data showed the city of Madison's unemployment rate was at 2.1%. 
That low unemployment rate puts pressure on companies to find skilled employees in the area. Brandon said the job center's partnership with Exact Sciences is a "proactive effort to align supply and demand and talent within our region."
Not only is the partnership meeting Exact Sciences' employment demands, Brandon said it is working toward closing a skills gap in Madison.
From 2002 to 2016, jobs that require a high level of technology skills grew from 5% of Madison's overall jobs to 26%, according to the Brookings Institute. Lower skill jobs declined from 56% to 28% of total jobs in the city.
"As we see an erosion of the types of jobs that have low digital or low technology skill needs, as those become fewer and fewer, then we run a real risk of putting a hole in the middle of our economy," Brandon said. 
Companies that have specific deficiencies of particular skills should consider a model of customized, hands-on training like the one that the Urban Leagues uses, Brandon said.
"The future is going to be partnerships because no one can do this on their own," Brandon said.
Share your opinion on this topic by sending a letter to the editor to tctvoice@madison.com. Include your full name, hometown and phone number. Your name and town will be published. The phone number is for verification purposes only. Please keep your letter to 250 words or less.