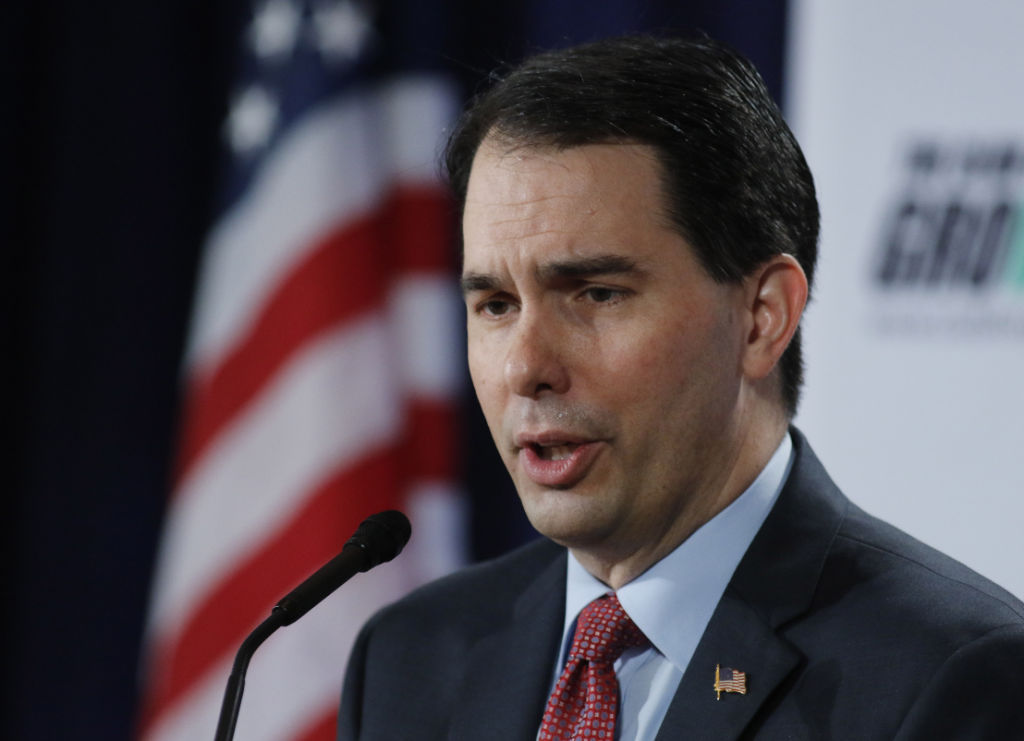 Everything he said was true, but it reflected investments made in his 2013-15 budget. Rural health care providers now say cuts in the governor's newest biennial budget — released about a month before his Ag Summit appearance — is a "shock to the system."
"We invested not only more money in rural health care, we put more money in to train primary care physicians and other health care assistants. And then we put money in our hospitals to help do residencies, so that we weren't just training — we were actually getting physicians to do their residencies at rural hospitals," Walker said at the Ag Summit on March 7.
"The idea being that if someone comes to a rural community, they do their residency there, they make a connection with the hospital staff — more importantly, they start to know the people in that town and that community and that county — chances are pretty good they're going to realize it's pretty good living, with the people around there," he said. "But if you try to recruit them from somewhere else, from either coast out there, it's a pretty difficult challenge out there. Again, those are things we've done."
Those are things Walker's administration has done. They're also programs his new budget would eliminate.
Cutting the rural residency program
Walker's 2015-17 budget deletes the rural physician residency assistance program, administered by the University of Wisconsin-Madison School of Medicine and Public Health's Department of Family Medicine. The proposal calls for cutting a little more than $750,000 and 3.62 positions in 2016-17.
The rural physician residency assistance program, or WRPRAP, establishes and supports residency positions in rural hospitals, clinics staffed by physicians who admit patients to rural hospitals, or residencies that include an eight-week rotation of training experience in one of those settings.
The program has operated in Wisconsin for about five years. It was signed into law as part of the Critical Access Hospitals bill, by Democratic then-Gov. Jim Doyle.
It's based on what Walker was talking about in Des Moines: the more time a physician spends training in a rural area, the more likely that physician is to set up or join a practice in a rural area.
It makes sense. Say an aspiring doctor attends UW-Madison for her undergraduate work — that's (give or take) four years. Then four years in medical school, maybe still in Madison, followed by three to five years of residency. If she does her residency in the Madison area, that's 11 to 15 years in an urban environment. How comfortable will she be practicing somewhere like Antigo or Viroqua?
That's the question posed by Byron Crouse, associate dean for rural and community health at the UW School of Medicine and Public Health.
Crouse said of the people who go through these types of programs, about 90 percent end up practicing in rural communities. Crouse feels passionately that the program is working well and meeting the goals set for it by the Legislature.
If state funding is cut off, there is "no way" to keep the program running, Crouse said. 
It's also not the only rural health care program under the knife in Walker's budget.
The budget also deletes two loan assistance programs — one specifically for physicians, and another for physicians, dentists and other health care providers. Through that program, practitioners who agree to work in an under-served community for at least three years are eligible to have some of their student loans repaid.
About 70 practitioners are currently working under such contracts, said John Eich, director of the Wisconsin Office of Rural Health. 
"Those contracts will become null and void," he said.
Because of the way federal matching funds are delivered, the funding cuts would affect practitioners in their first, second and third years of the cycle. Not only would funding disappear for current participants, the program would cease to exist in future years, Eich said.
"We hope they would continue to practice in those areas anyway. This should only be one of many reasons to choose a practice site," Eich said. "We like to think the loan repayment doesn't make the decision for them, but it helps them make the decision. If we can help ease the loan burden ... if they're leaning toward an under-served area, this makes it more attractive."
The loan repayment programs and WRPRAP are both funded by fees paid by critical access hospitals — hospitals located in rural areas that provide 24-hour care and have 25 or fewer acute inpatient beds. The loan repayment programs also receive funding from tribal gaming revenues. Eich noted that rural health providers often serve tribal areas.
The initial assumption among providers, both Eich and Crouse said, was that the programs were listed as being cut as a budget technicality. Many programs administered under UW System statutes are being "deleted" in the budget, only to be transferred to a new part of the budget as part of the proposed conversion to a UW Authority. 
"When it first came out, I think there was a lot of surprise," Crouse said, adding that some wondered if it had been a "technical oversight."
But when the nonpartisan Legislative Fiscal Bureau's budget analysis was released, "it seemed to be more apparent, at least how the budget was laid out, it was proposed to be terminated," Crouse said. Eich said he's not aware of anything in the budget to "balance these negative impacts on rural and under-served areas of practice."
Crouse said he had a few discussions with lawmakers last week, and rural health advocates plan to send a letter to members of the Joint Finance Committee this week asking them to consider reintroducing the programs to the budget.
Organizations like the Wisconsin Hospital Association, the Wisconsin Medical Society and the Rural Wisconsin Health Cooperative will all join that push, Crouse said.
"We of course understand, there's a need to cut a budget and it's going to hurt," Eich said. "It's not like we don't want to be part of the solution — we just don't quite understand why provider loan repayment was chosen as not worth saving."
The shortage of rural health providers is a complex issue, both Eich and Crouse said, and there's no panacea to solve it.
But providers see the loan repayment program as a good short-term investment that allows legislators and educators to see near-immediate results. 
"Legislators can assign money to it and have a new provider in an under-served area within a year," Eich said. "It's a program with almost immediate gratification, and obvious impact to Wisconsin patients."
WRPRAP acts as more of a long-term investment, aimed at developing robust recruitment and retention for rural providers and bolstering the quality of care available in rural areas.
The residency stage of a physician's education can be a "chokepoint" in the pipeline to establishing rural service, Eich said. He and Crouse noted that prior to the 2010 passage of the Critical Access Hospitals bill, the number of rural residency sites in Wisconsin had declined from six to just one, since 2001 — but WPRAP has been working to re-build the capacity for rural training.
Between two-thirds and three-fourths of Wisconsin counties contain federally-designated health professional shortage areas, either by geography or income levels. A 2011 study from the Wisconsin Hospital Association found that an additional 100 physicians per year are needed to keep pace with demand.
"Areas already short will become even more desperately short," Crouse said. "We're dealing with an existing shortage that's only predicted to be compounded in a significant way in the future."
Projects to develop rural training programs are in the works in several areas of the state, Crouse said. Some of them will likely be able to continue, but several others would be stopped in their tracks by the proposed cuts, he said.
Without the state funds, Crouse said he's certain rural rotations will be cut back to the "bare minimum."
"This abrupt funding cut would stop us dead in the water," he said.
Historically, Walker has supported programs like these.
Asked whether the governor's Ag Summit comments were referencing the 2015-17 budget or an older one, Walker spokeswoman Laurel Patrick said in an email, "Gov. Scott Walker's 2013-15 budget invested nearly $20 million into improving access to health care for Wisconsinites in rural and impoverished urban areas through medical training programs and rural medical residency grant incentives."
In response to a request to point out the investments Walker had referenced, Patrick noted the 2013-15 investment included increasing the size and scope of rural medical programs at the Medical College of Wisconsin and the UW-Madison School of Medicine and Public Health, providing grants to assist rural hospitals in creating more residency slots and help fund the continuation of those residency positions in high need medical specialties, and funding additional student positions at the Marquette University Dental School.
"Multiple studies identified a growing need for health care professionals, which will only increase as the population ages," Patrick said. "Gov. Walker's budget investment aims to train health care professionals for in-demand jobs of the current and future workforce for work in areas of high need."
Walker's 2013-15 budget provided $5 million in grants to support graduate medical education residency programs for rural hospitals. It gave $3 million to the Wisconsin Academy for Rural Medicine and the Training in Urban Medicine and Public Health Program.
"We've seen great support from both the governor's office and the legislature, historically, for these programs," Eich said. "It's surprising to see this on the chopping block."
Jason Pitt, spokesman for the Democratic National Committee, said Walker's newest budget seems to be at odds with the statements he made in Des Moines.
"Scott Walker can try to candy coat his record on rural health care programs, but his budget speaks for itself. Cutting rural health programs Wisconsinites rely on is exactly what we've come to expect from a governor who has mismanaged his state from day one," Pitt said in an email.
WRPRAP is considered to be a fairly unique model compared to operations in other states, Crouse said.
The program is generally looked to as being "very proactive," he said, adding that legislators from Minnesota have come to Wisconsin to learn more about the program. It's considered to be a model of what should be done by the state to promote the workforce in rural areas, he said.
"This would be a shock to the rural healthcare system, to lose this," Eich said.
Share your opinion on this topic by sending a letter to the editor to tctvoice@madison.com. Include your full name, hometown and phone number. Your name and town will be published. The phone number is for verification purposes only. Please keep your letter to 250 words or less.