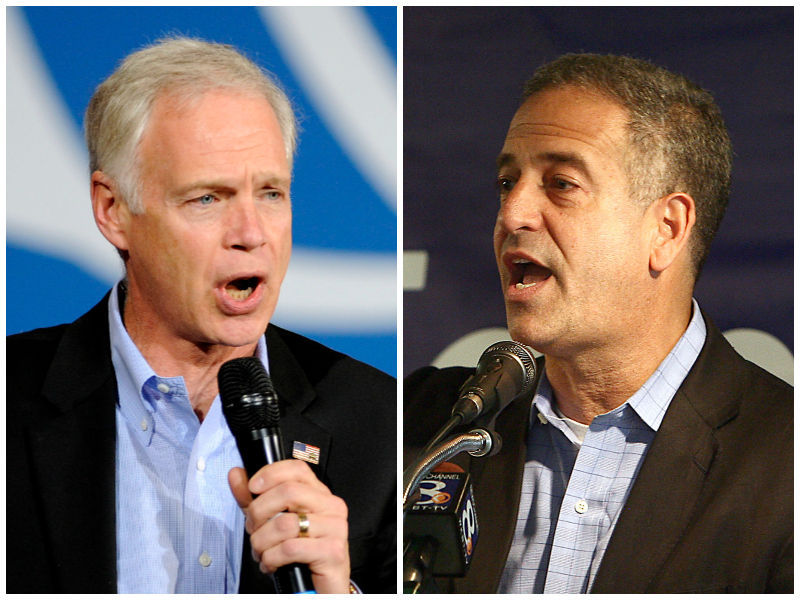 In Progressives United, Democratic Senate candidate Russ Feingold's opponents have seen an opportunity to attack. 
Since the launch of his 2016 campaign, Republicans have accused the former senator of violating his own principles in the formation of his political action committee, which he founded shortly after Republican Ron Johnson unseated him in 2010. But Feingold, his aides and those involved with similar organizations say the criticisms are off base and miss the point of the PAC.
Critics continue to question why the PAC donated such a small percentage of its income directly to candidates and causes, drawing comparisons between Progressives United and a group of PACs with a reputation for a small return-on-investment. But Feingold's team argues the organizations are nothing alike, making such comparisons moot.
At the crux of the charges of "hypocrisy" is the PAC's breakdown of expenditures. A Milwaukee Journal Sentinel report this summer found Progressives United gave just 5.6 percent of its income to federal candidates and political parties. Republican officials said that was proof the longtime campaign finance reform advocate had a habit of saying one thing and doing another.
But Feingold aides have said it's not fair to compare Progressives United to corporate PACs or candidate leadership committees, because its focus is member-driven and based on advocacy more than direct campaign contributions. And rather than some PACs that donate to a broad field of candidates, Progressives United's financial beneficiaries were part of a more narrowly focused field. 
"I'm proud of the work of Progressives United did to build a grassroots organization of 700,000 members committed to protecting Social Security from cuts and privatization, keeping the Internet free and fair and fighting to hold Wall Street accountable for their greed," Feingold said Wednesday in an email. "Americans working together to make their voices heard and making grassroots donations to progressive candidates across the country is the most important way we can fight back against rampant corporate influence in our political system in the wake of Citizens United."
Critics continue to question why so much of the PAC's money went back into fundraising for itself. According to Federal Election Commission data, in the 2012 election cycle, about 49 percent of its income was spent on fundraising, and in the 2014 cycle that total was 54 percent. In contrast, 7.4 percent of the PAC's income went to candidates and political parties in the 2012 election cycle. That dropped down to just 2 percent in the 2014 cycle.
Those totals include independent expenditures, which are communications "expressly advocating" for the election or defeat of a candidate but not made in coordination with a candidate. Progressives United did not engage in any independent expenditures.
A key difference between those tea party organizations and one like Progressives United is that many of those so-called "scam PACs" operate within a network of several PACs registered to the same person, and a large chunk of their expenses goes toward paying consultants — many of whom are connected with the PAC's operations. Those groups also don't do advocacy work.
But a spokesman for Johnson's campaign said the way Progressives United was run "shows just how far Sen. Feingold is willing to test the bounds of hypocrisy to claw his way back to Washington."
"The fact that Progressives United spent lavishly on salaries, travel and even Sen. Feingold's book is bad enough," said Johnson spokesman Brian Reisinger in an email. "The fact that so much of its money went back into fundraising across the country makes clear that it was never about supporting candidates or causes as Sen. Feingold originally stated — it was a shadow campaign, plain and simple, meant to fuel his political ambitions."
Progressives United shares more similarities with groups like Democracy for America and the Progressive Change Campaign Committee, which consider themselves to be the "Elizabeth Warren wing" of the Democratic party. And those groups credit themselves for a shift in the party's conversation, seen in environments like Tuesday's Democratic presidential debate, which covered topics like Social Security expansion, the Glass-Steagall Act and the influence of money in politics.
PCCC co-founder Adam Green said in an interview groups like PCCC, Democracy for America, Progressives United and MoveOn formed because they found it more practical to be involved with both electoral and issue politics. Their foremost concern is advancing issues, but electing candidates can help with that, he said.
PCCC worked with Progressives United on making Social Security expansion part of the Democratic conversation, Green said.
In the 2012 election cycle, 3.2 percent of Democracy for America's income went directly toward candidates and causes. That percentage went up to 10.6 percent in the 2014 cycle.
For PCCC, the 2012 percentage was 3.2 percent of its income, and in the 2014 cycle, 2.4 percent of its income went directly toward candidate committees and independent expenditures, according to FEC data.
But, like Progressives United, PCCC touts the money it has directed donors to give directly to progressive candidates and committees, totaling $5 million over the last three election cycles.
"It's either willful ignorance or outright lying about how grassroots organizations do genuine mobilization and issue advocacy," Green said of the criticisms of Progressives United.
PCCC has attracted its own critics, addressed in a 2013 BuzzFeed article.
"In an interview, (Green) said he had successfully called off reporters from the Washington Post and Politico sniffing around PCCC's contributions to the Wisconsin recall fights of 2011. Skeptics alleged the organization raised a lot but spent a relatively small amount. Green said his critics are misreading the financial records and pointed to the two spiked stories as evidence he's on the right side of things," wrote Evan McMorris-Santoro and Ruby Cramer. 
The mission of Progressives United was to "stand up against the exploding corporate influence in our elections by directly and indirectly supporting candidates who stand up for our progressive ideals."
Feingold's campaign has argued that the organization encouraged its members to donate directly to campaigns, resulting in $1.6 million raised. Of that, $700,000 benefited Wisconsin candidates.
It has also touted the PAC's work on issues, including a push to encourage members to advocate for net neutrality rules and an effort to fight a merger between Time Warner and Comcast.
Share your opinion on this topic by sending a letter to the editor to tctvoice@madison.com. Include your full name, hometown and phone number. Your name and town will be published. The phone number is for verification purposes only. Please keep your letter to 250 words or less.