Madison's Republicans needed a bigger watering hole when they won majorities in the Legislature and the governor's office in 2011.
With an electoral victory greater than any they had seen since 1998, the city's young Republican Party professionals swapped one downtown corner bar for another, moving their happy hours and office parties from the traditional, tavern-like Argus Bar to the sleek Madison's.
Yet while the GOP controls what gets done inside the Capitol, they are a political minority just outside its walls.
Republicans' stories are distinct in a city known nationwide as a liberal stronghold. Madison has not elected a Republican mayor in 45 years. Its citizens voted against Gov. Scott Walker by nearly 70 percent in 2014.
And five years after Walker and the Republican Legislature gutted collective bargaining for most public employees, a move that drew crowds of 100,000 people to the Capitol, the Republican label still prompts a passionate response.
Young professionals working in Republican politics say in some ways they experience a different kind of Madison as they move against its political current.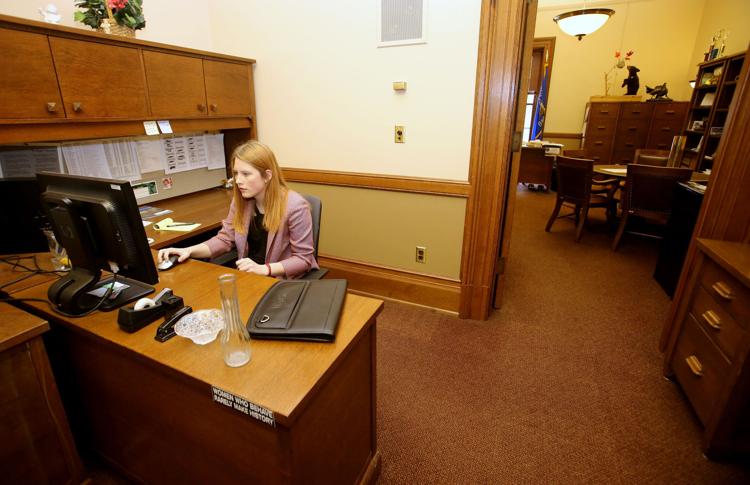 "With the city being so liberal, a lot of people just automatically presume that you are a liberal," said Darla Flemming, 24, the sole staffer for freshman Rep. James Edming, a Rusk County Republican. "You're kind of not an outsider, but you have a very different viewpoint than the average Madisonian."
And in a city so politically in-tune and with people so willing to chat about it, when that presumption is shattered, the questioning begins.
Madison's young Republican professionals say they're proud of their work, but often, the "What do you do?" question is the bogeyman of after-hours small talk.
Nearly every Republican interviewed for this article said when they're out in Madison they frequently defer to a vague trail of answers when responding to a stranger's questions about their job.
"When you meet people it's like the same every time. You're at a cookout and someone comes up and says, 'Hey, how you doing, what do you do?" said Christian Schneider, 42, a conservative columnist for the Milwaukee Journal Sentinel and a former Republican legislative staffer who has lived here for 20 years.
"And it's like, 'Oh god, here we go.'"
For Republican staffers, the conversation goes something like this:
A: "I work at the Capitol."
Q: "What do you do at the Capitol?"
A: "I work in the Senate."
Q: "What do you do in the Senate?"
A: "I work for a legislator."
A: "One from the north woods."
Q: "Oh. What's his name?"
And so on, until the political affiliation finale.
Schneider's conversations are similar, with the final reveal being the conservative political bent his columns take.
"That is literally like every discussion I've had in Madison for the past five years," Schneider said. "I just try to find maybe something we can agree on and hang on to. Like 'Yep, things are preetty crazy…'"
But unless you're sipping a drink at Madison's after work during the week, the "Oh hi, I'm a Republican, how are you?" is not likely a winning opener within the city's 84.7 square miles.
"When I meet someone new, I don't lead off with, 'I really like traveling, a good gin and tonic, and oh, by the way, I'm a Republican,'" said Flemming.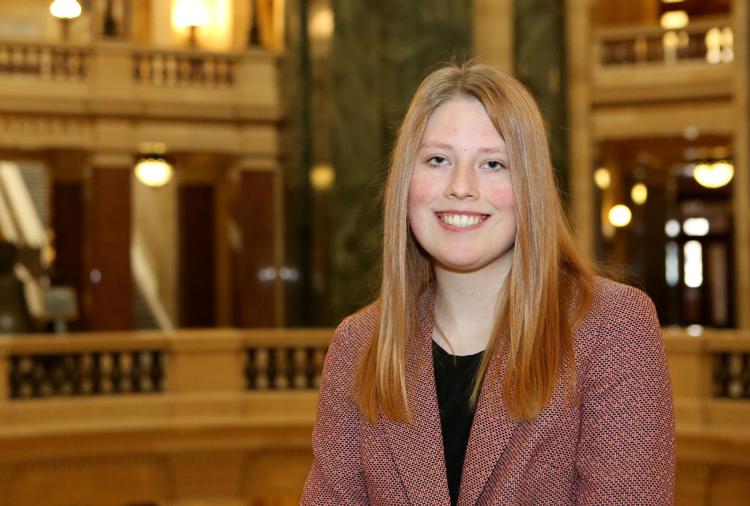 "When you're in Madison, sometimes it can be a nervous question to respond to, especially when I was working with Scott Walker during the Act 10 protest," said Nick Novak, 26, director of marketing and communications at Associated Builders and Contractors of Wisconsin. "Definitely sometimes I was a little nervous to tell people exactly where I worked."
If he's asked, Chris Martin, 25, communications director for the Wisconsin Alliance for Reform, a conservative advocacy group, said he is honest about his work. But if he goes to get a haircut in the city, he's acutely aware of who is handling the sharp object.
"I'm not going to say, 'I'm a conservative and work for a conservative group,' cause they have the scissors," said Martin, who is also the former communications director for the state Republican Party.
Revealing oneself as a Republican in front of a Madison stranger can be unpredictable and met with swift judgment.
Novak recalled a conversation with a new acquaintance that was going well until he mentioned his profession.
"She looked me straight in the eye and said, 'Why do you hate poor people?'" he said. "I thought that was a bit of a jump."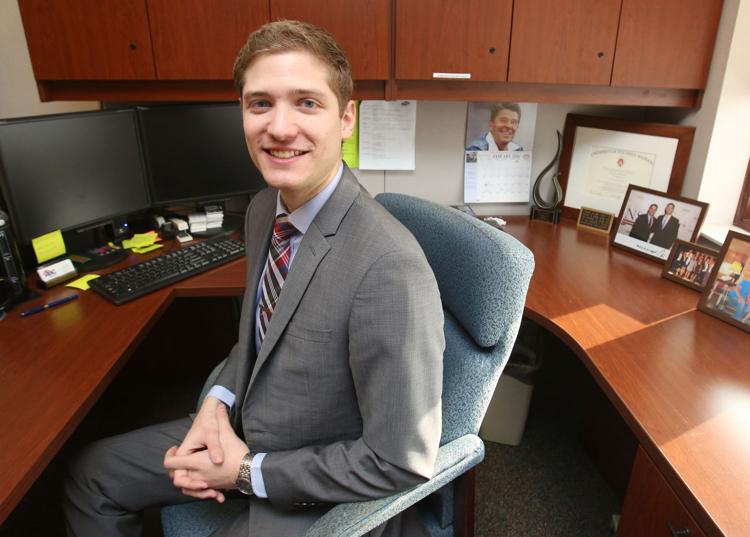 On another occasion, Novak was running near the Capitol, wearing a shirt from Americans for Prosperity, a conservative advocacy group. The shirt had grievances against President Obama listed on the back. Through his headphones he heard someone yelling and looked up to see a man on the other side of the street.
"This gentleman yelled, 'Obama's not a failure, you're a failure!'" he said. "I didn't know this person at all, I had never met him. There's things like that.
"If I were to be running in Waukesha, I probably wouldn't have someone yelling at me across the street."
Being a woman working in Republican politics invites a different line of questioning.
"Sometimes I get the, 'How can you be a woman and be a conservative? How can you be a Republican when there are all these reproductive rights issues? Are you … a traitor to your gender?'" said Flemming.
But reproductive rights are not necessarily the top policy priority of women by virtue of their sex, she said.
"Reproductive rights are important to people, regardless of gender. Just because someone is a woman, you can't presume that the right to choose is her primary focus, especially given the multitude of issues facing society," she said.
"There's more important issues that I personally am focused on, (like) economics and taxes and more of those fiscal issues and I think that should be our top priority," she added.
Wisconsin's political dynamic over the last five years has mirrored an increasingly polarized national political landscape, where party labels can be both pejorative and a source of pride. But always being ready to present an articulate, well-founded explanation for one's political affiliation can be exhausting.
"You have to be on the defensive here, you have to be ready to back up your opinion because people will push you on it," said one Republican Senate staffer, who asked not to be named. "Sometimes you're just so sick of talking about politics. You talk about it all day at work, then you go out and have to talk about it."
Like other groups of colleagues who share common interests, politically connected young Republican professionals hang out together.
They have group text chains, go out en masse on the weekends, and there's a growing group of them who drive for Uber. Taking part in the free market, privatized rideshare revolution is good side cash, some said. And those Republican Uber drivers said it makes them feel more connected to Madison as they chat with people rotating through their car.
Republicans interviewed for this story say they like living in Madison and appreciate its passion and political atmosphere, however it sways or how strongly it's charged. The differences present more opportunities than obstacles, said Novak.
"Overall, it's been a great experience. The connection I can have with people who want to have a real conversation, I like that," he said. "More speech is a good thing …(and) there's a lot more to someone than just their political beliefs."
Take cigars, which know no party line. Several Republicans staffers attend what they call the Cigar Caucus, a bipartisan group of legislative aides who gather at Maduro near the Capitol and smoke cigars about once a month.
The caucus declined a reporter's request to observe, but Republicans say they enjoy the opportunity for some cross-aisle, nonpolitical chatting.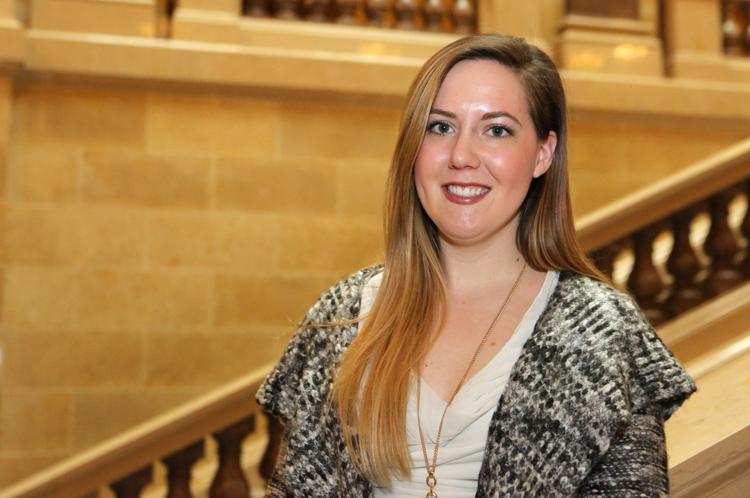 "People here are just as passionate about a lot of different things. I think there's plenty of common ground to find with people," said Hannah Huffman, 30, who is on the email list for the Cigar Caucus and works as a communications director for Assembly Majority Leader Jim Steineke, a Republican from Kaukauna. "I think it's really important to have friends that don't agree with you on every political issue."
Huffman also volunteers as a mentor for Madison Urban Ministry and serves meals for homeless families at The Road Home. Both opportunities help her feel more connected to the community and exposes her to people outside of her political sphere, she said.
Many Republican professionals say they have friends and acquaintances along the political spectrum but note that ideological diversity isn't necessarily the centerpiece of the relationship.
"I am a lot of people's token Republican friend," said Schneider.
For him, bipartisan friendship depends on the fundamentals.
"If you follow the basic rule of 'don't be a dick' then everything else from then on is fine," said Schneider. "If they're a good enough friend then you can rib each other about what your party is doing and make jokes about it."
"I've got plenty of liberal friends and we talk about what anybody would talk about," Schneider said. "We talk about sports, movies, girls, we talk about all kinds of stuff, the things actual real people talk about, not political dorks."
Schneider co-hosts a music podcast, "Will's Band of the Week" with friends who happen to be liberal, in which they recommend small, alternative indie bands, a departure from stereotypical Republican artists like Ted Nugent and Kid Rock. Recent endorsements include Courtney Barnett, Sufjan Stevens and Godspeed You! Black Emperor.
"We get together and talk about indie music for an hour every week and never get into politics and it's great," he said.
When friends of divergent ideological stripes do discuss politics, the best conversations come with intentions of understanding and explanation rather than persuasion, said Ashley Siefert, a former Democratic staffer for Sen. Chris Larson, D-Milwaukee.
"If you go into it under the guise of 'I'm trying to change your opinion,' that ends up being where a lot of the conflict is," said Siefert, 29, who worked in the state Capitol for six years before moving to D.C. in late 2014. "When you're talking to people involved in politics … you know they've done their research, they've looked into why they believe the things that they do … so what's the point of going in and trying to change their views?"
Dating when Republican in Madison can be a challenge — especially if one seeks a match with similar political proclivities.
Several Republican staffers say they don't consider political affiliation when deciding who to go out with, but say their potential dates have.
One 30-something Republican staffer who works in the state Senate, who asked not to be named, said potential dates have cared more than she has about any political differences.
She recalls corresponding with a guy on eHarmony. Without knowing where she worked, the guy wrote out a long email likening all Republicans to corrupt Enron executives, ending the email with: "All Republicans Must Die."
After she alerted him that he had just called for her death, the emails stopped.
Later, a guy she matched with on Tinder opened their texting conversation with:
"If you work for a Republican, we can end this in one or two texts." He had seen that she "liked" Republicans on Facebook.
"We've always heard that the Democrats are the party of tolerance, (but) you don't always feel that way when you have a different opinion," she said. "Sometimes you feel attacked."
There are two kinds of Republican staffers in the Capitol: Those who went through Act 10 and those who didn't.
"Act 10 was a bonding experience," said one GOP aide, who worked in the Assembly during the protests.
The controversial legislation that cut off the ability for most public employees in the state to collectively bargain set off protests that redefined what it meant to have a "crazy day" or deal with "upset constituents."
"Our mailbox would be full, voicemails full, and there would be a constant barrage of being yelled at on the phone," she said. "State government did not stop working because this issue was going on."
Republican staffers say they were told to wear street clothes when they entered the building so they would not be targeted. Republican aides say they were often escorted in and out of the building by Capitol Police.
"We always joke that we'll have deep seated psychological issues for years," said another Republican Senate staffer who started interning the Capitol in 2009, when she was a senior at the University of Wisconsin and was hired on after graduation.
She reminds newer staffers who complain about a bad day: "Have you ever had 100,000 people screaming at you? No."
Working through the passage of the bill, the protests and recall elections were a seminal point in her political career.
"I feel like at 28, I've seen it all," she said. "Nothing will surprise me now, I feel like I've seen everything."
Staffers across parties who worked during that time say it altered their work days.
"It was hard for us just to get in and out of the Capitol," said Siefert, who worked in Larson's office during the protests. Food was often shuttled to staffers through windows because they couldn't leave, she said.
Both Democrat and Republican offices got calls and emails from angry constituents and staffers worked long hours, 60 hours a week in the office, then volunteered on the campaign trail.
"I think during those times when things get heated, people sometimes forget that no matter what, these are still people," Siefert said. "We're all people who, probably under normal circumstances would have gotten along just fine even with our differing political views."
Tensions between the left and right were high during the protests, but current and former staffers say it has since tamed. During her time at the Capitol, Siefert often visited and hung out with staffers who worked for Senate President Mary Lazich, a New Berlin Republican.
Working in the same field, in the same building, cultivates camaraderie, regardless of party.
"Whether you're a Republican or a Democrat, you have a lot of the same shared experiences working in the Capitol," Schneider said. "It's like 98 percent of the same experience and the other 2 percent are just ideological differences."
Wisconsin Republicans have gained national attention following Gov. Scott Walker's push for Act 10, his recall election victory and short-lived presidential campaign. The rise of Rep. Paul Ryan of Janesville to the House Speakership and Reince Priebus from Pleasant Prairie to chairman of the Republican National Committee has lifted the state's profile as a place of opportunity for conservatives.
Martin, who works for the Wisconsin Alliance for Reform, is from Tampa, Florida. He moved to Madison after working on campaigns in other parts of the country with several people who recommended Wisconsin as a good place to take the next step in his career.
"I was once told that everyone worth their salt has gone through Wisconsin at some time," he said. "It's true. There's just a ton of really good operatives that have worked in some fashion in the state. I'm so happy I decided to make it my home."
Republican staffers say the recall races exacerbated an already existing demand for Republican reinforcement, a hole the state party called on the Republican National Committee to help close. The RNC sent in young staffers to work those campaigns and new groups continually cycle in.
Anthony Birch, 21, chairman of UW-Madison's College Republicans, said he is eyeing the state to start a career in conservative politics.
"You look at people coming out of Wisconsin and can say, 'There must be something in the water and I want a little sip of it,'" he said. "If you're a young conservative looking for the most opportunity and most growth…then this is a place to take your message."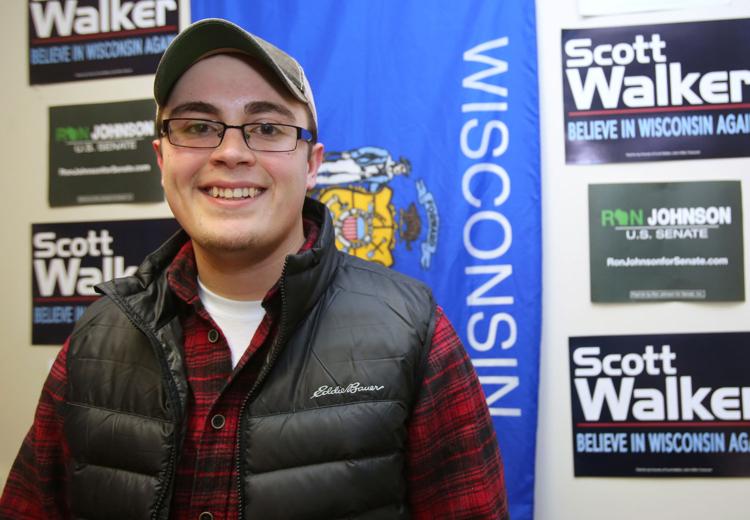 On the UW-Madison campus, the College Republicans group regularly attracts between 150 and 200 members each year, said Birch, a senior from Germantown.
Part of its aim is to show other conservative students they're not alone and embolden them to speak out about their views on a campus heralded as one of the most liberal in the country.
"The idea that campuses are just these very liberal places is something we're trying to refute, at least at the student body level," said Birch.
He speaks up about his politics so people see that his political beliefs and the labels attached to them don't persist in a vacuum, but are connected to a person.
"We're not crazy people …we just believe that less taxes and a little more belief in the Constitution is a good thing," he said.