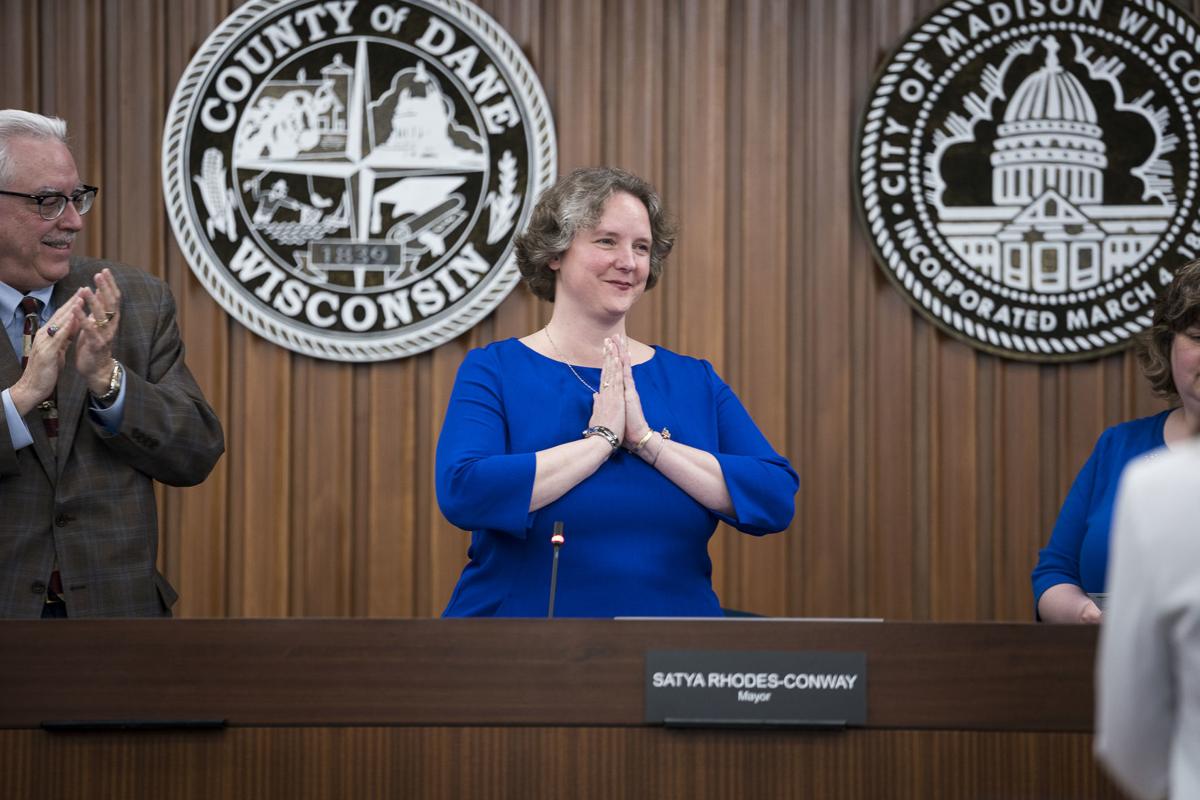 Madison ushered in a new era of city government Tuesday with the swearing in of Mayor Satya Rhodes-Conway and nine new alders.
Rhodes-Conway, a former alder, returns to City Hall as Madison's 58th mayor. She makes history as the first openly gay mayor of Madison and the second woman to hold the city's top executive position.
She was sworn in shortly after 3 p.m. as those present in the City Council chambers clapped and cheered.
"My mind is swirling with all the things I want to get done," Rhodes-Conway said in a press conference following the ceremony, specifically listing climate change efforts and green infrastructure. "The list is long, and I'm really excited to be able to move into the office and get to work."
In the April 2 election, Rhodes-Conway beat incumbent mayor Paul Soglin, collecting nearly 62 percent of the vote. She won in over 50 voting precincts that Soglin and other challengers claimed in the Feb. 19 primary.
After convening the new City Council, Rhodes-Conway thanked Soglin for his years of service.
"On behalf of both Councils, I think I can extend a very deep and heartfelt thanks to Mayor Soglin for his decades of service to this city, which he has served honorably and well," Rhodes-Conway said.
Soglin, Madison's "mayor for life" who represented the city for 22 years over the past five decades, briefly attended the swearing-in ceremony but appeared to have departed the meeting before Rhodes-Conway's remarks.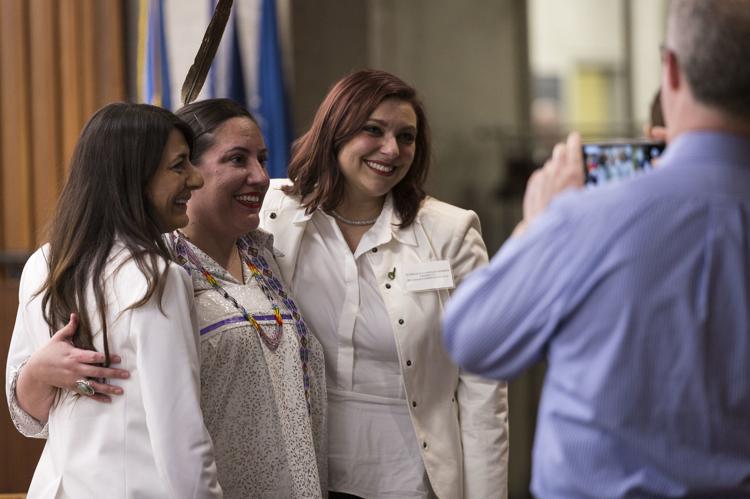 The new City Council also elected replacements for Alds. Samba Baldeh and Sheri Carter, who served as the president and vice president of the council. Typically, the City Council vice president succeeds the president and the nominees have a chance to make their case to their colleagues. 
On a 13-7 vote, the City Council elected Ald. Shiva Bidar, District 5, as the next president of the Council. Bidar previously served as president in 2012. Carter received 7 votes.
Neither candidate for president spoke on their nominations. 
The bid for City Council vice president between Alds. Rebecca Kemble, District 18, and Barbara Harrington-McKinney, District 1, was more competitive and required two rounds of voting when the first resulted in a 10-10 tie. On a second round of voting, McKinney received 11 votes to Kemble's nine.
Kemble touted her work on the council's executive committee and on groups such as the Task Force on Structure of City Government over her four years as an alder. Her strengths lie in organizing City council members over shared priorities, she said.
"It has always been my driving passion to make sure that this body can operate effectively as a whole," Kemble said.
When Harrington-McKinney spoke to her nomination, she discussed that she felt uncomfortable about gaining votes for the leadership positions, saying "without integrity, nothing works."
Addressing Kemble and acknowledging her respect for the District 18 alder, Harrington-McKinney said she did not know if she "will be represented and invited to the table."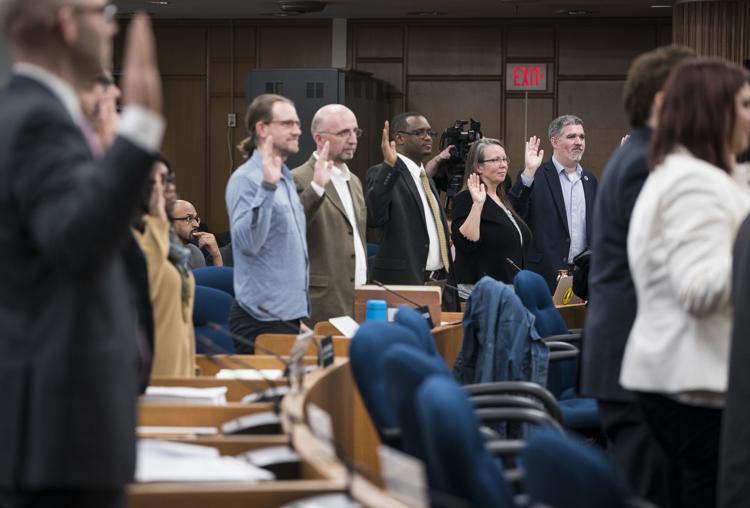 "We talk about equity, but we are not practicing equity," Harrington-McKinney said. "We talk about it on the outside of this chamber and expect those who voted for us to practice equity, but we do not practice equity within these walls."
Baldeh, who won re-election to District 17, chaired the noon meeting during which outgoing executives and departing City Council members received honoring resolutions and in some cases tearful goodbyes.
In his outgoing remarks, Steve King, who represented District 7, spoke to the frustration many feel toward higher levels of government and commended Madison as a place to serve.
"All politics is local," King said. "I really think the government in Madison is great, and it's because we have great people supporting it, being involved in it at every level."
As a new class of alders took office, outgoing alder Mo Cheeks encouraged the City Council to do the work he believes the local level of government can accomplish.
He also referenced the ongoing work of the Task Force on Government Structure in saying that the city will be challenged to figure out how to deliver the best level of service to residents, whether or not the City Council converts to full-time or remains part-time.
"I firmly believe that local politics continues to be an opportunity for us particularly here in Madison to prove that we really can be making a difference at the local level to change the trajectory of life in a place," Cheeks said. "The work is great and getting bigger and harder and if we continue to, frankly under-resource this work in the way that we do, we will not be serving our constituents as well as we ought to."
Baldeh was one of two incumbent candidates who faced challengers in the spring election. He easily won with 75 percent of the vote.
Keith Furman, District 19, kept his seat by a much narrower margin, 51 percent. Furman was appointed to the seat after former alder Mark Clear vacated his seat last year.
New candidates competed for nine contested City Council seats.
Patrick Heck, winner of the District 2 seat, will replace Ledell Zellers in representing the north side of the isthmus from downtown to Sherman Terrace on the near east side. Zellers decided not to run for another term.
Lindsay Lemmer won District 3 in southeast Madison. The District 3 seat was last held by Amanda Hall, who resigned in February.
Donna Hurd Moreland took District 7 on the southwest side, replacing Steve King, who chose not to run.
UW-Madison Avra Reddy won District 8, which encompasses much of the UW campus. She will replace outgoing alder Zach Wood.
Zachary Henak won District 10 on the west side, which includes the Odana, Nokoma and parts of the Allied and Dunn's Marsh neighborhoods. This district was represented by former mayoral candidate Mo Cheeks, who did not seek re-election to the City Council.
In District 12, Syed Abbas replaced Larry Palm to represent the city's near north side from the former Oscar Mayer plant to the Dane County Regional Airport. Palm did not seek re-election.
Tag Evers won District 13, which includes the Vilas, Bay Creek and Monroe Street neighborhoods. He replaces outgoing alder Allen Arntsen, who was appointed to the seat following former alder Sara Eskrich's resignation from the City Council.
Grant Foster prevailed in District 15, which stretches from Truax Field on the northeast side to La Follette High School on the southeast, currently represented by David Ahrens, who did not seek reelection.
Finally, Christian Albouras won in District 20, which includes the Greentree and Meadowood neighborhoods on the city's far west side. He replaces outgoing Matt Phair, who did not run for re-election.
Share your opinion on this topic by sending a letter to the editor to tctvoice@madison.com. Include your full name, hometown and phone number. Your name and town will be published. The phone number is for verification purposes only. Please keep your letter to 250 words or less.
Get Government & Politics updates in your inbox!
Stay up-to-date on the latest in local and national government and political topics with our newsletter.