With Tuesday's release of her first executive capital budget, Madison Mayor Satya Rhodes-Conway will get the chance to outline her financial priorities for the city in 2020. But driving down the city's debt obligation will be a main priority of the executive capital budget, Rhodes-Conway said.
Rhodes-Conway told the City Council Executive Committee at the beginning of August that the 2020 budget would likely bring difficult conversations.  
"This is just the first warning sign that it is going to be a tough budget conversation and that there's not going to be a lot of room," Rhodes-Conway said at the Aug. 6 CCEC meeting.  
Over the past 15 years, the city's capital budget and associated debt has grown significantly. Madison's debt per resident increased from $1,141 in 2009 to $1,959 in 2018 — an increase of 72%.  Last November, the City Council approved a $347.6 million 2019 capital budget, which includes $185.8 million in authorized borrowing and $168.8 million from other sources.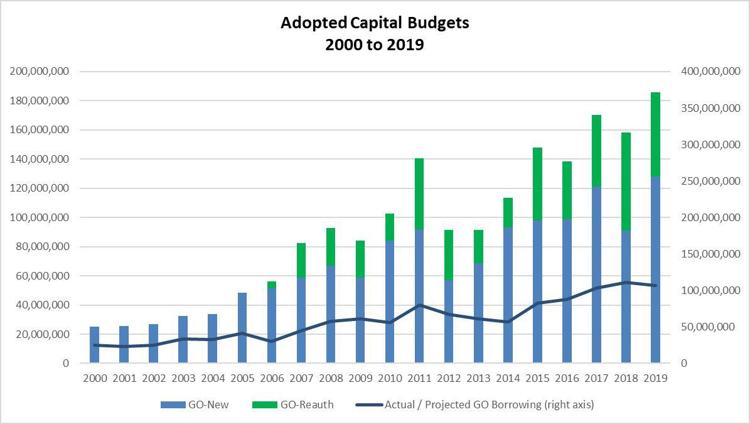 Prior to 2012, the debt service as a share of the city's general fund budget had been at or below 12.5%. In 2019, the debt service share of the budget exceeded 17%.
If all agency requests were funded in 2020, the city's debt would be at 20.8% of general fund spending. 
"We've seen rising debt service commensurate with a growing capital budget to replace aging infrastructure and meet expanding service requirements as our city grows," city Finance Director Dave Schmiedicke said.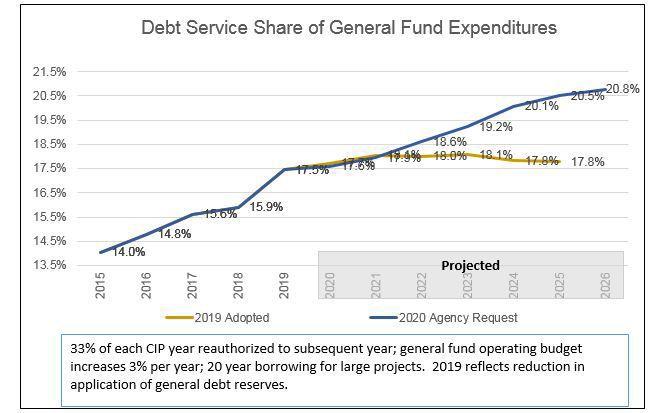 As the city begins constructing and renovating more facilities, Madison is starting to use 20-year instead of 10-year borrowing in targeted situations to more closely aligns the debt with the facilities' longer useful life. Using 10-year debt is better connected to paying for projects like street resurfacing.
Schmiedicke said the city "shouldn't have debt that extends beyond the useful life" of facilities. 
When a greater share of the city's property tax levy is dedicated to paying down debt, more pressure is placed on the operating budget. While the capital budget funds long-term projects, the operating budget funds day-do-day needs, community agency contracts and transit and public safety measures.  
Shrinking the debt burden is achieved by decreasing the amount of money the city borrows in any given budget. Rhodes-Conways said there are projects in the executive 2020 capital budget that are recommended for removal or deferral. 
"We are trying to constrain the amount we borrow each year, while keeping in mind the services we need to provide and my priorities," Rhodes-Conway said at the CCEC meeting. 
In her budget instructions to all departments, Rhodes-Conway outlined five priority areas where she would like to focus the city's capital investments, which include making sure everyone can afford to live in Madison and providing "robust and rapid" transportation. 
Additionally, the mayor would like the capital budget to address both climate change mitigation and response efforts, elimination of disparities with a focus on racial equity and resident engagement.
This year, the mayor asked departments to match funding requests to the city's new comprehensive plan, called Imagine Madison. This plan outlines future approaches to transportation, housing and land use, among other focus areas.
City Council President Shiva Bidar expects a difficult conversation given the financial constraints of the city as well as a largely different City Council who came into office with their own priorities. She said the city is in a "particularly challenging situation" this year. 
"It's going to make it for a very in-depth and challenging conversation about what we can shift and if we can shift anything and at the same time, try to achieve some of the goals and initiatives that the mayor and alders will be bringing forth," Bidar said.