Hundreds of "gray hairs" gathered at the state Capitol to demand action on global warming and advocate for change that they hope would benefit future generations. 
The participants — many of them retirees, grandparents and others — arrived in downtown Madison Friday as part of a day-long rally in support of the environment and inspired by the Global Climate Strike Movement. 
Adam Schesch, who led the push to draw older participants to the event, said he worked to assemble what he called "the elderly brigade" — an "elderly contingent of gray hairs."
The 77-year-old Madison resident and grandfather of two adults said he tapped into his networks and reached out to potential participants through "the old fashioned e-mail way."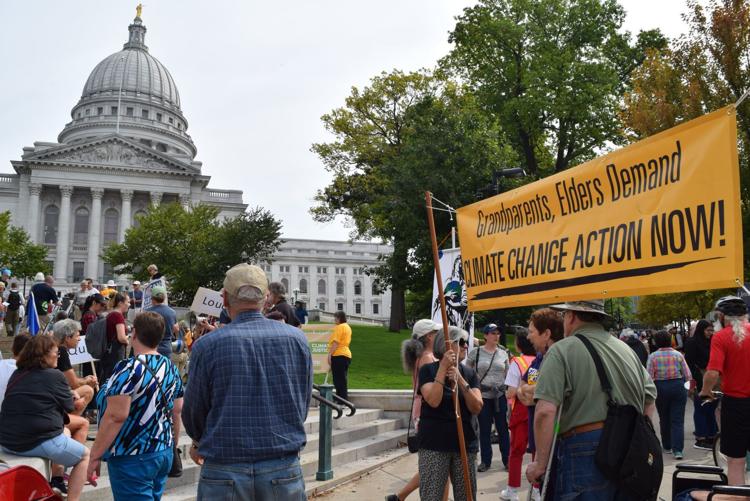 Targeting grandparents, he said, made sense because older voters are more likely to turn out, "give some of the biggest chunks of money as a collective" and lawmakers, he added, "know the elderly will fight for stuff."
Schesch — sitting in a wheelchair outside the Capitol under a banner that said: "Grandparents, Elders Demand Climate Change Action Now!" — said he was disappointed climate change hasn't been a higher priority among Democratic presidential candidates thus far.
"The politicians don't seem to care about the youths," he said. "They damn well better care about us."
Following a brief rally at the Capitol early Friday afternoon, groups of attendees began marching to the MG&E plant at the corner of Blount and East Main streets.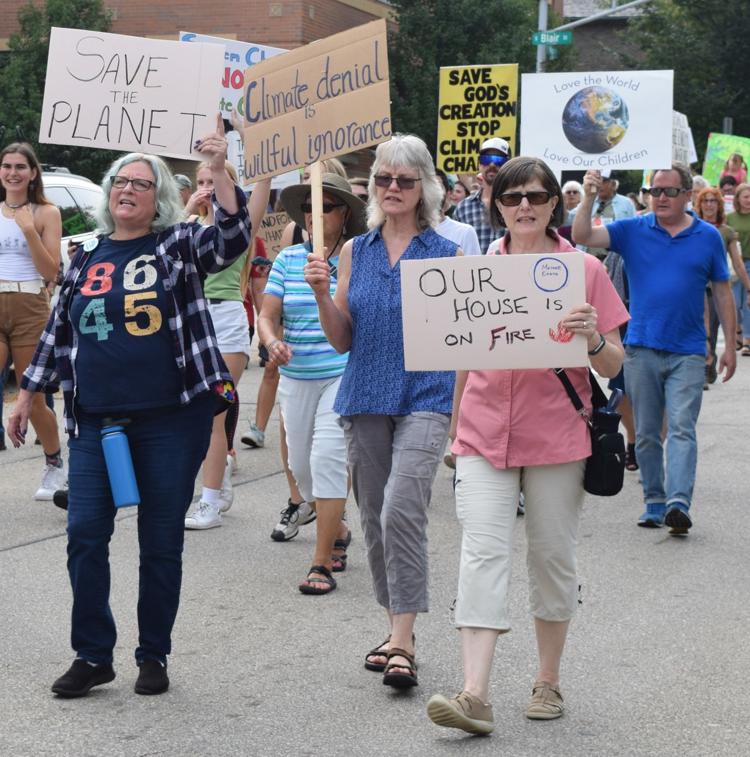 One group, quietly and without chanting, headed to the plant via the sidewalks on East Washington Avenue, while another headed down the middle of East Main Street, as protesters chanted, "What do we want? Climate justice! When do we want it? Now!" among other things. 
Fitchburg resident Rona Lukazewski, who was present at the Capitol rally and march to MG&E, said she planned to participate in the day's activities because of the "kids in my life."
Calling climate change "the existential threat of our time," Lukazewski brandished a sign that said "Save Our Home," with the "O" in home replaced with an image of planet Earth surrounded by flames. 
Describing herself as "a doting aunt of young adults" and "a great-aunt of amazing children," she stressed the impacts of global warming would impact everyone.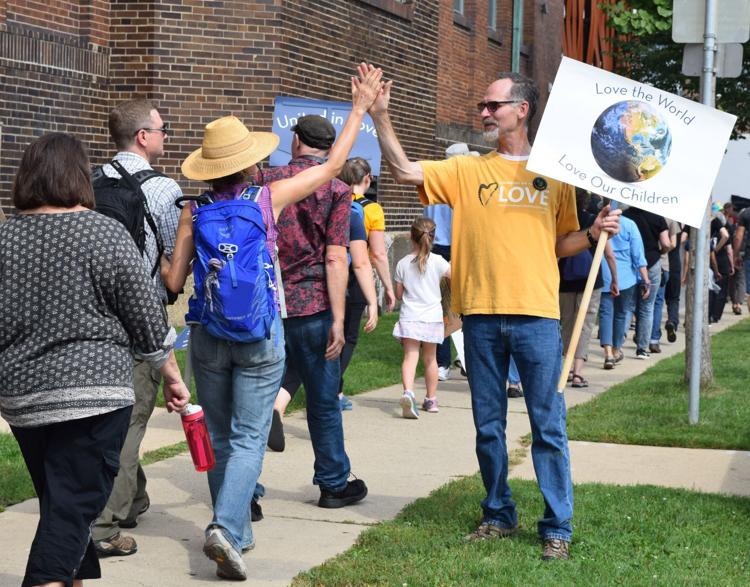 "It's not just us that are going to suffer the consequences," she said. "It's them (the children)."
But not everyone was there just to advocate for future generations. 
Viroqua resident and retiree Tom Wilson, who also has a home in Vermont and serves as its state coordinator for advocacy group Citizens' Climate Lobby, said he was hoping to raise awareness for members' support of a federal bill to place a fee on carbon emissions with the revenue distributed to households across the U.S. 
"I'm not here for the youth, I'm here for the planet and all of us," he said. "I appreciate the youth presence and enthusiasm and welcome that, what I see (as) kind of a rebirth of that." 
Friday's events follow an earlier climate rally in March, in which about 1,000 students marched from East High School to the Capitol. This time, groups are asking state and local governments to declare a climate emergency and Madison Gas and Electric to "transition completely to 100% renewable energy" by 2030, according to the Facebook event.