Resettlement agencies scramble to find landlords to house refugees in Madison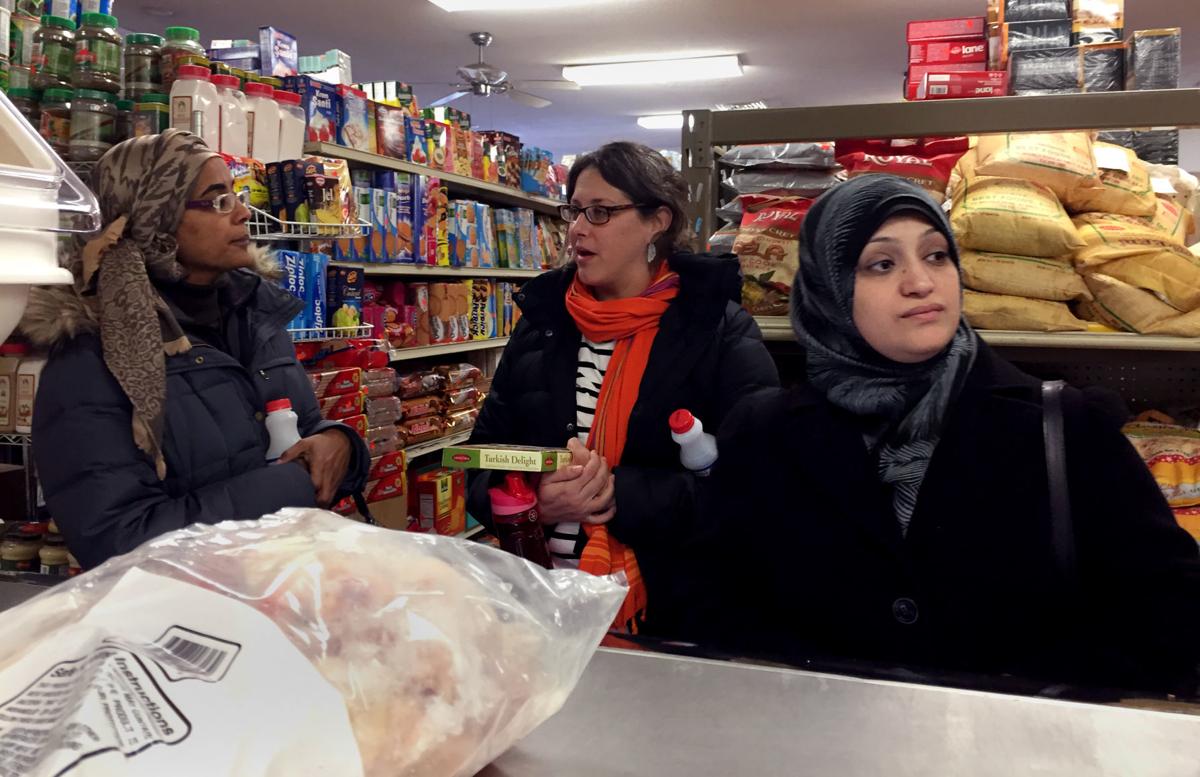 After five flights over two days, three Iraqi refugees finally arrived at the Dane County Regional Airport.
Saif Alsaedi, his wife and his daughter came to the United States in 2013. In Iraq, he had worked with Americans as a translator and in security, and eventually received too many death threats to stay, despite switching cities four times.
Alsaedi's journey to America was his first time in an airport and his first time in a different country, with a new culture and language, he said.
Becca Schwartz is the refugee resettlement coordinator for Jewish Social Services in Madison. She's witnessed how chaotic the whole travel process can be, as the family has no idea what to expect in their new country or where their next paycheck will come from.
"Everyone is tired, very stressed out, just wanting to land somewhere," she said.
That's where Madison resettlement agencies JSS and Lutheran Social Services step in. They meet refugees at the airport, and, when everything works as planned, bring them to a furnished apartment with a culturally appropriate meal waiting.
But it's hard to find willing landlords in Madison, because renting to refugees is a logistical challenge. A handful of landlords have stepped up to assist, but sometimes it can still be a scramble to find a place for the refugees to call home.
In 2017, JSS resettled 30 refugees to Madison, and LSS resettled about 70. Last year, the State Department said it would shut down any resettlement offices planning to settle less than 100 individuals a year, so JSS and LSS have both committed to resettling 100 individuals this fiscal year.
They may not actually receive that many. Former President Barack Obama set the refugee cap at 110,000 in 2017. Trump lowered that cap to 45,000 for the fiscal year 2018, which started last October. It may end up being lower than that, as only about 5,300 refugees arrived nationally in the first quarter of 2018.
Regardless, JSS and LSS have to be prepared for the full 200.
"That means we need to be always reaching out to more landlords and property management companies," Schwartz said.
Resettlement agencies generally have about two weeks notice to find an apartment for refugees, which Schwartz said is the hardest part of the job.
That's not evidence of prejudice; it's just tough for refugees to pass standard apartment screenings.
Refugees often come with no American rental history, credit history, employment history and no job upon arrival. They receive a one-time allowance that usually pays for at least one month's rent, but are then on their own.
That will often rule them out from larger property management companies, Schwartz said. To protect against discrimination complaints, some management companies create a uniform screening policy for prospective tenants. They're hesitant to allow exceptions to avoid the appearance of preferential treatment.
"Management companies, they have rules," Alsaedi said. "You have to have this certain amount of score on your credit, a good history of rental in the United States. It's really hard to find this for someone who just came with a suitcase of clothes."
When landlords are willing to waive those screening requirements, they can hesitate when they're told the timeline. They have to give the keys to the resettlement service upon receiving the security deposit so the agency can furnish the apartment, but the lease won't be signed until the refugee arrives.
And even willing landlords can only offer an apartment if they have one available, so Madison's tight rental market doesn't help.
Mary Flynn oversees LSS resettlement programs in Milwaukee and Madison, and said it's harder to find housing for refugees in Madison where there's "a dearth of housing at affordable and safe levels."
Schwartz said that while she's found housing in one call to a landlord; other times, dozens of calls can prove unfruitful. Then refugees have to start out in temporary housing like a hotel, which is more expensive and stressful for everyone.
Tom Ripple of Ripple Management houses four or five units of refugees. Ripple Management runs several hundred units, mostly in Madison, and decided to house refugees after Schwartz reached out to him.
"The only real challenge is being trusting, you know? Sometimes as a housing provider you trust, but you also verify," he said. "We go through a fairly diligent process because we are the gatekeepers to the neighborhood."
But in this case, he was willing to take the chance even without the usual background information like rental history.
"I frankly admire the grit and determination of a father or a mother or a young couple who will say goodbye to their world … I feel (they) deserve any chance we can give them," Ripple said. "I just admire the heck out of people who do what they do to take care of their families."
He wasn't nervous about refugee tenants paying back the rent, even though they would start renting without jobs.
"If they went to the lengths they went to get to our doorstep, we didn't feel they would take (the opportunity) for granted," Ripple said.
Howard Mazur, who runs about 100 units of Dane County apartments through Mazur Realty with his sons, has two units of refugee tenants. He said that while he's "not getting into the politics" of refugee arrivals, they're here, and he trusts the U.S. vetting process and JSS.
Mazur and Ripple have both been happy with their tenants.
"They're nice people, they're appreciative, and if we could help people like that out, it's not going to hurt us in any way," Mazur said.
Alsaedi had a great relationship with his housing manager, who hired Alsaedi to do maintenance and taught him to manage property.
Today, Alsaedi is a landlord with 16 units of his own, and four of those units house refugee tenants.
"They're happy having someone like them be their landlord and take care of them," he said.
Ripple said the real credit goes to the resettlement agencies who do the "heavy lifting."
"We're not providing the day to day service," Ripple said. "We're getting them the keys and saying, 'We hope this will work for you, and we'll stay in touch.'''
Those interested in housing refugees can contact JSS at 608-442-4081 or LSS at 608-277-0610.