A state tourism panel is planning to hold in-person leadership elections after one Republican senator alleged the council could be violating open meetings law to select its officers. 
Still, top officials at the Department of Tourism aren't saying whether the decision is in response to a letter this week from one of its members, Sen. André Jacque, who argued that the council's practice of casting secret ballots over email may be illegal. 
But two days after Jacque, R-DePere, flagged the issue in a letter to Tourism Secretary Sara Meaney, the agency's number two official notified council members Friday afternoon the "prior electronic votes are inconclusive" and elections will be held at the body's next meeting. 
Secret ballots — where those voting do so anonymously — are able to be used to elect a body's officers, according to the Department of Justice's Public Records Law Compliance Guide. But government bodies aren't able to "use email ballots to decide matters, even if the result of the vote is later ratified at a properly noticed meeting." 
Amidst the voting snafus, one member of the council who's in the race for chair says Meaney had asked her to resign early from her post, according to a copy of a letter she sent to the board Oct. 23. Meaney refuted that claim in an email to the council that was shared with the Cap Times. 
The Governor's Council on Tourism has done at least three rounds of email voting in recent weeks to select its leadership, Jacque's office said. But only some members of the council were told they were able to vote in those elections. The first two rounds didn't require members to list their names on their ballots, but the council found in both instances some members may have improperly cast ballots or voted multiple times, or there were ties that necessitated another vote.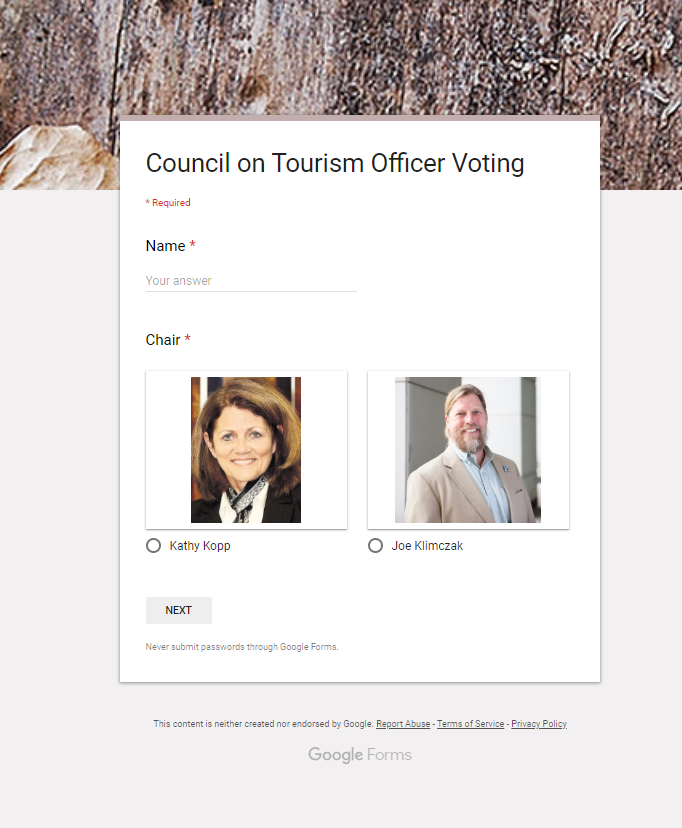 During the third round of voting, which kicked off on Monday, members were asked to submit their names along with their votes, according to an email from an agency staffer shared with the Cap Times. 
"On our last voting round there were five council members who 're-voted' more than once," the agency's executive staff assistant wrote. "We will now be collecting names with each vote that is submitted as our statute does not require voting to remain anonymous."
Jacque wrote in his letter to Meaney that it's "deeply concerning to me" the council may have violated the state's open meetings law through its voting practices. He added the votes appear to have happened in a matting that wasn't properly noticed and open to the public. 
Asked for comment, Tourism Deputy Secretary Anne Sayers Friday morning said via email that elections for the council "will be held in-person at our next Council meeting." 
She didn't respond to follow-up questions asking if the decision was in response to Jacque's letter. But nearly two hours later, she sent an email to members announcing that the votes would be held at "our next publicly noticed meeting where all present and eligible members will be able to vote."
Wisconsin Freedom of Information Council head Bill Lueders said Jacque "has asked some tough questions and the Governor's Council on Tourism needs to respond." 
"It certainly looks as though what the council is doing is questionable if not clearly illegal," he added.  
The Tourism Council seeks to advise the secretary and help craft decision-making, per its website. Members include four lawmakers of both parties, business officials across Wisconsin and representatives from the state's Arts Board, Historical Society and various chambers of commerce. 
The lawmakers on the commission are among those considered ex-officio members and are therefore not allowed to vote on officer positions or membership on a lower Marketing Committee. Jacque also challenged that point in his letter, writing that nonpartisan Legislative Council officials have said there's no provision in state law saying any council member is nonvoting. 
But Democratic Sen. Janet Bewley, who served on the council under former Secretary Stephanie Klett in a nonvoting capacity, said she was told by her not to vote and believes it was an appropriate direction. 
Council member Darren Bush, who's been on the board for around a year, directed comment about the potential open meetings law to Meaney and praised the body's commitment "to serving the governor's call."
"We all want the same thing: we want people to come here and enjoy our state," the Rutabaga Paddlesports owner said.  
The council was most recently chaired by Visit Milwaukee President and CEO Paul Upchurch, though he resigned from the body last month. 
Longtime council member says she has no plans to resign 
Jacque is also rushing to one council member's defense after she alleged Meaney encouraged her to consider resigning from the board as early as next month. 
Platteville Area Chamber of Commerce Executive Director Kathy Kopp in a separate letter to the council last month said the suggestions came as she prepares to retire from her role as head of the Platteville Area Chamber of Commerce. 
In the letter, she indicated she has no plans to retire from the council before her term ends in July 2021. She added that as someone from southwest Wisconsin, she wanted to ensure the region would continue to be represented. But she alleged that Meaney responded by stressing the priority is "to recruit more individuals that represent a more diverse racial and ethnic population." 
Meaney, though, countered in an email to council members that she "neighter sought nor requested your resignation." 
"I'm disappointed in the gross mischaracterization of our conversations and in your choice of this public channel to communicate what would otherwise have been a straightforward follow up telephone conversation," she wrote. 
Meanwhile, Jacque in his letter Thursday wrote that he appreciated "Kopp's concern that her region, and all regions of the state, have advocates for their area on the Tourism Council." He added he plans to meet with Meaney in person to further discuss the issue. 
Neither Kopp or officials in the Department of Tourism immediately returned requests for comment.