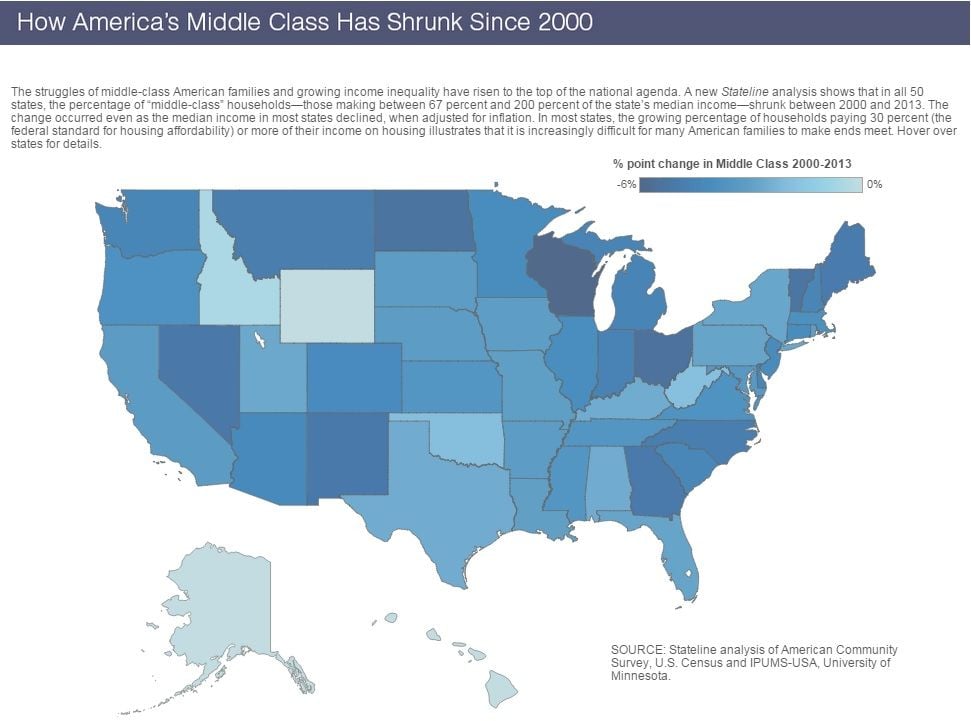 If you feel like you're working harder for less money, it's not your imagination.
Wisconsin ranks worst among the 50 states in terms of a shrinking middle class, with real median household incomes here falling 14.7 percent since 2000, according to a new report.
The Pew Charitable Trust report showed Wisconsin with the largest decline in the percentage of families considered "middle class," or those earning between 67 and 200 percent of their state's median income.
In 2000, 54.6 percent of Wisconsin families fell into the middle class category but that has fallen to 48.9 percent in 2013, according to U.S. Census figures compiled by Pew.
All other states showed some decline but none as great as Wisconsin's 5.7 percent figure.
Ohio was next worst with a 5.2 percent decline in middle class households followed by Vermont at 5 percent.
Kevin Kane of the liberal group Citizen Action of Wisconsin said the Pew report shows the damage to the state's progressive tradition which had once created the largest middle class in the Midwest.
"Our recent experiment in Wisconsin to undermine this legacy has brought us the greatest contraction of the middle class in the country," he said.
In addition, many Wisconsinites are now paying a higher percentage of their income to cover housing costs. In 2000, only 24 percent of state families were spending more than the 30 percent of their income on rent or a mortgage but that has increased to 31 percent.
"In most states, the growing percentage of households paying 30 percent (the federal standard for housing affordability) or more of their income on housing illustrates that it is increasingly difficult for many American families to make ends meet," said the Pew report.
Also, the median household income in Wisconsin was $60,344 in 2000 but now stands at just $51,467 after adjusting for inflation. That's a dip of 14.7 percent.
Put another way, Wisconsin incomes were well above the national average in 2000 but are now below the national average, according to the data.
Share your opinion on this topic by sending a letter to the editor to tctvoice@madison.com. Include your full name, hometown and phone number. Your name and town will be published. The phone number is for verification purposes only. Please keep your letter to 250 words or less.