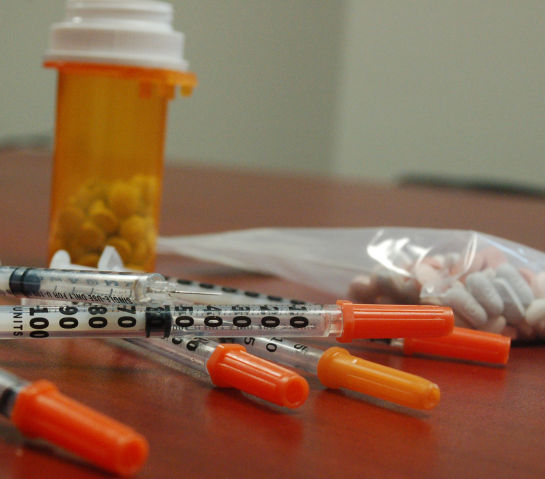 A new report from the Wisconsin Department of Health Services shows steady increases in opioid-related hospitalizations, treatment admissions and deaths in Wisconsin.
"In Wisconsin, like much of the country, the use and abuse of opioids is destroying lives and families," Elizabeth Goodsitt, communications specialist for the Department of Health Services, said in an email.
This November, DHS released the Wisconsin Epidemiological Profile on Alcohol and Other Drug Use. It showed that much like the rest of the nation, Wisconsin is seeing a steady rate of increase in opioid-related problems.
The report, compiled in conjunction with the University of Wisconsin-Madison Population Health Institute, looks at the consequences of alcohol and other drugs, including deaths, illnesses, injuries, crime, suspensions, motor vehicle injuries and hospitalizations.
Opioids include prescription drugs, such as oxycodone and codeine, and recreational drugs such as heroin.
Wisconsin's rate of drug-related deaths has been below the national average since 2008, but both national and state rates have been increasing. In 2015, Wisconsin saw 873 drug-related deaths, a rate of 15.3 per 100,000, a rise over 2014's rate of 13.8 and 795 deaths. While 2015's numbers are almost double Wisconsin's 482 drug-related deaths in 2008, 2015 rates are still below the national rate of 15.5 per 100,000. The report stated that illicit drug use in Wisconsin is consistent with natural trends.
Since 2006, opioids have been regularly claiming responsibility for a greater proportion of total drug-related deaths. Sixty percent of death certificates for drug-related deaths mentioned opioids in 2006. In 2015, 74 percent mentioned opioids. According to the Wisconsin Department of Health Services website, more Wisconsinites died from opioid overdoses than car crashes in 2015.
Opioid-related hospitalizations have risen from a rate of 0.9 per 1,000 Wisconsinites in 2005 to 1.6 per 1,000 in 2014. Between 2012 and 2014, there were increases in opioid-related hospitalizations in 40 percent of Wisconsin counties, although Dane County's stayed level at a rate of 1.3 per 1,000 people.
Upward opioid trends are also reflected in admissions to publicly funded treatment. While the percentage of treatment admissions for cocaine and alcohol have gone down, the percentage of opioid admissions has risen drastically. In 2005, heroin and other opiates were responsible for 6.7 percent of admissions. In 2014, 17.7 percent of admissions were due to opioid use, almost tripling its proportion.
Hepatitis C is also on the rise, with the rate of infections among young people doubling from 2006 to 2015. Evidence suggests most of these infections are a result of injected drug use. According to the report, outbreaks of Hepatitis C tend to coincide with "prior misuse of prescription opioids." Half of drug-users who inject drugs become infected with Hepatitis C within five years.
For individuals between the ages of 15 and 29, there were 40 cases per 100,000 people in 2006, and 87 per 100,000 in 2015. Newly reported cases of Hepatitis C jumped from 3, 217 in 2014 to 3,745 in 2015, an increase of over 500 cases.
"The Department of Health Services has made fighting this epidemic a top priority," Goodsitt wrote, including the Wisconsin Health Improvement Planning Process Steering Committee that is working to prevent opioid-related harm and deaths. This September, Gov. Scott Walker issued a public health advisory concerning the "escalating opioid epidemic."
"This is a complicated problem which requires a cooperative effort of partners, organizations, and communities," the advisory said. "We are all in this together."
Share your opinion on this topic by sending a letter to the editor to tctvoice@madison.com. Include your full name, hometown and phone number. Your name and town will be published. The phone number is for verification purposes only. Please keep your letter to 250 words or less.