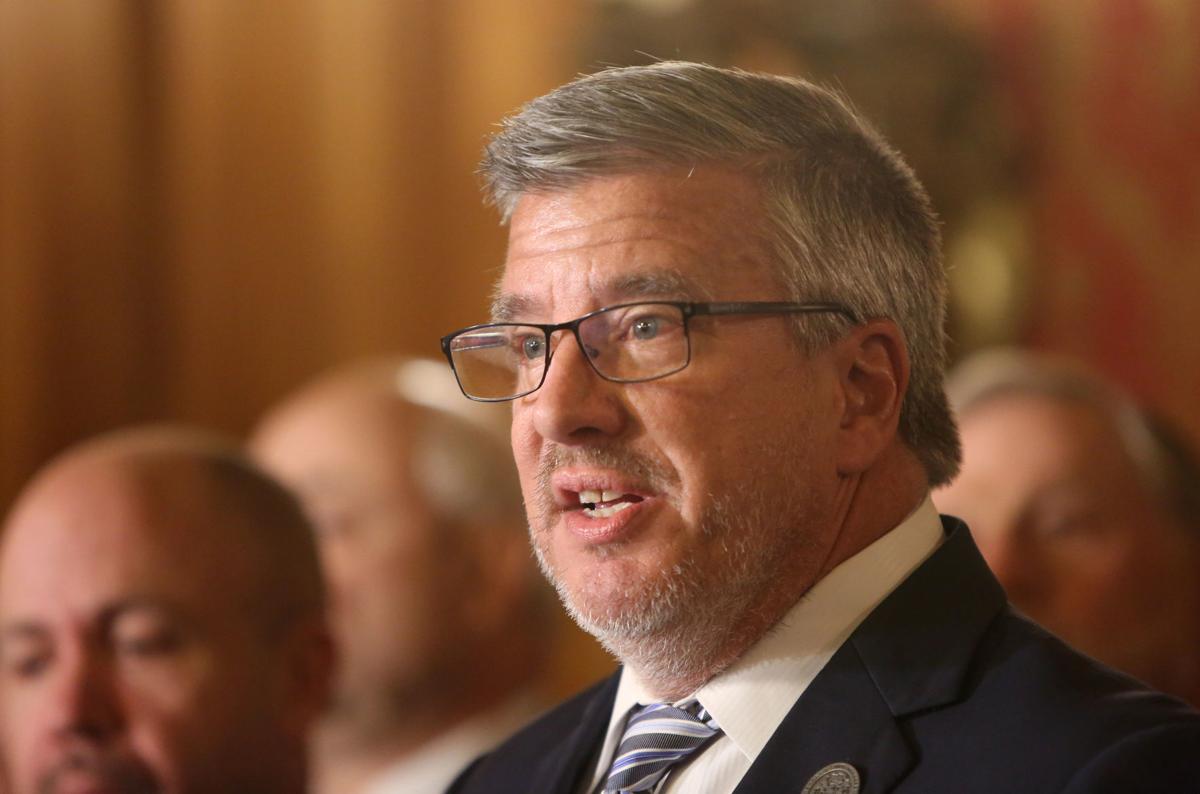 After five years and 30 bills, Rep. John Nygren is looking to continue his work combating Wisconsin's opioid epidemic through his latest round of legislation — a package he says focuses on "filling the gaps." 
The bills, part of the Marinette Republican's HOPE (Heroin Opiate Prevention and Education) agenda, range from efforts to bolster peer recovery coach services to others aiming to renew past initiatives that are about to sunset. 
"The goal is to get people from an active addiction to long term recovery," he said in a recent interview. "And I would say maybe that's the way to focus (these bills on) is what are the things that we're missing that can help people stay in long term recovery?" 
While Nygren said the state is now heading in the right direction compared to five years ago when these efforts first began, he added that even after the new installment of bills this year, "I don't think that we're done."
In all, seven bills make up the latest package, including a provision to establish Wisconsin as a "recovery friendly workplace," a move that would mean state employees wouldn't be penalized for undergoing a mix of behavioral therapy and medication to treat substance use disorder. 
Nygren, noting the bill doesn't apply to the private sector, said he hopes the legislation would show the state as "leading by example in this mindset" that would help encourage impacted individuals to "be productive and stay in long term recovery." 
Meanwhile, another bill aims to establish guidelines to provide treatment to babies who experience withdrawal symptoms because they were exposed to opioids in the womb.
Other legislation in the package would: 
Train county jailers in administering Narcan, a drug that reverses the effects of a heroin overdose. Previous legislation allowed all emergency responders to do so.
Continue parts of the so-called "Good Samaritan" law that provides limited immunity to people who call 911 or bring someone to an emergency room in the event of an overdose. That provision is scheduled to lapse on Aug. 1, 2020, but the bill would repeal the sunset completely. 
Maintain the requirement that a prescriber check an electronic drug monitoring program that allows physicians and others to track information about controlled substance prescriptions across the state before giving a patient a prescription. The provision sunsets April 1, 2020, but the bill would extend that by five years.  
Cover peer recovery coach services — or individuals who aid those in treatment or recovery from mental illnesses or a substance use disorder — under the Medical Assistance program.  
That legislation was pushed for by Jesse Heffernan, a recovery coach professional at Helios Recovery Services, which is dedicated to helping individuals overcome substance abuse. 
Heffernan said the bill would implement national best standards for the coaches as well as create parameters to allow for their supervision, in addition to ensuring that recovery support services are carved out so they're not "swallowed up" by others. 
The final bill in the package largely duplicates language that was included in the current state budget, but was vetoed out by Gov. Tony Evers. It would set aside $500,000 in state funding per year for Medicaid reimbursement rate increases for physical health providers and provide Medicaid coverage for acupuncture. 
Evers in his veto message said he struck out the language from the budget because the state hadn't taken the Medicaid expansion that he argued "would have allowed us to make investments like this." 
"In absence of these critical federal dollars and resulting state savings, the limited resources that remain must be invested in expanding patient care first before we can increase payments to health providers," he wrote over the summer. 
Nygren said Republican lawmakers' refusal to accept the Medicaid expansion had created "collateral damage in that budget."
That's because Nygren said he didn't seek that approach. 
"I don't want to fight with the governor over this stuff," he said. "So I'd rather give him another opportunity to do the right thing and have myself and him as the governor of our state doing something positively together." 
His work on the issue began in 2014, when he ushered a package of bills aimed at curbing heroin abuse and deaths through the Legislature with unanimous support, bills later signed into law by then-Gov. Scott Walker that year. 
Over the last five years of HOPE Agenda bills, Heffernan — of Helios — said while the focus has been on opioids, the state has also been able to "broaden the conversation around several substances," including alcohol and methamphetamine. At the same time, he said the efforts have helped destigmatize the need for help while allowing others to share their own stories.
Methamphetamine abuse in particular is on the rise in northern and western parts of the state. More than $60 million in state and federal dollars that have been released to combat opioid misuse cannot be used to mitigate this new crisis due to grant guidelines, the Cap Times reported this fall.
Still, Nygren said while the bills initially started with a focus on heroin and opioids, lawmakers have learned over the years they "can't be specific to any one drug" when drafting legislation and the scope has widened to taking on the culture of potential drug abuse and addiction in many forms. 
Heffernan also noted the state's investment in recovery support services would help with more than just opioids. 
"All these substances are symptoms of broader things and if we want to get (impacted individuals) into long term recovery, we have to get them into long term recovery services," he said.
Share your opinion on this topic by sending a letter to the editor to tctvoice@madison.com. Include your full name, hometown and phone number. Your name and town will be published. The phone number is for verification purposes only. Please keep your letter to 250 words or less.
Get Government & Politics updates in your inbox!
Stay up-to-date on the latest in local and national government and political topics with our newsletter.