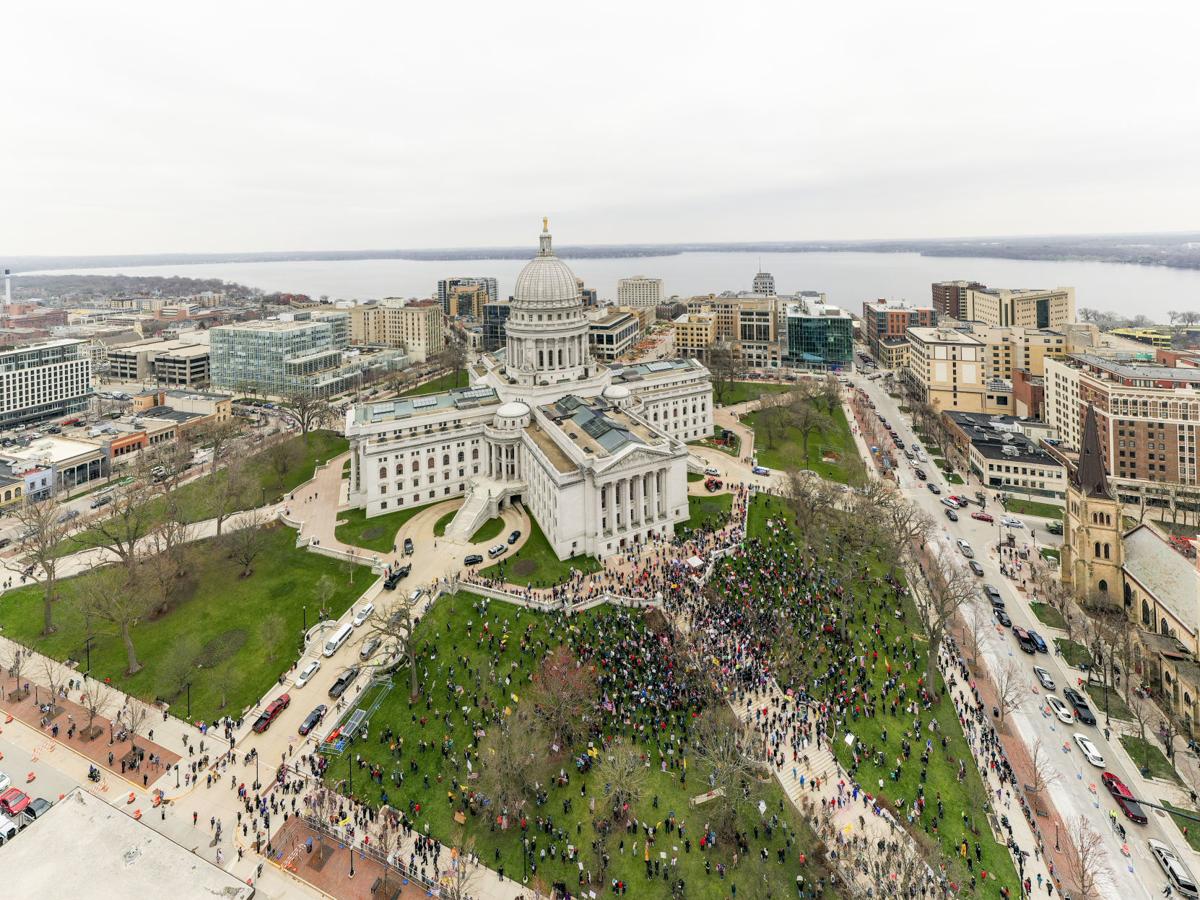 As frustration builds over government restrictions to combat the spread of COVID-19, thousands of protesters plan to rally at the state Capitol building Friday over warnings from public health officials and in direct violation of state orders.  
The rally comes the day Democratic Gov. Tony Evers' first stay-at-home order barring nonessential travel would have lifted, though he has since extended the directive through May 26, with some loosened restrictions — even as some Republicans have pushed for more flexibility. 
While state officials denied a permit request for the event, organizers (who said in a now-deleted Facebook event it was filed "as a courtesy to not ruffle feathers") vow to rally outside the statehouse anyway. 
But despite what would be a clear violation of state directives, Evers said he doesn't expect Capitol Police, which has jurisdiction over the building and its grounds, will enforce social distance directives. Madison Mayor Satya Rhodes-Conway said Tuesday that the event would largely take place on state land "so there's not a ton we can do about it." 
Meanwhile, the Department of Administration hasn't shared any details about how Capitol Police will operate Friday, though an email to Capitol tenants Thursday afternoon noted some of the "thousands of participants" expected to attend may try to enter the building that is now closed to the public because of the pandemic. 
"All access points within the Capitol will be heavily monitored by police officers throughout the event," Sergeant Andrew Hyatt wrote.
In addition to outstanding enforcement questions, health experts say such an event is dangerous for both participants and the communities they're returning to. 
Sarah Mattes, the communications supervisor for Public Health Madison & Dane County said any "quick return to normal" could reverse progress made to contain the spread of COVID-19, the disease caused by the virus, in the community. 
"We understand that people are frustrated, but during a pandemic, a mass gathering is a dangerous way to express frustrations," Mattes said. 
Across the state, 5,052 have tested positive for COVID-19, while 257 have died, according to data from the Wisconsin Department of Health Services as of Thursday. Another 51,456 have tested negative.
In Dane County, 399 have tested positive for the disease and 21 have died from it, according to the local public health department Friday.
Health care workers on Thursday night placed 1,300 candles on the steps of the Capitol to symbolize those who have been hospitalized because of COVID-19, while other virtual counter-protests are planned for this weekend.  
Malia Jones, an assistant scientist at UW-Madison's Applied Population Laboratory, said the gathering "is epidemiologically a very, very bad idea." Jones described how in a large gathering of people, COVID-19 can spread easily if just one person has the disease.   
"Those folks would then return home to their communities — I'm assuming all over the state — and have no idea they are infected," Jones said. "They'd be able to start transmitting the disease about three days later and could give it to their family members and others before they ever knew they were ill." 
Infected people could continue to spread the disease to those in their social networks and frontline health care workers, if they were to need medical attention, they noted.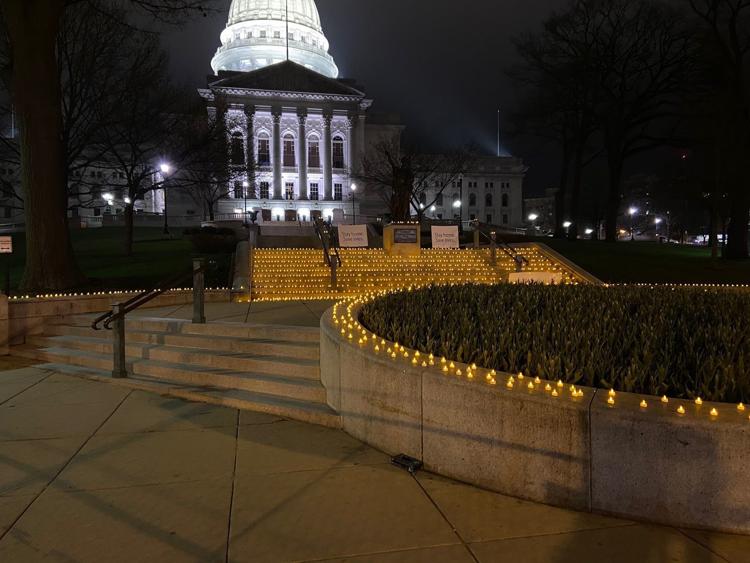 Despite the concerns, protesters Friday are demanding that state officials work to reopen Wisconsin businesses after six weeks of operating — or not operating at all — under a public health emergency. 
"Wisconsin can't stay closed forever," a description of the private Reopen Wisconsin Facebook group reads. "We need to force our leaders to start listening not just to "the experts," but also to the citizens who are being devastated by government policies."
The poll was conducted among 1,057 adults American adults from April 16-20. The survey carried a margin of error around plus or minus 4 percentage points. 
The poll also showed that large majorities of Americans continue to support restrictions aimed at preventing the spread of COVID-19. However, support among Republicans decreased over the past several weeks — a political divide that's also visible in Wisconsin, as GOP lawmakers and legislative leaders continue urging looser restrictions for businesses. 
Wisconsin Republicans have also asked the state Supreme Court to block Evers' extension of the stay-at-home order, instead calling on the Department of Health Services to draft an emergency rule — subject to legislative review and input — to continue the directive. 
Doing so could allow lawmakers to insert their own language into the plan. The state's biggest business lobby, Wisconsin Manufacturers & Commerce, is pushing a plan to reopen businesses starting May 4 using an algorithm to allow employers to determine their risk level and assess which precautions they need to take to safely reopen, the Cap Times first reported Thursday. 
The effort comes days after Evers has released his own framework for reopening the state. His "Badger Bounce Back" lists criteria for eventually restarting the economy that would include more testing, a two-week decline in state cases and the gathering of more protective equipment.
Share your opinion on this topic by sending a letter to the editor to tctvoice@madison.com. Include your full name, hometown and phone number. Your name and town will be published. The phone number is for verification purposes only. Please keep your letter to 250 words or less.