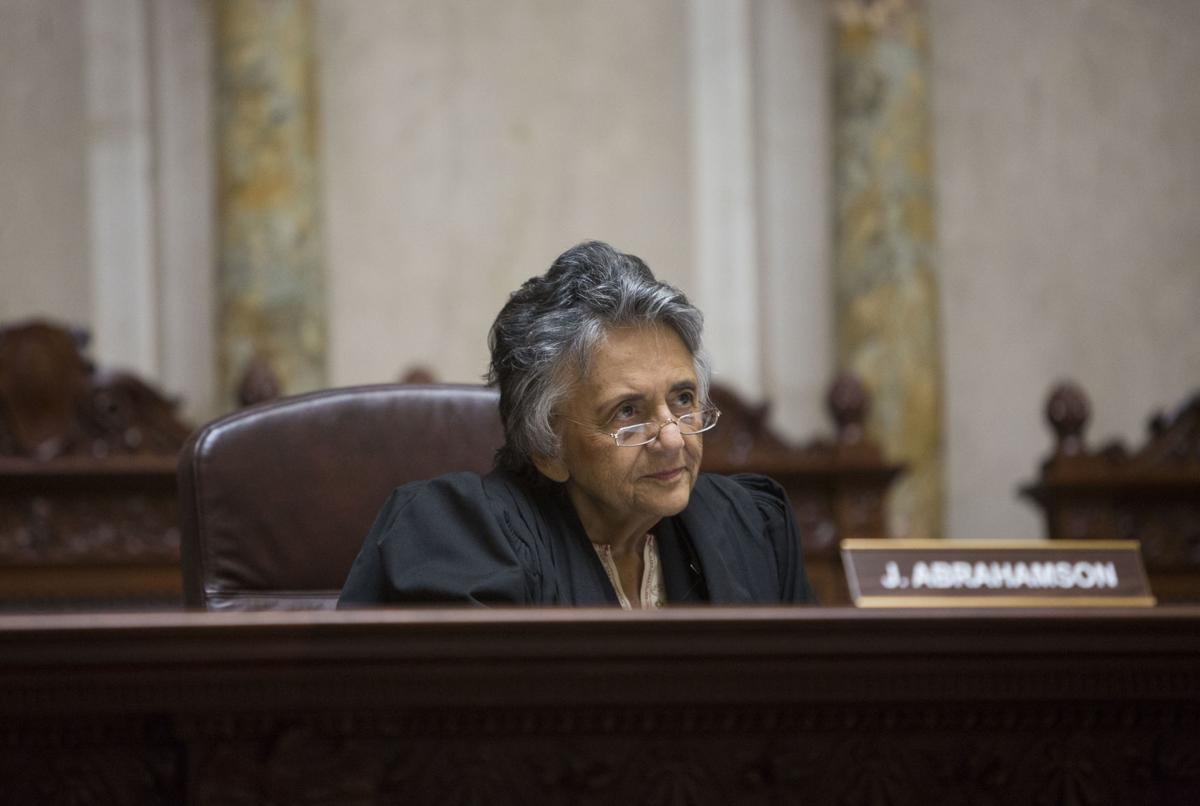 Justice Shirley Abrahamson faces the wide mahogany bench in the hearing room of the Wisconsin Supreme Court where she serves as one of seven final arbiters of state law.
She is taking a break on this Sunday morning to teach, giving a one-on-one tour of the court and explaining the historical significance of four murals surrounding the courtroom. Each painting illustrates a cornerstone of Wisconsin law: the signing of the Magna Carta, the signing of the U.S. Constitution in Philadelphia, a trial before Caesar Augustus, and the trial of Menominee Chief Oshkosh in front of Judge James Duane Doty when Wisconsin was a territory.
The details of the paintings are among many Abrahamson tracks in the marbled courtroom of the state Capitol. Her affinity for details carries over to her work, making decisions on Wisconsin law and writing opinions to direct lawyers and other judges.
"A lot of my life is tied up here … what happens here is the ultimate result," she said, pointing out the variations in the room's marble pillars, imported from Europe. She comments on the intricate stenciling on the walls, the nuance in the shades of paint.
"It's a room I'm very fond of, and I'm very fond of the building," she said. "I try when I come in to look at a different part of the building or a different piece because it's so detailed. Even after 40 years of trying to look at different pieces, you see something new you've never seen before."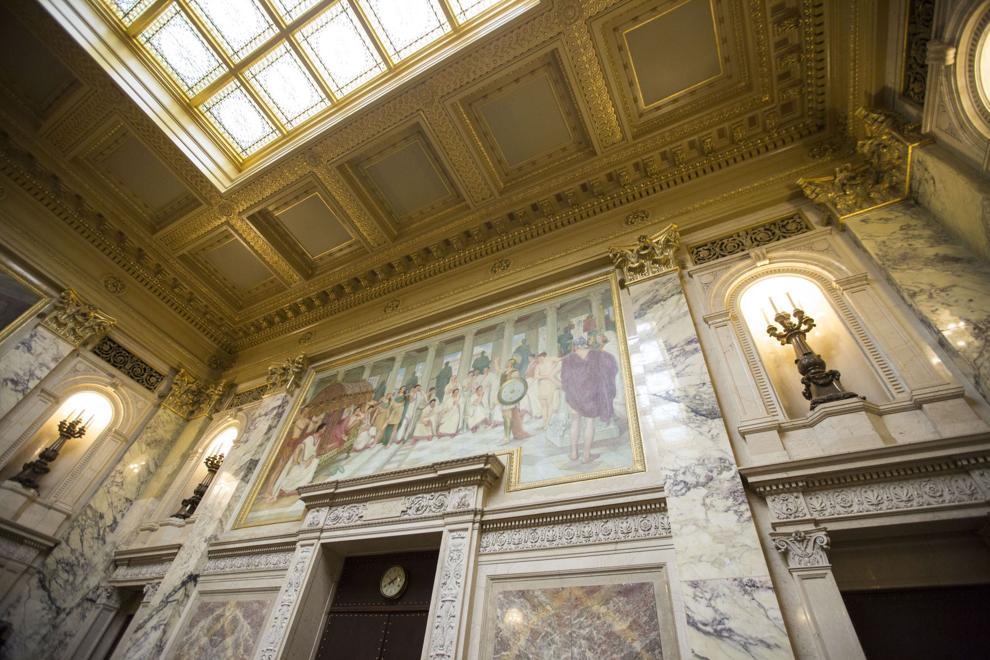 At 82, Abrahamson is the longest serving state Supreme Court justice in the country. This year marks her 40th on the bench, spanning a distinguished career as the first woman to serve on Wisconsin's highest court and first woman to become its chief justice, the court's most powerful member.
This anniversary year has been a somber one with the death of her husband of more than 60 years, renowned geneticist Seymour Abrahamson, and the first year following her removal as chief justice.
She no longer wields the power over the court's administration she once did. Now she is frequently in the minority, at odds with how the conservative-dominated court is writing the legal road map for the state's attorneys and judges, a displeasure she voices loudly in her dissents.
When Abrahamson started on the court, judicial selections were sleepy affairs and nonpartisan, and women were considered best suited for legal secretary jobs.
Her term continues today on a court where women make up a majority of the bench, and the judicial climate in Wisconsin and nationwide has become largely defined by partisan politics and million dollar election campaigns.
Abrahamson is known as a prodigious and methodical writer and thinker, working in her chambers every day of the week, often more than 12 hours a day on weekdays. Her opinions typically go through eight to 12 drafts before release.
She is beloved and admired by those who see her as a pioneer, a nationally renowned legal scholar and a courageous leader.
Abrahamson cares about people, especially the marginalized, friends and former colleagues say. She constantly seeks to connect the public to the courts and advance the judiciary by finding a more informed, more effective way forward.
"Among U.S. jurists, Shirley Abrahamson is the very best, the most courageous and sage, the least self-regarding," U.S. Supreme Court Justice Ruth Bader Ginsburg, a longtime friend, said in a statement when contacted by the Cap Times. "Her speeches and commentary inspire others to follow in her way. She never forgets the people law exists (or should exist) to serve. For her 40 years on Wisconsin's Supreme Court, she merits a rousing Brava."
Abrahamson is derided by others, including former and current justices, who say she is abrasive and has been a disruptive force. Conservative court observers often disagree with her interpretation of the law, casting her as a judicial activist, and say she has acted out of turn in criticizing colleagues in public writings.
"Difficult. That's one word," said former Wisconsin Supreme Court Justice William Callow, who was appointed to the court in 1977, a year after Abrahamson, and served with her for 15 years. "She was a burr under the saddle, there's just no question about that. If there was any way she could disagree with you, she would."
He eventually led a movement to change the state constitution to oust her as chief, an effort that would last more than 20 years.
"I publicly stated that I recommended the change because age does not necessarily mean brilliance or kindness," he said.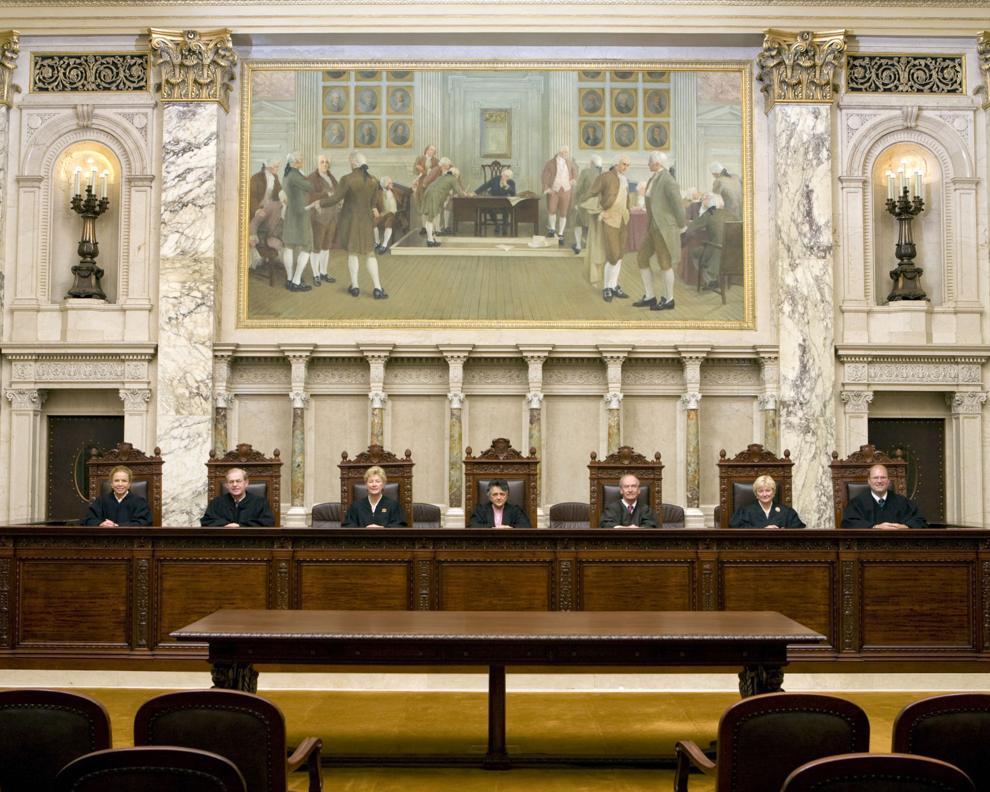 Wisconsin's constitution was amended last year, changing Supreme Court protocol from the most senior justice as chief, to an election system, where justices choose their own.
Within hours of election results affirming the amendment, Abrahamson's fellow justices voted to oust her as chief, replacing her with Justice Patience Roggensack.
"That wasn't put in because there was something wrong with the procedure, it's, 'We're going after Shirley,'" said Stewart Macaulay, a longtime University of Wisconsin Law School professor who has tracked Abrahamson's career.
Abrahamson filed a lawsuit against the Supreme Court to keep her position, a move widely condemned by her colleagues and some court observers. Abrahamson argued the constitutional change should have taken effect after her current term ends in 2019. A federal judge dismissed the suit and she appealed but later dropped the case.
In the foyer of the Supreme Court hearing room, Abrahamson turns to the white bust of former Chief Justice Edward G. Ryan. In 1875, Ryan denied Lavinia Goodell's request to be admitted to the state bar, disqualifying her on account of the "peculiar qualities" of her female disposition, including its "tender susceptibility" and "its subordination of hard reason to sympathetic feelings."
He was later overruled by the Legislature, which passed a bill admitting Goodell to the bar, making her the first woman to practice law in the state. A calligraphied excerpt of the decision hangs in Abrahamson's chambers, a gift from former Justice Janine Geske and current Justice Ann Walsh Bradley in 1996.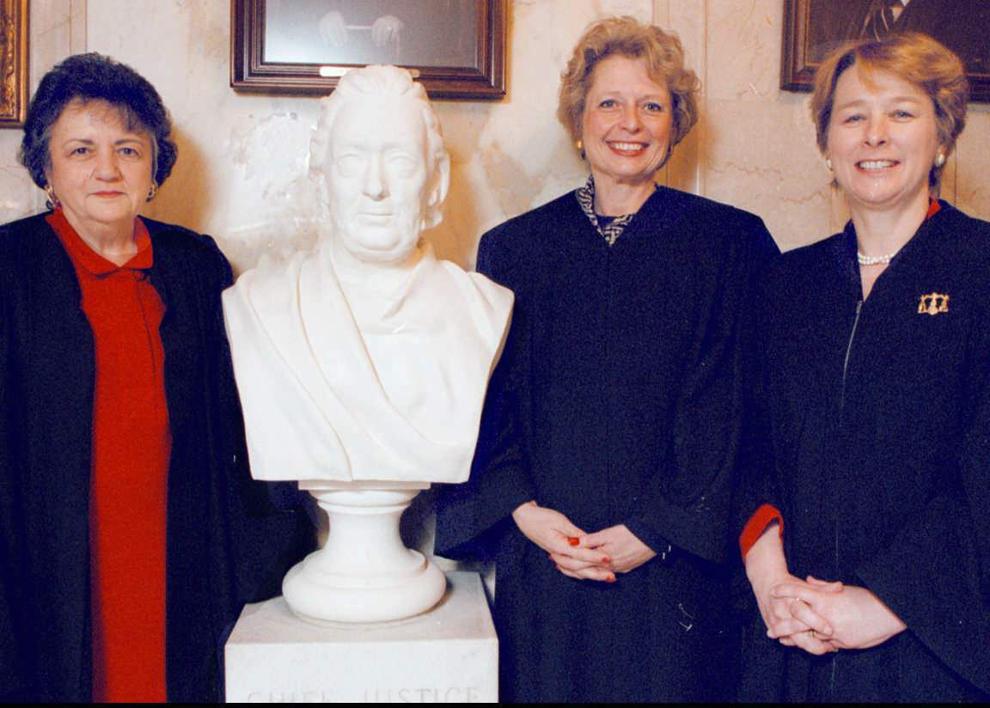 When she walks through the foyer, Abrahamson said she often nods with a grin and a silent "Hello" at Ryan.
She embraces her role as a pioneer for women in law, but Abrahamson has never been one to bask in the sentimentality of it.
After appointing her to the bench in 1976, met with much fanfare, former Gov. Patrick Lucey said his decision gave Abrahamson the chance to "help right the wrongs that have faced all women over the years," the Wisconsin State Journal reported at the time.
In the same article, Abrahamson tempered his remark, saying she hoped she was chosen based on merit, not gender. Lucey's choice, she said, "happens to be me and I happen to be a woman."
"My record and my life speak for themselves," the paper quoted her as saying. She was later sworn in by then-Chief Justice Bruce Beilfuss.
Yet Abrahamson has acknowledged issues of inequality between men and women in her legal writings throughout her career.
A year after she was appointed to the court, Abrahamson dissented to a majority opinion upholding a lower court's ruling that provided limited alimony for a woman who was divorced from her husband, according a 1977 story in the State Journal. The majority opinion limited alimony for the woman until her children turned 18. After that, they argued, she should be able to get a job to support herself.
In her dissent, Abrahamson argued that the court's opinion did not treat men and women equally and said that the majority did not consider the woman's age or training in her ability to get a job later. Not all women have the benefit of education or training, which means they do not have equal access to a job, she argued.
"Equality of men and women means eliminating sex stereotypes and looking at the individual. Just as it is unacceptable for the law to force all women into the mold of homemaker, it is similarly unacceptable to treat all women upon divorce as per se self sufficient bread winners in an open, full-employment job market," she wrote.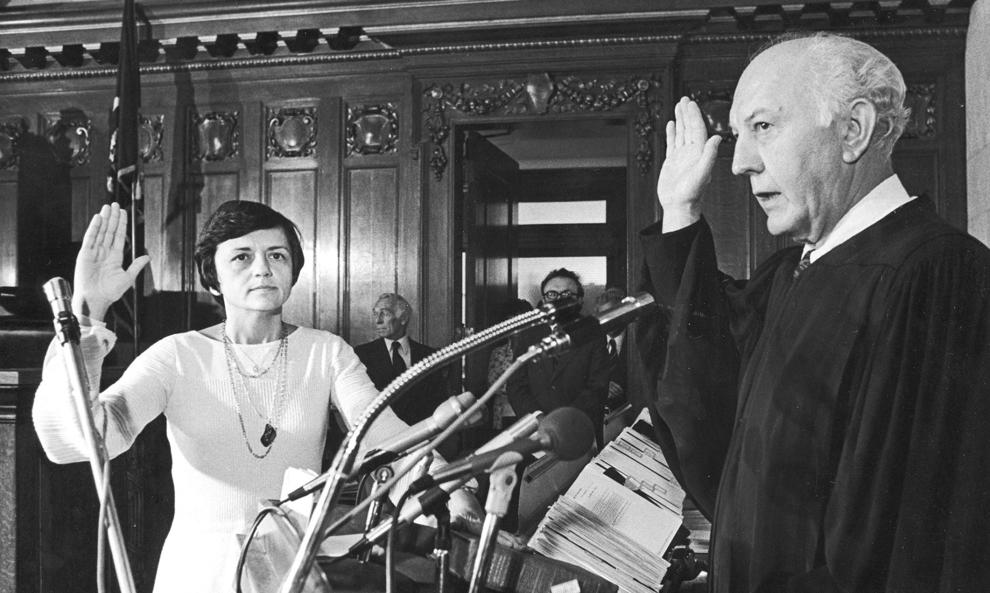 Abrahamson grew up in Manhattan, the daughter of Jewish Polish immigrants Ceil and Leo Schlanger. She was born during the Great Depression and her parents ran a grocery store where Abrahamson helped stock shelves on Sundays.
Her parents emphasized education, telling Abrahamson and her sister, Rosalind, that it would help them enjoy life.
"It was also something that no one could take from you," her parents told her, according to a profile in the Milwaukee Journal in 1985.
Abrahamson went on to graduate from New York University in 1953, and Indiana University School of Law in 1956. She was at the top of her class and its only woman.
"Shirley walked in the room and I remember a lot of the good students, not including myself in that category, would say to themselves, 'Well, there goes one of the As,'" said Lee Hamilton, a former classmate who served as a Democratic U.S. Congressman representing Indiana for 34 years. He is now a professor at Indiana University and was vice chairman of the 9/11 Commission.
Abrahamson was popular among her classmates and helped change the way many of them thought about the contributions women could bring to the legal profession, Hamilton said.
"Shirley helped me see the light and I think a lot of others as well," he said.
He recalls her approach as one of force.
"If she took a position, she argued it with confidence and skill and forcefully. To people who are not accustomed to controversy and conflict, which is the heart of the law, that often comes across as being too aggressive. (But) I just describe it as being forceful. You are in the law, you are an advocate. You can't be namby-pamby about that, you've got to speak up," Hamilton said.
When Abrahamson graduated from law school, the dean told her if she stayed in Indiana, she would only get a job as a legal secretary. Abrahamson instead moved to Madison with her husband, Seymour, when he became a genetics professor at the University of Wisconsin-Madison.
A dinner party in 1956 connected her to J. Willard Hurst, considered the father of American legal history as an academic discipline. She became his graduate assistant, working with him for six years and writing her dissertation on regulation in the dairy industry. She graduated in 1962 with a doctorate of law.
Hurst's approach to the law focused on why it matters and who it affects. That approach influenced Abrahamson, whose writings have advanced the public's understanding of the law and the court's role in interpreting and shaping it, said Macaulay, the UW law professor.
"She'll push the law to places," he said. "She is willing to come up with new solutions to the problems all within the realm of plausible arguments. She will look and see a new approach and take it."
Hurst taught that the law is the product of social, economic and cultural forces and emphasized how it has been used as a tool throughout American history, an approach some judicial conservatives see as an affront to the U.S. and state constitutions.
"She wrote her dissents as the way she saw the law should have been warped to accommodate her conclusions," said Callow, the former justice. When he was on the bench, he changed the court's rules because of Abrahamson's frequent dissents, allowing justices in the majority to issue a response to a dissent.
Despite disagreements on her disposition, dozens of federal judges, law school professors and legal associations agree on the caliber of her intellect and her ability to parse and analyze case law, render decisions and relay them in meticulously researched, readable opinions.
"She and I disagreed frequently and we still do frequently," said friend and former Justice Geske, who served on the court from 1993 to 1998 and now teaches at Marquette University Law School. "Nobody can dispute that she is incredible at researching the law and writing on the law. I always appreciated her opinions even when she was in dissent of one of mine."
"We have an interesting relationship in that people just assume when you're friends with someone, you're going to agree with them all the time, but if you're really friends with someone, you don't."
Geske noted that Abrahamson's memos to other justices about their opinions were very long, a practice that can rub some the wrong way.
"My personal feeling about it is I would rather get that while I'm still working on the opinion to see whether I needed to change things, or whether I wanted to tell her I understand her point of view rather than reading about it in a law review article two years later," she said.
Her ability to see the impact of her opinions has always been a strength, said friend Barbara Crabb, who sits on the U.S. District Court for the Western District of Wisconsin.
"I think she really works so hard to get to what she believes is the right answer. I always think one of her strengths is she has an ability to see beyond the limits of the particular case that's in front of her and to think how this discussion is going to affect decisions in other cases," she said.
Crabb, who was the first woman appointed to the court in the circuit that includes Wisconsin, Illinois and Indiana in 1979, was at UW Law School when Abrahamson was a graduate student. The two would often chat in the ladies lounge, the one bathroom for women the school offered.
They still chat over lunch occasionally, Crabb said.
"When Shirley calls you up for lunch, she has some problem in mind she wants to resolve, not a legal problem, but a problem (where) the court could be doing better," Crabb said.
But there is a personal reservation that has come with her job as a justice, Crabb said. As she works in the Capitol on the court, scrutinized by the press, she is careful, even among friends.
"I think she is very, very cautious about saying anything that could be misinterpreted," Crabb said. "Even with people that she's known as long as we've known each other, I think she's very cautious about what she says."
Abrahamson leads the way from the Supreme Court hearing room into a dark hallway behind the bench to her chambers. It is two rooms, one where her clerk and judicial assistant sit, the other is her office.
A print with the phrase "Though shalt not stand idly by," a variation on a Bible verse from Leviticus and a mantra of Holocaust survivor Elie Wiesel, hangs above her desk.
The bookshelves in her chambers are filled with artifacts from the places she's travelled. She has been to all seven continents, making a point to visit courtrooms while she's there. Her favorite?
"My favorite place is always the one I haven't been to," she said, opening the glass doors of a cabinet to show what she has brought back. She said she'd like to go to Laos, and there are more countries in South America and Africa she has not seen.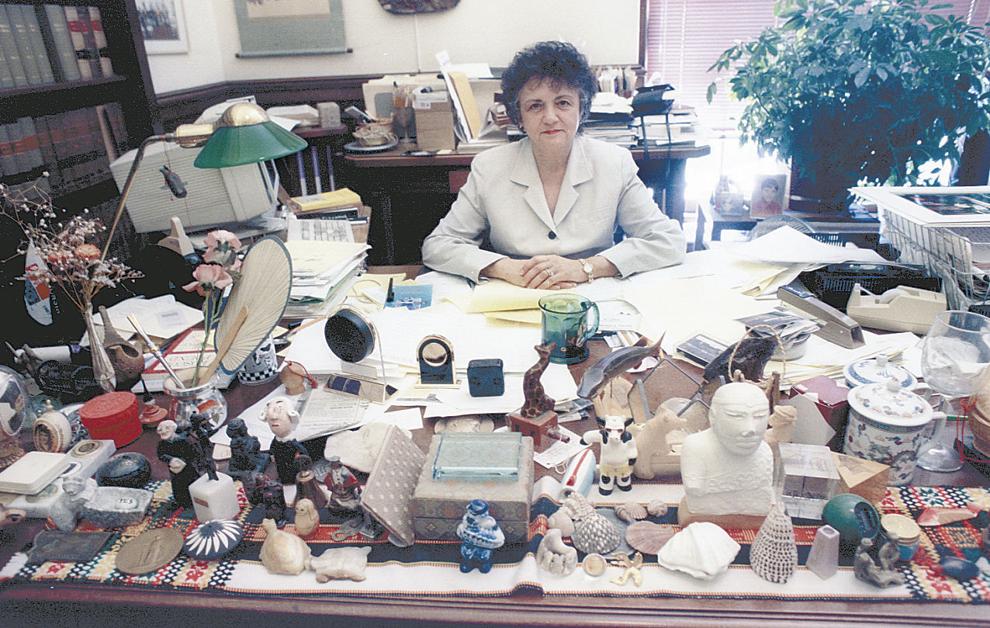 She points out one of her favorite souvenirs, a small hut made of wool from Mongolia. Below that are decorative tigers from her travels in Asia. She's been on an African safari and last year she travelled to Morocco with her family, including her husband Seymour, who died in July.
Her son Daniel and daughter-in-law Tsan are both attorneys and live in California. They have one son.
"We stayed over in the desert and rode the camel at sunrise. It was a really a wonderful, wonderful experience," she said. "The food was great, the colors were great, the people were great, the markets are great and the food markets are especially great."
Seymour Abrahamson was an internationally renowned geneticist and professor emeritus of zoology at the UW-Madison. The couple had an immensely supportive marriage, friends and colleagues say.
When Shirley was elected president of the National Conference of Chief Justices, Seymour was elected that same year to be the head of the organization for spouses of chief justices and was delighted, said Geske.
"He was always supportive of her and her work and incredibly proud of her incredible successes and she was of him," she said. "I think it's one of the great sadnesses at this point, the importance of Seymour in her life."
At his funeral, Geske saw a photo of the couple's wedding for the first time.
"I had never seen (that) before and was trying to think about her coming into Madison, Wisconsin, with her law degree with very few women, obviously a New York accent she never got rid of, a Jewish woman, and the many times that those things I know must have caused issues," Geske said. "But I have never heard her complain about that. I have never heard her talk about being treated offensively because of where she came from and who she is."
Geske said of Abrahamson that "there is a very deep, sensitive caring side to her and I've seen it exhibited for people she cares deeply about. It's a side that she doesn't necessarily show."
Personally, it's Abrahamson's sense of humor and dry wit that strike many. She also likes to shop, said Geske and Ann Walsh Bradley, especially for shoes. Abrahamson always dresses well, they said.
"Heels, very nice heels," Geske said. "She loves to shop… she gets a chance if she travels, she loves a great bargain and there have been times that we're going to meet for lunch and she says, 'I'm going to come an hour early and hit the mall.'"
In 1962 those affinities were highlighted in a story on Abrahamson published in the State Journal's society page with the headline "She's a Lawyer!"
"Shirley Abrahamson, who has been married for nine years, is the epitome of the modern career woman with multiple interests. She likes people, parties, chic clothes, reading, cooking, music, and art," according to the report.
In her office, a large window facing the Capitol Square is behind her. Abrahamson's desk is stacked with papers, plus photos of her family and grandson. Her single-minded dedication to her work regardless of circumstance is a constant in her career.
In 1964, hours after giving birth to her son Daniel, she requested that her boss at La Follette, Sinykin, Doyle & Anderson, Gordon Sinykin, bring her case files to the hospital so she could work when her baby was sleeping.
"We had a reply brief due in a week. If I didn't help out, then the whole workload would fall on the others," the Milwaukee Journal reported in 1985.
In a 1976 interview in the magazine Madison Select, she was asked whether she thinks she devotes enough time to her family.
"That's a bad question," she said. "You might as well ask that question to a man, it applies equally. But to answer your question, yes. You find time for the things you want to find time for."
Crabb recalled how Abrahamson balanced family and work.
"As hard as she worked, around the clock, she was very good after Dan was born that she would take time off. She'd go out, the two of them would go out in the middle of the afternoon and then she'd come back and work 17 more hours. She made a real effort to do things with Dan," Crabb said.
Abrahamson is an evangelist of the judiciary, frequently traveling across the state to speak to people about the court and its role. She is always trying to learn more, whether it be the dynamics in courts abroad or locally throughout Wisconsin.
Regardless of the size of the group, she will make a trip to tell others about the court, and often reaches out to understand the distinct challenges and dynamics of local courts. She once presided over small claims court, which deals with claims of money, evictions and personal injury issues, to better understand its challenges and role in the judicial system and has gone on ridealongs with police officers.
Her schedule is often relentless.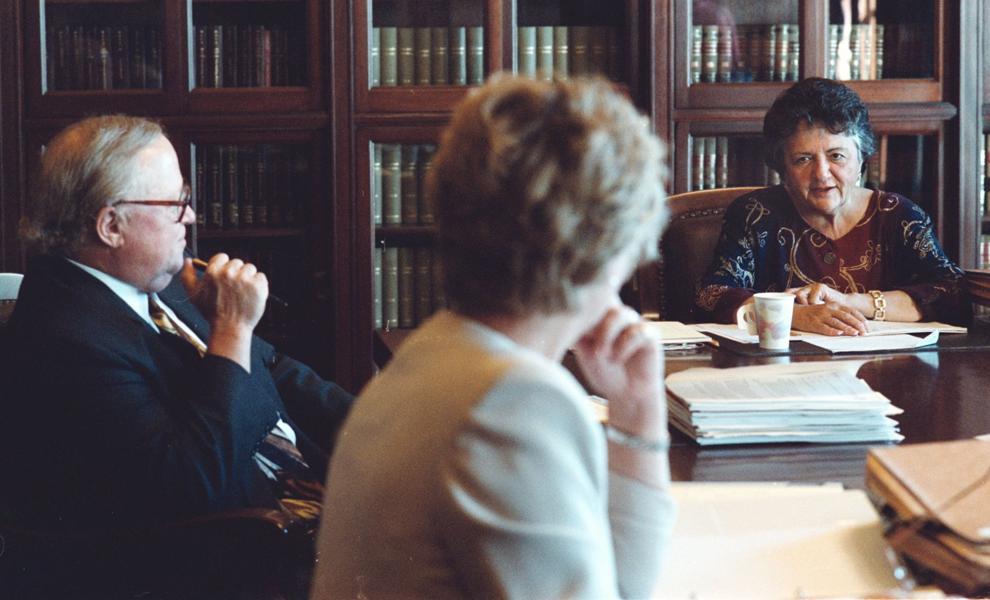 "It was an incredible experience to watch her operate," Geske said. "She'd travel internationally to give a speech and she'd literally come from the airport to the chambers … she'd maybe take an hour nap in her chair and she'd get back to writing."
Matt Splitek, an attorney with Quarles & Brady in Madison, clerked for Abrahamson from 2007 through 2009 after graduating from Yale Law School.
"You would think with a lot of people, after 30 years on the bench, they might coast a little bit. She just poured herself into every case like it was her first one, and that was the way it was the two years I was with her," he said.
Abrahamson was always humble, he said, particularly with all she has accomplished.
"She always treated me like someone who could teach her something. … She never acted like she was too good or too smart to learn something from someone who was young and inexperienced," he said. "That was something that left a deep impression on me."
She is also a source of pride in the Jewish community.
Former Democratic Sen. Russ Feingold, who is Jewish, recalls the admiration his family had for Abrahamson growing up. In the Feingold home in Janeseville there was what he called a pantheon of portraits.
"There was a picture of Franklin Roosevelt, there was Adlai Stevenson, there was Hubert Humphrey, there was Jim Doyle senior, there was Shirley Abrahamson," he said.
"My father loved Shirley Abrahamson… for many of us she's one of the great legal minds this state has ever seen. She should have been on the U.S. Supreme Court a long time ago."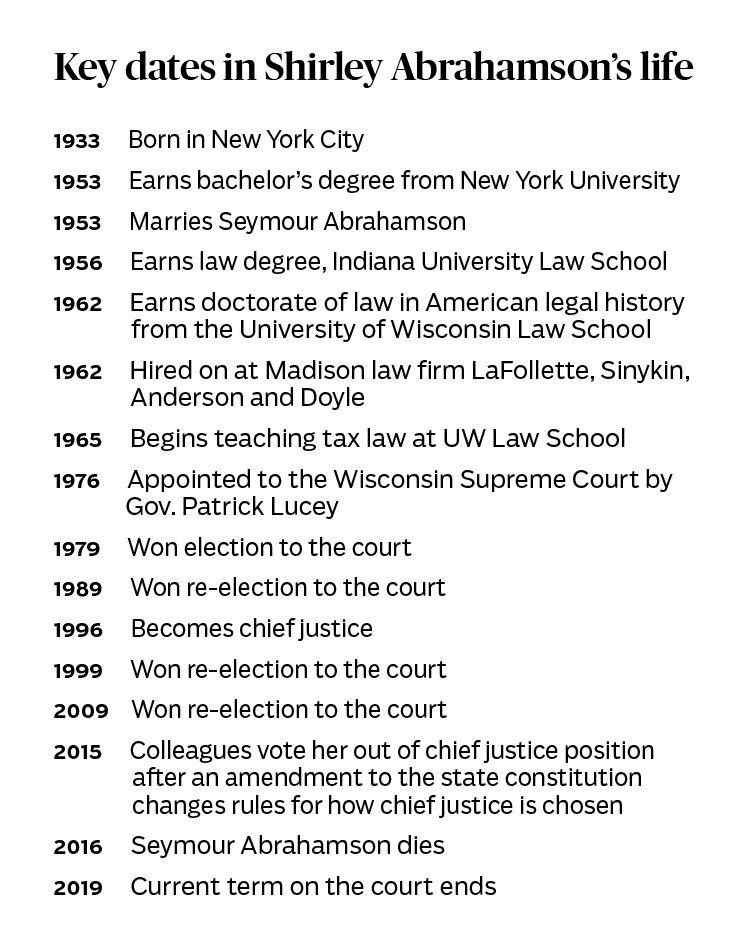 The Wisconsin Supreme Court is now back in session and the justices file in silently.
Abrahamson sits in her chair, only her head visible from in front of the bench. Her black hair is combed straight back, framed by gray at her ears.
Less than a minute into the first attorney's arguments, Abrahamson interrupts him and asks him to clarify what exactly his position is as it applies to the law.
She leans back and chews on the end of her glasses, her index finger resting on her cheek as the attorney attempts to explain.
"So, what's your gripe?" she asks. "It's not an ex post facto issue, you won that, so why are you back here on that?"
Afterward, the attorney, Dustin Haskell, an assistant state public defender based in Milwaukee, said Abrahamson's questioning is expected. It is his third time arguing before her.
"She's going to give you the best opportunity to tell the court what is the rule you want to come from this," he said.
Abrahamson's most noted legal work has been on advancing the use of DNA evidence in courts, tribal law, election issues and constitutional issues. Her most cited articles are those examining the interplay of state constitutions and the U.S. Constitution.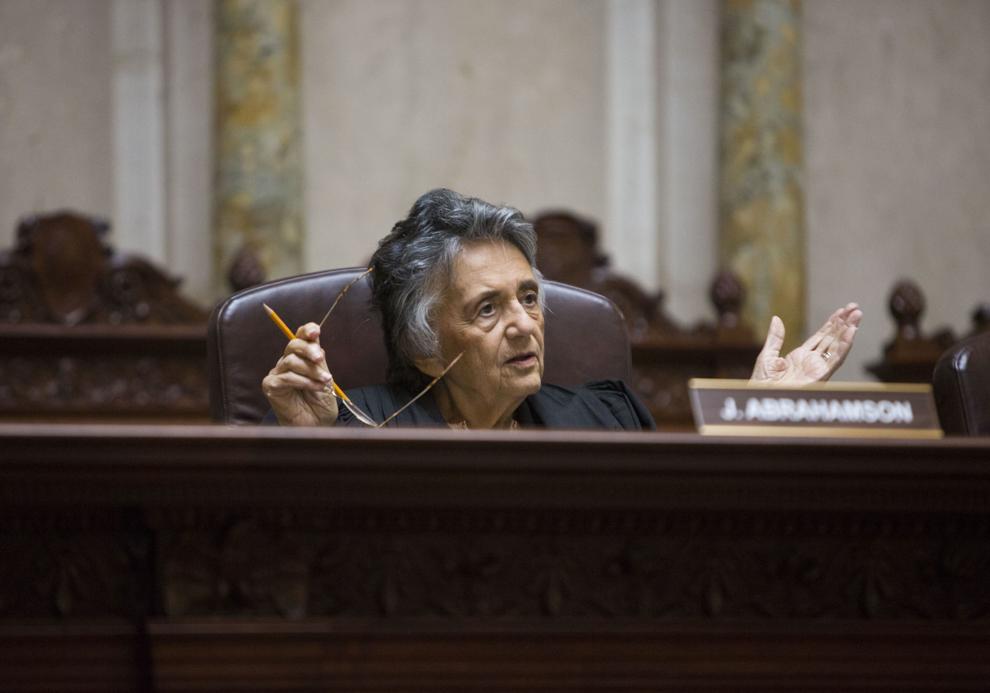 She has examined what is known as "New Federalism" over several lectures and law review articles and in a 1990 lecture at the University of California, Hastings College of the Law, she spoke about the role of state constitutions.
"Why should state courts not closely examine a federal decision to determine whether it is sufficiently persuasive to warrant adoption into state law?" she wrote.
In a 1992 case, State vs. Mitchell, the Wisconsin Supreme Court said a state law that enhanced the penalty a defendant could receive if the victim was selected on the basis of race, religion, color, disability, sexual orientation, national origin or ancestry was unconstitutional.
The U.S. Supreme Court later reversed that decision.
Abrahamson dissented in the Wisconsin Supreme Court's decision writing that the case brought together three competing values, freedom of speech, protection against a crime and individual rights.
"Bigots are free to think and express themselves as they wish, except that they may not engage in criminal conduct in furtherance of their beliefs," she wrote. "The state's interest in punishing bias-related criminal conduct relates only to the protection of equal rights and the prevention of crime, not to the suppression of free expression. The enhanced punishment justly reflects the crime's enhanced negative consequences on society."
In another notable dissent, she vehemently opined against the majority of the court's decision to halt the investigation into alleged campaign violations by Gov. Scott Walker's recall campaign, known as the John Doe case. Abrahamson did not mince words, arguing that the majority's ultimate decision in the case was a "blatant attempt to reach its desired result by whatever means necessary."
"Lest the length, convoluted analysis, and overblown rhetoric of the majority opinion obscure its effect, let me state clearly: The majority opinion adopts an unprecedented and faulty interpretation of Wisconsin's campaign finance law and of the First Amendment," she wrote. "In doing so, the majority opinion delivers a significant blow to Wisconsin's campaign finance law."
Abrahamson's writings have had a chilling effect on the court, some justices say.
At the window of the Supreme Court's bright conference room, where justices gather following oral arguments to discuss initial thoughts about a case, Abrahamson shows the wide table where discussions with her fellow justices happen. It is a place where acrimony has grown over the years and she has remained a polarizing figure.
Justice Dan Kelly, the newest member of the Wisconsin Supreme Court, appointed by Gov. Scott Walker earlier this year, offered this statement on Abrahamson: "I have been impressed by both her unmatched institutional knowledge and her powerful intellect. Additionally, as the newest member of the Court, I am grateful for her warm welcome."
"Justice Shirley Abrahamson's tenure on the court is truly remarkable and she has had significant impact on the state of Wisconsin," said Justice Annette Ziegler.
Ann Walsh Bradley, who was Abrahamson's student in tax law at UW Law School, said Abrahamson's unparalleled work ethic and dedication elevates the standard for everyone.
She "has encouraged me to continue to aspire to higher standards and a continued commitment, even at times when things are tough, to serve the state in improving our judiciary," Bradley said.
The pair, considered allies in their approach to the bench, have grown closer over the years.
"When you meet a person like that and get to know someone like that on a personal basis, it's very rewarding," she said, tearing up.
"She is a woman who has tremendous courage and refuses to be intimidated. She is exceedingly principled and everyone knows she will stand up for her principles. At times she's paid a tough price for that. She says what she believes, she lives what she believes."
None of the other justices currently on the bench responded to requests for comment for this story. Several of them, including recently retired Justice David Prosser, have criticized Abrahamson's approach through writings and emails that have become public.
In 2010, Prosser allegedly called Abrahamson a "bitch" and threatened to "destroy her" but has said in interviews that his reaction was provoked and he was being bullied, according to the Milwaukee Journal Sentinel.
In a 2011 speech to a conservative group, Justice Michael Gableman, noting how the Supreme Court "influences the social and economic policy of the state," pointed to Abrahamson as a source of unbridled activism and discord within the court.
"The personalities affect the work and vice versa," he said. "It is a shame that some use dissenting opinions as a vehicle for voicing personal grievances."
Abrahamson has done that. She has protested deadlines on her writings and criticized court procedure.
In May, she called out Rebecca Bradley in a dissent for casting votes in cases that came before the court prior to Bradley's appointment. Bradley did not hear oral arguments in person, but had listened to recordings of them and participated in decisions once she took the bench.
Bradley responded to Abrahamson, writing that her comments contributed "nothing to any legitimate function of the court and serves only to perpetuate the diminished reputation of Wisconsin's highest court, which my other colleagues and I are striving to restore."
During his time on the bench, former Justice Jon Wilcox, who served from 1992 to 2007, said the atmosphere on the court cultivated by Abrahamson bothered him most.
"I know she's been there 40 years but the court could have been and was a great court," he said.
"I'm not taking away from Justice Abrahamson's intellect … (but) you have to get along with people and it's about the team, it's not about oneself, and the Supreme Court is a team in a sense. I don't mean they all have to love each other, but they have to respect each other and treat each other with kindness."
Former Justice Louis Butler, who served on the court from 2004 to 2008 and was the first African-American justice, said he found Abrahamson to be a fair chief who listened to everybody, though sometimes too long, and welcomed robust dialogue.
Abrahamson's approach to her job, however, was different than his and other justices, he said.
"I was looking to build majorities … while I think she was trying to set forth her view in the law," he said. "She spent a lot of time looking at 'is this is an appropriate analysis of the law?' She always saw herself as a one of seven and had the right … to do that."
While Abrahamson is one to look ahead, she maintains a deep reverence for the history of the Wisconsin Supreme Court, an institution to which she's dedicated her life.
The care can be seen in her black robe, representing the role she never sheds.
"When I came I found a robe in the office and I wore it literally until it was in shreds. In a historic court there is history and I'm a part of that history," she said. "It doesn't belong to me, it belongs to people … that person (wearing the robe) represents them."
Today she wears a different robe, her second one in 40 years, as she continues on with the job she's called to do.
Correction: An earlier version of this story misidentified the judge who swore Shirley Abrahamson in to the Wisconsin Supreme Court in 1976. It was then-Chief Justice Bruce Beilfuss. She was sworn in by former Justice William Rehnquist in 1996 when she became the court's chief justice. 
Share your opinion on this topic by sending a letter to the editor to tctvoice@madison.com. Include your full name, hometown and phone number. Your name and town will be published. The phone number is for verification purposes only. Please keep your letter to 250 words or less.