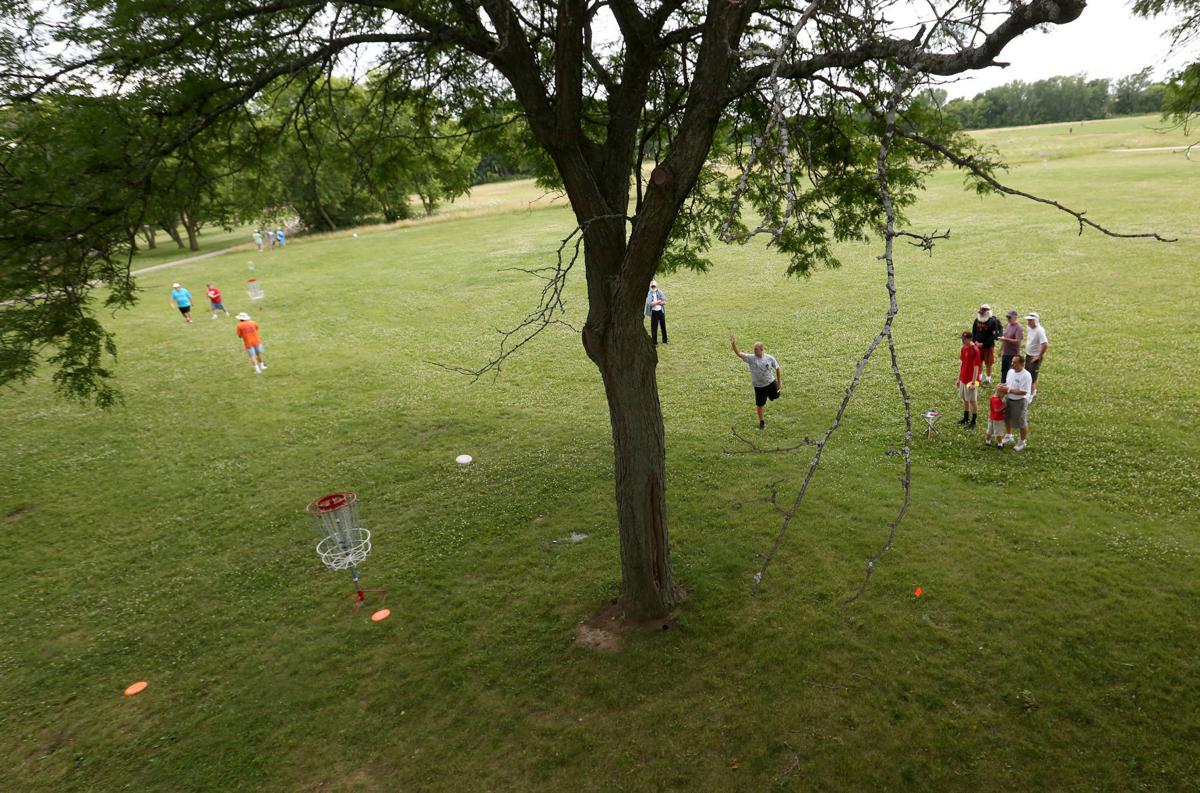 When Madison Public Library staff met with neighborhood groups about siting a library at Reindahl Park on the city's far east side, they convened in hotels, a grocery store and the park itself due to the lack of civic gathering space in the area.  
Library planner Kevin Englebert pointed out the irony.
"We offer community rooms as part of our service, and the fact that we need to meet at private establishments for that is indicative of the need for it," Englebert said.  
The proposed Reindahl Imagination Center would fill a gap in civic resources and expand the library's play-based learning programs, inspired by an approach to early childhood education developed in China called Anji Play.  
Since January, the library has conducted an extensive outreach effort, attending 16 events and reaching 343 people. In preparation for the project, the City Council is expected to vote on a zoning change Tuesday that would permit libraries and museums to operate in city parks and recreation areas.
A 2016 library plan for strategic growth on the east side prioritized closing gaps. Reindahl Park, 91 acres near the intersection of East Washington Avenue and Portage Road, showed the greatest potential for serving the most people in need, while also utilizing area resources and maintaining a visible civic presence, the report said.
The Imagination Center would include library services in addition to health and environmental resources and educational opportunities through partnerships with Madison Parks, Community Development and east side health facilities.
"I see this project as going beyond a library in a park," Library Director Greg Mickells said.
Mayor Satya Rhodes-Conway said in many cases, public facilities like community centers and libraries serve greater purposes than their original intent. With the Imagination Center, the city would be purposefully designing a facility for multiple uses.
"It really is imagining many, many purposes," Rhodes-Conway said.
Ald. Samba Baldeh, District 17, has pushed the Imagination Center as a "high priority." He points out that Sandburg Elementary, located about one mile from Reindahl Park, is the only school in the Madison Metropolitan School District without a companion public library.
"The whole idea is to provide services on the far east side and far north side," Baldeh said.
Funding for the $17 million new library was first included in the 2018 budget, including $500,000 for community outreach and scoping of the project. Construction funding was moved up in the 2019 budget from 2021-2023 to 2020-2022.
Rhodes-Conway said the city is currently in the process of scoring capital budget requests from agencies, and the Imagination Center will be evaluated as part of the Capital Improvement Plan. 
"It's a big price tag. We are not going to be able to do everything," Rhodes-Conway said, though she noted she is not close to determining what will or will not be included in the 2020 budget.  
To further community conversations about the Imagination Center, the library is planning to partner with the Local Voices Network — a project from the Cambridge, Massachusetts' MIT Media Lab and Cortico, a nonprofit organization that works to foster constructive public conversation in the community and media.
"We're going to do our best work when we're inspired by the community," Mickells said.
The engagement and idea phase is scheduled to run through the end of the year with work on a draft plan to begin in January 2020. A timeline currently shows construction beginning in 2022.
The sprawling park located off of East Washington Avenue would have a highly visible civic presence in the neighborhood and offer resources to the entire Madison community.
Mickells envisions resources through partnerships, like the one that the Meadowridge Library has with Sheray Wallace and her health center, located at the Imagination Center. He sees libraries as a "platform for the community" that can harness local expertise.
"This is a resource for this part of Madison, but it's also going to be a resource for the entire city," Mickells said.
Due to Reindahl Park's numerous athletic fields, Englebert has observed that the park is busy during games but quieter at other times.
"Perhaps the library will be able to balance that dynamic, so we'll have people around the clock using that space," Englebert said.
Youth Services librarians Carissa Christner and Holly Storck-Post see the library's location as a prime opportunity to build on a partnership with the Madison Parks Division. For the past three years, the library has hosted "Wild Rumpus" events at Brittingham, Haen Family and Reindahl parks.  
"We chose (Reindahl Park) very deliberately to start piloting some library stuff there," Storck-Post said.
The events are modeled after the Anji Play educational philosophy, started in Anji County, China, centered on child-driven, self-determined play. The model is built on the pillars of love, risk, joy, engagement and reflection.
Under this model, children play together for extended periods of time and are encouraged by their teachers to reflect on their play through drawings and conversation with their classmates.
"Because the kids have access to the same materials for these extended periods of time, their play becomes incredibly complex," Christner said.
Madison libraries are the only place where this approach to learning is being implemented outside of schools, Christner said.  
"We are trying our best to make this very different format work within the same principles," Christner said.
Share your opinion on this topic by sending a letter to the editor to tctvoice@madison.com. Include your full name, hometown and phone number. Your name and town will be published. The phone number is for verification purposes only. Please keep your letter to 250 words or less.