When Sam Hipp sees political ads rehashing the Tomah Veterans Administration Medical Center's opioid scandal, he gets angry.
The 32-year-old Army veteran served in Iraq in 2009 and recently completed an inpatient substance abuse program there. Ads featuring Tomah's past problems are insulting and inhibit veterans from seeking help, Hipp said.
"Using something in a political race, it's unsavory. It doesn't affect just their campaign, it affects the people's lives that the VA is helping," he said. "It was several years ago and obviously there have been changes since then. 
"It's hard to be a veteran and just live your daily life, but it's also hard when you can see political ads that are essentially using you and using your treatment programs, whether it be to mudsling or to promote their own campaign," he said.
Hipp has received treatment at several VA hospitals across the country. Before he came to Tomah, he heard of its reputation as "Candy Land," where doctors were known to over-prescribe painkillers. A 35-year-old Marine Corps veteran, Jason Simcakoski, died of an overdose there, prompting a firestorm of scrutiny and several government investigations. 
Yet Hipp said he has had excellent care at Tomah and has stayed in Wisconsin because of it. 
Nearly five years after the Tomah VA opioid scandal was outlined in a report published by the Center for Investigative Reporting, patients, veterans groups and federal officials say there has been a turnaround, pointing to data showing a decrease in opioid prescription rates. Where there was a previous culture of fear and retaliation, employee morale has also improved, they say.
Tomah's leadership has been replaced and the facility has been chosen as a model site by the VA for several alternative health programs and therapies. Its Pain University, a series of classes that help veterans understand how pain works and how they can manage it outside of pills, is now being replicated at other VAs. 
Issues at the Tomah VA foreshadowed a nationwide opioid epidemic and a public health crisis for states and municipalities, which has taken a central role in political campaigns.
The Cap Times asked to spend a day at the Tomah VA Medical Center in April, and was given access to three Tomah patients and several officials who oversee its operations and medical programs. The hospital does not allow reporters to approach patients on the facility grounds without first getting clearance from the administration.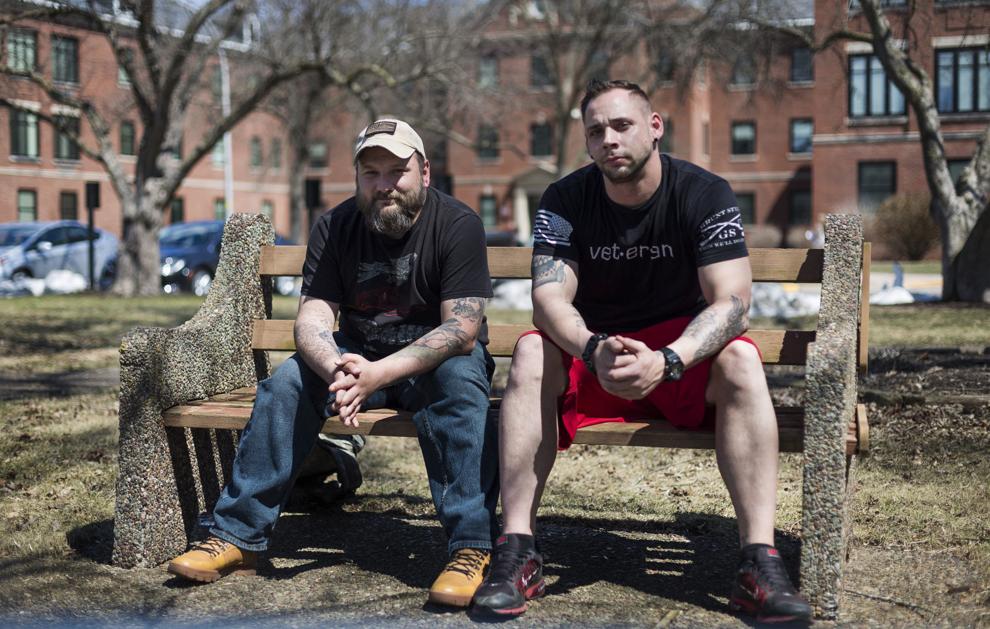 Tomah has remained a fixture in the state's U.S. Senate races. It was the focus of political ads in the 2016 U.S. Senate race between Ron Johnson and Russ Feingold, each alleging the other didn't do enough to protect veterans. Tomah was featured in the first digital ad of the 2018 Senate campaign, more than a year before voters will go to the polls. 
In the ad, released in March 2017, the Republican Party of Wisconsin accused Democratic incumbent Sen. Tammy Baldwin of a "cover-up," followed by a press release listing a timeline of the issues there.
Since then, Baldwin's opponents, Republican state Sen. Leah Vukmir and Kevin Nicholson, a business adviser, have not hesitated to hammer the issue. More than $10 million has been spent by other groups outside of Wisconsin on ads attacking Baldwin's record, some highlighting her office's slow reaction to a whistleblower complaint in 2014.
"Senator Baldwin looked the other way when a whistleblower came to her with a complaint that one veteran had lost his life and others' lives were imperiled by mistakes at the Tomah VA hospital," said Nicholson, a Marine Corps veteran.
"While Tammy is now running around trying to embrace the heroin and opioid addiction problem, she ignored a major one at the Tomah VA," said Vukmir, a registered nurse, in a Cap Times story last month. Vukmir and Nicholson will face off in the Aug. 14 primary and the winner will challenge Baldwin.
Baldwin has acknowledged her office failed to act properly after getting complaints about Tomah, firing one staffer and demoting others after she conducted an internal investigation of her office. Senate ethics panels dismissed complaints over the firings and how her office handled the scandal. She said she is now focused on creating legislation that can fix problems and make VA health care better. She developed and worked to pass the bipartisan "Jason's Law," named for Simcakoski, that cracks down on the overprescribing of opioids throughout the VA.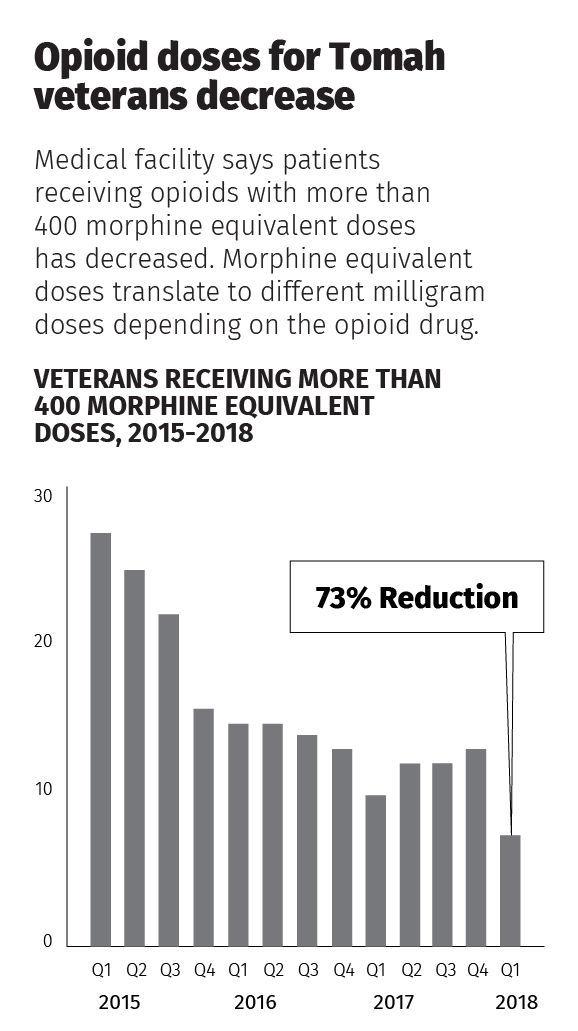 "I understand some people want to play politics with our veterans' health care, but I'm focused on solving problems at the VA," Baldwin said.
The latest ad of the 2018 campaign featuring Tomah was released by Concerned Veterans for America, a branch of the conservative advocacy group Americans for Prosperity.
"It has been important to us to make sure Wisconsinites remember (Baldwin's) failure to act urgently with the information she had," said Luis Cardona, the coalitions director for the group.  "We will continue to monitor and speak out on what is happening at VA medical centers such as Tomah until we are able to secure better care and more health care choices for veterans."
Disabled American Veterans, a national organization that gives free rides to veterans to attend VA hospital appointments, has monitored opioid issues at Tomah since the scandal broke.
The group has worked with members of Congress to craft legislation to reduce opioid usage. It continues to track issues at the Tomah VA by attending town halls and soliciting feedback from its volunteers.
"Some seeking political advantages continue to dwell on the past. Tomah has used its past tragic events to develop a modern, innovative mental health program of high quality for veterans," said Al Labelle, who has monitored and met with VA officials at Tomah and in D.C. about the scandal. "Simply put, Tomah VA, like the Phoenix, has risen from the ashes."
When Victoria Brahm became assistant medical director of Tomah in October 2015, it was unclear whether the facility would remain open. 
 "The culture was toxic. The leadership was gone. There were concerns about the practices, the medication practices, especially with the opioids and benzodiasepines," said Brahm, who has worked in the VA system for more than 37 years and became medical director of the Tomah VA in 2017. "There were concerns about stabilizing the staffing because we had lost a lot of employees who walked out because they weren't even sure if the Tomah VA would survive. The change had to happen."
Heading into a second election cycle where Tomah has been used as a political test for a candidate's concern for veterans, Brahm acknowledges Tomah, as a government-run hospital, is inherently political.
"It is what it is," she said. "Growing up in the VA system, I know we are of a political nature. We are of a federal nature. Knowing that, there is no use complaining about it, we need to roll with it.
 "This stuff we know, it happened. We admitted it. We dealt with it. It's way better, so I guess my frustration or my goal is to make sure the new stuff is getting out." 
Before leading Tomah, Brahm was chief nursing officer for the VA's Integrated Services Networks, or VISN, which works with hospitals across the VA system. At VISN Brahm monitored and followed up on elevated opiate prescriptions at Tomah and worked with nurses to help maintain staffing levels.
Turnover at the facility is now at 5.5 percent. That's nearly double the federal VA benchmark of 2.4 percent, but down from 13.9 percent in 2015. 
Her approach to dealing with the stigma of the facility's past is to fortify the processes that work and discard the ones that do not, she said. 
"There is a whole other side to these things and sometimes I think it's a matter of the public not understanding. I'd like to say our data can speak for itself. Our veterans can speak for themselves. Are we perfect? No, we're not perfect. We're striving for excellence … we will continually look for ways to improve and when we find those areas we need to improve on, we will do it."
She cited the facility's issues last year with a dentist who was using unsterilized tools. A VA Inspector General report released in September 2017 confirmed the practice and found that VA staff failed to report the dentist to hospital administration.
Brahm suspended the dentist, who later resigned, and offered dental screenings to nearly 600 patients to ensure none got sick because of the unsterilized tools.
"I think transparency is the key," she said. "I just keep focused and if I get questioned I try to just be right out there and tell the truth, 'Yep things have happened. Yep, we had a dentist that didn't do the right thing. Our patients are safe to receive dental care again.' That's all we can do and we hope we can rebuild the trust for the veterans that have lost it."
Wait times at Tomah and at other VAs has also been a source of contention, but officials at Tomah say they are pleased with where wait times are for most primary care services. They monitor and rectify instances where wait-times are longer than 30 days for non-emergency services, according to the facility.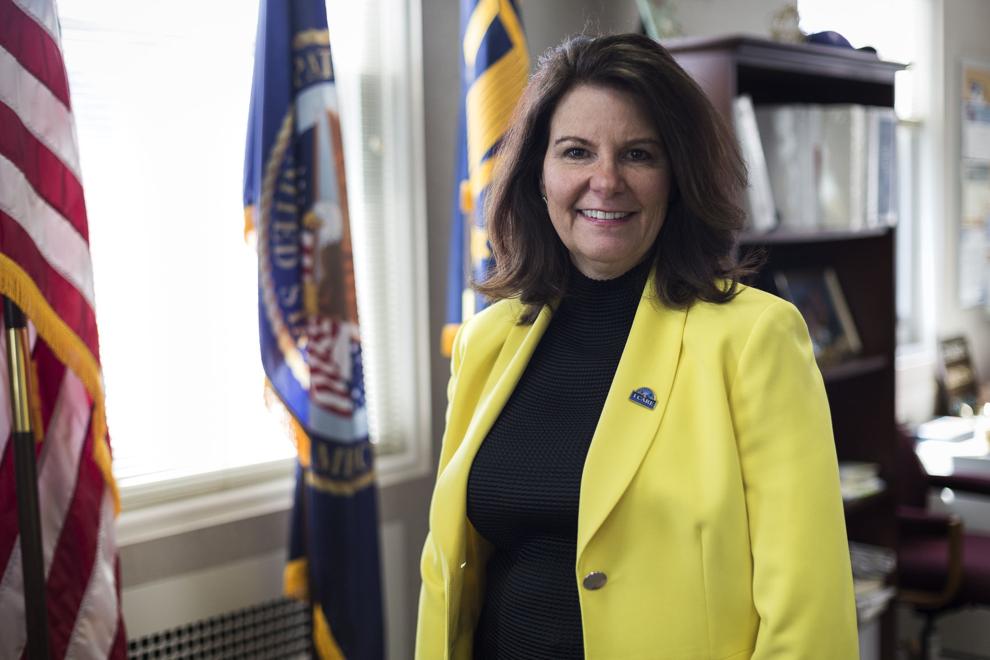 Tomah is one of 18 VA hospitals nationwide to host a "Whole Health"  program, offering veterans a range of alternative therapy treatments including battlefield acupuncture, healing touch, yoga and aromatherapy to address pain. Mental health and addiction treatment are also provided.
A 10,000-square foot Whole Health Wellness Center is set to open in December and Tomah has realigned some staff and is hiring more, aiming to allocate 13 staff members to the program.
Tomah also offers classes through the Pain University curriculum it developed. Pain University teaches veterans about chronic pain and how they can manage it more effectively, with less dependence on a narcotic painkiller.
The program, started in May 2016, came after physical therapists at Tomah said they kept seeing patients with chronic pain who could not find relief.
"The thought is that the education portion is the therapy," said Bradley Schaack, who has been a physical therapist at Tomah since 2010 and teaches Pain University classes. "If you can understand how (pain) works in your body, how your body produces pain, that's going to give you more tools to help treat it." 
Elements of Pain University are now used at 12 other VA facilities. The 25 classes at Tomah cover a variety of topics, including ones on understanding endorphins, opioids and the physiology of pain. It was recognized last year in the VA's "Diffusion of Excellence Initiative," which aims to spread innovative programs and best practices across VAs. More than 200 patients have graduated from the program, according to the VA.
It has been a paradigm shift for patients as well as medical providers at Tomah, said Kristin Eneberg-Boldon, rehabilitation manager at Tomah who helped develop Pain University.
"It's not just one type of treatment but we're really changing how we do things," she said. "We tended to work in silos years ago and it's really coming together now."
According to the facility, it has reduced the number of veterans prescribed a benzodiazepine, a type of psychoactive drug used to treat anxiety and seizures, by 58 percent. The number of patients receiving an opioid for pain has decreased by 41 percent.
Battlefield acupuncture is one therapy growing in popularity. It involves placing small, retractable needles in five points on a patient's ear. The needles relieve pain by suppressing the transmission of it throughout the body and releasing chemicals to reduce feelings of pain. The theory is that the ear is a microcosm of the whole body.
For Frank Smith, 62, a Marine Corps veteran, it is the only therapy that has consistently worked, giving him the longest relief from his chronic back pain. He said he was nervous at first to try it, but said his pain is down overall and his energy is up. 
He now tries to make an appointment every few weeks.
"My pain is going down right now as she's doing it," he said, as Dr. Katherine Pica placed needles in his ear. "She knows exactly the right points to hit."
 Another of Tomah's major initiatives is outreach: trying to get veterans who are former patients to come back, and to reach other veterans who may need treatment. Brahm meets with Congressional representatives to update them on Tomah quarterly, and she holds regular in-person and telephone town halls where veterans and community members can ask questions.
"We hope we can rebuild the trust for the veterans that have lost it," she said.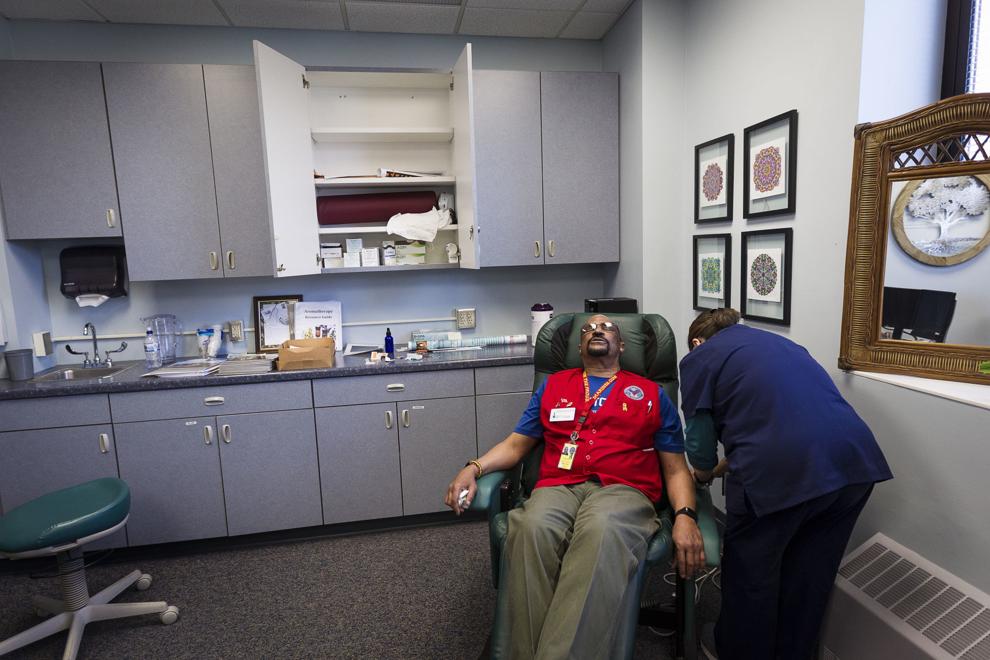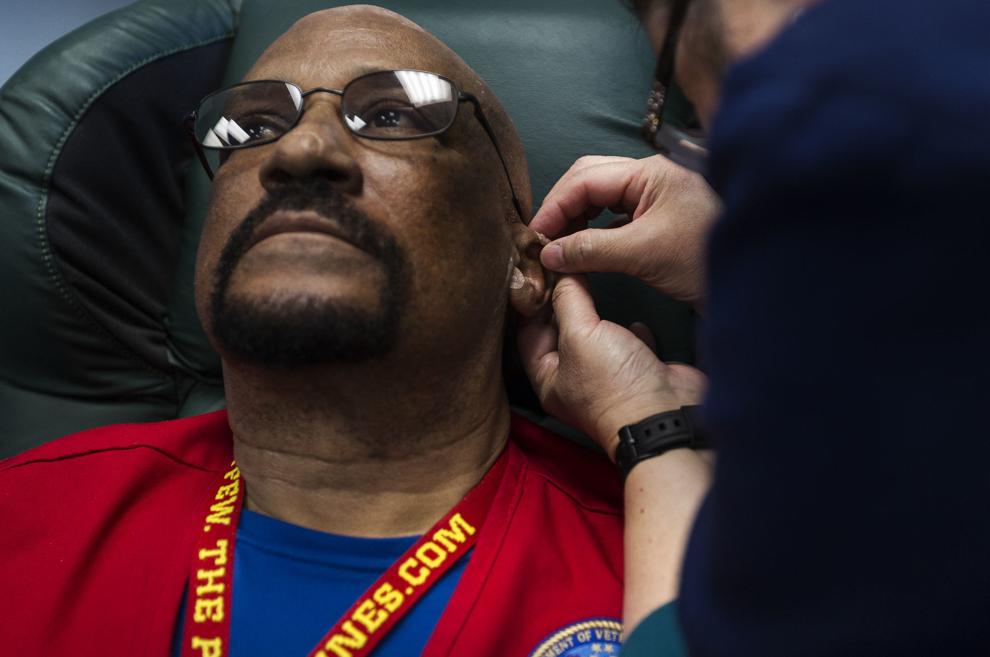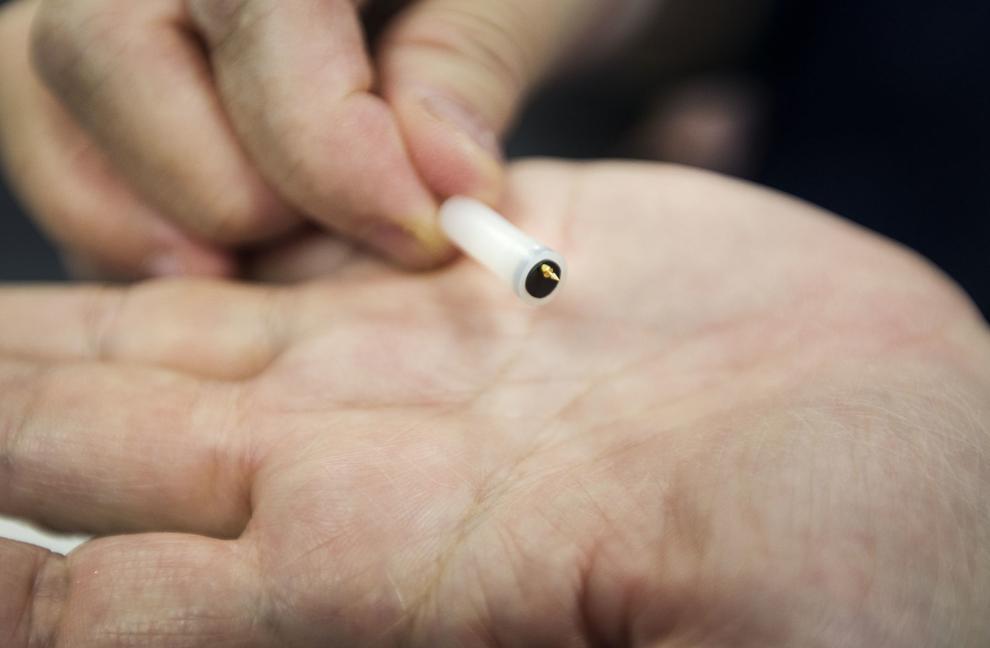 Federal VA officials affirm that Tomah has made significant strides over the last four years.
"Under the leadership of Victoria Brahm, the Tomah VA Medical Center has made an incredible turnaround and has led the charge to provide non-pharmacological pain relief and Whole Health services to veterans. Because of this, veterans are receiving pain relief through a number of non-pharmacological therapies, including aquatic therapy, battlefield acupuncture, yoga and tai chi," said Dr. Carolyn Clancy, the executive in charge of the Veterans Health Administration, who also led the Inspector General's investigation of the facility in 2015.
Clancy said she is pleased with Tomah's progress in morale and workforce culture, too, noting that the registered nurse turnover rate has decreased by 63 percent.
"Tomah leadership has worked hard to make positive changes at the facility, and the staff's hard work has been central to the facility's accomplishments," she said in an email.
Jake Leinenkugel, who ran Jacob Leinenkugel Brewing Co. in Chippewa Falls for 25 years before retiring in 2015, was appointed senior White House advisor to the U.S. Department of Veterans Affairs by President Donald Trump last year. He has been getting to know Brahm and other staff members at Tomah over the last 18 months and calls Brahm "a true change agent," he said in an email.
"She has done an incredible job bringing in a diverse and energetic group of leaders to make this happen. She is inclusive, driven and completely focused on veterans' access to quality care and their whole health spectrum," he said.   
"It shows that a medical center can make a 180-degree turnaround with the right leadership," Leinenkugel said. 
The facility has also started a new partnership with the Mayo Clinic to serve veterans with specialty care needs. Mayo will see Tomah VA patients if a service that is needed is not available there, said Rick Thiesse, a spokesman for Mayo Clinic Health System Franciscan Healthcare. The Tomah VA is the only VA hospital that Mayo has this contract with.
"This pilot agreement ... provides an innovative path for eligible patients to seek care through the MCHS southwest Wisconsin practice. The agreement is still in its early stages and will be evaluated as we gain more experience in the partnership, but we hope that this is a model that could offer a longstanding solution to the needs of local veterans," Thiesse said. 
Another veteran enrolled at an inpatient program at Tomah said he has been pleased with his care at the facility, noting that it is superior to how he's been treated at other VA facilities in Wisconsin and across the country.
Kristopher Heimerl, 30, is an Army veteran who served in Iraq from 2008-09. He came to Tomah in 2016 seeking help for several health issues related to his service, including post-traumatic stress disorder.
He said though he has had poor experiences at other VA hospitals, dealing with apathetic and unresponsive staff, the Tomah VA has changed his life as and become his safe haven. He completed the inpatient PTSD program twice and is currently in a substance abuse treatment program.
"I can't even count the number of times I was about to wrap a rope around my neck and I called the VA and I got help," he said. "Unfortunately, because of the stigma that the VA has… a lot of vets, they don't want to come to the VA. They don't want to get help."