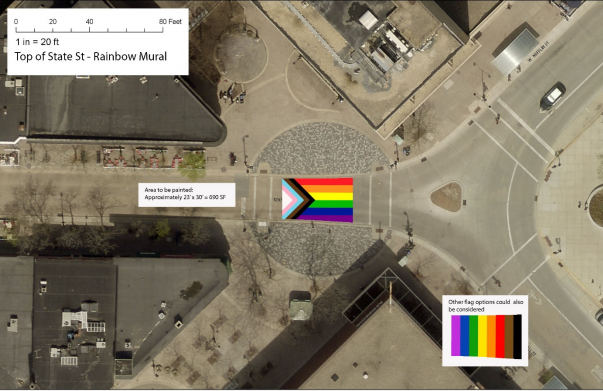 Under a proposed pilot program, some city pavement could be painted with pride-themed murals that would be paid for with private donations. 
Several Madison alders are sponsoring the resolution creating the LGBTQ+ Rainbow Murals and Crossings Art Pilot Program, which would install LGBTQ+ inclusive rainbow flag markings at pedestrian crossings on the Capital City Trail and near the Capitol Square. 
Ald. Patrick Heck, District 2, said he hopes the murals will create visible reminders that Madison is an inclusive city. 
"I would hope that it lets visitors know that Madison is a safe and welcoming place for everyone," Heck said. "It would be a reminder to residents who see it that the LGBTQ community is an important part of the fabric of Madison, especially given that we have a lesbian mayor and many other queer people in positions of power." 
If enough donations are secured, the program would install pride flag markings at four pedestrian crossings of the Capital City Trail by Monona Terrace and between the two pedestrian crosswalks at the intersection of the top of State Street and the Capitol Square. 
The goal would be to install the murals in June to coincide with LGBTQ+ Pride Month, Madison Bike Week and Madison's August LGBTQ+ Pride celebrations.
"Recognizing our diversity makes our city stronger," Ald. Lindsay Lemmer, District 3, said. 
Madison's Finance Committee will take up the resolution creating the pilot program at its meeting Monday at 4:30 p.m. in room 215 of the Madison Municipal Building, 215 Martin Luther King, Jr. Blvd. 
In addition to Heck and Lemmer, Mike Verveer, District 4; Grant Foster, District 15; and Marsha Rummel, District 6, are also sponsoring the resolution. 
No city funding would go toward the project. Heck said the project hopes to secure grants and private donations to fund the estimated $50,000 cost of the murals. The paintings are expected to last five to eight years.
"There isn't a lot of spare change floating around," Heck said. "We felt like the community would be interested in this and that it would also be a community-building exercise." 
OutReach LGBT Community Center​ would serve as the fiscal sponsor and oversee fundraising for the program. Tyson Vitale, a member of the center's board, said he is confident the community will be receptive to fundraising efforts. 
Vitale said the murals could send a strong message to youth in the community who have not yet come out or who are struggling with their identity that the city supports them. 
"Having that physical display that our city is behind you, I think, means a lot," Vitale said.  
If the pilot program is successful, Madison could expand it to include other locations and designs. The city would retain final authority over the murals and could remove them at any time and for any reason, according to the resolution.  
Under the resolution, the city would not open up the physical structure of the city's sidewalks or streets as a forum for public expression. 
"We don't see this as any sort of political statement, but regardless, we structured this so it doesn't create an open forum," Heck said. 
If the resolution passes, Madison would be the latest city to paint pride colors on city pavement. But Madison is taking precautions not to draw attention from the Federal Highway Administration by proposing locations that are jointly used by pedestrians and motorists.
A 2013 Federal Highway Administration memo states that "all elements of pattern and color for these treatments are to be uniform, consistent, repetitive, and expected so as not to be a source of distraction." 
In 2017, the city of Lexington, Kentucky also received notice from the federal government after a rainbow-themed crosswalk in the city's downtown was installed. Similarly, St. Louis let some crosswalk murals fade after they gained attention from the FHA in 2016. 
"We decided we'd explore other options," Heck said.  
Share your opinion on this topic by sending a letter to the editor to tctvoice@madison.com. Include your full name, hometown and phone number. Your name and town will be published. The phone number is for verification purposes only. Please keep your letter to 250 words or less.